2016 is here! I've taken a few weeks off over the summer holidays and moved into a new apartment; between unpacking boxes, hanging out with my daughter over school holidays and catching up with all my visiting overseas friends, I forgot to share my personal pictures of Cuba with you all! But here they are...and along with it, a diary entry I wrote in Havana. Hope you enjoy my peek into this amazing city...
Havana 13.11.2015
My worn out desk at the Palacio O'Farrill hotel is decorated by an old landline phone and a quickly warming pina colada while I listen to the tropical rain cooling Old Havana. This is my 4th hotel in 4 days ; it was busy when I tried to book almost a month ago, even the nice private accomodation at the so called casas particulares was gone so all I could get was single nights at various hotels. It seems the whole world fervently wants to come see Cuba before the country loses it's decrepit nostalgic beauty when (if?) the sanctions are lifted.
On my first day at Hotel Florida there were no window panes on my room's balcony doors , the heaving noise of the city's busy main street below welcoming me to this seaside town and when the night fell ,humid and heavy with a blanket of heat, the sound of whistling men and laughing women reverberating through the dusty neighbourhood. Down in the lobby bar, mojitos flow by the double while couples dance the salsa; Latino men and women oozing unbridled hips, wet skin and well practiced sensuality.
Havana is both beautiful and haggard, fresh and utterly filthy, excitingly full of opportunity and desperately stuck in the past. On one corner there are newly paved streets and colourful walls but turn left and it's crumbling balconies and the stench of dead chickens rotting on the road while huge vultures circle the skies waiting to claim these Santeria offerings to the Orisha.
If Havana were a person, it would be both the one legged old man I photographed on the merikon where the old city walls meet the sea, and a happy little girl on her way to school with a faux LV bag and stars in her eyes. It's  those that wearily improvise and upkeep their possessions with a dogged resignation under a lead backpack of the embargo but also those who re-invent rules, trying to establish a hipster utopia with makeshift bars and great organic food.
This town presents insane mid century architecture that will take your breath away and cold soviet era buildings greying and peeling in the island sun. It breathes in fragrant peanuts in white paper cones, 1 peso rickshaw rides , huge papayas sold by handsome mixed race hunks , billboards of revolutionary slogans instead of advertising, hotels whose star ratings are not an indictment of quality but a representation of a time long gone and people that will either try to fleece you or charm your socks off or both.
To be honest , I wouldn't have it any other way - I had such a fun time here exploring the streets, meeting people, drinking white rum in all it's incarnations, riding in an old pink car while the sun pounded bleached out neighborhoods and dancing the hot nights away. Don't go a changing Cuba Linda!
Stay:
Hotel Terrigal (newly renovated)
Hotel Serratoga (what's good for Bey & Jay Z...)
Hotel National (iconic)
Eat:
Chanchullero (Brazil between Christo and Bernaza )
Sia Kara Cafe
Rooftop Hemingway hotel
La Terraza for great bbq
Do:
walk the streets and practice spanish
go to a salsa show and dance the night away
take the Havana tour in an old car
visit the close by beaches for a day trip
lounge by the pool at hotel Nacional
drink a lot of mojito
Favorite city tour guide:
Matias Da Via
9841004601
majada@hotmail.com
With thanks to new friends and wide horizons <3
[masterslider id="5"]
If I were to judge the upcoming MBFWA 2015 solely based on the samples pulled for this story , the keyword of the week would be volume. As in slightly impractical, wonderfully dramatic and so much fun to shoot! The all seeing wizard I am not, but I know I will be proven both correct and incorrect numerous times over the week -Australian fashion is always about providing a number of conflicting trends– from whimsical and dreamy to utalitarian, well cut , feminine, practical, beachy or vintage inspired ; we are blessed to have such a talented and varied bunch of designers in this country.
I have to admit, as soon as I had an idea for this story, I was seeing a remote location – somewhere idylic and breathtakingly beautiful where I could juxtapose all the volume with sweeping vistas and nonpulsed kangaroo locals. Not only is it incredibly exciting seeing previously unseen fashion and taking it for a spin, but also quite scary and nerve wrecking taking original samples out of Syndey a week before fashion week! Thankfully we were blessed with a gorgeous set – an original , renovated 1800s homestead with fields and kangaroos on the grounds of the stunning Emirates Wolgan Valley One & Only luxury resort. Mountain paradise – meet fashion heaven!
(above) AJE : Calling spring! Intricate beading and structured shape of this bustier is vying for attention with the homestead's white flowers (shhhh, Aje's new denim pieces also looked amazing)

MATICEVSKI Resident marsupials meet Maticevski's dreamy polka dot confection
TOME  They may be intended for a more urban environment with their cool detailing and oversized shilouette, but these Tome clothes are also high in chill cred

ALICE MCCALL Mesh pleating and feminine shapes take on country simplicity

ROMANCE WAS BORN  The road is long and there are mountains in our way, but flared overalls will make sure we climb a step every day –and not just because Joe Cocker says so.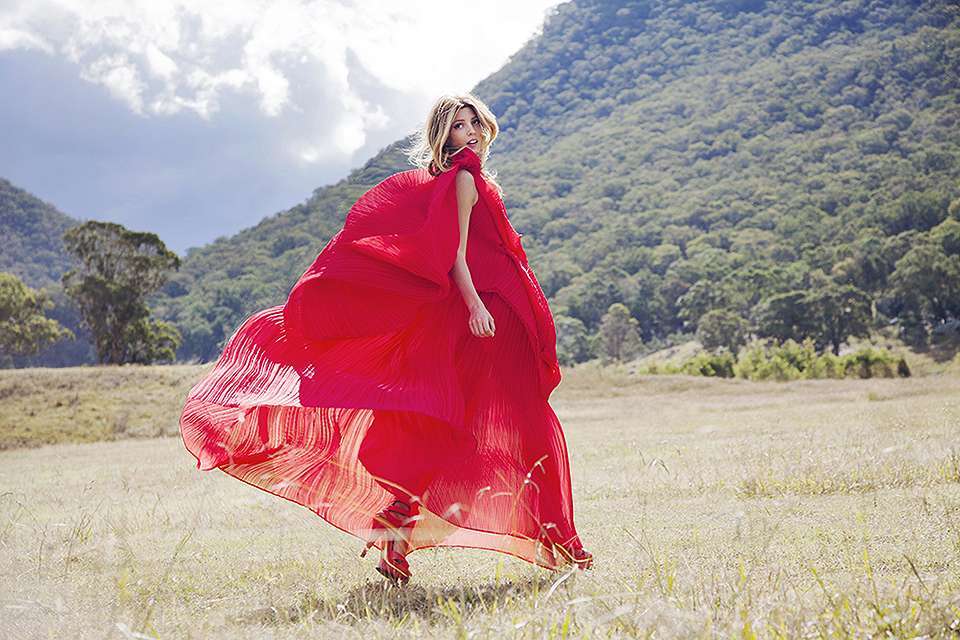 MICHAEL LO SORDO: Pleats please! This modular skirt and top combo had numerous ways of wearing it and they were all incredible.Red pleats & wind = heaven!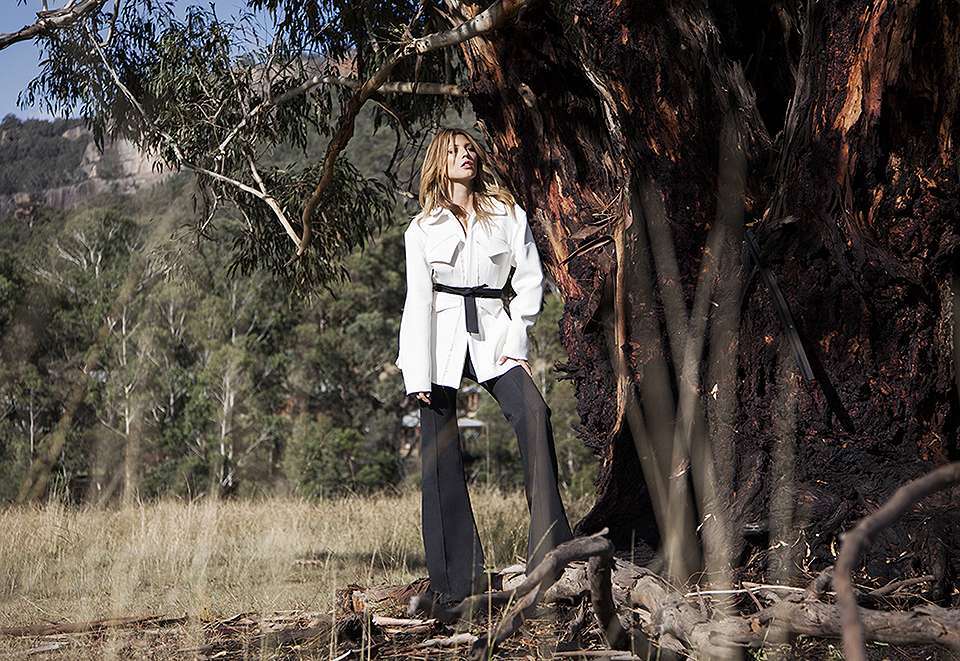 ELLERY: Ellery continues her fashion code legacy with sumptious fabrics and exaggerated lines
See the full story on Vogue.com.au here!
Photographed by Alice Wesley-Smith
With thanks to the Emirates One&Only Wolgan Valley resort