I must say I was so excited to shoot this story on my recent European holiday, as Venice has always been one of my favourite places in the world. Apart from gondolas, bridges and canals, this town is also magic for its culture and architecture, the highlight of which I got to experience while shooting at Palazzo Gritti, a beautiful 14th century palace that has been converted into a hotel brimming with luxury and old-school opulence.
Positioned right on the Grand Canal, the location proved the perfect place to shoot this story on the five trends in footwear you need to familiarise yourself with now. For more, scroll on to browse the season's must-have styles.

Kitten crazy
No need to tottle around on stilts when kitten heels are having a comeback - choose from a variety of options; mules, slingbacks, pumps or even boots.
Above: Tanja wears YSL sandals, Michael Lo Sordo dress.
Slip on
Slippers have become a must-have shoe item in any woman's wardrobe. Not only are they supremely comfortable, they are also versatile – try rocking yours with anything from jeans and pants to maxi dresses and split skirts.
Above: Tanja wears Art Of Day sustainable slippers, Nique pants, Alice McCall top.
Thongs are making a comeback
Whether it's highlighted in a flip flop style sandal or ensconced in 70s leather vibes, this season it's all about the thong. Mules are also having a moment and strappy styles are a always a hit.
Above: Tanja wears Mara and Mine heels, MLM dress, Tiffany & Co smile necklace, Sarah and Sebastian astrological sign necklace, Jordan Askill diamond heart ring, Ole Lyngaard diamond flower ring, Cartier love bracelet worn throughout.
The fancy sandal flat
Celine and Prada have been making incarnations of this style for years but this season, it's become a go-to for whatever occasion or time of the day it may be. Wear it with anything from jeans to skirts and evening dresses – bonus points for patent, boucle, embroidery or rhinestones.
Above: Tanja wears Christopher Kane sandals, Rebecca Valance dress.
Disco fever
Gold and silver, platforms and wedges – the fun era of shoes has returned. Whether you want to inject metallics for added wow factor to your outfit or pretend you're a dancing queen at Studio 54, this season it's time to go all out.
Above: Tanja wears vintage shoes, Rebecca Valance dress.
This story appears on vogue.com.au here! 
Make up is one of those perks us women get in life to experiment and transform ourselves with – I wear lipstick on days I feel tired and lashings of eyeshadow when I go out. Still, I feel like often times I get stuck in a make up rut, repeating the same old looks again and again, not really having the expertise how to do something different. For this story I enlisted make up artist Claire Thomson to teach us how to do her favourite make up trends of the season, step by step.
Dark Smokey Eyes
Choose a thick pencil ( like Nars) then line the entire eye and filled the inner rims. Draw a dramatic top winged eye then use a synthetic brush to smudge it slightly up and out, softening the drama up close, but still creating impact from afar. Set with a similar shadow to your liner but only use the slightest touch mainly in the socketline to reduce creasing. Curl lashes and apply mascara. Shape eyebrows using Kat Von D brow in graphite. Keep the skin slightly dewy to keep the eye feeling modern,mixing the consistency for a sheer coverage. ( try Kevyn Aucoin Skin enhancer no 15C) Lastly, choose your lip depending on the occassion- I used a pink gloss (Fenty gloss bomb in fuzzy.) but you could add a stronger colour for evening drama. ( The Son jacket, Bec & Bridge turtleneck, Jordan Askill jewellery worn throughout )

Modern Red Lip
A classic red lip adds stunning impact but make sure your lips are hydrated and exfoliated before you begin -try rubbing with a warm, wet face flannel and then smothering in balm. Claire applied Tatcha face canvas primer on the skin to even out its texture and prepare for base and then added Giorgio Armani luminous silk foundation for a perfect medium coverage. Conceal any spots or imperfections with Laura Mercier secret camouflage and set with translucent powder. Next apply a matte nude tone over the entire lid from lash line to browbone (Chanel's beige) Using a dampened pencil brush, dip into the corner of the metallic eyeshadow. Dust off any excess on the back of your hand and then trace around the entire eye, slightly smudging outwards.  Next up, use a lighter metallic shade and apply only on the centre of the lid- this creates depth and opens the eye. Curl lashes and two coats of mascara. There are tricks to a perfect red lip – Claire first blots any excess balm off and then she likes to apply red lip pencil and fill it with lipcolour. For people experimenting with bright colours for the first time, it may be daunting to fill out a naked lip with a red pencil, so try applying the colour in the centre of the mouth and working outwards, then evening out with a pencil. Claire likes to use a a light trace of concealer and powder to clean up around the lip line and add further drama to the lips. When confident try a darker lip pencil and use it to fill in slightly at outer corners lightening as you get in creating more dimension.Claire used Mac Powderkiss lipstick in Devotes to Chilli and Pro wear lip pencil in Kiss me quick and bespoken for the countoured lip . The cheek is highlighted with a soft baby pink Nars blush in Impassioned, to create a pretty contrast with the red. ( Camilla and Marc top, H Brand coat )
Monochrome cheeks and eyes.
For this look , Claire used Nars' Multiple for a nod to 70's glamour that's really quick to achieve  First,  prime the skin with Laura Mercier Primer, then use Nars tinted moisturiser sparingly to even out the skin and add a glow. Follow uo with Nars matte soft touch concealer and set the T zone only with a light dusting of Laura mercier translucent powder. Slightly fill eyebrows with Mac Brow sculpt in Spiked, then use Mac clear brow gel to brush the brows upward and outward to open the eyes and frame the face. Using Nars's South Beach, apply straight to cheeks with fingertips or a brush to countour the cheeks. Blot out any oil from the eyelids, then use the cream on eyelids by concentrating the colour at the lash line and blending it over the entire socket with upward movement so it is visible when the eye is open. Claire used a slightly winged shape on our model, play with the possibilities. Curl lashes and apply 3 coats of Maybelline Volume Express waterproof mascara in brown black. Claire clumped the mascara on the bottom lower lashes on the outer third to define the eyes, then added a bit of gold highlighter on the inner corners of the eyes and a light sprinkle over the top of the cheeks. Select a glossy lip that packs juicy colour to set off your matching eyes and cheeks, this one is Marc Jacobs beauty lipstick in Infamous with February gloss bomb in Fenty Glow. ( top from Outnet )
80's
Intense supermodel vibes with every feature slightly amped yet still appearing naturally flawless.
Prime the skin with Ayu rose face mist than add Laura Mercier primer and apply Mac face and body really worked into the skin. Conceal any blemishes or discolouration with Mac concealer pallette in Light. Set with translucent powder. Use a bone colour shadow over the entire eye lid - lashline to browbone.  Then select a matte brown shadow (Mac Symmetry) to trace lashline slightly out and beyond lashes ,arching up,  back into the socketline, and blending slightly above so visible when the eye is open. Continue lining the lower lashes, thickest at the outer lashes , then tapering in. Play with intensity but make sure there are no obvious marks – blending is a must.
Use a black cakeliner such as Becca or Chanel and paint a fine line on top and slightly sitting between the lashes. Claire recommends this great eyeliner trick : sit and lean both elbows on the table then hold a compact underneath your chin and look down into the mirror- this makes it so much easier to apply a liner.
Curl lashes and add as many coats of mascara as the occassion necessitates - each coat adds another layer of drama (Ysl Vinyl Mascara). Using the Kat von D brow pomade in taupe really brush the brows and let them be slightly messy, then set them  with benefit brow gel. Benefits benetint liquid blush gives a healthy cheek glow, just beware of the stained fingers – start in the centre of the cheek, blending upward and outward. Use it to also create a bitten lip stain and then use clear gloss for a juicier mouth. Final touch is a highlighter on the browbones, cheekbones, inner corners of eyes, cupid's bow and centre of bottom lip. Claire loves Lit by Westmin Atilier or Nars Copacabana ( Camilla and Marc top )
Photographed by Tanja Gacic
Make up by Claire Thompson
this post originally appeared on vogue.com.au
Aje kicked off Mercedes Benz fashion week Australia with a runway overlooking the opera house -crisp cotton shirts, Bermuda shorts, signature balloon sleeves, topstitching and ruffles commanded the runway but I loved the tiered, flowing dresses and oversized suiting the best. As much as Aje drew on their signature silhouettes for this collection, this incarnation had a distinctly Australian flavour with native plants, animals and road signposts all making an appearance. ( Aje top and pants, Bulgari bag, Christian Louboutin heels, Ole Lynggaard ear cuff)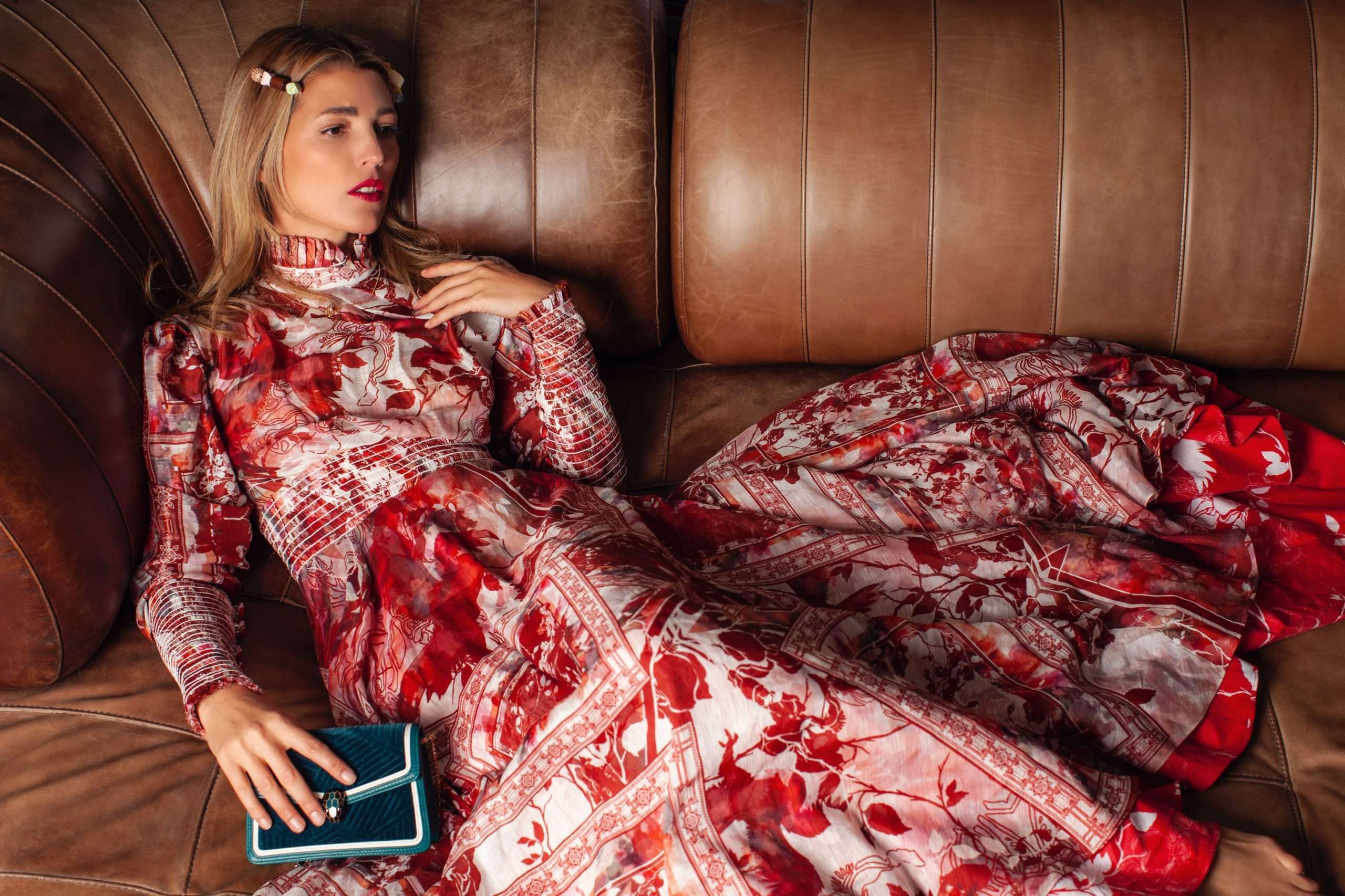 Leo and Lin introduced light cotton maxi dresses, high necks, asymmetric shoulders, mixed print scarf dresses and plenty of lace this year. There was frills and frivolity for the party girl ,as well as blouses and pants for the professional but my favourite were flowing gypsy dresses and skirts strewn with floral ( Leo and Lin dress, Valet hairclip, Bulgari bag)
Bec and Bridge returned with a collection that mixed inspirations- surfing, tropical print, 70s and 80s all made an appearance. All the favourite micro mini dresses were present, along with tiny shorts, but this year my faves were bermuda/ bike shorts, oversized satin suit jackets, bright turtlenecks akin to wetsuits and pleated skirts. I loved the colour palette mixing bright turquoise and orange with more muted tones of mustard and ochre. ( Bec and Bridge top, skirt, belt and shoes, Ole Lynggaard earrings, Bulgari bracelet)
If you're in a need of a sexy dress or perhaps are going to a fabulous dinner party in a Palm Springs mid century mansion, don't go past Alice McCall's collection. There were 80s sequins, lurex, feather lined pyjamas, rhinestoned chainmail and pretty satin as well as the designer's signature pretty cutout separates in pastel colours. Thanks for bringing the fun! ( Alice McCall dress, Roger Vivier sneakers, Valet earrings, Bulgari fanny pack and bracelet)
Anna Quan makes classic pieces for a grown woman and you will always be able to find a good shirt, pants or suit jacket from the designer, yet this year the collection had a distinctly vintage flavour with knitted dresses and asymmetric tops, long line shorts and pleated skirts ( Anna Quan dress, Giuseppe Zanotti shoes, Christie Nicolaides earrings )
Double Rainbuu may have started with hawaiian shirts but it has quickly grown into the go to label for all your holiday needs. The brand has a habit of churning out shorts and shirts that make you feel like sunshine yet look Hunter S Thompson cool. This year DB continued their travel inspiration by showing in the Chinese gardens, where guests meandered between presentation sections to zen music. New for the brand was the light knitwear and long line dresses all done in the new asian inspired print ( Double Rainbuu tops, Roger Vivier boots, Bally bag)
P.E Nation was once a sportswear brand but it is growing into so much more than that. Anyone that is a fan of the label knows how sexy and supportive the designs are in and out of the gym, but the next wave of denim, bombers, amazing legging pants and sweatshirts Pip Edwards and Claire Tregoning have designed will have you picking pieces for their after hours appeal too (P.E Nation tracksuit , Christian Louboutin shoes, Valet earrings, Published By bag)
With thanks to Vampt Vintage store for providing the location
Photographed by Alice Wesley-Smith

Ola Espana!
Recently I made a trip to the other side of the world to attend an incredible weekend event hosted by Bentley Motors. I really didn't know what to expect but I knew that it involved driving their Continental GT convertible from Malaga to Seville and please tell me, who would not want to have this experience?
The Bentley journey may had began with a 30 hour trip in British airways business class where I was drinking much wine, flirting with the air steward for extra chocolate and otherwise living my best life, but let's leave that story for some other time.
The real excitement started when I checked into the Marbella club, a luxury hotel on the Costa del Sol only half an hour before the event was starting. I quickly changed into a flowing Max Mara dress accessorised with a Bulgari bag and ran down to the Beach house, just in time for sunset. As the colours changed hues over the sea, we learnt some amazing things about the car we were going to drive tomorrow. At first sight, it was love. Or lust? Seriously, this car is incredibly sexy with sleek lines and endless combinations of finishes: 17 exterior colours, 15 carpet choices, 12 wood veneer options, and 15 different leather versions made my head explode with decorating possibilities. The inside didn't disappoint either; it was like sitting in a leather cloud of plushness, huge entertainment screen, 10-speaker audio system and multi comfort settings including heated seat, steering wheel, armrests and neck warmer ( does it seem that warmth is very important to me cause it is), not to mention numerous massage settings. I was liking the idea of this trip more and more now there was kneading involved. We finished the night at Dani Garcia's 3 starred Michelin restaurant gorging on intricate, delicious delicacies. I dreamt of Salvador Dali 's paintings turning into food that night, whilst I walked through strange landscapes eating chunks out of objects. Thanks Mr Garcia!

A new day had arisen and dear reader I must say I was slightly apprehensive about getting behind the wheel of this sophisticated machine. Not only did the panel look like a motherboard with a thousand functions but I was driving this luxury vehicle on my own, on the other side of the road than in Australia; what if I drive it into a ditch? I was assured that the pre-set sat nav wouldn't allow for mistakes. Hesitantly, I popped the top down ( 19 seconds from start to finish!) , wanting to test out these magical warming settings in the sunny, yet chilly early morning mist.  The other guests; writers and bloggers weren't driving in a convoy either, we were all left on our own to transverse the Spanish countryside and instructed to meet up at a designated pit stop for brunch in an hour and a half.

As I turned out of the hotel grounds onto Marbella pavement, I cranked up the playlist, the massage and warming settings into overdrive ,popped on my sunnies and the dream began. Look, I had doubts about this car. Surely, it cannot be as comfortable and luxurious as I imagined; my inner doubter rallied. But it was, oh yes it was. Even though the top was down, I couldn't feel the cold at all, even in just my sleeveless Dion Lee dress. Citrus trees swayed as I climbed the mountain towering above the sea, relishing slow moving vehicles as a chance to test out the 626 horsepower , 0-60mph in 3.7 seconds engine ( I got a need for speed baby). The countryside unfolded in front of me, the car telling me if I was driving the correct speed 'cause it's so smart that it reads the signs. Kinda like a stylish, responsible backseat driver that I sorely needed - let's face it , I was too busy checking out the fresh blooms strewn across the fields. As a lover of beautiful design, I couldn't stop admiring the pretty dials, clever buttons and the old class way everything was made in a perfect, just so way . We stopped by a beautiful home, where I ate my body weight in Iberian jamon for brunch, because: Spain, and also it is simply the best prosciutto in the world from black pigs roaming huge acorn forests (sorry Italians).
It was time to get back on the road, and even all the jamon in the world couldn't stifle my sadness that the trip to Seville would only take another half an hour's drive .My mind was busy devising outlandish and ridiculously illegal plans of driving the car into a sunset of a protracted European adventure when the GPS announced we had reached the hotel. It was time to get out of the pillowy leathers and say goodbye to my Bentley GT Convertible . Luckily, we were checking into the beautiful Alfonso XIII where I could drown my sorrows in Andalusian luxury.
We ended the day with a private visit to the glorious Alcazar of Seville, an ancient palace built with Muslim and Christian influences, and a big sangria fuelled tapas dinner with the Bentley family and all my fellow journalists. What an unforgettable trip! And let me tell you: once you go Bentley, it feels soooo wrong to go back ; )
Build your own GT Convertible here! 
Last photo wearing Zimmermann, Kit X and Bulgari
Main photos by Richard Pardon
Oh boy was it hard getting around to writing this essay! It's said procrastination is the plague of the perfectionist but this was something else- I literally Marie Kondo-ed my entire house before I could even look at my computer, since last time I implied a #metoo issue in an article , way before the Me Too movement, I was lambasted and even got some hate mail. It may have taken months to get around to this but in that time, I digested books and articles, trawling forums full of jilted incel men and broken women, all the while re-examining and calibrating my own heart and mind.
Let's start from the beginning- the patriarchy . About 5000 years ago women got the raw end of the deal when hunter gatherers decided to stop constant gypsying around, set up permanent camp and divided land so every man had his own. Up until that point we were a part of a surprisingly egalitarian society, where women's rights were equal to men, yet now our very existence became taking care of the home and bearing children, as many children as possible, so they could work all that land and provide financial security. Trouble started when we reduced humanity to economics - one man claimed more fertile land than another , inequality became entrenched, and with it, a power imbalance.  Amassing wealth became paramount and women, now just property, like cows, became something to be traded or used.
Lord Acton called it when he said : "Absolute power corrupts absolutely ", because hello toxic masculinity! A belief that is so deeply rooted in the world today that it operated stealthily , on the whole unquestioned and unchallenged, it's entitlement raping and pillaging the Earth's resources, traumatizing people, destroying nature, self-perpetuating destruction without care or conscience. Toxic masculinity is a "catch word" some say, but in all reality it is how our society still operates, and unless we become aware of what it is and how it works dear fellow humans, we are on a path to certain extinction.
So what is toxic masculinity, this term thrown around that "not all men" identify with, yet most don't fully even understand the meaning of?
To me, it is the misuse and abuse of power to control, silence, coerce and/or take from powerless targets for own benefit ;mostly women, but by extension children and the planet and admittedly many man has been hurt by it too. Throughout history, it was solidified by white males in positions of high rank,that flaunted science to justify the superiority – even Charles Darwin tried to prove that females were inferior to men, not to mention that sometime in the Victorian era they took away the whole concept of female pleasure away from us – all of a sudden, women weren't even capable of orgasm , it was just hysteria that their doctor had to cure and if they failed and the women remained contrary or outspoken, they could easily be diagnosed as crazy and sent to a lunatic asylum.
New Zealand was the first country in the world to give women the power to vote in 1894, and the feminists of that time, the brave suffragettes faced violence, imprisonment, ridicule and shame attempting to gain the same rights for women around the world- for example Switzerland only followed suit in 1971, and Saudi Arabia not until 2015 (!). Some would think that perhaps politics don't matter so much, but they sure do when you aren't allowed to own property or wealth unless it's in a man's name.
Despite all this, here we are in 2019,  men still claiming control over the female reproductive system, education and movement, women still earning less for the same work, yet spending more hours on childcare and chores, while some of our sisters still get killed "in honour" by their own fathers and brothers.
In my own private life, I have experienced this toxicity's many flavours multiple times, from men that no one would suspect had it in them. Ranging from the seemingly innocuous examples such as arrogance, patronising, minimising, denying, and shifting blame, to harmful financial, emotional and physical abuse. I'm not the kind of girl to stick around long when this behaviour surfaces, but I know I am the lucky one to have the funds and support to get out – there are many women who wear the abuse because they don't have options. Since this year's Women's March objective is domestic violence, I want to expand on the scourge this represents in our society and what it taught me from experience.
I grew up in an egalitarian family environment. Both my parents worked and looked after the home and childcare. Occasionally, they would argue, but apart from yelling mild profanities at each other, they would quickly make up and be very loving. As a result, I never saw myself subordinate to men or expected that I would be treated with anything but utmost respect and adoration. Yet, there were relationships in which wounded men would hurt me with all they had because their traumatized parataxic distortion made them into hair trigger bombs waiting to explode when challenged on their bad behaviours.
Ladies, I want to stress that there is such a thing as toxic femininity, because we are all a product of the fucked up power dynamic that is the patriarchy. I had a girlfriend recently renounce feminism saying something like : "I don't hate men! I don't want to be a feminist!" and honestly, I need to address this once and for all. Saying you don't believe in feminism is akin to a white person saying: "I don't see colour". Sure to you, it isn't important because your individual situation shields you from the problems of the wider society, but that doesn't mean that the situation doesn't exist, isn't a problem to your fellow humans and doesn't need our vigilant attention and concern - indeed my friend is in an entitled position as a well off ,white female with a supportive and wealthy family growing up in a liberal society.
Our behaviours need to be addressed too-if we are violent, opportunistic, abusive or manipulative to men, we too are toxic and a part of the problem. We must look within ourselves for behaviours that the patriarchy taught us were necessary in our dog eat dog society; the competition, backstabbing, jealousy, harmful gossip, covert sabotage, and outward harming of other women. We make up 50% of the world and we must raise our own consciousness in love so that we can change ourselves, our men, children and the greater world around us.
After all there are still women preforming female genital mutilation, slut shaming  and betraying other women, women who are bias against women in the workplace, women who coddle men by excusing and explaining away their misbehaviours and covering up their misdeeds. We all must acknowledge blockages , rid ourselves of the concepts that belong in the past and move on into the new paradigm together.
However, many a man confuses a simple complaint with unfair criticism and then disregards the woman completely, making her into his enemy by feeling she is an abusive viper out to hurt him when all she is doing is trying to teach him how to love her and the world better. And that to me is at the root of toxic masculinity, this entitled belief that as a man you are above correction, above learning,  above allowing yourself to be vulnerable and at fault. This is where every toxic action starts from, for action comes from emotion, feeling comes from thought and thinking is influenced by our core beliefs. If a man's core belief is essentially misogynistic, ingrained as such by his childhood conditioning and reinforced by his peers, he will have faulty thinking that will allow him to feel slighted and wronged when he is told his behaviour isn't good enough, so he will follow up this misguided victimhood with abusive actions that only cause to inflict violence on his environment.
As Derrick Jaxn, a self proclaimed African American "Love Ambassador" ( and feminist ) said recently: "We (men) don't call it love unless it's one of two extremes- if it's not the extreme of being coddled or having a harmful behaviour enabled, the extreme of toxic masculinity in the form of you're not allowed to feel, you need to man up, you're not allowed to go through pain, or cry, if it's not one of those two extremes, we don't call it love and we fight it. (...)Or even worse, whenever her love comes in the form of calling us to a higher standard than we are currently meeting, to walk in our royalty as the kings we claim to be, then we tell her she is trying to belittle us , trying to emasculate us, she doesn't respect us, she is trying to tear us down, all she brings us is negativity and that all comes from a misunderstanding of what love really is. When the truth is; love does sometimes come in the form of correction and accountability, but it's like- if you get coddled for so long, any accountability feels like an attack, therefore we get defensive and we cannot take from that message of accountability what we need to move forward"
Or as Alain De Botton said: "There is a damaging idea that to make any criticism of another human being in love is a sign you don't love them anymore. Love gives us a ringside seat on somebody else's flaws. You will spot things that need to be mentioned.The romantic view is to say 'If you loved me, you wouldn't criticise me'. Actually, true love is often trying to teach someone how to be the best version of themselves."
All of us have fears and beliefs about the world stemming from our childhood conditioning that make us somewhat cognitively dissonant to the reality in front of us and some of us have traumas that completely blind us to reality unless we dutifully work on ourselves to develop mindfulness to question whether our inherited beliefs are true or beneficial. We are all assholes and angels, not just one or the other for our world is made up of duality, it's not either black or white, therefore the amount of growth we are capable of correlates to just how much assholishness we are prepared to acknowledge in ourselves so we can explore, learn and actively work on improving daily and in perpetuity. If all we have is defensiveness in the face of complaint and a refusal to change, all we are doing is passing the poison chalice along to future generations. The world is changing and we must evolve with it.
In patriarchy, men were responsible for two things: protection and providing, yet in today's world neither of these are as crucial to women as they used to be. So while women had to worry about appearance, conduct, domestic care and developing themselves as all around catches to be attractive to suitors for centuries , men have woken up in the 21st century to find that simply being a man with a pay check is no longer enough to guarantee sex or marriage.  Overwhelmed by their sudden inadequacy, some first develop shame and then violent rage at women and society.  Researcher Brené Brown has identified that when people don't recognise their shame and the expectations and messages that trigger shame, we put up shame screens, a defence mechanism that tries to stop our amygdala from going into flight, fight or freeze mechanisms. We then unconsciously do one of three things:
-move against shame by trying to aggressively gain control or power over others
-move away from shame by withdrawing, hiding, keeping secrets or staying silent
-move towards shame by seeking approval and belonging
Simply put, shame separates, isolates and makes us feel bad about ourselves. Yet, instead of examining feelings and why they have arisen , some men cling to old reactive mechanisms of blame, defensiveness and anger and what is worse, try to impart their rage on the world as their birthright when they feel slighted, traumatising their loved ones for lifetimes. I'm sorry but as any mother will tell you, toddlers will also try to lash out when they feel bad, not having the emotional maturity to cope with the intensity of their feelings. Behaving like a tantruming toddler is weakness, not strength, it is fragile masculinity in the extreme. You are only powerful when you are brave enough to instil vulnerability and empathy into your default reactions and admit to your shortcomings.
The Gillette commercial may have been a marketing ploy for the new generation, but it is also a sign of the times that someone capitalised on first. Patriarchy is dying- it is no longer cool to grab a woman's ass, tell her you'll give her a job if she has dinner with you, refuse to recycle, not change your baby's nappies, deride gay people, build a business with a destructive huge toxic footprint or otherwise act like you couldn't give a damn if the world burnt, just as long you were having a grand old party feeling good about yourself. I find it funny that there is a campaign to boycott Gillette now , because this is a perfect metaphor for what women deal with when they need to tiptoe around some men's egos. No where does this commercial say that all masculinity is bad, it very specifically identifies that some aspects aren't ok and should be left firmly in the past yet  it has caused indignant outrage and a pervasive feeling that a company is unfairly targeting masculinity and shaming men into feeling bad about themselves. Why is it so hard to accept that a child shouldn't be bullied and women should be treated as humans?
Because the patriarchy stamp approved a particularly cold and/or aggressive rearing of boys , a lot of men never received validation that it is ok to be soft, or break or cry, let alone seek professional help, and the built up resentment simmers into anger and solidifies into depression they are too scared to even admit to themselves, let alone show to the world. Mix this inability to open up and share with the righteousness of entitlement and numbing coping mechanisms of drugs and alcohol and you have a breeding ground for mental health issues and violence.
Our world is in dire need of men who will be proud to be called feminists, who lovingly embrace the feminine and protect it. This is the beauty of masculinity that we have long forgotten. Masculinity never thrived in patriarchy, it mutated into a monster. True masculinity is a man's ability to keep his heart open and his emotions tempered while he guides the world in vulnerability, wisdom and truth allowing to be taught as much as he teaches. It's an ability to dispose of the ego, improve, acknowledge and heal by accepting own faults and guiding fellow men.
Toxic masculinity is killing the planet, and causing an epidemic of femicide, while our politicians ignore the statistics, display rampant sexism in parliament , instead choosing to divide the country on traditionally poll winning issues of refugees and migration.
When does it stop? It stops when we unite and fight together, it stops when we decide on what it means to be a real human being and start being real heroes. We all may be victims of patriarchy but it is now time to go beyond simply being survivors into waking up to our full potential as conscious co-creators. We need you men, we need you to rise in awareness and in love so together we can heal the wounds of centuries past. We are the ones we have been waiting for.
Fashion Week only swings around once a year in Australia so come May everyone in the industry is lining up their outfits, pillaging pr agencies, last minute online shopping, loaning from friends and otherwise spending solid quality time in front of the mirror.
Dear reader; I wanted to be one of these people but I was doing the MBFWA review story for vogue.com.au in the lead up and hence was too overwhelmed with existing loans,countless emails and shoot production to think street style.When Monday came around and I had no outfit, I sent some emails and my assistant to pick up a few things from a couple of ravaged pr offices that now looked like supermarkets before Hurricane Irma hit ; barren and sparse.
First world problems these may be but one needs to get through the week clothed and my preference is a tad more fabric than what Bella Hadid wears on the Cannes red carpet 😉
Even though many Australian heavyweights didn't show this year, there were many highlights to the week so I decided to do a little photo diary - I want you to see all the fun that was to be had ! Sadly, I'm not posting all the shows I went to- some of them I just didn't get great pictures at - sometimes the lights are too low and the models move too fast.
DAY 1: Camilla & Marc started off the week with a bang, all cool tailoring, oversized jackets, shoulder pads, ruffles, off the shoulder dresses and skirts over pants. There were so many things to love here, all I can say is: send separates guys!

The Camilla & Marc stage was this amazing outback-ey looking set that every single person tried to get a photo in after the show. Here's me, semi soaked still cause it was pouring outside, elbowing my way to a quiet corner with the help of Yan Yan Chan who took these photos for me (thanks Jan ; )).
Wearing Rebecca Valance skirt and bustier, Balmain Top, La Perla bra, Gucci bag, Zimmermann shoes and a vintage Versace jacket
DAY 2 :Monday was a busy day, so what better way to start it but by wearing head to toe pink and matching it to a double shot flat white in a Dion Lee Vittoria cup ? Wearing Dion Lee top and pants, Michael Lo Sordo jacket, Fendi bag, Charlotte Olympia shoes, Balenciaga earring and vintage Balenciaga sunglasses
I loved the Bianca Spender show; all oversized, feminine suits and flowing, sensual silks. Well tailored and flattering with a sustainable bend, I can't wait to wear some of those slinky silk dresses over wide legged pants
En route to the Alice McCall show  (Alice Mccall pants, Ginger and Smart top, Gucci shoes, YSL bag and Matteau bikini top )
If Alice Mccall had a girl she were making clothes for it would be a fun party girl with vintage sensibilities. Some of her dresses and shorts used to be so short they'd make my eyes water ( cause I didn't have the guts to expose so much of my pins ) so I'm loving how some of the hemlines are longer this season and there are amazing maxi gowns in the fray too. Lace detailing and lamé dresses never hurt the party girl either, let's face it
My mates Mikey & Toby over at Double Rainbow did an amazing job growing their hawaiian shirt label into a veritable style reference of their own. This show was pure festival summer incarnated with mesh tops, prints galore, tracksuit combos, clever t-shirts and beach shorts we all need once the heatwave hits. Big love to Sarah Starkey who styled this show to perfection, within the restricted confines of the Landsdowne hotel non the less.
It was 9 pm when the Double Rainbuu show finished so I rushed to the intimate dinner Michael Lo Sordo was hosting at the city institution that is Bambini Trust. I had to make a swift change into a Michael Lo Sordo look in the car, across the road from a packed bus stop which was as hilariously awkward as you can imagine. The girls and I were all Lo Sordo brides that night- Sunny Vandervelde took this fun snap of us in front of the restaurant before we all settled to a gorgeous candlelit dinner. Thanks Michael and MCM pr for this wonderful night!
DAY 3 When you're dressed so farshion but you wish you were wearing a bikini and diving in!
Wearing Undone Project pants, Jill Sander t-shirt from Net-a-Porter, Zimmermann shoes, Dinosaur designs earrings and bracelet, From St Xavier clutch and Double Rainbuu x Le Specs sunglasses 
The Emilia Wickstead x Matches Fashion was a pure delight. Not only was it held at the spectacular Wylie's baths which I'd never been to before but the weather was incredible, the clothes lovely, the atmosphere magical, the champagne cold and the appetisers delicious. Can every show be like this? I wanted to twirl in these pretty dresses and dive into some long gone Riviera pool whilst wearing a pink swim cap. This show evoked so many feels that I escaped through a portal to another time. When the show finished, I still didn't want to leave because the reality was wonderful too.
Snakeskin, lamé, 70s, gingham, sheer...the Hansen & Gretel show had all the trends. All I can say is: I'm coming for you head to toe snakeskin print, don't even bother hiding cause I'll find you!
I had some time to rush home and get changed for the Romance Was born show ( wearing Romance Was Born, Gianvitto Rossi from Net-a-porter shoes, Reliquia earrings )
Hello lamé, hello slinky goddesses, hello prints, ruffles and the joy of seeing creativity unbridled - Romance Was Born show is always such an unmissable event on the week's calendar. This year, the underbelly of Hubert's was transformed into a Parisian salon where models twirled between tables and enchanted us with ruffles, lace and batwings.
As if the beautiful clothes weren't enough, guests were presented with a delicious 3 course sit down dinner and drag queen singers that ravished the captive audience with vintage hits. The night also served as a launch for RWB's incredible retrospective book - if you love fashion, buy this book as it's sure to be iconic ( and whilst you're page turning, play a little find Tanja game- there are a few pictures in there from my modelling days ) The fun didn't stop there- after the show, some of us stayed on for a nightcap and danced on tabletops ( i'm looking at you Isabella Manfredi ; ))
DAY4: One of the highlights was the Christopher Esber show today, with it's impeccable detailing and painstakingly beautiful beaded knits. I wanted so many items from this show. Worn as a look , these were strong pieces but equally important; any one of them would elevate plain old t-shirts or jeans to new heights. I also had a deadline today so I spent most of my day just editing : (

Wearing Zimmermann pants, Michael Lo Sordo top, Gucci Belt, Byfar x Net-a-Porter sandals, YSL bag from Net-a-Porter, vintage necklaces and jacket, Reliquia earrings
Day5: Nothing like the joy of arriving to the Ten Pieces show at Icebergs and finding my girl Lindy Klim was seated next to me. Love an early morning catch up! ( Wearing vintage top, Fendi sunglasses, Lindy wearing Rama Voyage and Dion Lee)
Maurice Terzini and his partner Lucy did such a great job with this collection. Modern, fresh,androgynous and wearable, the clothes were as cool as the show was fast paced and to the point, a bit like mr Terzini himself. Bonus points for casting some of the coolest characters around who promptly started a dance off on the balcony when the show ended.
The evening saw the ethereal Akira show and the tribal inspired Camilla show, followed by Russh magazine's dance party extravaganza ..needless to say the weekend in bed was heaven sent!
Thanks so much to all the designers, models, hair and make up artists, pr and my fellow journalist and bloggers for making this MBFWA such a hoot