When Nicolas Ghesquiere became the new creative director of Louis Vuitton, the fashion fan inside of me did some serious cheerleading. His previous work for Balenciaga was always ahead of its time – relevant, modern and supplemented with incredible accessories. I was hoping this was going to be the case at LV and with this season's '60s, early '70s collection, there is so much to covet. Who would've thought that looking like an awesome version of Florence Henderson (The Brady Bunch's matriarch) could be so cool? Wide collars, babydoll dresses, high-waisted trousers and A-line minis are totally in and Gucci has joined the retro trip by producing some incredible clothes and shoes this season in wild shades of mustard, blush pink, muted cornflower blue and a whole bunch of leopard print to boot.
I played around with these beautiful clothes inside of Tomek Archer's fittingly colourific moveable pods on display at the Sherman Contemporary Art Foundation in Sydney.

Take a leaf out of Louis Vuitton's book and rock your miniskirt with ankle boots and a smattering of leather.

Shiny patent leather boots and cool pearl accessories adds another dimension (Gucci dress and boots, Sarina Suriano jewellery).

Sometimes a dress is born that just does amazing things to a woman's curves. This Louis Vuitton baby is it.

Don't forget the new vintage cool in accessories (Louis Vuitton bag and boots).
Check out the full story & more pictures now up on Vogue.com.au here
photographed by Jeremiah Wolf
With my love of vintage clothes and furniture, there also comes a determination in scouring every backwater charity shop with a lingering smell of moth balls for items that might fit my obsession with unusual colour combinations. I get giddy when I spot just the right shade of mustard. I go absolutely wild when I spot just the right shade of avocado green. Some may feel that these palette choices are, in fact, somewhat unusual (cough, cough; ugly), but put some of these babies together and the real magic happens. Whether it's pale blue and burgundy, ochre and khaki green, pale yellow and brown or pale pink and orange – there is something so right in these mid century duos that appeals to my love of all things '60s and '70s.
Thankfully, it looks like my clothes need not all smell of mothballs anymore, since Phoebe Philo and Nicolas Ghesquiere are producing some amazing clothes in vintage inspired colours for autumn/winter '14/'15 and resort 2015. I wanted to play around with this palette by adding a touch of another trend rocking my world at the moment - the folk inspired addition of naïve motifs, handicraft touches and intarsia knits.

Nanushka sweater, Dion Lee skirt, Birkenstock sandals, Thomas Sabo earrings, E-esque clutch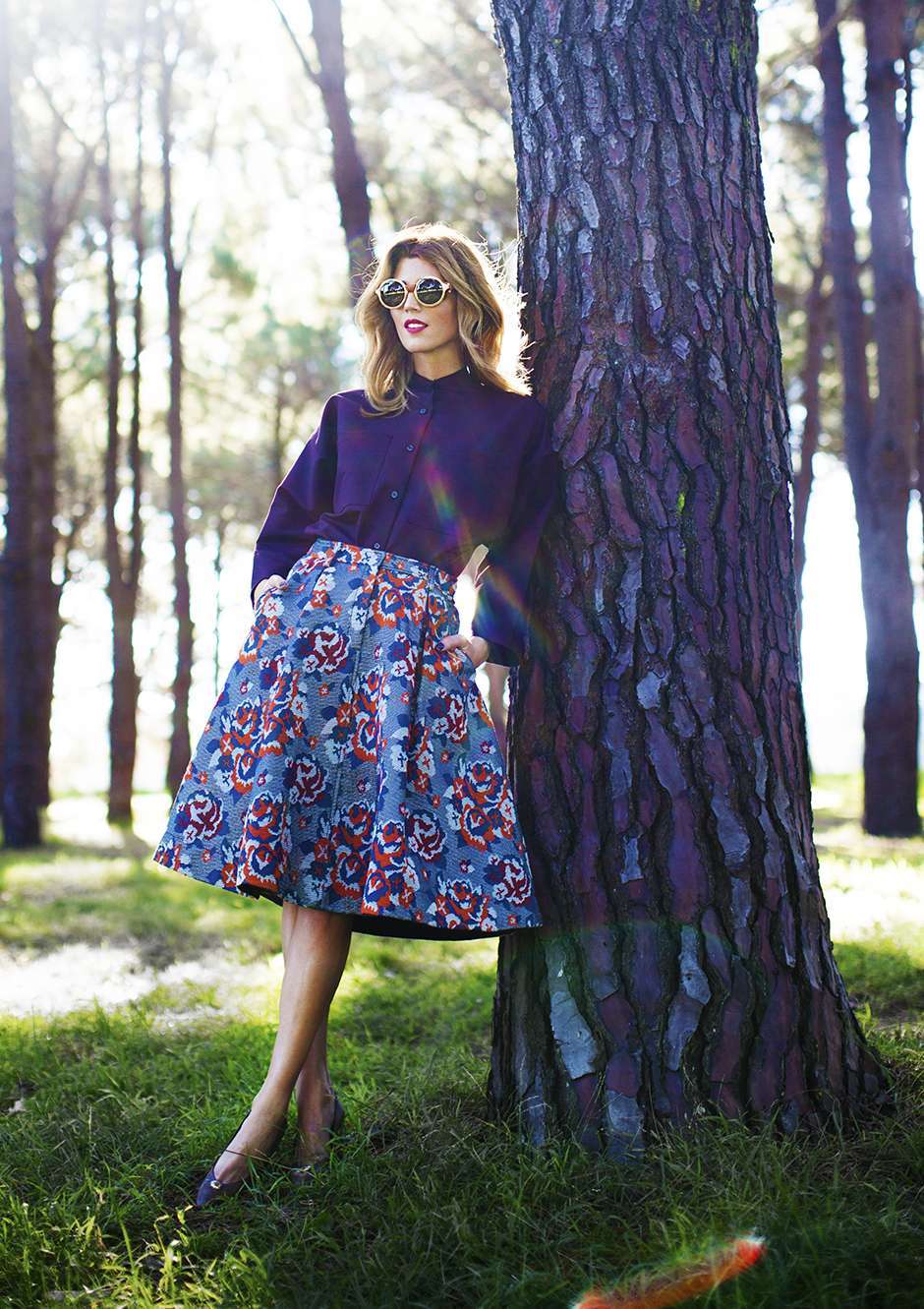 Tome shirt, Karen Walker skirt, vintage Gucci shoes, Thom Browne sunglasses
Read the full story now up on Vogue.com.au here!
Photographed by Alice Wesley Smith