Hey hey - it's finally spring! Trading in cold overcast days and upturned umbrellas for spring blooms and cold ciders on the beach is hardly a fair exchange but let's face it, there is so much to miss about winter sartorially. Case in point; beautiful coats that let us get away with anything, thick cashmere sweaters that feel like a slice of home no matter the weather outside and cool over the knee boots that add Stevie Nicks's irresistible allure to 70s maxis and split thigh skirts. Cold weather is so easy! But what about the encroaching warmth of Spring? Well!
This month, I've partnered with L'Oreal Paris in creating a weekly Spring Trend report ,dissecting not only lust fashion pieces but also the new (and frankly awesome) bronde trend currently sweeping the world. Beauty + fashion here we come!
Clockwise from top
1) Bronde : So what exactly is bronde? Bronde is neither a brunette nor a blonde. It's not balayage or bright, stripey highlights ; it is an altogether different way of applying colour that is perfect for women who think that sitting on the fence serves the best of both worlds and whose natural shade of hair fits somewhere in the middle of these two tonal extremes. For me, it's basically an excuse to be lazy with colouring - the bronde look is more forgiving while growing out and it's subtle highlighting won't change your hair dramatically. From mocha to café latte and honey blonde, bronde offers a range of shades used simultaneously that evokes a nuanced, sunkissed, multi dimensional colour - perfect for the 70s vibe still rocking on into Spring ( shade shown: L'Oreal Paris Preference Glam Lights No:3 Light Brown to Dark Blonde Hair )
2) Red baby, red! : This Spring it's all about scarlett, fire-engine,poppy flower, geranium red. But in this season trend's haste, let us not forget that red is also a forever colour. Especially when it's in a YSL bag edition. This baby will look good with this season's bohemian look or the looming 80s trend coming our way. Win, win
3) Aviator love : Aviators are the perfect accessory addition to maxi dresses, flares and stacked heel boots. These sunglasses sport a beautifully graded lense – what better way to see the world? ( Isabel Marant X Olivier Peoples sunglasses )
4) Gucci babyyyyy Gucci : No other label has captured the hearts of fashion editors worldwide as Gucci has with it's recent 180º style U turn. With Alessandro Michele as it's new Creative Director, Gucci has taken a new subversive turn - gone is the brash, overt sexuality of Gucci's past and in it's place is a label whose strengths lie in an unassuming, relaxed, romantic, 21st century baroque grunge look. I will be wearing my loafers with floral silk skirts, suits, jeans… basically - everything!
5.Vintage : The prevailing mood is still vintage – from the 70s, into early 80s, fashion is still tapping into decades past. And what is the best way to get the look? Easy! Go vintage! Scour your thrift shops, Ebay and upmarket vintage stores for gems whose new incarnations are all the vogue right now. Let's face it, designers pay their assistants to do this for them – vintage clothes are an endless treasure trove of inspiration and pattern ideas. Bonus point: it's unlikely that anyone is going to own your look! ( vintage Lanvin dress from Ebay )
6. Pearl me up : These are not your grandmother's pearls – these days marine jewels have taken on an altogether more modern incarnation with designers such as Delfina Delettrez, Chanel, Givenchy and Balenciaga playing with them across fresh, fun and wholly contemporary accessories ( pictured: Sarina Sariano palm cuff and earrings )
7. Paris 4eva : Paris is many obvious superlative adjectives but what is with the world's unending obsession with Parisian women? From their fashion style to their diets, we want to know how they do it with that je ne sais quoi ease and perfection. How to be Parisian Wherever you Are is a book that goes beyond clichés into tongue in cheek vaudeville . The amusing Anne Berest, Audrey Diwan, Caroline de Maigret and Sophie Mas dissect everything from fashion rules, recipes and obsessions to a candid look at adultery, friendships, love and sex. It is witty and fun and reads like an outrageous gossip session with a bestie – I read it cover to cover in one amused sitting.
Shooting this editorial the other day in the last days of Autumn - sun still warm on the skin, dappled glow on the water, sand under my toes, music drifting from an open window - had me wishing I was somewhere dancing into the sunset. Morocco, Cuba, India, Mexico - anywhere I could feel like Yves'(Saint Laurent's) muse LouLou de la Falaise -bohemian, wild and free. What better way to catch the rhythm than with a swaying long dress, this season's parennial favorite. Some of my favorite dresses this season are long, unhinged, unexpectedly detailed and timelessly beautiful .
On the other side of the proportional spectrum this season sit the mini bags - tiny and cute they are the antidote and the perfect match to their flowing counterparts  - enough for a credit card, phone, keys and a lipstick , they come to free us from the restraints of the world so we can dance long into the night unburdened from the clunkiness of the world. With a long practical strap in an on trend tan shade, this little Dakota bag from Coach has been my favourite over Fashion Week and beyond. Perfectly happy with flares, maxi dresses or tulip skirts , it's an all around overachiever. Just as at home on sunny Ibiza isles come August as it is going to be worn with fluffy jackets and suede trenches over Sydney's winter. Who needs a full sized wallet anyway?

Accessorize your maxi with some leopard - it is a neutral after all! (Kate Sylvester dress, vintage jacket, Coach bag, Gianvitto Rossi sandals)

Asymmetric lace and long sunny days 4eva (Zimmermann dress, Coach bag )

Add a gold toned statement jewellery piece to fast forward your 70s to the present ( Amber Sceats ear cuff )

One of this season's best trends is a backless dress.. uncovering one of the sexiest parts of a woman's body while demurely covering the front ( Ellery dress, Coach bag )

And when the rains come, be ready for them with some gumboots masquerading as riding boots ( Givenchy rain boots ) ( Tiffany T bracelet and Cartier Love bracelet worn throughout )
Photographed by Alice Wesley-Smith
2015 is definitely all about a 70s revival. Maxi dresses, flares, blousons and velvet on carefree, rock n'roll girls that look like they are a lovechild of Janis Joplin and Michelle Phillips. But if the thought of incorporating flares into your life is giving you the style equivalent of a Nag Champa incense headache, fear not. There are ways to wear your flares that are appropriate for work or the weekend.
This story also heralds my first collaboration with Coach, the iconic New York based accessories and ready to wear company that has recently been helmed by Stuart Vevers; the man who has in the past brought magic to labels such as Mulberry, Bottega Veneta and Loewe. Under Stuart's direction, Coach has grown into a super cool, youthful and playful brand with a kaleidoscopic use of color, print, cute cartoon characters as well as polished, lust worthy pieces. I am proud to announce I will be collaborating with Coach all this season - there are so many beautiful accessories I get to play with - I hope you fall in love with them as much as I have.
First up is the Swagger collection where Mr Vevers explores modern elegance and streetwise sophistication. It's all about delicate, jewelry like chains, hantags and amped up turnlocks. I wanted to pair my picks of the collection with the best of new season clothes and to show you just how easy it is to turn into Stevie Nicks without losing your 2015 modernity. All hail the flare!
So you think flares are best kept for the weekend? You haven't seen the Ellery version yet. With their swishing, multi layered bottom, these pants are not just elegant but super fun to walk, dance or run after a cab in. An all black palette means business and gold hardware details add luxe bling - I paired this outfit with a Swagger bag in black crock because, well, crock print is everything
( Ellery pants, Christopher Esber top, Max Mara jacket, Coach bag, Hermes cuff, Cartier bracelet, Tom Ford sunglasses, Aquazurra shoes )
Karen Walker has done some amazing flares this season and this pair is printastic as well as a great 70s shade of orange. Tan and brown accessories are de rigoeur this season to elevate any 70s look. Pair with a floaty white blouse for effortless cool ( Karen Walker pants, Isabel Marant top from Parlour X, vintage Gucci belt, Sunday Somewhere sunglasses, Kirsten Ash necklace, Prada shoes )
Photographed by Nicole Cooper
It has been a month since my last post - a long time to be engrossed in my daughter's school holiday activities,perpetual playdates, long afternoons on the beach and thick adventure books like the Northern Lights which I read to her in crazy voices and hushed tones so she sits at the edge of her seat and cannot go to sleep for racking her brain on what will happen next.
Anticipation is an amazing thing. I remember a study being done once on the fact that people who go on holidays actually get more joy anticipating the holiday that going on in. That may be the case, but I still get giddy waiting for next season's clothes and upon arrival, the endless combinations they provide.
This season, I'm coveting 70s fashions , now back in full force. They have always been one of my favourite style decades - a period compressed such a wide variety of ideas style-wise, that it seemed fashion took a radical turn every couple of years; from brightly coloured polyester, playful knits, paisley and the ever-present bellbottoms in the early years, to the mid-70s when denim reigned supreme and khaki and drill cotton were de rigour, down to the latter part of the decade where everything got looser and more folky.
From Chanel, Saint Laurent and Tom Ford, to Gucci, Sonia Rykel and Dries Van Noten everyone seems to have taken the retro route for the European spring/summer '15 season - it's time once again to get out those flares, dust off your suede and prep that lamé.
For this story, I played with some groovy, transeasonal items coming our way for autumn that will work dressed up or down.
This multi-tiered dress evokes languid Indian summers with its pretty pastel tones and lace cutouts. Pair with tan everything.(Zimmermann dress, Jerome Dreyfuss bag & Panama Hat co. hat.)
Now is the time to swap your skinnies for flares - the new cuts and stretchier fabrics are suprisingly slimming and flattering.
(Frame denim jeans, Miu Miu sunglasses & Romance Was Born shirt)
This khaki skirt in drill cotton works dressed up for work or dressed down with slides for weekends. Accessorise with a smattering of gold, aviator sunnies and did I mention this season there is never enough tan?
( Lover skirt, Jets bikni worn as top, Monica Vinader bracelet, Pink Lou Lou shell bracelet and Cartier love bracelet , Versace sunglasses & Karen Walker bag.)
The new 70s suit sports a wider leg with a slim fitting jacket (Asos suit, vintage Chloe platforms, Karen Walker sunglasses & Elke Kramer earrings)
Photographed by Alice Wesley-Smith
When Nicolas Ghesquiere became the new creative director of Louis Vuitton, the fashion fan inside of me did some serious cheerleading. His previous work for Balenciaga was always ahead of its time – relevant, modern and supplemented with incredible accessories. I was hoping this was going to be the case at LV and with this season's '60s, early '70s collection, there is so much to covet. Who would've thought that looking like an awesome version of Florence Henderson (The Brady Bunch's matriarch) could be so cool? Wide collars, babydoll dresses, high-waisted trousers and A-line minis are totally in and Gucci has joined the retro trip by producing some incredible clothes and shoes this season in wild shades of mustard, blush pink, muted cornflower blue and a whole bunch of leopard print to boot.
I played around with these beautiful clothes inside of Tomek Archer's fittingly colourific moveable pods on display at the Sherman Contemporary Art Foundation in Sydney.

Take a leaf out of Louis Vuitton's book and rock your miniskirt with ankle boots and a smattering of leather.

Shiny patent leather boots and cool pearl accessories adds another dimension (Gucci dress and boots, Sarina Suriano jewellery).

Sometimes a dress is born that just does amazing things to a woman's curves. This Louis Vuitton baby is it.

Don't forget the new vintage cool in accessories (Louis Vuitton bag and boots).
Check out the full story & more pictures now up on Vogue.com.au here
photographed by Jeremiah Wolf
With my love of vintage clothes and furniture, there also comes a determination in scouring every backwater charity shop with a lingering smell of moth balls for items that might fit my obsession with unusual colour combinations. I get giddy when I spot just the right shade of mustard. I go absolutely wild when I spot just the right shade of avocado green. Some may feel that these palette choices are, in fact, somewhat unusual (cough, cough; ugly), but put some of these babies together and the real magic happens. Whether it's pale blue and burgundy, ochre and khaki green, pale yellow and brown or pale pink and orange – there is something so right in these mid century duos that appeals to my love of all things '60s and '70s.
Thankfully, it looks like my clothes need not all smell of mothballs anymore, since Phoebe Philo and Nicolas Ghesquiere are producing some amazing clothes in vintage inspired colours for autumn/winter '14/'15 and resort 2015. I wanted to play around with this palette by adding a touch of another trend rocking my world at the moment - the folk inspired addition of naïve motifs, handicraft touches and intarsia knits.

Nanushka sweater, Dion Lee skirt, Birkenstock sandals, Thomas Sabo earrings, E-esque clutch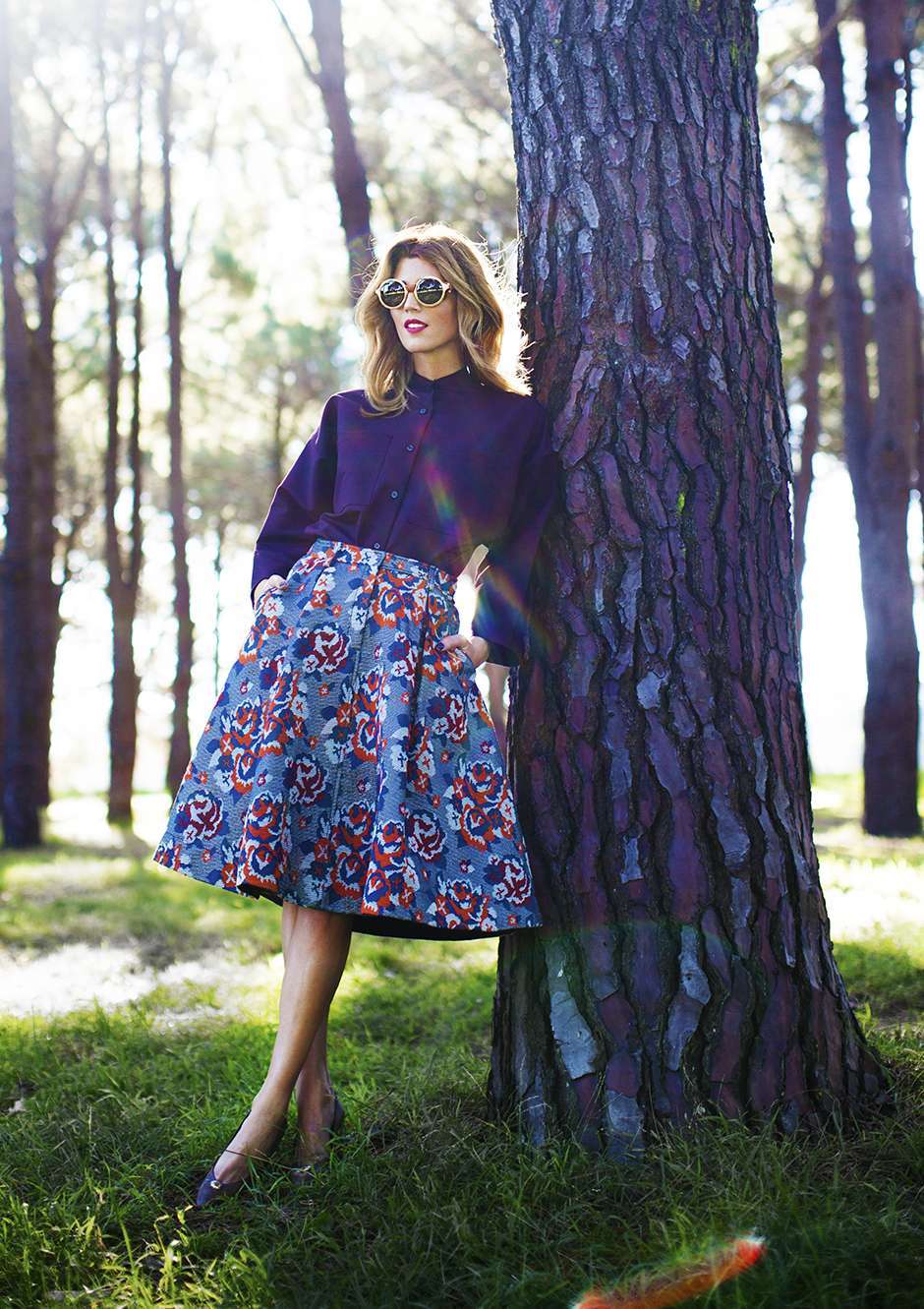 Tome shirt, Karen Walker skirt, vintage Gucci shoes, Thom Browne sunglasses
Read the full story now up on Vogue.com.au here!
Photographed by Alice Wesley Smith