Sometimes in life, it's fun to be a little bit extra but with the holidays fast approaching, I'm taking it up several notches. Welcome to my old kitchen where this video was shot amidst amazing gowns, accessories and food in one whirlwind afternoon. I've been known to have dress up dinner parties and pretend my life is perfect in every way when guests arrive (don't we all?) , but this OTT version also features some incredible diamonds, feathers, sequins and a touch of dramatic flourish. As this was a passion project it took a while to finalise and I want to say a big thank you to Rachel Gilbert who made the first gown, Aje; who made the second, Chaumet and Bulgari for their incredible jewellery and accessories, Stuart Weitzman for the pink shoes, Commune Bondi for the plates, In Bed Store for their linen napkins, and Native Drops for their incredible organic wine.
Couture it may nearly be but let's not forget about the cooking - this is a recipe video after all! It's a little challenging as it requires some multitasking - it's best to prep everything before the heat is on, because the end of the recipe happens fast!
( makes 2 large servings )
INGREDIENTS:
-4 scampi, halved (ask your fishmonger to do it for you-these babies are hard to slice!)
Reserve the heads for the sauce
- Linguine pasta
- baby zucchini, sliced
-green olives sliced or capers
- 2 punnets of cherry tomato sliced in half
- white wine, about a small glass
- a few sprigs of thyme
-parsley
-chilli
-garlic, half a head, finely chopped
-butter
- olive oil
-salt and pepper
METHOD
- Place the scampi heads into a pan with a good glug of oil. Fry on medium heat for 5 minutes, then add white wine, thyme sprigs, salt and pepper, chilli and garlic. Keep cooking on low heat for another 10 minutes. Remove the heads, add the cherry tomato, capers or olives and once the tomato soften, add the sliced zucchini. Keep cooking on low and add more white wine if it starts getting dry (just don't forget to cook the alcohol off before serving!)
-Boil water and add salt to it. Cook the pasta until al dente (check the packet for exact instructions)
-In the meantime, soften the butter and mix in chopped up garlic, thyme,parsley and salt and pepper. Pre-heat the grill, butter the scampi well and place on the hot plate. Scampi are very delicate and don't need a lot of cooking time. Depending on the size it should only take 1-3 minutes to cook through a half shell.
Mix the pasta through the sauce, serve on a plate with 4 half shells and some chopped up parsley. Bulgari jewels optional! ; )
Video shot by Aleksei Vanamois
While in Paris recently, I had a couple of nights off so I decided to shake off the cobwebs and hit the dance floor. Being away on the other side of the world yet with my best friend Lindy by my side certainly gave me the incentive to check out a couple of iconic Parisian night spots and dance a few hours away. Silencio and Regine are both awesome for some high heel cardio , a cocktail or two and watching the kids get dizzy. The only question was - what to wear? After some deliberation , I chose this amazing dress because it ticked so many spring trends.
For my third post for L'Oreal Paris, I thought I'd talk not just about what is so exciting about evening wear at the moment but what I personally love about being a bronde. To me, being a bronde is everything I love about summer- looking sun kissed due to it's shimmery highlights but also healthy because the highlights aren't too bright or drying to the hair. It's about being easy going and not having to schedule upkeep too often, truly allowing me to relax knowing that even if my hair grows out a little , it will still look fabulous. I also love how the L'oreal Glam Highlights collection comes in many shades as I always go a little darker in winter, then brighten up with highlights again in the summer to match the weather.
Backless - personally, this is one of my favorite current trends in evening wear. I think the back is such an under utilized and forgotten part of the body and also one of the most sensuous and beautiful . Look for a covered front or long sleeves for a sexy yet demure take on this trend
Cuffs - cuffs are big at the moment and come attached to unexpected silhouettes in a wide variety of fabrics, sizes and textures. Adding a little bit of shirting appeal to otherwise unsuitable looks somehow just works so cuff it good!
Shine baby shine! - Glitter, sequin or lame, this season is all about making like Ziggy Stardust . Hit the dance floor in something that will truly give the mirrorball a run for it's money. Bonus point : there is no way that boy won't notice you!
Wearing: Aje dress, Dior earrings, Sarah and Sebastian ring, Jordan Askill ring, Proenza Schouler mules
photographed by Alice-Wesley-Smith
If I were to judge the upcoming MBFWA 2015 solely based on the samples pulled for this story , the keyword of the week would be volume. As in slightly impractical, wonderfully dramatic and so much fun to shoot! The all seeing wizard I am not, but I know I will be proven both correct and incorrect numerous times over the week -Australian fashion is always about providing a number of conflicting trends– from whimsical and dreamy to utalitarian, well cut , feminine, practical, beachy or vintage inspired ; we are blessed to have such a talented and varied bunch of designers in this country.
I have to admit, as soon as I had an idea for this story, I was seeing a remote location – somewhere idylic and breathtakingly beautiful where I could juxtapose all the volume with sweeping vistas and nonpulsed kangaroo locals. Not only is it incredibly exciting seeing previously unseen fashion and taking it for a spin, but also quite scary and nerve wrecking taking original samples out of Syndey a week before fashion week! Thankfully we were blessed with a gorgeous set – an original , renovated 1800s homestead with fields and kangaroos on the grounds of the stunning Emirates Wolgan Valley One & Only luxury resort. Mountain paradise – meet fashion heaven!
(above) AJE : Calling spring! Intricate beading and structured shape of this bustier is vying for attention with the homestead's white flowers (shhhh, Aje's new denim pieces also looked amazing)

MATICEVSKI Resident marsupials meet Maticevski's dreamy polka dot confection
TOME  They may be intended for a more urban environment with their cool detailing and oversized shilouette, but these Tome clothes are also high in chill cred

ALICE MCCALL Mesh pleating and feminine shapes take on country simplicity

ROMANCE WAS BORN  The road is long and there are mountains in our way, but flared overalls will make sure we climb a step every day –and not just because Joe Cocker says so.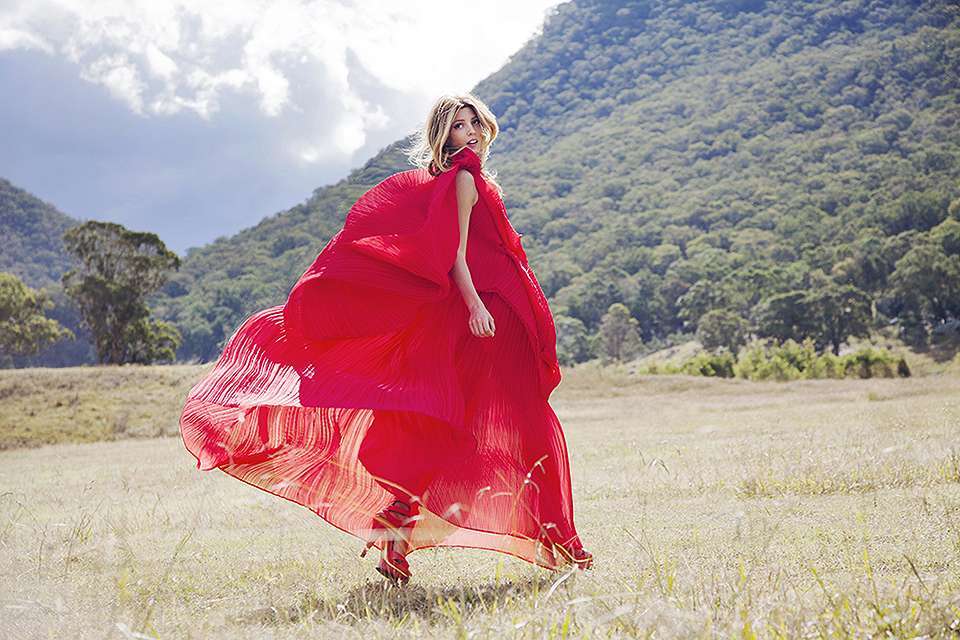 MICHAEL LO SORDO: Pleats please! This modular skirt and top combo had numerous ways of wearing it and they were all incredible.Red pleats & wind = heaven!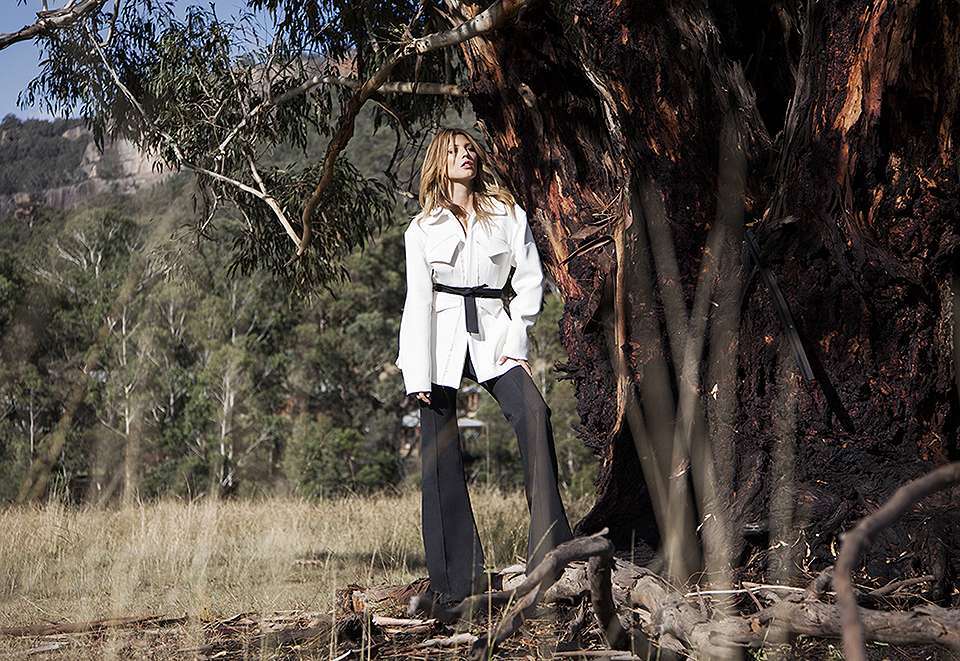 ELLERY: Ellery continues her fashion code legacy with sumptious fabrics and exaggerated lines
See the full story on Vogue.com.au here!
Photographed by Alice Wesley-Smith
With thanks to the Emirates One&Only Wolgan Valley resort