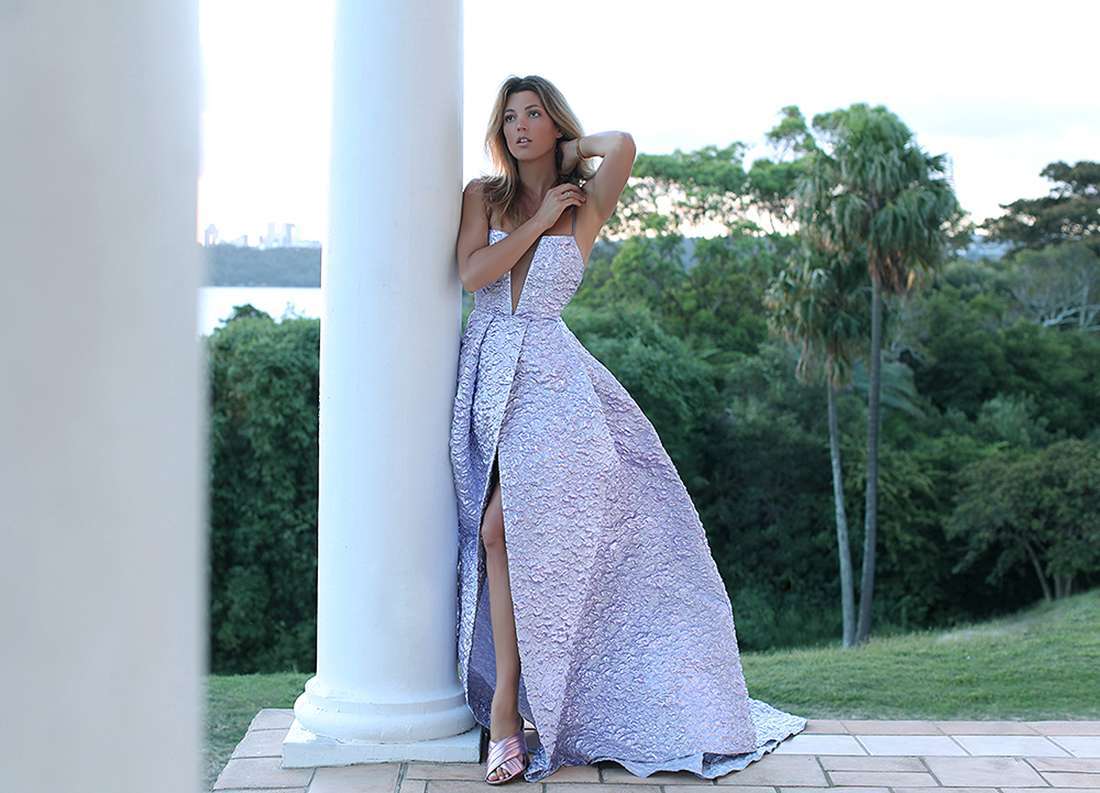 It's all about the impact
From Gucci to Valentino, the runways seem to be awash with a new message: minimalism is dead, long live maximalism! Sure, there are times when we need a little normcore in our lives, but forever? How boring. I'm a jeans and t-shirt kind of girl most days but the days I do get to go out and dress up, I relish with the enthusiasm of an overexcited toddler in a candy store.Sometimes, it is about making the effort and feeling like a star and there is no better way to do that but by adding a bit of drama.For this story I reviewed Max Factor's False Lash Epic Brush mascara and a few high impact dresses that are sure to turn up the glamour dial this autumn. This is not the first Max Factor mascara I have reviewed, but it certainly has the highest impact.

Above : Alex Perry dress, Maria Tash earring from Net-a-Porter
One layer was bold and voluminous; two coats made my eyes look like I was wearing false lashes, due to the brush's wide arched shape. With a mix of conical and flat pointing bristles and a zoom action tip that captures and magnifies every detail of every lash for an epic lash fan – no wonder it was the official mascara of the Victoria's Secret Fashion Show.
Global Max Factor Creative Director is none other than the legendary Pat McGrath who uses it for high impact on shoots and shows – this mascara is certainly noticeable on film, unlike many others. Here is my personal step-by-step on adding a little impact:
Use the zoom action tip to bring more va-va-voom to the edges of eyes by building extreme lift and volume in just 2 coats.

Rachel Gilbert dress, Rochas heels
Bell sleeves and pretty embroidered flowers add drama in the diffused afternoon glow.

Zimmermann dress, Maria Tash hoop earring from Net-a-Porter, Ole Lynggaard Copenhagen pearl and diamond ring and earrings
My rule tends to be to either accentuate eyes or lips, keeping the overall look lady like. Add gorgeous jewels as an added accent.
See the rest of the story on Vogue.com.au here!
photographed by Alice Wesley-Smith
Pink is a more contentuous colour than any other; some love it, some hate it but most are shrug–the–shoulders ambiguous about it. Most don't really mind it but when there is a perfectly good non-pink palette of colours out there to choose from most will give it a wide berth. To me it evokes childhood memories of spun sugar coloured starched frilly dresses, sherbet hued bunny rabbits and sparkly fuchsia tiaras - all things I vehemently disliked as uncool.
Since I was a tomboy, pink only crept into my life around 18, when I developed an obsession with the 80s. Living in the East Village of New York City listening to punk rock and early electronic music while vintage shopping Patti Smith and Blondie sartorial references, pink came in as a sash here and Nars Schiap lipstick there - gateways that led to a patent kitten heel and then full blown crystal encrusted bodycon worn with a military jacket . Slowly my perception of the colour changed until it became a hue that akin to red gets one noticed.
This season, pink plays on the 70s with dusks and dirty pinks, paired against browns, floral prints, or traffic-stopping brights.
Above: Long sleeves and a covered up decolletage balance this dress out perfectly with its mini length in an outrageously decadent pink. Alex Perry dress, Gianvito Rossi sandals and Alexander McQueen clutch from Miss Louise.



Balance out a pretty dress with studs and flat, mannish sandals. Balenciaga dress and Valentino bag from Cosette and Coach sandals.
Choose dusky pinks when pairing with suede and browns then add a brighter coloured accessory for a touch of unexpected pop. Lover bra and shirt, Frame Denim culottes from Edward Imports, Max Mara bag, Mania Mania crystal necklace and vintage Prada sandals.

Pale pink doesn't need to be sweet – it is a modern shade that plays well with neutrals and monochrome. Nicholas skirt, Gary Bigeni top and Chloe wedges
Photographed by Alice Wesley-Smith
Summer is my favourite season. For some reason, the imaginary line between the summer period is incredibly tangible and poignant in my mind, even though I inevitably overcommit to a daily health and fitness routine that I never ever really try to implement (no sugar in January is one of these –as soon as the Pavlova comes out at New Year's day BBQ, I forget all about my resolution )
Still, in my mind, the start of summer is like a second birthday – a time to reflect on the year that has been, review lessons, express gratitude, set goals and send hopes and wishes off to the heavens. Most importantly however, it's a time to strap on some high heels, put on a gorgeous dress and party like it's 1999!
Here are my picks of the dresses I want to dance the nights away in this summer…
Above: This Alex Perry number is a floor length, one-shouldered, fire engine red bombshell – perfect for trail blazing the night.
White is always beautiful for summer but this Ellery dress has a sweetheart neckline and a beautiful fluted bottom in the oh-so-now midi length that puts it ahead of the competition.
Choose a brightly coloured bag to pop against the dress and classic gold hardwear as arm candy (Hermès bag and Le chien cuff, Cartier Love bracelet).

A backless dress is one of the sexiest silhouettes on the horizon for 2015 - this Lover dress plays on the trend with beautiful lace. ( Gucci bag and shoes )
 
View the full story and more pictures now up on vogue.com.au here!
photographed by Kasia Werstak
One of the best aspects of being a blogger is playing dress ups with fabulous clothes - whereas I usually dress down in everyday staples, Fashion Week is always a great excuse to go a little wild and have some fun. My outfits this year were so intricate and beautiful, I felt that they needed a post of their own to show off the sheer amazingness of the details .
We shot this post in front of my house at Bondi Beach and boy, did we get a lot of looks and even a little audience from the nearby Muscle gym, but not for reasons you'd think! The boys were more enamoured with the lace and the crystal encrusted jacket then they were with the two girls shooting. I'm not surprised, I mean who wouldn't swoon over the way the near artpiece sparkles in the sun ?
The light kept playing peekaboo behind the clouds and the night came quickly with autumn daylight savings giving the looks from Burberry, Dion Lee, Toni Maticevski,Alex Perry and Dyspnea their own special glow.

When I saw this Burberry outfit, I fell in love..hard! It's crazy beautiful embellishments, plastic capelet detailing , mermaid-esque scaled clutch detailing and shimmering crystals are out of this world. The near exact match of Sarina Suriano jewellery added to the drama. ( top, jacket, skirt, clutch and sandals -all by Burberry, necklace and bracelet by Sarina Suriano )
One of the big trends this season is the exuberant shade of yellow. This gorgeous lace dress made me feel like a candy hued princess coupled with hundreds and thousands accessories (dress by Alex Perry, bag and shoes by Christian Louboutin )
For the last few seasons a momentum has been building for a flashback to fuller, ladylike skirts and cinched in waists. I wanted to juxtapose the elegance, softness and femininity of the silhouette with intricate hardware and toughness of a leather corset. It made for an interesting sartorial dynamic - I coined it the dominatrix princess ! ( Skirt and bustier both by Toni Maticevski, Christian Louboutin pumps, Louis Vuitton bag, vintage earrings )

Pale pinks are the new way to do neutrals this season and this beautiful, shimmering, python scaled leather dress is this trend personified. Combined with gorgeous silver jewellery, it made for a subtly glamorous, figure hugging look. ( Dress by Dion Lee, cuffs by Tiffany & Co, vintage earrings, A-esque clutch, Sheriff & Cherry sunglasses, Giuseppe Zanotti pumps)

Sheer layers, mesh fabrics, metallics and pastels are huge at the moment - I wanted to give this trend a spin in an elegant lilac coat and mirror encrusted dress that made me feel modern and feminine at the same time. ( Dyspnea dress, Toni Maticevski coat, Sarina Suriano jewellery, A-esque clutch , Giuseppe Zanotti pumps )

Photographed by Kasia Werstak
It has been a loooong hiatus between posts, partly because I was so busy shooting this story before Mercedes Benz Sydney Fashion Week and partly because my once loyal computer decided to crash...taking all my precious stuff with it into a techno grave (always back it up kids, don't be like me!). While the computer nerd fairies worked their magic on resurrecting my data onto a new computer, I shot this story with my photographer Alice Wesley-Smith. Let's say it wasn't without it's challenges. Some designers pulled out because their samples were as yet then non-existent, couriers went missing, weather kept getting bad ,samples were unfinished and without fastenings. It is a frantic and terribly stressful time for designers so we tried to work around them but the rain didn't want to play ball. Still we persisted , so this story was shot over a few days, with each ray of sunshine through the clouds signifying a sprint out to shoot .I love the way it has turned out ! I hope you do too...
I will be doing a full MBFWA review on this blog in the next few days , but for now, here is the Vogue.com.au story:
Another year, another MBFWA!
Averaging 12 shows per day, the jam packed schedule allowed for plenty of magic via new designers as well as established icons of the Australian fashion industry. I loved the trends and ideas designers presented, with plenty of wish list write ups compiled for next season.
Main trends were toward layering, soft tailoring, looser, more relaxed silhouettes, structural dresses, pastel tones, monochrome, innovative fabrics, beachwear inspired clothes, embellishment and cool prints.

Carla Zampatti, who celebrates 50 years in the industry next year, showed a glamorous, elegant collection fitting her own timeless style. (Carla Zampatti gown, silk fabric from Broadwick Silks)

Alex Perry presented a collection replete with sexy party dresses but I also loved the loose, embellished t-shirts and plenty of beautiful lace. (Alex Perry dress, Maison Michel hat, Tony Bianco for Alex Perry boots)

Toni Maticevski has been going from strength to strength, presenting a stunning, masterfully tailored collection of breath taking dresses and ladylike separates.(Toni Maticevski dress, Balenciaga wedges and Hermes cuff)

We are Handsome held their fun, always colourful show within the beautiful Paddington Reservoir gardens. This year the prints were focused on tigers, zebras and florals. I loved this chain and orchid print swimsuit with a flattering underwire cup.(We Are Handsome swimsuit, Preen boots, Celine necklace, vintage hat and bracelets)
Check out the full story and 3 more looks including Dion Lee II, Ellery and Romance Was Born now up on
vogue.com.au here!
If a black dress is the sartorial equivalent of the daily coffee: practical, sharp and dark,  then the statement dress would be the wardrobe counterpart of an iced hazelnut triple shot macchiato with cream and chocolate syrup. These dresses are meant to be talked about , admired, swooned over and envied. They are the dresses you buy for a special ocassion, the sort of dresses your daughter will want to steal. The Alex Perry dress pictured above is like a gelato on a summer's day: pastel hued, light and delicious.

 
Josh Goot has really played with proportions this season – I love this beautiful bustier, thigh split, long sash number. It's modern and sexy at the same time. 
This Dion Lee number is a sexy and  intricate play with textures and lenghts.
3 more outfits and the full story up now on Vogue.com.au here !
photographed by : Alice Wesley- Smith