Pip Edwards and I have been friends for 20 years, way back when we had terrible hairstyles, wore questionable clothes and did a lot of dancing on the weekends.
We both had kids before any of our friends and then navigated heartbreak, single motherhood and career life in parallel timing, so these days when life gives both of us a snippet of free time at the same time, we like to live it all the way up.
Pip is a powerhouse at the amazing sportswear brand P.E nation, so catching her is near impossible. But, it just happened to be that we were both in Los Angeles at the same time so we drove into the desert, Thelma & Louise-style, to one of my favourite hotels in the world: the Parker Palm Springs.
This iconic accommodation is an oasis in the desert teeming with hummingbirds in beautiful lush grounds, with mid-century styling, hip restaurants and cool art. I managed to persuade Pip to take part in this trend-based story. And, oh boy did we have some fun along the way!
Scroll on to see five summer trends showcased in the iconic desert surrounds of Palm Springs.
Above: Tanja wears Double Rainbouu dress, Reliquia scrunchie and star earrings, Le Specs sunglasses; Pip wears Balenciaga sunglasses and Versace swimsuit.
Excess all areas
This summer is all about bringing the excess of the '80s and early '90s back. Think: bright colours, over-the-top styling and gold baby, gold!
Above: Pip wears Double Rainbouu shirt, Versace swimsuit, Nomadic State of Mind sandals, Jordan Askill necklace, Sarah & Sebastian necklace, Balenciaga sunglasses.
Strolling through Joshua Tree National Park like…

'90s minimalism is also having a revival. The normcore polar opposite to excess, this trend highlights clean lines and simple styling, think:
Carolyn Bessette-Kennedy
. Bermuda shorts are a must.
Above: Pip wears Balenciaga sunglasses and thongs, Dion Lee top and shorts; Tanja wears Dion Lee top and skirt, Dior sunglasses, vintage shoes.
Jungle fever
You can't put a foot wrong if you wear animal print this season, so why not make it a full look.
Above: Pip wears a vintage hat, Zimmermann bikini, SWF skirt, Chanel sandals; Tanja wears Reliquia headband, Jimmy Choo sunglasses, Zimmermann playsuit, vintage heels.
Bird of paradise
Don't hold back on wild feathers and vintage styling à la the '60s and '70s, this season is all about fun.
Above: Tanja wears Alice McCall playsuit, vintage heels.
Dancing queens
Bring the swish of the '80s and the nightclub scene back with sequins.
Above: Pip wears Dior sunglasses, Alice McCall dress, Chanel sandals; Tanja wears Moschino sunglasses, Rachel Gilbert dress, YSL heels.
This story originally appeared on vogue.com.au
here 
With thanks to The Parker Palm Springs xx
I must say I was so excited to shoot this story on my recent European holiday, as Venice has always been one of my favourite places in the world. Apart from gondolas, bridges and canals, this town is also magic for its culture and architecture, the highlight of which I got to experience while shooting at Palazzo Gritti, a beautiful 14th century palace that has been converted into a hotel brimming with luxury and old-school opulence.
Positioned right on the Grand Canal, the location proved the perfect place to shoot this story on the five trends in footwear you need to familiarise yourself with now. For more, scroll on to browse the season's must-have styles.

Kitten crazy
No need to tottle around on stilts when kitten heels are having a comeback - choose from a variety of options; mules, slingbacks, pumps or even boots.
Above: Tanja wears YSL sandals, Michael Lo Sordo dress.
Slip on
Slippers have become a must-have shoe item in any woman's wardrobe. Not only are they supremely comfortable, they are also versatile – try rocking yours with anything from jeans and pants to maxi dresses and split skirts.
Above: Tanja wears Art Of Day sustainable slippers, Nique pants, Alice McCall top.
Thongs are making a comeback
Whether it's highlighted in a flip flop style sandal or ensconced in 70s leather vibes, this season it's all about the thong. Mules are also having a moment and strappy styles are a always a hit.
Above: Tanja wears Mara and Mine heels, MLM dress, Tiffany & Co smile necklace, Sarah and Sebastian astrological sign necklace, Jordan Askill diamond heart ring, Ole Lyngaard diamond flower ring, Cartier love bracelet worn throughout.
The fancy sandal flat
Celine and Prada have been making incarnations of this style for years but this season, it's become a go-to for whatever occasion or time of the day it may be. Wear it with anything from jeans to skirts and evening dresses – bonus points for patent, boucle, embroidery or rhinestones.
Above: Tanja wears Christopher Kane sandals, Rebecca Valance dress.
Disco fever
Gold and silver, platforms and wedges – the fun era of shoes has returned. Whether you want to inject metallics for added wow factor to your outfit or pretend you're a dancing queen at Studio 54, this season it's time to go all out.
Above: Tanja wears vintage shoes, Rebecca Valance dress.
This story appears on vogue.com.au here! 
Aje kicked off Mercedes Benz fashion week Australia with a runway overlooking the opera house -crisp cotton shirts, Bermuda shorts, signature balloon sleeves, topstitching and ruffles commanded the runway but I loved the tiered, flowing dresses and oversized suiting the best. As much as Aje drew on their signature silhouettes for this collection, this incarnation had a distinctly Australian flavour with native plants, animals and road signposts all making an appearance. ( Aje top and pants, Bulgari bag, Christian Louboutin heels, Ole Lynggaard ear cuff)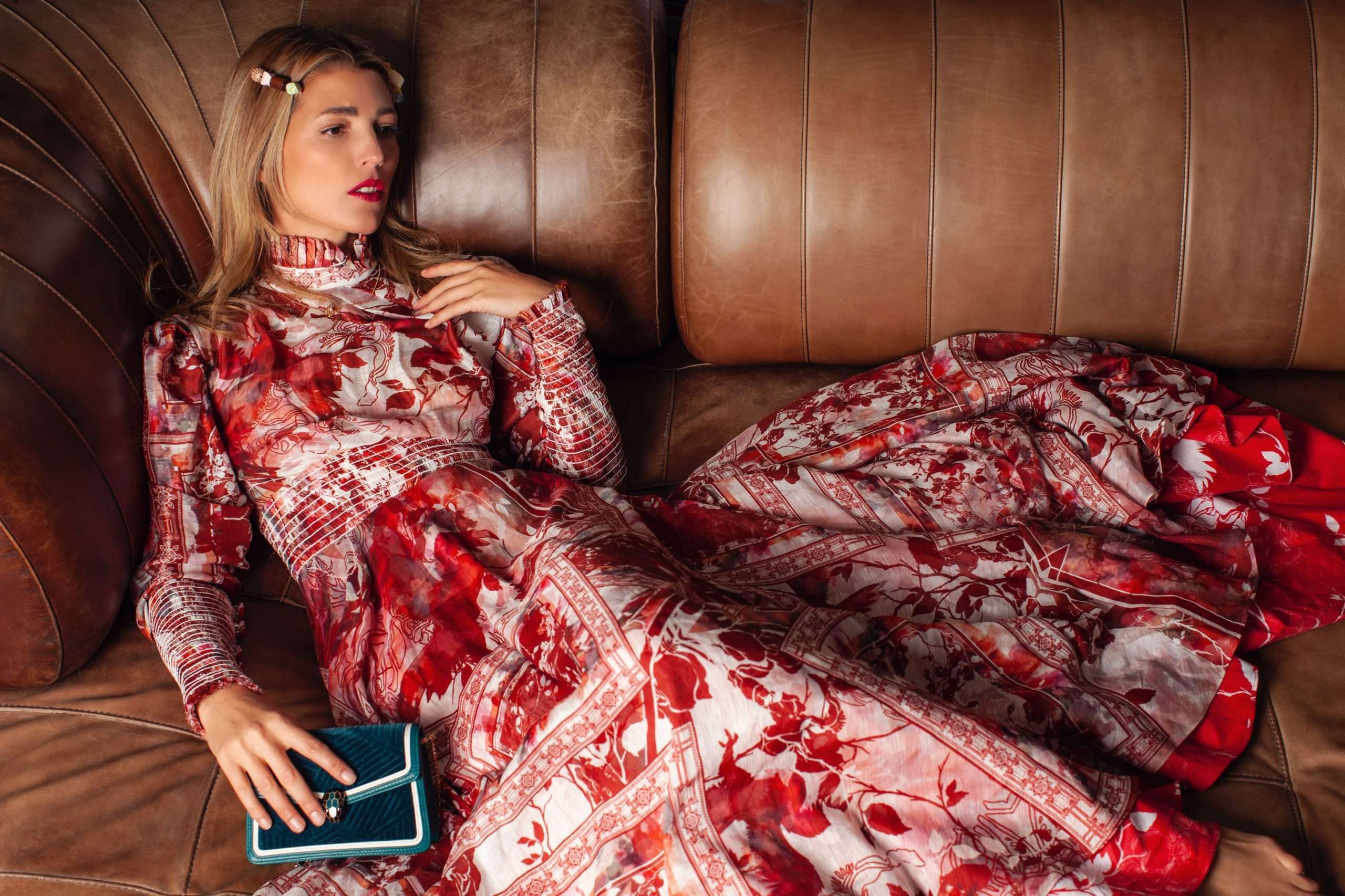 Leo and Lin introduced light cotton maxi dresses, high necks, asymmetric shoulders, mixed print scarf dresses and plenty of lace this year. There was frills and frivolity for the party girl ,as well as blouses and pants for the professional but my favourite were flowing gypsy dresses and skirts strewn with floral ( Leo and Lin dress, Valet hairclip, Bulgari bag)
Bec and Bridge returned with a collection that mixed inspirations- surfing, tropical print, 70s and 80s all made an appearance. All the favourite micro mini dresses were present, along with tiny shorts, but this year my faves were bermuda/ bike shorts, oversized satin suit jackets, bright turtlenecks akin to wetsuits and pleated skirts. I loved the colour palette mixing bright turquoise and orange with more muted tones of mustard and ochre. ( Bec and Bridge top, skirt, belt and shoes, Ole Lynggaard earrings, Bulgari bracelet)
If you're in a need of a sexy dress or perhaps are going to a fabulous dinner party in a Palm Springs mid century mansion, don't go past Alice McCall's collection. There were 80s sequins, lurex, feather lined pyjamas, rhinestoned chainmail and pretty satin as well as the designer's signature pretty cutout separates in pastel colours. Thanks for bringing the fun! ( Alice McCall dress, Roger Vivier sneakers, Valet earrings, Bulgari fanny pack and bracelet)
Anna Quan makes classic pieces for a grown woman and you will always be able to find a good shirt, pants or suit jacket from the designer, yet this year the collection had a distinctly vintage flavour with knitted dresses and asymmetric tops, long line shorts and pleated skirts ( Anna Quan dress, Giuseppe Zanotti shoes, Christie Nicolaides earrings )
Double Rainbuu may have started with hawaiian shirts but it has quickly grown into the go to label for all your holiday needs. The brand has a habit of churning out shorts and shirts that make you feel like sunshine yet look Hunter S Thompson cool. This year DB continued their travel inspiration by showing in the Chinese gardens, where guests meandered between presentation sections to zen music. New for the brand was the light knitwear and long line dresses all done in the new asian inspired print ( Double Rainbuu tops, Roger Vivier boots, Bally bag)
P.E Nation was once a sportswear brand but it is growing into so much more than that. Anyone that is a fan of the label knows how sexy and supportive the designs are in and out of the gym, but the next wave of denim, bombers, amazing legging pants and sweatshirts Pip Edwards and Claire Tregoning have designed will have you picking pieces for their after hours appeal too (P.E Nation tracksuit , Christian Louboutin shoes, Valet earrings, Published By bag)
With thanks to Vampt Vintage store for providing the location
Photographed by Alice Wesley-Smith
Fashion Week only swings around once a year in Australia so come May everyone in the industry is lining up their outfits, pillaging pr agencies, last minute online shopping, loaning from friends and otherwise spending solid quality time in front of the mirror.
Dear reader; I wanted to be one of these people but I was doing the MBFWA review story for vogue.com.au in the lead up and hence was too overwhelmed with existing loans,countless emails and shoot production to think street style.When Monday came around and I had no outfit, I sent some emails and my assistant to pick up a few things from a couple of ravaged pr offices that now looked like supermarkets before Hurricane Irma hit ; barren and sparse.
First world problems these may be but one needs to get through the week clothed and my preference is a tad more fabric than what Bella Hadid wears on the Cannes red carpet 😉
Even though many Australian heavyweights didn't show this year, there were many highlights to the week so I decided to do a little photo diary - I want you to see all the fun that was to be had ! Sadly, I'm not posting all the shows I went to- some of them I just didn't get great pictures at - sometimes the lights are too low and the models move too fast.
DAY 1: Camilla & Marc started off the week with a bang, all cool tailoring, oversized jackets, shoulder pads, ruffles, off the shoulder dresses and skirts over pants. There were so many things to love here, all I can say is: send separates guys!

The Camilla & Marc stage was this amazing outback-ey looking set that every single person tried to get a photo in after the show. Here's me, semi soaked still cause it was pouring outside, elbowing my way to a quiet corner with the help of Yan Yan Chan who took these photos for me (thanks Jan ; )).
Wearing Rebecca Valance skirt and bustier, Balmain Top, La Perla bra, Gucci bag, Zimmermann shoes and a vintage Versace jacket
DAY 2 :Monday was a busy day, so what better way to start it but by wearing head to toe pink and matching it to a double shot flat white in a Dion Lee Vittoria cup ? Wearing Dion Lee top and pants, Michael Lo Sordo jacket, Fendi bag, Charlotte Olympia shoes, Balenciaga earring and vintage Balenciaga sunglasses
I loved the Bianca Spender show; all oversized, feminine suits and flowing, sensual silks. Well tailored and flattering with a sustainable bend, I can't wait to wear some of those slinky silk dresses over wide legged pants
En route to the Alice McCall show  (Alice Mccall pants, Ginger and Smart top, Gucci shoes, YSL bag and Matteau bikini top )
If Alice Mccall had a girl she were making clothes for it would be a fun party girl with vintage sensibilities. Some of her dresses and shorts used to be so short they'd make my eyes water ( cause I didn't have the guts to expose so much of my pins ) so I'm loving how some of the hemlines are longer this season and there are amazing maxi gowns in the fray too. Lace detailing and lamé dresses never hurt the party girl either, let's face it
My mates Mikey & Toby over at Double Rainbow did an amazing job growing their hawaiian shirt label into a veritable style reference of their own. This show was pure festival summer incarnated with mesh tops, prints galore, tracksuit combos, clever t-shirts and beach shorts we all need once the heatwave hits. Big love to Sarah Starkey who styled this show to perfection, within the restricted confines of the Landsdowne hotel non the less.
It was 9 pm when the Double Rainbuu show finished so I rushed to the intimate dinner Michael Lo Sordo was hosting at the city institution that is Bambini Trust. I had to make a swift change into a Michael Lo Sordo look in the car, across the road from a packed bus stop which was as hilariously awkward as you can imagine. The girls and I were all Lo Sordo brides that night- Sunny Vandervelde took this fun snap of us in front of the restaurant before we all settled to a gorgeous candlelit dinner. Thanks Michael and MCM pr for this wonderful night!
DAY 3 When you're dressed so farshion but you wish you were wearing a bikini and diving in!
Wearing Undone Project pants, Jill Sander t-shirt from Net-a-Porter, Zimmermann shoes, Dinosaur designs earrings and bracelet, From St Xavier clutch and Double Rainbuu x Le Specs sunglasses 
The Emilia Wickstead x Matches Fashion was a pure delight. Not only was it held at the spectacular Wylie's baths which I'd never been to before but the weather was incredible, the clothes lovely, the atmosphere magical, the champagne cold and the appetisers delicious. Can every show be like this? I wanted to twirl in these pretty dresses and dive into some long gone Riviera pool whilst wearing a pink swim cap. This show evoked so many feels that I escaped through a portal to another time. When the show finished, I still didn't want to leave because the reality was wonderful too.
Snakeskin, lamé, 70s, gingham, sheer...the Hansen & Gretel show had all the trends. All I can say is: I'm coming for you head to toe snakeskin print, don't even bother hiding cause I'll find you!
I had some time to rush home and get changed for the Romance Was born show ( wearing Romance Was Born, Gianvitto Rossi from Net-a-porter shoes, Reliquia earrings )
Hello lamé, hello slinky goddesses, hello prints, ruffles and the joy of seeing creativity unbridled - Romance Was Born show is always such an unmissable event on the week's calendar. This year, the underbelly of Hubert's was transformed into a Parisian salon where models twirled between tables and enchanted us with ruffles, lace and batwings.
As if the beautiful clothes weren't enough, guests were presented with a delicious 3 course sit down dinner and drag queen singers that ravished the captive audience with vintage hits. The night also served as a launch for RWB's incredible retrospective book - if you love fashion, buy this book as it's sure to be iconic ( and whilst you're page turning, play a little find Tanja game- there are a few pictures in there from my modelling days ) The fun didn't stop there- after the show, some of us stayed on for a nightcap and danced on tabletops ( i'm looking at you Isabella Manfredi ; ))
DAY4: One of the highlights was the Christopher Esber show today, with it's impeccable detailing and painstakingly beautiful beaded knits. I wanted so many items from this show. Worn as a look , these were strong pieces but equally important; any one of them would elevate plain old t-shirts or jeans to new heights. I also had a deadline today so I spent most of my day just editing : (

Wearing Zimmermann pants, Michael Lo Sordo top, Gucci Belt, Byfar x Net-a-Porter sandals, YSL bag from Net-a-Porter, vintage necklaces and jacket, Reliquia earrings
Day5: Nothing like the joy of arriving to the Ten Pieces show at Icebergs and finding my girl Lindy Klim was seated next to me. Love an early morning catch up! ( Wearing vintage top, Fendi sunglasses, Lindy wearing Rama Voyage and Dion Lee)
Maurice Terzini and his partner Lucy did such a great job with this collection. Modern, fresh,androgynous and wearable, the clothes were as cool as the show was fast paced and to the point, a bit like mr Terzini himself. Bonus points for casting some of the coolest characters around who promptly started a dance off on the balcony when the show ended.
The evening saw the ethereal Akira show and the tribal inspired Camilla show, followed by Russh magazine's dance party extravaganza ..needless to say the weekend in bed was heaven sent!
Thanks so much to all the designers, models, hair and make up artists, pr and my fellow journalist and bloggers for making this MBFWA such a hoot
The week started with rain so torrential, it was hard to imagine how anyone would get any Insta-perfect streetstyle photos. While photographers and the fashion pack breathed a relieved sigh on Monday when sunlight hit the pavement, fashion week was delivering all the colour, irreverent prints, summer ready dresses and gorgeous tailoring on the runways indoors.
It has been two decades this year since I walked numerous shows at Mercedes-Benz Fashion Week Australia as a budding model and such an honour to follow so many Australian designers' careers from their very beginnings, witnessing their evolution from experimentation to the creation of unique style codes. I still get a kick out of seeing my favourite designers create something amazing, and this year was no exception. Here are the things I'm looking forward to wearing most from this homegrown bunch of standout creatives.
Alice McCall
Alice McCall always incorporates a lot of colour, playsuits and shorts so short that they make me wanna run to pilates but this year there was denim knee length dresses, sheer tops, printed pencil skirts and shorts reminiscent of bike pants to play with too. I was beckoned by gorgeous sheer cutout gowns and dance floor ready lame mini and maxi dresses in jewel colours.
Romance Was Born
Romance Was Born held their show in the underground belly of restaurant Hubert, transformed into 1930s Paris art deco bohemia for the occasion, complete with a Judy Garland impersonator and a beautiful three course dinner. As the models twirled between the tables, the beauty and originality Romance Was Born creates each year stood out in all it's sequined, silky, layered, batwinged, printed, lamé, iridescent and intricately beautiful glory.
Christopher Esber
Christopher Esber is a designer I have loved from the very beginning for his ability to turn separates into interesting pieces through the use of clever detailing and amazing fabrics and this season was no exception. Modern tailoring had buttons made with liquid, knitwear was beaded, skirts were slit to show a layer of lace—these are work to play investments that won't age.


Camilla and Marc
Camilla and Marc celebrated 15 years in the industry with a spectacular show setting that looked like it was transported from the Outback. Long fringing, off the shoulder dresses, brocade, XXL bags, sleek leggings, tweed bike shorts, skirts over narrow pants, shoulder padded T-shirts  and oversized tailoring were standouts of the show that delivered something for everyone.
Lee Mathews
Lee Mathews has been around for years but the last few seasons the brand has really shone with it's beautifully printed silk dresses, summer separates and clever prints made in beautiful fabrics. If you could encapsulate summer, it was this collection–I was envisaging floating on the Riviera shores in a trail of light as air silks.
Thomas Puttick
Thomas Puttick's collection had well cut tailoring and interesting shirting but also suit jacket minis, silky T-shirts, lace inlay dresses and perfectly cut pants. The collection offers something to satisfy the avant-garde modernist and the working girl alike, existing on the modern and very sellable precipice of luxury, comfort and cool 90s minimalism with an edge.
Photography: Simon Lekias
Hair and Make up: Katie Angus using Giorgio Armani and Oribe
Model: Lilla from IMG
Styling and words: Tanja Gacic
This post appeared originally on vogue.com.au here!
What does a girl do when given the chance to attend New York Fashion Week? Well, pack a suitcase full of spring trends and jump on the plane of course!
The weather was beautifully temperate, Australian designers rocked NYC catwalks, many Manhattan cocktails were drunk and beautiful dinners with friends accompamied by quite a bit of dancing took place — to give you an idea.
Here, I've pulled together three trends I loved wearing while in New York.
( Zimmermann playsuit, Chloe x Net-a-porter sunglasses, Gucci Bag, Alice McCall jacket and JYJewels earrings)
Playsuits
Playsuits are a favourite come warm weather for their cute yet practical versatility. Floral prints are always in, come spring, but throw on a big fluffy coat and a pair of oversized sunglasses and you have a 70s redux outfit that is somewhere between rockstar and disco diva. Lay on the glitz this season.
( Trelise Cooper coat, Double Rainbuu sweater, vintage skirt and Balenziaga mules)
Colour blocking
Colour blocking is back in a big way for spring, so choose primary colours for maximum impact. Big, feathery coats, oversized sweaters and pencil skirts are also a current trend. Try a kitten heel mule for ultimate comfort.
(Tanja wears vest by Tome, Elley flares, YSL bag and sunglasses)
Suiting
Suiting is one of those trends that will never age, but this season it's de rigueur, or required. Choose from oversized, slouchy to form fitting and feminine, long suits a lá dresses, or vests as tops.
Shot by: India Hartford in New York
read the original story up on the newly relaunched vogue.com.au here!
If I were to judge the upcoming MBFWA 2015 solely based on the samples pulled for this story , the keyword of the week would be volume. As in slightly impractical, wonderfully dramatic and so much fun to shoot! The all seeing wizard I am not, but I know I will be proven both correct and incorrect numerous times over the week -Australian fashion is always about providing a number of conflicting trends– from whimsical and dreamy to utalitarian, well cut , feminine, practical, beachy or vintage inspired ; we are blessed to have such a talented and varied bunch of designers in this country.
I have to admit, as soon as I had an idea for this story, I was seeing a remote location – somewhere idylic and breathtakingly beautiful where I could juxtapose all the volume with sweeping vistas and nonpulsed kangaroo locals. Not only is it incredibly exciting seeing previously unseen fashion and taking it for a spin, but also quite scary and nerve wrecking taking original samples out of Syndey a week before fashion week! Thankfully we were blessed with a gorgeous set – an original , renovated 1800s homestead with fields and kangaroos on the grounds of the stunning Emirates Wolgan Valley One & Only luxury resort. Mountain paradise – meet fashion heaven!
(above) AJE : Calling spring! Intricate beading and structured shape of this bustier is vying for attention with the homestead's white flowers (shhhh, Aje's new denim pieces also looked amazing)

MATICEVSKI Resident marsupials meet Maticevski's dreamy polka dot confection
TOME  They may be intended for a more urban environment with their cool detailing and oversized shilouette, but these Tome clothes are also high in chill cred

ALICE MCCALL Mesh pleating and feminine shapes take on country simplicity

ROMANCE WAS BORN  The road is long and there are mountains in our way, but flared overalls will make sure we climb a step every day –and not just because Joe Cocker says so.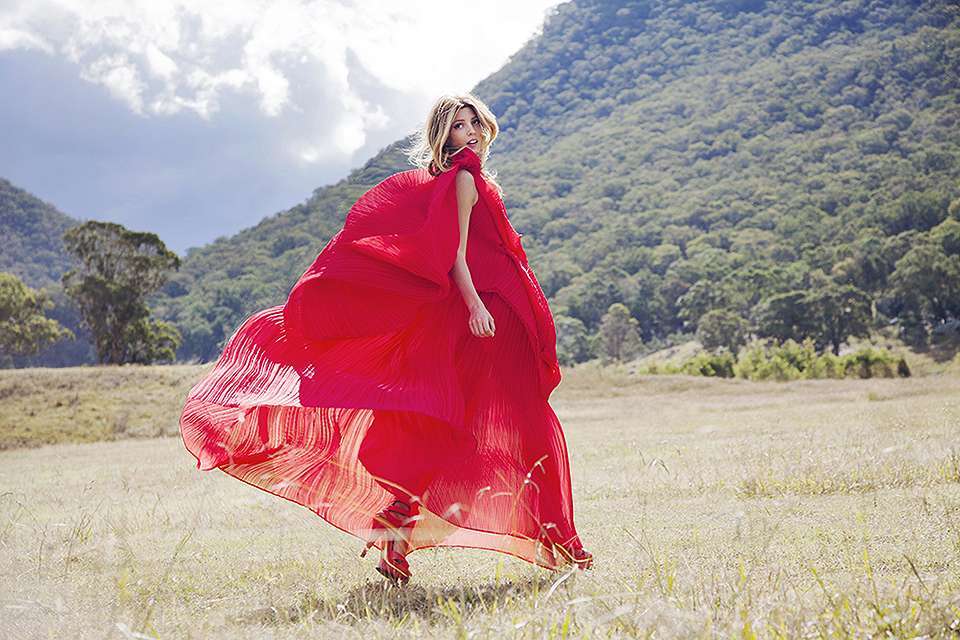 MICHAEL LO SORDO: Pleats please! This modular skirt and top combo had numerous ways of wearing it and they were all incredible.Red pleats & wind = heaven!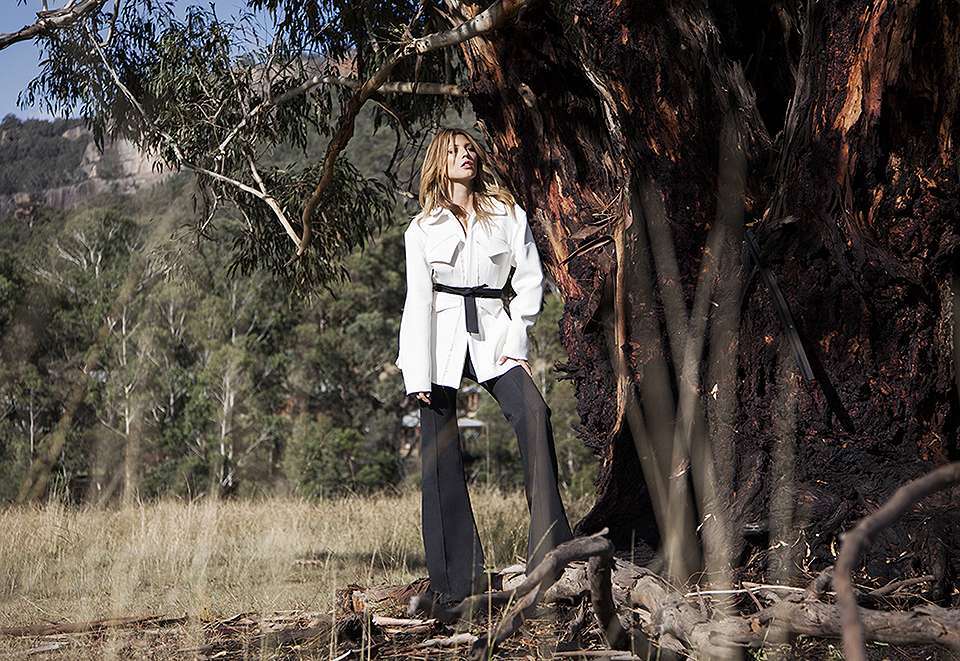 ELLERY: Ellery continues her fashion code legacy with sumptious fabrics and exaggerated lines
See the full story on Vogue.com.au here!
Photographed by Alice Wesley-Smith
With thanks to the Emirates One&Only Wolgan Valley resort
'Tis the season to start planning your festival inspired outfits…
The Australian summer isn't all about the beach, surf and barbecues even though these are welcome perks of living in the beautiful land of Oz while tfor a myriad of small and large festivals. It means sunny days with friends listening to some of the best artists in the world in gorgeous sunny locations. It means long nights, singalongs to your favourite band and cold local ciders. It also means packing your best mixture of rock and roll, bohemian folk, techno queen or pop inspired easy pieces that will work hard at nonchalant cool. Here, I share some of my favourite pieces that I packed for a festival trip recently…
Every girl needs a sexy dress to dance the night away in. This number works hard in cute cut outs and leopard print while staying demurely knee length. Add a palm ear cuff for the ultimate tropical feel. (Shona Joy dress, Thomas Sabo earring)
What would a summer holiday be without a bikini? This spotted baby is incredibly supportive and doubles as a graphic bra top under an open shirt. (Zulu & Zephyr bikini, Giambattista Valli slides, Loom band anklet)
Pack a vintage inspired dress and strappy sandals for long summer days. (Alice McCall dress, Ancient Greek Sandals, Borsalino fedora)
Photographed by Kasia Werstak at For festival, Croatia.
Summer in Australia is so magical to me, because it summons pictures of sandy bums, al fresco lunches, beach parties, barbecues with friends, New Year fireworks, pool slides and a sweltering Santa. Sartorially, it is always a time for me to do a major closet shuffle and realise that I have nothing to wear for all of these activities – hence a frantic search ensues for some new beachwear and on-trend party dresses. With this in mind, I marched into the newly renovated Macquarie Centre, which recently reopened, bringing some of the best lineups in beauty, fashion and culinary to Sydney's North Shore and picked my favourite pieces from some of their new retailers: Alice McCall, Kookai, Seed Heritage, Seed Kids and Mecca Maxima – and suffice to say, I'm now ready to welcome the sun
Above: Summer means spending school holidays with the family. My daughter Coco creates a lot of mischievous fun (Tanja wears a top by Alice McCall and skirt by Kookai. Coco wears a top and skirt by Seed Kids)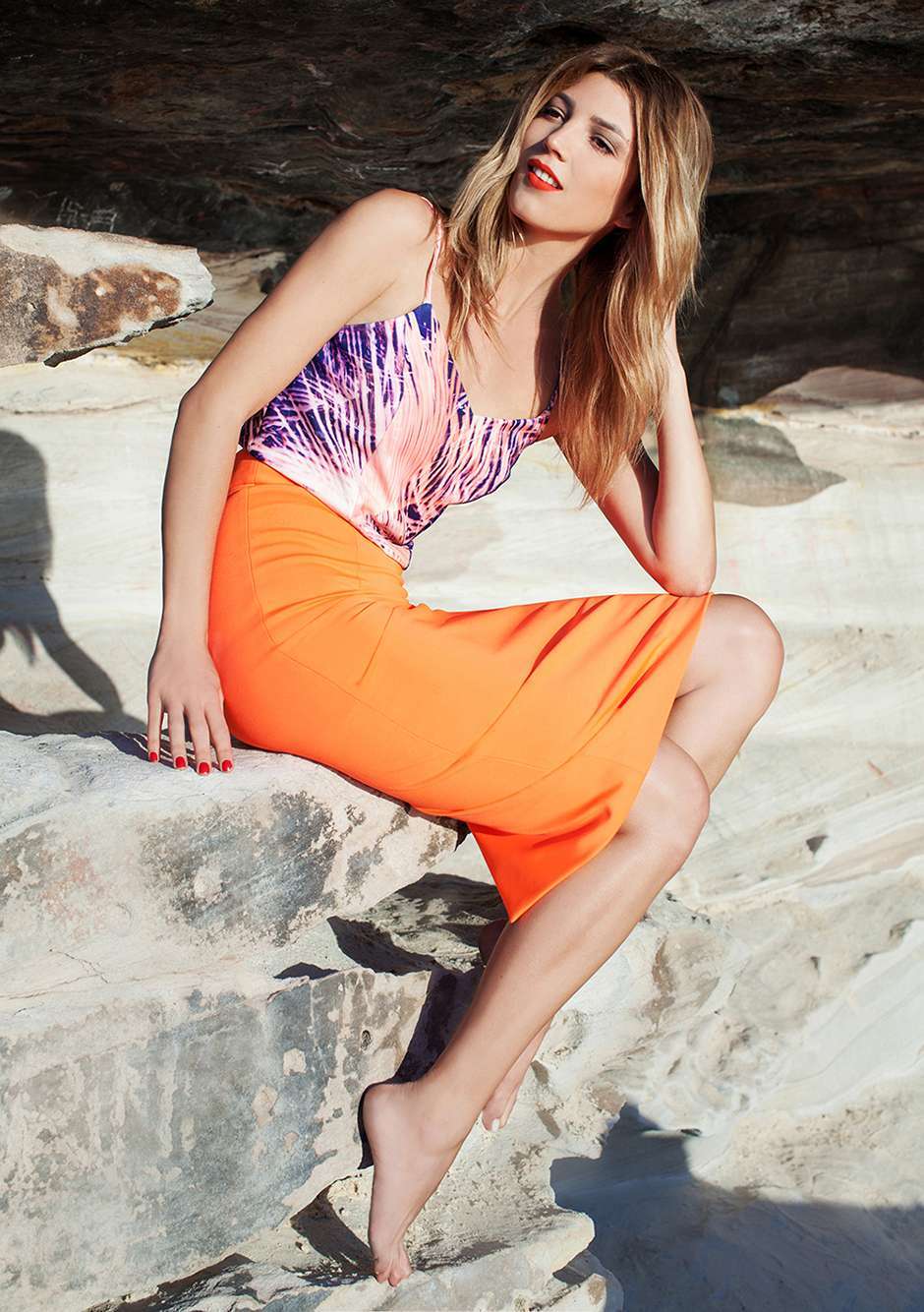 Summer is all about colour. Pick brights and digital prints that make your sunkissed skin pop and choose classic shapes like a pencil skirt and cami for barbecues and drinks with friends. (Top and skirt from Kookai)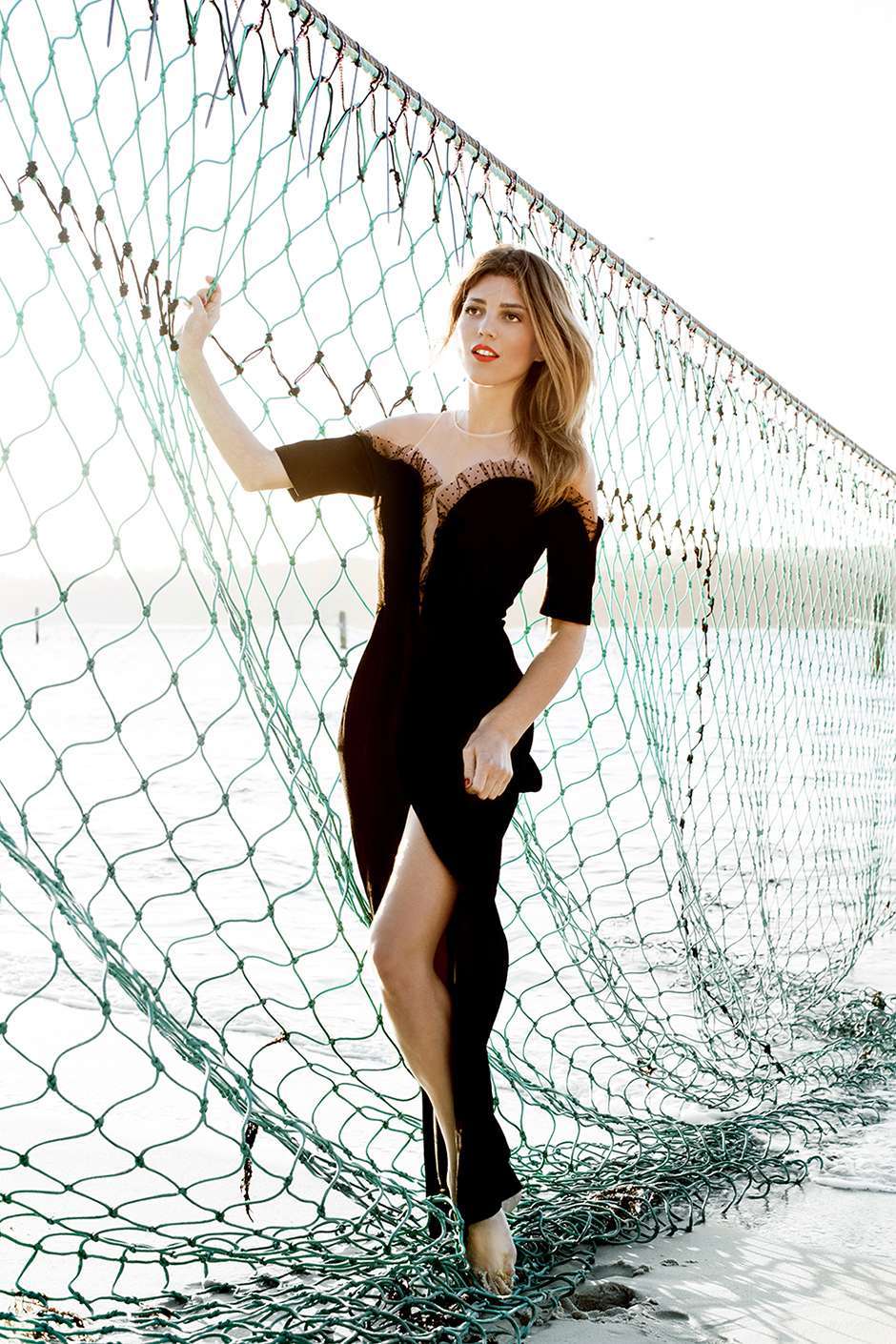 Every woman needs a beautiful evening gown for those special summer nights.( dress by Alice McCall )
To create an effortless day look, use Mecca Cosmetica's Skin Brightening Instant Skin Perfector Glow for a luminous base, then apply Mecca Cosmetica's Multi Tasking SPF30 Luminising Hydrating Tint; or for a little more coverage, use a light foundation such as the Bare Minerals Bareskin Pure Brightening Serum Foundation. I love the cult classic Nars Light Reflecting Powder and the Taj Mahal Blush because they give my complexion a subtle summery glow. Complete the look with a longstaying, pigment-rich lipstick in bright orange like Nars' Red Square Velvet Matte Lip Pencil or go for a fun pink such as the Stila Stay All Day Liquid Lipstick in Fiore.
Read the full story with more pictures now up on Vogue.com.au here !
photographed by Kasia Werstak
Among the fashion flurry of designers buyers, photographers, models , la mode folk and a liberal sprinkling of fabulousity, the jam packed 4 day Mercedes Benz Fashion Week schedule delivered surprises, creativity , newbies and awesomeness. (it wasn't all unicorns and rainbows but more on this later). During the course of the week, I kept getting asked the same questions by reporters, so I will share my answers to these with you here as they seem so pertinent, albeit probably answered here with a lot more measured fluidity!
Q: What do you think is unique, and what do you love about Australian Fashion ?
A: I believe Australia's unique geographical position as a country whose towns are urban environments situated near water lends us a laid back perspective in which our wardrobe needs to be multitasking and comfortable and yet, as any metropolis, also stylish and fashionable. I love the way Australians seem to be able to combine colour, beach lifestyle and high fashion into something that seems so effortless.
Q: What do you think about MBFWA and Australian designers in general?
A: I think , truly, that Australian fashion is better than it has ever been. I moved to Sydney and worked at the first ever Sydney Fashion Week as a wide eyed young model. Since then, I have witnessed Australian fashion become something that is distinctive, world class and exciting. Our designers are a versatile, talented and unique bunch and personally, I believe that the way forward for Australian fashion is for our designers to create transeasonal collections which will be an easier sell to opposing seasons overseas (some are doing this already).
As far as the future of MBFWA, we need to create a way to lure all our talent back from showing overseas so that our designer superstars can add gravitas and star power and make this an exclusive and exciting yearly event. The way things stand and unlike it is elsewhere, it is just a really expensive exercise for our designers and it need not be. Perhaps , if the media and sponsors could get involved in the right way, we can create an atmosphere of excitement such as exists overseas about fashion week, which will in turn create an opportunity for designers to show at low or no cost, and this may be able to stem the fashion brain drain and create an arena for fashion spectacles that Australia can be proud of. As it stands, and since it's move to Carriageworks, MBFWA has succeeded in making the week's activities more localised, organised and congruent which is a damn good way to start.
Q: How do you feel about the "skinny" debate?
A: I think coming from a background of a model, I can see this debate from both sides of a coin. Firstly, media does sensationalise this aspect of Fashion Week, ignoring everything else, because let's be real, what is a newspaper without big, polarising headlines , public outrage and cries for change? In reality, only a couple of girls I saw at Fashion Week were actually at a weight that made them look unwell, when most of the models, while extremely thin, were simply young girls who hadn't developed hips or breasts and probably ate plenty. I do however agree that in the last 10 years , the models have got thinner and I do not necessarily believe that this is the right way to go.
While the measurements have stayed in a similar vicinity, the girls have got taller. For a 6'2" girl, maintaining a 34" hip is much harder than for a 5'9" girl - and here is where the problem lays. While designers keep insisting that girls fit a certain measurement standard (no more than a 34" hip for overseas catwalks ) there will be eating disorders aplenty. A tall girl simply cannot maintain these standards and be healthy at the same time. Why not look at each model as an individual and tailor clothes to her? After all , a gorgeous 6'2" girl with 39" hips will still look very thin, but this adjustment will give her an opportunity to stay healthy and protect her future fertility. After all,for me, there is nothing worse than trying to focus on clothes and instead feeling sad/scared for a skeletal girl on the catwalk. I want my models to be aspirational, in a way that I'd think : If only I exercised more, I too could have that banging bod ! I think we all want to see models and think : Beautiful, amazing, sexy, cool… not : oh-oh, ouch ,OMG, is she ok? For the most part, however, girls in Australia do not have this problem.
Now that's out of the way let's focus on what is really important- the fashion!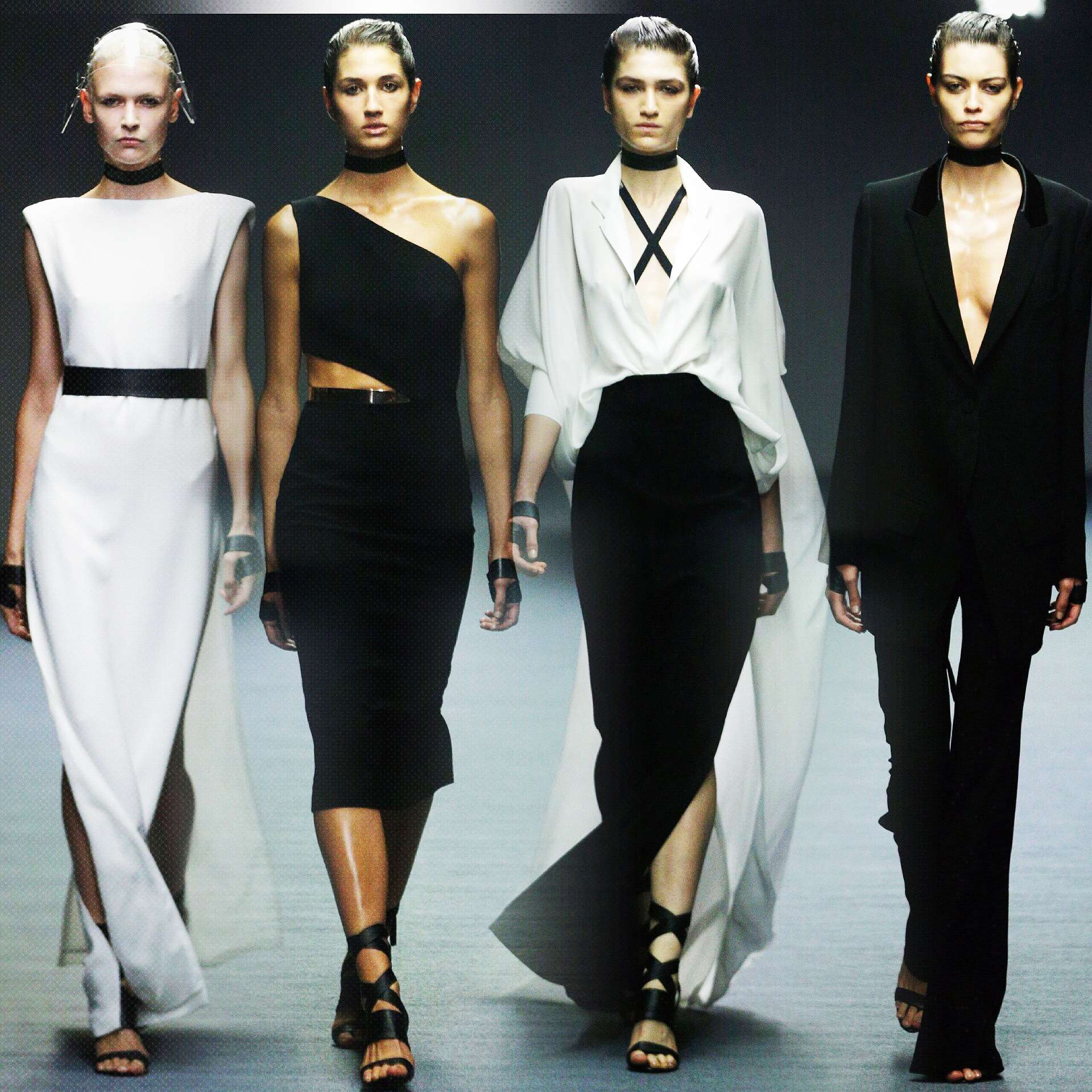 Carla Zampatti opened MBFWA, fittingly for an icon of Australian fashion who will be celebrating her 50th year in the business next year. Her designs were tailored, timeless and sexy. I especially loved the monochrome looks and sharp separates and Michelle Jank's cooler than thou styling
Ellery held a show at the sparkling Icebergs restaurant and bar in which details, craftsmanship and fabrics stood out. My favourites were the intricate bustiers,slim, slightly fluted pants , pleated details and clean blazers
Alex Perry added Angel dust via Alessandra Ambrosio but it was nothing compared to his encrusted, romantically asymmetric lace party dresses with snakeskin printed leather inserts. I really love the direction Alex has taken in the last 3 seasons and I have enjoyed shooting the clothes over that time. I am especially loving his oversized shimmering snakeskin printed t-shirts with squared off shoulders, which are totally my idea of a luxe basic.


I enjoyed Christopher Esber's show this year. His neat, boxy double breasted jackets, nautical inspired hues and shapes, the gold buttons and the asymmetric skirt all the girls I sat with at the show wanted signalled that he hit the proverbial staple nail on the head.
I love Emma Mulholland like I love the Opening Ceremony in L.A. It's young and whacky but also cool and fun.These are the pieces to mix with more tailored streamlined clothes for an instant injection of fresh. Pair her transparent sweatshirts with long leather pencil skirts or boyfriend jeans and pastel mules, or wear a printed miniskirt with an oversized cashmere sweater and stiletto sandals. Hi-Lo cool ya'll!
At Alice McCall it was all about shiny  satin, scalloped necklines, sheer fabrics , pretty dresses ,cool bombers and prints, prints , prints! I loved Mark Vassallo's styling colour and the sheen not to mention the gorgeous way the confetti fell on the catwalk at finale.
I loved the Bianca Spender show for it's mix of vintage and modern, kooky and classic, beautiful prints, sassy sequins and sexy leather dresses. Bianca asked me to walk in the show, so I had a great look at these clothes and the quality is amazing. Can't wait to use my voucher!
Dion Lee line II presented a new version of street with easy separates, cool leather pieces, androgynous shapes and flattering wrap dresses that every It girl will scramble for. I especially loved the backless tops...sexey!
Although the print clash didn't quite work for me,this newcomer still got points for it's cool shapes and marching to it's own beat. I love Macgraw's vintage/modern aesthetic ; wide pants, cute collared dresses and billowing fabrics..One to watch in the future.
My absolute favorite show of this year's MBFWA was definitely Toni Maticevki. Beautiful fabrics, elegant but cool , oh so beautiful embellishments and to die for evening wear. Want. Need!
I did an editorial spread on Dyspnea a few months ago because I love originality and imagination and these girls have it aplenty. In this show I loved their intricate sheers studded with pastel fur balls and gorgeous embellished tops. Not so much the Bollywood story, but hey - each to their own!
The biggest surprise this year was definitely Discount Universe, a new label heavy on punk, 'tood, spikes and embellishments. Katy Perry is a die hard fan, commissioning a whole tour's worth of clothes. But before you think : I ain't Katy Perry! , consider this: so beautifully finished and glossy, these clothes have the superpower of lifting anything drab to another level. My money is on the incredible studded python leather jackets. Swoon!

Working hard at MBFWA with my assistant and Lindy Klim's gorgeous back is never a chore. 'Till next year Fashion Week Australia!
photo via Vogue Australia