Aje kicked off Mercedes Benz fashion week Australia with a runway overlooking the opera house -crisp cotton shirts, Bermuda shorts, signature balloon sleeves, topstitching and ruffles commanded the runway but I loved the tiered, flowing dresses and oversized suiting the best. As much as Aje drew on their signature silhouettes for this collection, this incarnation had a distinctly Australian flavour with native plants, animals and road signposts all making an appearance. ( Aje top and pants, Bulgari bag, Christian Louboutin heels, Ole Lynggaard ear cuff)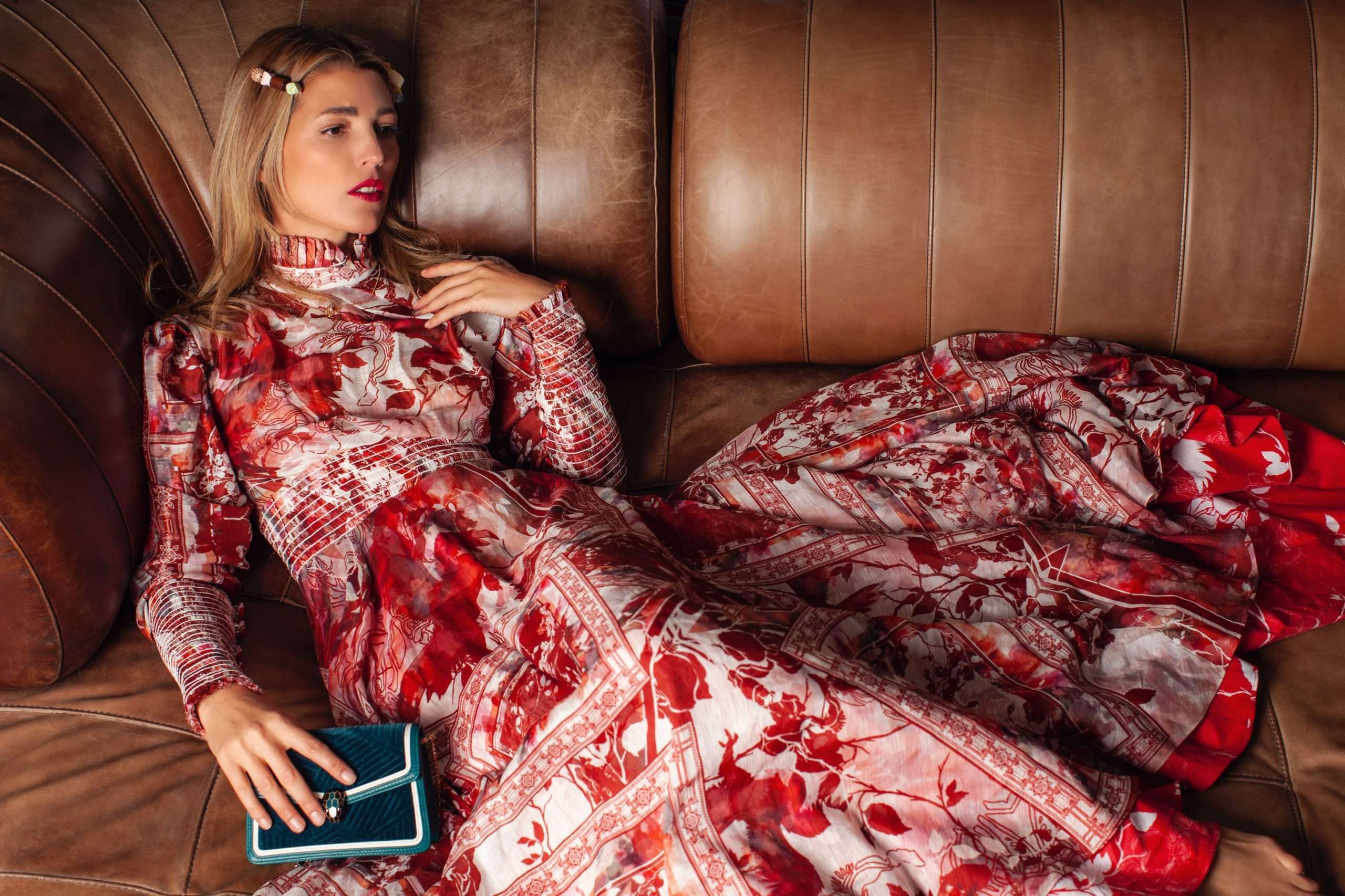 Leo and Lin introduced light cotton maxi dresses, high necks, asymmetric shoulders, mixed print scarf dresses and plenty of lace this year. There was frills and frivolity for the party girl ,as well as blouses and pants for the professional but my favourite were flowing gypsy dresses and skirts strewn with floral ( Leo and Lin dress, Valet hairclip, Bulgari bag)
Bec and Bridge returned with a collection that mixed inspirations- surfing, tropical print, 70s and 80s all made an appearance. All the favourite micro mini dresses were present, along with tiny shorts, but this year my faves were bermuda/ bike shorts, oversized satin suit jackets, bright turtlenecks akin to wetsuits and pleated skirts. I loved the colour palette mixing bright turquoise and orange with more muted tones of mustard and ochre. ( Bec and Bridge top, skirt, belt and shoes, Ole Lynggaard earrings, Bulgari bracelet)
If you're in a need of a sexy dress or perhaps are going to a fabulous dinner party in a Palm Springs mid century mansion, don't go past Alice McCall's collection. There were 80s sequins, lurex, feather lined pyjamas, rhinestoned chainmail and pretty satin as well as the designer's signature pretty cutout separates in pastel colours. Thanks for bringing the fun! ( Alice McCall dress, Roger Vivier sneakers, Valet earrings, Bulgari fanny pack and bracelet)
Anna Quan makes classic pieces for a grown woman and you will always be able to find a good shirt, pants or suit jacket from the designer, yet this year the collection had a distinctly vintage flavour with knitted dresses and asymmetric tops, long line shorts and pleated skirts ( Anna Quan dress, Giuseppe Zanotti shoes, Christie Nicolaides earrings )
Double Rainbuu may have started with hawaiian shirts but it has quickly grown into the go to label for all your holiday needs. The brand has a habit of churning out shorts and shirts that make you feel like sunshine yet look Hunter S Thompson cool. This year DB continued their travel inspiration by showing in the Chinese gardens, where guests meandered between presentation sections to zen music. New for the brand was the light knitwear and long line dresses all done in the new asian inspired print ( Double Rainbuu tops, Roger Vivier boots, Bally bag)
P.E Nation was once a sportswear brand but it is growing into so much more than that. Anyone that is a fan of the label knows how sexy and supportive the designs are in and out of the gym, but the next wave of denim, bombers, amazing legging pants and sweatshirts Pip Edwards and Claire Tregoning have designed will have you picking pieces for their after hours appeal too (P.E Nation tracksuit , Christian Louboutin shoes, Valet earrings, Published By bag)
With thanks to Vampt Vintage store for providing the location
Photographed by Alice Wesley-Smith
A suit is by definition a set of outer clothes made in the same fabric, designed to be worn together and yet, in the human psyche, it is synonymous with power, masculinity, business and competence.
Clothes do not make the man, yet our perceptions of a person are seized up within mere seconds- it's pretty hypocritical we preach that it's the inside that matters yet make lasting judgements on people based on their outerwear.
Whether it was 1920s libertines shaking off the shackles of society, actresses using tailoring to convey power and character throughout the 20thcentury or Madonna expressing herself in the 80s, a woman wearing a suit challenged societies' perceptions and expectations furthering feminism by asserting our strength and equality. Plus, a bit of good tailoring never hurt anyone, let's face it! The steadfast trend is back in numerous incarnations.
 Checked and herringboned suits have been on point for a couple of seasons now and the trend is holding fast. This quirky jacket and suit combo comes with unusual details such as ruffles and ruched sleeves ( Maggie Marilyn suit, Gucci tote, Givenchy sunglasses, Bulgari and Cartier bracelets)
Return to 70s power in burgundy cord ( Anna Quan suit, Bec& Bridge bodysuit, YSL bag from Net-a-Porter, Chaumet, necklace and ring worn throughout)

Double or even triple denim is all the rage right now so why not go all out like this suit and do it the 80s, acid wash way? ( Miu Miu denim suit and booties, Karen Walker sweater)

Pinstriped and double breasted navy is a classic choice. Pair it with some furry slip ons for a casual power move ( Camilla and Marc suit, Bally slippers)

Sometimes the simplicity of black is all you need. Choose cigarette pants for their elongating effect on legs – just ask Meghan Markle (Nice Martinsuit, Gucci shoes)
Why not get out of bed and skip the whole getting dressed routine? Pajama suits are stylish, classy and feel incredible to wear ( Bally suit, Givenchy sunglasses, Gucci slippers, Miu Miu bag)
This post originally appeared on vogue.com.au here!