"So they close together
Dressed in red and yellow
Innocent forever, sleeping children
In their blue soft rooms still dream"
Colours are fascinating. Ever since I had a fight with my best friend at 8 years of age over the colour of a t-shirt that we couldn't agree on despite the feverish discussion, I knew that people see colours a differently. Almost everyone has 3 cones in their retina which makes us see roughly the same colours, however, some superwomen have an extra cone, making them a tetrachomat able to perceive a wider range of shades than us ordinary folk. My obsession with how we perceive colours was further amplified by reading Jasper FForde's disturbing sci-fi novel Shades Of Gray, which presents a dystopia future in which people are set in a cast system based on the primary colour they perceive their world in.
In the world of fashion, colour is an expression of a feeling, an idea or a thought, however abstract. If it is sometimes hard to differentiate between prussian blue and navy blue or mauve and wisteria - in the emotional response or sight, it is never hard to tell apart red and yellow from blue , not to mention that the feelings they evoke in us are polar opposites to each other.
For my latest Coach post, I played with the exuberance of primary colours, the latest Turnlock Tie collection, some vibrant new threads and the breath taking Sydney harbour. All this vibrance is what street style photographers' hyperventilating dreams are made of ...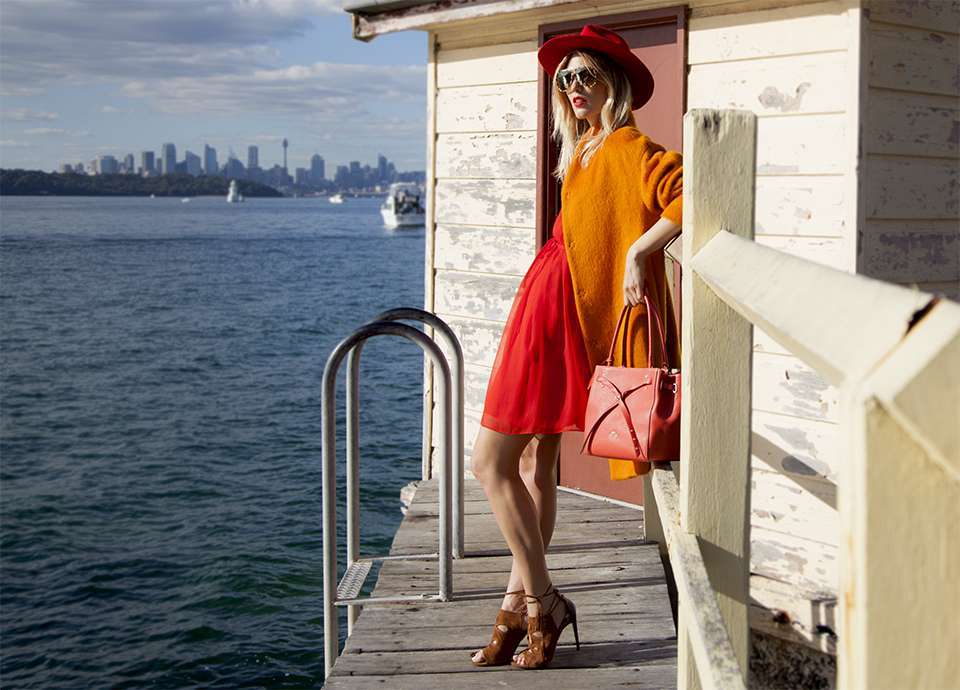 Set the day on fire in a scarlet red Camilla & Marc dress, Turnlock tie tote and Lack of Colors hat. I created contrast with an orange Marimekko coat, Dita aviator sunglasses and Aquazurra sandals. Tiffany & Co T bracelet and Cartier Love bracelet worn throughout )

Take one sleeveless red coat by Nicholas,add a blue tweed skirt by Bianca Spender, some Chloe tie up wedges and finish it off with a bright blue Coach backpack)
Use primary colours to excite neutrals - pop tan leather with bursts of colour for an updated take on an all leather ensemble  (Max Mara dress, Coach backpack ,Ellery shoes, Preen by Thornton Bregazzi sunglasses)
Beauty tip: Blend Nars' red shades in Dragon Girl and Red Square for the most vibrant pout in town
Photographed by Alice Wesley-Smith
Choosing eveningwear can be tricky – I never know if I should buy something basic that I will wear again and again or something that takes my breath away. In the end, it is always the heart stoppers that win my inner debate. Why? Because these pieces hold the power to make me feel something when I wear them; excited, beautiful, sexy, fun – something my basics will never do. In my mind evoking that feeling and attaching it to the outfit makes that garment something of a superhero suit – each time I put that particular dress on in the future (be it in five months or five years) I start feeling the same giddy excitement that gets me in the mood to shimmy.
Ochre is one of the standout colours of the season – this pleated silk dress is perfect with heels or flats, cinched in or loose. Tome dress and Aquazurra sandals.
A dress that has off the shoulder allure, sexy cut outs and shimmer going for it is certainly dance floor ready. Maticevski dress.
Let the enduring allure of camel dress up your dinner. This piece gets easy sensuality with its sweetheart neckline and demure pencil skirt length. Max Mara dress, Camilla and Marc jacket, Lack of Colours hat, Cartier bracelet and Tiffany & Co bracelet worn throughout.
View more looks and the rest of the story up on vogue.com.au here!
Photographed by Kasia Werstak
Navy is one of my favourite colours. Not only is it chic, elegant and less severe than black, but it suits every skintone and hair colour. Best of all, navy comes into fashion so regularly, some would argue that like leopard print , it is a mainstay and therefore never out of fashion. In my eyes, this spells go forth and invest !
This season, in keeping with the 70s theme, there are ways to wear navy that will keep it current and on trend. Ofcourse, navy always looks great with white or black but have you tried it with tan, orange or camel ?
Above :Pop your navy with some 70s orange hued shearling, round sunglasses and gold for an instant seasonal update ( Zimmermann jumpsuit, Coach jacket, Sunday Somewhere sunglasses, Tiffany T bracelet, Cartier bracelet
Try navy in a bell sleaved jumpsuit with some tan accessories ( Zimmermann jumpsuit, A-esque bag, Topshop platforms)
Jump on the bell sleeved and fluted skirt bandwagon – it's all the rage this season ( Ellery top, Sportsmax skirt, Aquazurra sandals from Net-a-porter )
Keeping it simple : turtlenecks and maxi skirts are a match made in fashion heaven ( Zimermann turtleneck, Michael Lo Sordo skirt, Mode collective sandals
View the rest of the story on vogue.com.au here!
Photographed by Alice Wesley Smith
The arrival of blistering winds, bucketing rain and the enveloping cold used to herald the decline of my sartorial mojo. My Croatian roots and a flexible, freelance job gave me the luxury of becoming summer's tireless pilgrim for over 20 years  - since my modelling days and beyond, I swapped hemispheres whenever winter took over season's reins – owning a coat was unnecessary, boots a frivolity that would only weigh down my already overweight suitcase.
Oh how things change! My daughter's education has meant I needed to stay put for longer, so my winter wardrobe went from a population of a single pair of Ugg boots and a holey oversized sweater to stylish key winter pieces and expert layering. Nowadays, I get excited when direction of the wind changes announcing a different season - dressing for cooler weather is infinitely more fun with it's cosy coats, sleek pants and soft sweaters in endless combinations.
For this story, I paired up with Tommy Hilfigher to curate and demystify some of this season's trends in an urban and wearable way.
Above:Embrace the utility trend with it's military detailing, leather strapping and gold tone accents
( Tommy Hilfigher top and pants, Versace sunglasses from Sunglass Hut )
This winter choose beige and brown tones across suede materials for an updated take on the 70s trend. Don't forget to accessorise with mirrored aviators, textured jackets and pops of snakeskin ( Tommy Hilfigher shirt and pants, Aquazurra shoes, Marimekko coat, Max Mara bag, Miu Miu sunglasses )
Black is always back in winter. Pair sleek stovepipe pants and an unbuttoned shirt with your favourite ankle boots and a mannish car coat for a look that means business ( Tommy Hilfigher shirt, pants and coat, Balmain booties, Tiffany & Co Smile necklace )
The arrival of winter shouldn't mean the banishment of colour. Choose a soft, cashmere, cable knitted sweater in a pop of bright hue to brighten long overcast days.
Photographed by Alice-Wesley-Smith
Read the rest of the story up on the Vogue Australia website here