Fashion Week only swings around once a year in Australia so come May everyone in the industry is lining up their outfits, pillaging pr agencies, last minute online shopping, loaning from friends and otherwise spending solid quality time in front of the mirror.
Dear reader; I wanted to be one of these people but I was doing the MBFWA review story for vogue.com.au in the lead up and hence was too overwhelmed with existing loans,countless emails and shoot production to think street style.When Monday came around and I had no outfit, I sent some emails and my assistant to pick up a few things from a couple of ravaged pr offices that now looked like supermarkets before Hurricane Irma hit ; barren and sparse.
First world problems these may be but one needs to get through the week clothed and my preference is a tad more fabric than what Bella Hadid wears on the Cannes red carpet 😉
Even though many Australian heavyweights didn't show this year, there were many highlights to the week so I decided to do a little photo diary - I want you to see all the fun that was to be had ! Sadly, I'm not posting all the shows I went to- some of them I just didn't get great pictures at - sometimes the lights are too low and the models move too fast.
DAY 1: Camilla & Marc started off the week with a bang, all cool tailoring, oversized jackets, shoulder pads, ruffles, off the shoulder dresses and skirts over pants. There were so many things to love here, all I can say is: send separates guys!

The Camilla & Marc stage was this amazing outback-ey looking set that every single person tried to get a photo in after the show. Here's me, semi soaked still cause it was pouring outside, elbowing my way to a quiet corner with the help of Yan Yan Chan who took these photos for me (thanks Jan ; )).
Wearing Rebecca Valance skirt and bustier, Balmain Top, La Perla bra, Gucci bag, Zimmermann shoes and a vintage Versace jacket
DAY 2 :Monday was a busy day, so what better way to start it but by wearing head to toe pink and matching it to a double shot flat white in a Dion Lee Vittoria cup ? Wearing Dion Lee top and pants, Michael Lo Sordo jacket, Fendi bag, Charlotte Olympia shoes, Balenciaga earring and vintage Balenciaga sunglasses
I loved the Bianca Spender show; all oversized, feminine suits and flowing, sensual silks. Well tailored and flattering with a sustainable bend, I can't wait to wear some of those slinky silk dresses over wide legged pants
En route to the Alice McCall show  (Alice Mccall pants, Ginger and Smart top, Gucci shoes, YSL bag and Matteau bikini top )
If Alice Mccall had a girl she were making clothes for it would be a fun party girl with vintage sensibilities. Some of her dresses and shorts used to be so short they'd make my eyes water ( cause I didn't have the guts to expose so much of my pins ) so I'm loving how some of the hemlines are longer this season and there are amazing maxi gowns in the fray too. Lace detailing and lamé dresses never hurt the party girl either, let's face it
My mates Mikey & Toby over at Double Rainbow did an amazing job growing their hawaiian shirt label into a veritable style reference of their own. This show was pure festival summer incarnated with mesh tops, prints galore, tracksuit combos, clever t-shirts and beach shorts we all need once the heatwave hits. Big love to Sarah Starkey who styled this show to perfection, within the restricted confines of the Landsdowne hotel non the less.
It was 9 pm when the Double Rainbuu show finished so I rushed to the intimate dinner Michael Lo Sordo was hosting at the city institution that is Bambini Trust. I had to make a swift change into a Michael Lo Sordo look in the car, across the road from a packed bus stop which was as hilariously awkward as you can imagine. The girls and I were all Lo Sordo brides that night- Sunny Vandervelde took this fun snap of us in front of the restaurant before we all settled to a gorgeous candlelit dinner. Thanks Michael and MCM pr for this wonderful night!
DAY 3 When you're dressed so farshion but you wish you were wearing a bikini and diving in!
Wearing Undone Project pants, Jill Sander t-shirt from Net-a-Porter, Zimmermann shoes, Dinosaur designs earrings and bracelet, From St Xavier clutch and Double Rainbuu x Le Specs sunglasses 
The Emilia Wickstead x Matches Fashion was a pure delight. Not only was it held at the spectacular Wylie's baths which I'd never been to before but the weather was incredible, the clothes lovely, the atmosphere magical, the champagne cold and the appetisers delicious. Can every show be like this? I wanted to twirl in these pretty dresses and dive into some long gone Riviera pool whilst wearing a pink swim cap. This show evoked so many feels that I escaped through a portal to another time. When the show finished, I still didn't want to leave because the reality was wonderful too.
Snakeskin, lamé, 70s, gingham, sheer...the Hansen & Gretel show had all the trends. All I can say is: I'm coming for you head to toe snakeskin print, don't even bother hiding cause I'll find you!
I had some time to rush home and get changed for the Romance Was born show ( wearing Romance Was Born, Gianvitto Rossi from Net-a-porter shoes, Reliquia earrings )
Hello lamé, hello slinky goddesses, hello prints, ruffles and the joy of seeing creativity unbridled - Romance Was Born show is always such an unmissable event on the week's calendar. This year, the underbelly of Hubert's was transformed into a Parisian salon where models twirled between tables and enchanted us with ruffles, lace and batwings.
As if the beautiful clothes weren't enough, guests were presented with a delicious 3 course sit down dinner and drag queen singers that ravished the captive audience with vintage hits. The night also served as a launch for RWB's incredible retrospective book - if you love fashion, buy this book as it's sure to be iconic ( and whilst you're page turning, play a little find Tanja game- there are a few pictures in there from my modelling days ) The fun didn't stop there- after the show, some of us stayed on for a nightcap and danced on tabletops ( i'm looking at you Isabella Manfredi ; ))
DAY4: One of the highlights was the Christopher Esber show today, with it's impeccable detailing and painstakingly beautiful beaded knits. I wanted so many items from this show. Worn as a look , these were strong pieces but equally important; any one of them would elevate plain old t-shirts or jeans to new heights. I also had a deadline today so I spent most of my day just editing : (

Wearing Zimmermann pants, Michael Lo Sordo top, Gucci Belt, Byfar x Net-a-Porter sandals, YSL bag from Net-a-Porter, vintage necklaces and jacket, Reliquia earrings
Day5: Nothing like the joy of arriving to the Ten Pieces show at Icebergs and finding my girl Lindy Klim was seated next to me. Love an early morning catch up! ( Wearing vintage top, Fendi sunglasses, Lindy wearing Rama Voyage and Dion Lee)
Maurice Terzini and his partner Lucy did such a great job with this collection. Modern, fresh,androgynous and wearable, the clothes were as cool as the show was fast paced and to the point, a bit like mr Terzini himself. Bonus points for casting some of the coolest characters around who promptly started a dance off on the balcony when the show ended.
The evening saw the ethereal Akira show and the tribal inspired Camilla show, followed by Russh magazine's dance party extravaganza ..needless to say the weekend in bed was heaven sent!
Thanks so much to all the designers, models, hair and make up artists, pr and my fellow journalist and bloggers for making this MBFWA such a hoot
Hit the town dressed to impress with these top tips—they're as easy as one, two, three.
This season is all about embracing individuality, having fun, making an impact and flaunting your own brand of uniqueness. So many trends are happily coexisting at the moment that it's near impossible to make a fashion misstep.
I am loving the move by brands such as Gucci and Balenciaga in bringing us staple transeasonal items throughout recurrent seasons–it's now easier than ever to make a big-ticket purchase with the assurance that it won't quickly become passé.
Embrace your inner wild child, have fun with fashion and dare to take a few risks!
( Above) Make a bold move
Sequin and lamé are on call , so go forth and light up the night. Make waves with a big and bold solo earring–designers are selling them individually. Cut outs are also a sexy new trend, but only for the brave hearted.
(wearing a Michael Lo Sordo dress, a Balenciaga earring from Matches Fashion, Charlotte Tilbury eyeshadow in La Dolce Vita, and Nars lipstick in Schiap)
Embrace boho-chic
Tune into your inner hippy with the help of romantic frills, feathers and pastels–all are trending this season. Pair long dresses with flats or kitten heels as fashion is firmly in favour of the more comfortable spectrum of the shoe department.
(wearing a Romance Was Born dress and feather boa, Hermès clutch and shoes, Karen Walker jewellery, Shu Uemura drawing pencil in Royal Blue and Clinique Chubby Stick Baby Tint in Flowering Freesia)
Opt for a print and a pattern
Patterns and prints are back so have a go at combining clashing styles. Wide legged pants rejoin the fashion fray as firm and comfortable favourites. It also can't hurt to invest in a logo-heavy bag because logomania is here!
(wearing Hermès top, pants and scarf, YSL bag from Farfetch, Affinity earrings and Guerlain Rouge Automatique lipstick in Fleur de Feu)
Florals are a constant
Florals are here to stay and exaggerated shoulders are a hot ticket–accessorise with metallics and throw on your favourite kitten heels.
( wearing Zimmermann dress, Bulgari bag, Reliquia earrings and Balenciaga heels. )
Go big or go home
For the ultimate date-night outfit, choose a backless rose strewn maxi dress then throw on an oversized cardigan and a sparkly low heel, because this season elegance is all about comfort.
(Gucci dress, shoes and cardigan, Begum Khan earrings and Dior Double Rouge lipstick in Poison Purple.)
Beauty note: Hourglass Vanish Seamless Finish foundation, Charlotte Tilbury Filmstar Bronze and Glow, Shu Uemura Brow Sword and Gigi Hadid for Maybelline Fiber Mascara worn throughout. 
Photographed by Alice Wesley-Smith
Assisted by Eleni George
This post appeared on Vogue.com.au here!
What does a girl do when given the chance to attend New York Fashion Week? Well, pack a suitcase full of spring trends and jump on the plane of course!
The weather was beautifully temperate, Australian designers rocked NYC catwalks, many Manhattan cocktails were drunk and beautiful dinners with friends accompamied by quite a bit of dancing took place — to give you an idea.
Here, I've pulled together three trends I loved wearing while in New York.
( Zimmermann playsuit, Chloe x Net-a-porter sunglasses, Gucci Bag, Alice McCall jacket and JYJewels earrings)
Playsuits
Playsuits are a favourite come warm weather for their cute yet practical versatility. Floral prints are always in, come spring, but throw on a big fluffy coat and a pair of oversized sunglasses and you have a 70s redux outfit that is somewhere between rockstar and disco diva. Lay on the glitz this season.
( Trelise Cooper coat, Double Rainbuu sweater, vintage skirt and Balenziaga mules)
Colour blocking
Colour blocking is back in a big way for spring, so choose primary colours for maximum impact. Big, feathery coats, oversized sweaters and pencil skirts are also a current trend. Try a kitten heel mule for ultimate comfort.
(Tanja wears vest by Tome, Elley flares, YSL bag and sunglasses)
Suiting
Suiting is one of those trends that will never age, but this season it's de rigueur, or required. Choose from oversized, slouchy to form fitting and feminine, long suits a lá dresses, or vests as tops.
Shot by: India Hartford in New York
read the original story up on the newly relaunched vogue.com.au here!
Christmas time is always such a whirlwind in houses across Australia with present shopping, last minute deadlines, food preparation and school holidays colliding with long ques, traffic jams and sweltering temperatures. I have just moved into a new apartment and all of my worldly sartorial possesions sit in 48 boxes in my new office, completely filling the room. To say that I look at it and feel overwhelmed is an understatement of the century; so after closing the door and hoping it would go away , I have slowly edged back in and started sorting through this cardboard hill, coming swiftly to a realisation that all I needed now is a clowder of cats and then I could be labeled not only a hoarder but a crazy cat lady as well.
Melancholy is my vice and sentimental attachement to clothes as memories my ultimate downfall. Funnily enough, since I was travelling so much over the last 3 months after selling my house, I had no permanent home, and with all my possesions in storage, I made do with one suitcase of essentials. It was an eye opener into how many things I truly need in my life and it inspired me to really, truly cull through my material possesions. I forgot all about my things and felt free and easy with my simple life …until December came. It was then that I realized I needed clothes for all the ocassions that come with the holiday season and less was definitely not more anymore. On my new wishlist? Beautiful dresses and separates, luxe shoes and immaculate jewellery . Maybe Santa wants to trade me in for some mystery boxes?

White is always in in the summer, but romantic sleeves and cute flippy skirts are on my lust list this year ( Ellery top and skirt ) Above:Metallic mules are the right mix between summer ease and tongue-in-cheek Barbie doll.
(Gucci mules)

Who could be angry with a Santa that brings forever jewellery? (Tiffany&co bangle and necklace )

This little black dress in neoprene is my wish list go-to. Not only is it an interesting take on sport luxe but the oversized proportions will be a welcome detail when asking for second helpings.(Balenciaga dress from MyTheresa and Camilla and Marc shoes).



Who says getting nailed is a bad thing? These gorgeous accessories prove otherwise.
(Cartier bracelets and ring).

When meeting the in-laws,please observe the less skin is better rule. This nude toned lace dress with its unlined sleeves is the perfect mixture between maintaining chic and staying cool in summer.(Burberry dress and Valentino heels)

See more on vogue.com.au here!
Like all mothers, my morning make up protocol is overshadowed by hurrying, nagging and sandwich making. Thinking about looking radiant while unearthing school socks is hardly practical and most times, I do my 5 minute make up application in the rearview mirrow while stuck in traffic, making me the ideal candidate for any beauty product that shaves time off my routine and really delivers. Enter Miracle Cushion, Lancome's answer to a fluid foundation in a compact. To be honest, I was sceptical at first; how can a fluid stay in a compact and what sort of texture would this product provide? My Korean friend was more enthusiastic, assuring me that this sort of technology has been all the rage in her home country and that it encapsulates BB cream, foundation and 23PA++ sunscreen in an easy to use format.
Upon first inspection, I felt a little like Tarzan coming out of the jungle into civilisation - there is a soft cushion inside filled with a wet liquid that doesn't leak and an applicator that delivers just the right amount of foundation when pressed into the cushion ( what?! no messy fingers, no dripping onto my blouse?). The packaging is gorgeous and refillable, so do not throw it out - it's perfect for changing foundation shade due to the change of seasons . The results? This is a buildable foundation so the results can range from sheer to opaque depending on application - I must say I was quite impressed by the way the texture seemed light and natural while covering lines and blemishes. This is not a cakey foundation, in fact you will forget you are even wearing make up at all. And in the end- isn't that exactly what we all want?
This story was shot at the heavenly Qualia resort in Hamilton Island,a child free paradise where I could incapsulate my fantasy of a perfectly serene beauty routine while wearing amazing clothes and accessories
Above: Make it sparkle: Miracle Cushion joins a host of light reflecting treasures (Clockwise from bottom: Balenciaga cuff and Oscar De la Renta clutch both from Net-a-Porter, Dita sunglasses, Paspaley pearls ring and earrings )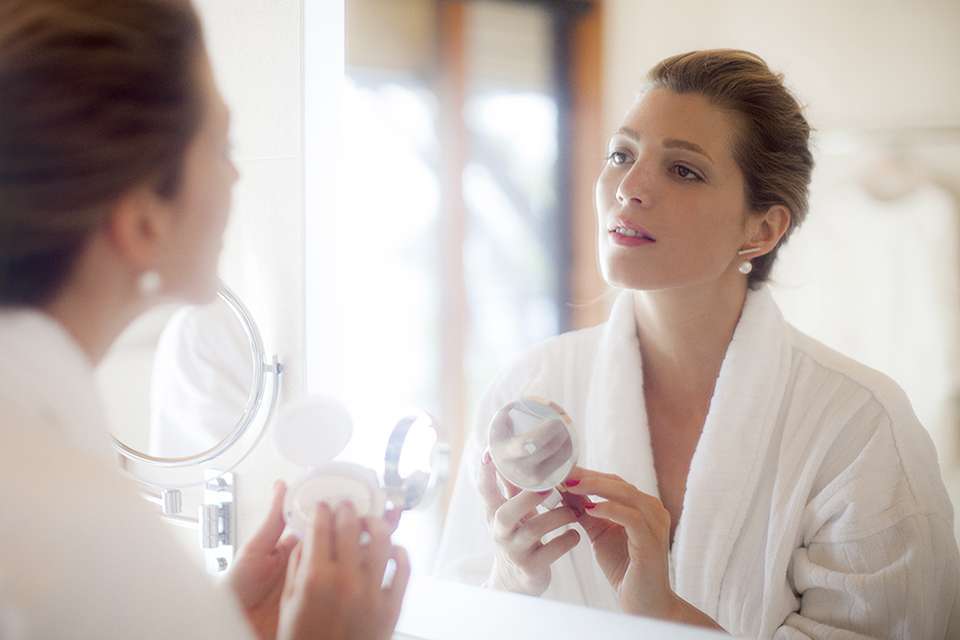 Applying Miracle cushion is a breeze. Dab on in small motions until the desired opacity is concieved ( Qualia bathrobe, Paspaley earrings )

Tako on the 70s trend in spring ready white in a Zimmermann dress and gorgeous accessories

Miracle Cushion fits in the smallest of clutches ( Oscar De La Renta clutch, Balenciaga cuff, Paspaley pearls ring )
Perfect for touch ups on the go! ( Paspaley Pearl earrings and ring )

Photography & film by Alice Wesley-Smith
Pink is a more contentuous colour than any other; some love it, some hate it but most are shrug–the–shoulders ambiguous about it. Most don't really mind it but when there is a perfectly good non-pink palette of colours out there to choose from most will give it a wide berth. To me it evokes childhood memories of spun sugar coloured starched frilly dresses, sherbet hued bunny rabbits and sparkly fuchsia tiaras - all things I vehemently disliked as uncool.
Since I was a tomboy, pink only crept into my life around 18, when I developed an obsession with the 80s. Living in the East Village of New York City listening to punk rock and early electronic music while vintage shopping Patti Smith and Blondie sartorial references, pink came in as a sash here and Nars Schiap lipstick there - gateways that led to a patent kitten heel and then full blown crystal encrusted bodycon worn with a military jacket . Slowly my perception of the colour changed until it became a hue that akin to red gets one noticed.
This season, pink plays on the 70s with dusks and dirty pinks, paired against browns, floral prints, or traffic-stopping brights.
Above: Long sleeves and a covered up decolletage balance this dress out perfectly with its mini length in an outrageously decadent pink. Alex Perry dress, Gianvito Rossi sandals and Alexander McQueen clutch from Miss Louise.



Balance out a pretty dress with studs and flat, mannish sandals. Balenciaga dress and Valentino bag from Cosette and Coach sandals.
Choose dusky pinks when pairing with suede and browns then add a brighter coloured accessory for a touch of unexpected pop. Lover bra and shirt, Frame Denim culottes from Edward Imports, Max Mara bag, Mania Mania crystal necklace and vintage Prada sandals.

Pale pink doesn't need to be sweet – it is a modern shade that plays well with neutrals and monochrome. Nicholas skirt, Gary Bigeni top and Chloe wedges
Photographed by Alice Wesley-Smith