Aje kicked off Mercedes Benz fashion week Australia with a runway overlooking the opera house -crisp cotton shirts, Bermuda shorts, signature balloon sleeves, topstitching and ruffles commanded the runway but I loved the tiered, flowing dresses and oversized suiting the best. As much as Aje drew on their signature silhouettes for this collection, this incarnation had a distinctly Australian flavour with native plants, animals and road signposts all making an appearance. ( Aje top and pants, Bulgari bag, Christian Louboutin heels, Ole Lynggaard ear cuff)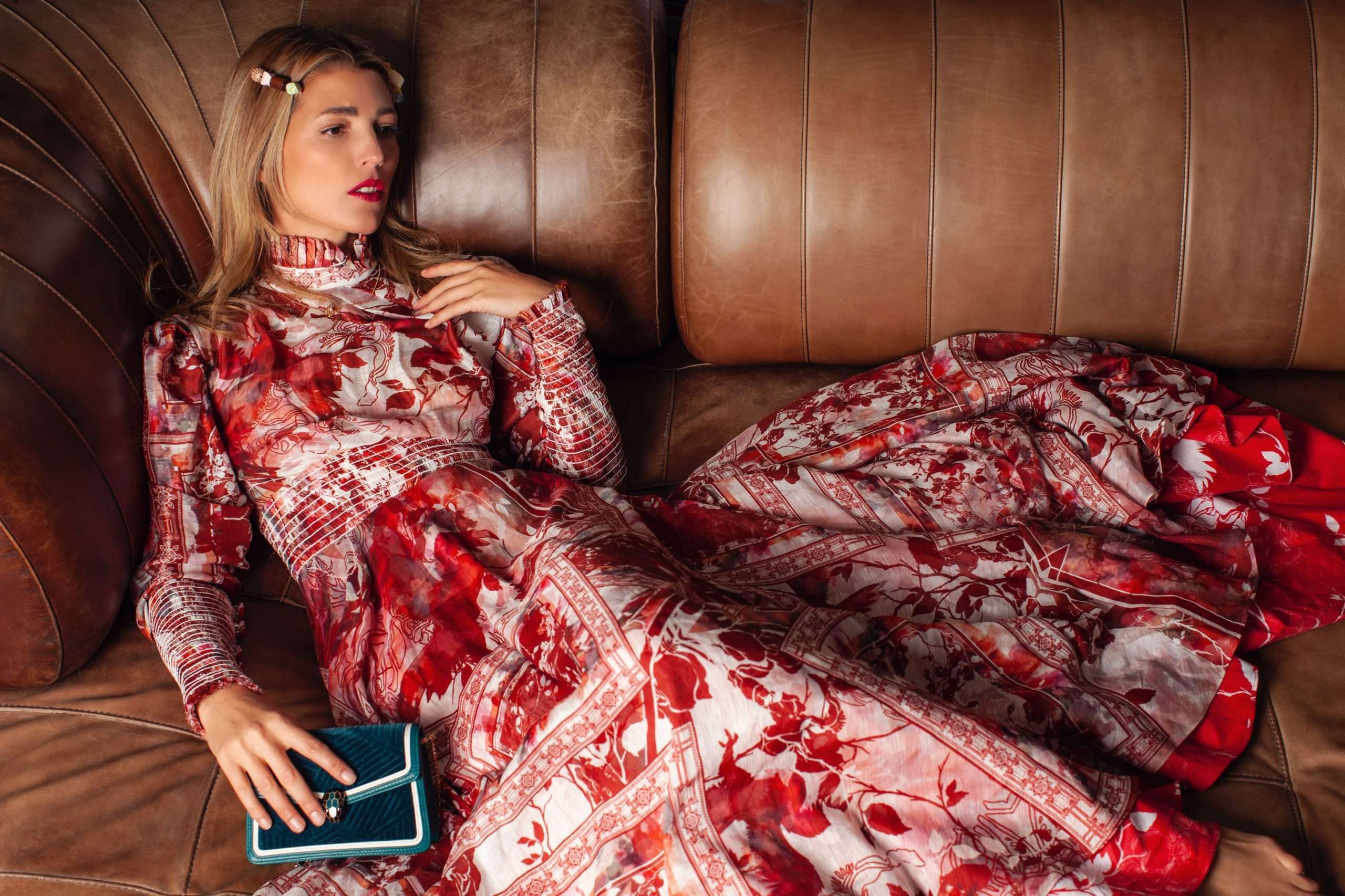 Leo and Lin introduced light cotton maxi dresses, high necks, asymmetric shoulders, mixed print scarf dresses and plenty of lace this year. There was frills and frivolity for the party girl ,as well as blouses and pants for the professional but my favourite were flowing gypsy dresses and skirts strewn with floral ( Leo and Lin dress, Valet hairclip, Bulgari bag)
Bec and Bridge returned with a collection that mixed inspirations- surfing, tropical print, 70s and 80s all made an appearance. All the favourite micro mini dresses were present, along with tiny shorts, but this year my faves were bermuda/ bike shorts, oversized satin suit jackets, bright turtlenecks akin to wetsuits and pleated skirts. I loved the colour palette mixing bright turquoise and orange with more muted tones of mustard and ochre. ( Bec and Bridge top, skirt, belt and shoes, Ole Lynggaard earrings, Bulgari bracelet)
If you're in a need of a sexy dress or perhaps are going to a fabulous dinner party in a Palm Springs mid century mansion, don't go past Alice McCall's collection. There were 80s sequins, lurex, feather lined pyjamas, rhinestoned chainmail and pretty satin as well as the designer's signature pretty cutout separates in pastel colours. Thanks for bringing the fun! ( Alice McCall dress, Roger Vivier sneakers, Valet earrings, Bulgari fanny pack and bracelet)
Anna Quan makes classic pieces for a grown woman and you will always be able to find a good shirt, pants or suit jacket from the designer, yet this year the collection had a distinctly vintage flavour with knitted dresses and asymmetric tops, long line shorts and pleated skirts ( Anna Quan dress, Giuseppe Zanotti shoes, Christie Nicolaides earrings )
Double Rainbuu may have started with hawaiian shirts but it has quickly grown into the go to label for all your holiday needs. The brand has a habit of churning out shorts and shirts that make you feel like sunshine yet look Hunter S Thompson cool. This year DB continued their travel inspiration by showing in the Chinese gardens, where guests meandered between presentation sections to zen music. New for the brand was the light knitwear and long line dresses all done in the new asian inspired print ( Double Rainbuu tops, Roger Vivier boots, Bally bag)
P.E Nation was once a sportswear brand but it is growing into so much more than that. Anyone that is a fan of the label knows how sexy and supportive the designs are in and out of the gym, but the next wave of denim, bombers, amazing legging pants and sweatshirts Pip Edwards and Claire Tregoning have designed will have you picking pieces for their after hours appeal too (P.E Nation tracksuit , Christian Louboutin shoes, Valet earrings, Published By bag)
With thanks to Vampt Vintage store for providing the location
Photographed by Alice Wesley-Smith
Snowflakes softly falling, novelty reindeer sweater, eggnog, a roaring fire, making a snowman…wait what? This is not an Australian Christmas! It's more like prawns on the barbie, swim in the ocean, schvitzing in the heat and flitting from family to friends' events because it's not like we are getting stuck in a blizzard for three days. We don't celebrate like other countries do, so of course our wardrobe isn't going to be a one size fits all either. Unencumbered by the cold, blessed by the warm breezes with no coat or beany in sight, I've compiled a list of 6 dresses that are perfect accompaniments to every activity you may have this holiday.

FORMAL CHRISTMAS EVE
I was born in Europe so a big, fancy, ott dinner is a must. Along with going so extravagant on food that I have leftovers till the New Year ( I'm eagerly awaiting you turkey sandwiches), I always dress up in something beautiful. This year I have slotted this star spangled Leo and Lin dress, Roger Vivier slippers and matching Kismet by Milka star diamond earrings at the top of my wish list.

XMAS BRUNCH WITH FRIENDS:
One last catch up before everyone flies off to see their families so it's an opportune time to take the festive mood board and deconstruct it. Give the Xmas tree a run for it's money with this cool Prada dress while making Santa jealous with red hot Christian Louboutin boots and Prada bag
CHRISTMAS DRINKS :
Heading out to a party? It's time to slip into some Bec & Bridge dark green lamé , grab a Dior saddle bag, put on some Mercedes Castillo mules (from Net-a-Porter) and turn yourself into a disco goddess. Trust me, this dress loves a dance.
CHRISTMAS ON THE BEACH:
Having Christmas lunch with the family, then heading to the beach for a dip?  You need a dress that can multitask , so may I suggest this Zimmermann silk number that loves to play with the breeze whilst keeping you as cool as a cucumber. Accessorize with a Lack Of Colour hat, Karen Walker sunglasses and Christian Dior slides for tonal perfection

CHRISTMAS BBQ WITH FRIENDS:
Hanging with your homies this year and just kicking back? You need something cool and chill, yet sexy enough in case that cute guy is there- I feel this Dion Lee baby is your ticket. Pair it with a roomy Cult Gaia bag, Ancient Greek Sandals and a Reliquia initial necklace that will help him remember your name.

PICNIC WITH YOUR LOVE
:Family isn't on the cards this year but gazing into your boyfriend's eyes as you eat ham sandwiches and sip champagne is? It doesn't get more romantic and gorgeous than this fine lace Dior dress. Add a snakeskin print bag by Rejina Pyo ( from Net-a-Porter) for a reference to Eve in the Garden, while keeping it dressed down in Ancient Greek Sandals
Self shot on Nikon D750
This editorial first appeared on vogue.com.au
When I first came to Australia 20 years ago, I was taken aback by the way summer here meant unpretentious fun, like days spent on vast expanses of sand wearing just a bikini, hanging out on grassy knolls barbequing sausages with friends or  meandering around languid Bondi streets popping into vintage stores. It meant people who'd soothe my habitual overthinking with words such as : "She'll be right mate!" or "No worries!" on issues that previously seemed catastrophic. I was a young teenager out in the wide world trying my luck in modelling , a sea apart from my family but coming to Sydney just felt right. The laid back vibes, friendly  people, beachy summer nights ...it's enough to make a girl get an enviable tan, fall in love, forget any worries and make Australia a home .
In that time, I also bought my first pair of Havaianas ; they were white ( perfect for offsetting the tan you see ) and so comfortable, I loved slipping them on as soon as my high heeled modelling work hours were done. The company launched in Australia the year I arrived here and everyone loved them, including me. Let's face it, Australians didn't need convincing on flip flops, a.k.a thongs (incredibly funny to my American friends we call them that here! ) - after all they are a national pastime.
The Havaianas ' styles came in all sorts of colours made of quality Brazilian rubber and took the streets like a tsunami. I think I ended up owning 5 pairs in different colours and wore them everywhere. Henceforth, when I see brightly coloured Havaianas thongs now, I have vivid memories of myself as a plucky teenager having fun on the beaches and streets of Sydney.
Now Havaianas have a new incarnation in sandals, a prim and polished thong cousin that doesn't make the  flippy sound , looks good with all kinds of clothes, comes in a variety of styles and shades whilst staying supremely comfortable. I partnered with the brand to pick out my favourites and pair them with trends I'm loving now across two editorials. First up: weekend separates that take you from day to night.
Come summer, I unleash my hippy, boho clothes from the top of the cupboard because there is nothing like playing 70s rockstar dress ups.  This season, I'm loving throwing shades of nudes, browns and neutrals together for a tonal look . ( Havana Luna Rose Gold sandals , T-shirt from Spell, suede shorts from Sir The Label , tote bag by Gucci, vintage earrings)
To me; leopard is a neutral and always in but this season the trend gods agree it's a hot commodity. Pair it with blacks for a look that says : come dance a purrrrfect night away (Havaianas  Flash Urban Black sandals , Acne shirt, Bec & Bridge bralette, Saba skirt, Balenciaga sunglasses)
Wide legged pants are de rigour this summer but this khaki hybrid is an everyday fave. I love the vegan leather Havaianas too- they pair well with dresses, pants or shorts. Wear with a crisp linen white shirt for a look that is a hybrid of Audrey Hepburn on holiday and Hemingway in Havana. Both good things. (Havaiana sandals in sand grey, pants by Frame denim, linen t-shirt by Bec & Bridge, Sunglasses by Carla x OPSM, vintage bag )
photographed by Alice Wesley-Smith
The best thing about doing my job is combining travel and fashion- two of my all time favorite passions folded into one synapse tingling experience : exciting locations, amazing clothes,new people to create with and at the end of it- beautiful pictures to take home. This is what my dreams are made from...but sometimes it can be nail biting suspense and flirting with chance, like shooting this season of Bec and Bridge Autumn '16 in Cuba.
After arriving into Havana, my bags were checked by beautiful yet stern border patrol girls ( all curiously wearing patterned fishnet tights, go figure ). They pulled me aside and dragged out some of my B&B clothes, spoke quietly in Spanish, then looked at me with narrowed eyes and asked all sorts of questions (as if they were pretty fashion police stopping a haul of contraband clothes) whilst I perspired imagining what a Castro jail looked like. Thankfully, they were satisfied with my answers, compliments on their cool 80s stockings and reassurances that I too grew up in a Communist country; after all I am an ex Yugo girl soooo...they let me go. Buoyed by this I made my way for the city and the closest mojito to calm my nerves.
My next problem came the next day; when I realized my phone didn't work at all and internet isn't really a thing yet in Cuba. I had made sporadic contact with a Cuban photographer named Viktor Rising in the weeks prior; I liked his style and punchy, contrasty photos so among faulty emails we made a loose plan but now, I had no way of contacting him.
It took me half a day to find out there were some hotels that have internet in front of them and vouchers I can buy somewhere else to get on so I sent an S.O.S to him and waited. It was the day before I left when I heard back and we made a hasty plan. I stayed up late sourcing a steamer for the clothes from a few different hotels, then got up early to get ready, straightening my hair and applying perfect make up...until I walked out into 42C, 90% humidity Havana sun and my hair bounced back into it's curls immediately while make up melted off faster than I could re-apply it. Ay!
Fortunately, Viktor was a cool and funny guy and the shoot itself was a dream ; we wondered the eclectic streets, men whistled and women asked where my dresses were from ( such is the power of Bec and Bridge's well honed sexy dresses ). I danced the salsa and ran over the squares but most importantly, our team had a ball and the dresses looked hawt juxtaposed against the colours of this beautiful city. I hope you like! x

Take lace into another dimension with a scooped out neck and choker detailing ( B&B dress, Chloe sandals )

Nothing like a skintight striped dress to take you from hot days into steamy nights (B&B dress, Gianvitto Rossi sandals, Clutch from Net-a-Porter )

All this baby wants to do is salsa! ( B&B dress, Chloe sandals )

Talk about a trifecta: wrap around, scooped out and leg baring in the most beautiful shade of cornflower blue ( B&B dress, Versace clutch, Valentino sandals )



This silk number is endlessly versatile- wear it loose in summer or over leather leggings in winter (B&B dress, Aquazurra sandals )

Let's talk sex in a dress because this dress is IT- seriously, I could've been married 5 times 🙂 ( B&B dress, Gianvitto Rossi sandals)
Photographed by Viktor Rising