Fashion Week only swings around once a year in Australia so come May everyone in the industry is lining up their outfits, pillaging pr agencies, last minute online shopping, loaning from friends and otherwise spending solid quality time in front of the mirror.
Dear reader; I wanted to be one of these people but I was doing the MBFWA review story for vogue.com.au in the lead up and hence was too overwhelmed with existing loans,countless emails and shoot production to think street style.When Monday came around and I had no outfit, I sent some emails and my assistant to pick up a few things from a couple of ravaged pr offices that now looked like supermarkets before Hurricane Irma hit ; barren and sparse.
First world problems these may be but one needs to get through the week clothed and my preference is a tad more fabric than what Bella Hadid wears on the Cannes red carpet 😉
Even though many Australian heavyweights didn't show this year, there were many highlights to the week so I decided to do a little photo diary - I want you to see all the fun that was to be had ! Sadly, I'm not posting all the shows I went to- some of them I just didn't get great pictures at - sometimes the lights are too low and the models move too fast.
DAY 1: Camilla & Marc started off the week with a bang, all cool tailoring, oversized jackets, shoulder pads, ruffles, off the shoulder dresses and skirts over pants. There were so many things to love here, all I can say is: send separates guys!

The Camilla & Marc stage was this amazing outback-ey looking set that every single person tried to get a photo in after the show. Here's me, semi soaked still cause it was pouring outside, elbowing my way to a quiet corner with the help of Yan Yan Chan who took these photos for me (thanks Jan ; )).
Wearing Rebecca Valance skirt and bustier, Balmain Top, La Perla bra, Gucci bag, Zimmermann shoes and a vintage Versace jacket
DAY 2 :Monday was a busy day, so what better way to start it but by wearing head to toe pink and matching it to a double shot flat white in a Dion Lee Vittoria cup ? Wearing Dion Lee top and pants, Michael Lo Sordo jacket, Fendi bag, Charlotte Olympia shoes, Balenciaga earring and vintage Balenciaga sunglasses
I loved the Bianca Spender show; all oversized, feminine suits and flowing, sensual silks. Well tailored and flattering with a sustainable bend, I can't wait to wear some of those slinky silk dresses over wide legged pants
En route to the Alice McCall show  (Alice Mccall pants, Ginger and Smart top, Gucci shoes, YSL bag and Matteau bikini top )
If Alice Mccall had a girl she were making clothes for it would be a fun party girl with vintage sensibilities. Some of her dresses and shorts used to be so short they'd make my eyes water ( cause I didn't have the guts to expose so much of my pins ) so I'm loving how some of the hemlines are longer this season and there are amazing maxi gowns in the fray too. Lace detailing and lamé dresses never hurt the party girl either, let's face it
My mates Mikey & Toby over at Double Rainbow did an amazing job growing their hawaiian shirt label into a veritable style reference of their own. This show was pure festival summer incarnated with mesh tops, prints galore, tracksuit combos, clever t-shirts and beach shorts we all need once the heatwave hits. Big love to Sarah Starkey who styled this show to perfection, within the restricted confines of the Landsdowne hotel non the less.
It was 9 pm when the Double Rainbuu show finished so I rushed to the intimate dinner Michael Lo Sordo was hosting at the city institution that is Bambini Trust. I had to make a swift change into a Michael Lo Sordo look in the car, across the road from a packed bus stop which was as hilariously awkward as you can imagine. The girls and I were all Lo Sordo brides that night- Sunny Vandervelde took this fun snap of us in front of the restaurant before we all settled to a gorgeous candlelit dinner. Thanks Michael and MCM pr for this wonderful night!
DAY 3 When you're dressed so farshion but you wish you were wearing a bikini and diving in!
Wearing Undone Project pants, Jill Sander t-shirt from Net-a-Porter, Zimmermann shoes, Dinosaur designs earrings and bracelet, From St Xavier clutch and Double Rainbuu x Le Specs sunglasses 
The Emilia Wickstead x Matches Fashion was a pure delight. Not only was it held at the spectacular Wylie's baths which I'd never been to before but the weather was incredible, the clothes lovely, the atmosphere magical, the champagne cold and the appetisers delicious. Can every show be like this? I wanted to twirl in these pretty dresses and dive into some long gone Riviera pool whilst wearing a pink swim cap. This show evoked so many feels that I escaped through a portal to another time. When the show finished, I still didn't want to leave because the reality was wonderful too.
Snakeskin, lamé, 70s, gingham, sheer...the Hansen & Gretel show had all the trends. All I can say is: I'm coming for you head to toe snakeskin print, don't even bother hiding cause I'll find you!
I had some time to rush home and get changed for the Romance Was born show ( wearing Romance Was Born, Gianvitto Rossi from Net-a-porter shoes, Reliquia earrings )
Hello lamé, hello slinky goddesses, hello prints, ruffles and the joy of seeing creativity unbridled - Romance Was Born show is always such an unmissable event on the week's calendar. This year, the underbelly of Hubert's was transformed into a Parisian salon where models twirled between tables and enchanted us with ruffles, lace and batwings.
As if the beautiful clothes weren't enough, guests were presented with a delicious 3 course sit down dinner and drag queen singers that ravished the captive audience with vintage hits. The night also served as a launch for RWB's incredible retrospective book - if you love fashion, buy this book as it's sure to be iconic ( and whilst you're page turning, play a little find Tanja game- there are a few pictures in there from my modelling days ) The fun didn't stop there- after the show, some of us stayed on for a nightcap and danced on tabletops ( i'm looking at you Isabella Manfredi ; ))
DAY4: One of the highlights was the Christopher Esber show today, with it's impeccable detailing and painstakingly beautiful beaded knits. I wanted so many items from this show. Worn as a look , these were strong pieces but equally important; any one of them would elevate plain old t-shirts or jeans to new heights. I also had a deadline today so I spent most of my day just editing : (

Wearing Zimmermann pants, Michael Lo Sordo top, Gucci Belt, Byfar x Net-a-Porter sandals, YSL bag from Net-a-Porter, vintage necklaces and jacket, Reliquia earrings
Day5: Nothing like the joy of arriving to the Ten Pieces show at Icebergs and finding my girl Lindy Klim was seated next to me. Love an early morning catch up! ( Wearing vintage top, Fendi sunglasses, Lindy wearing Rama Voyage and Dion Lee)
Maurice Terzini and his partner Lucy did such a great job with this collection. Modern, fresh,androgynous and wearable, the clothes were as cool as the show was fast paced and to the point, a bit like mr Terzini himself. Bonus points for casting some of the coolest characters around who promptly started a dance off on the balcony when the show ended.
The evening saw the ethereal Akira show and the tribal inspired Camilla show, followed by Russh magazine's dance party extravaganza ..needless to say the weekend in bed was heaven sent!
Thanks so much to all the designers, models, hair and make up artists, pr and my fellow journalist and bloggers for making this MBFWA such a hoot
"So they close together
Dressed in red and yellow
Innocent forever, sleeping children
In their blue soft rooms still dream"
Colours are fascinating. Ever since I had a fight with my best friend at 8 years of age over the colour of a t-shirt that we couldn't agree on despite the feverish discussion, I knew that people see colours a differently. Almost everyone has 3 cones in their retina which makes us see roughly the same colours, however, some superwomen have an extra cone, making them a tetrachomat able to perceive a wider range of shades than us ordinary folk. My obsession with how we perceive colours was further amplified by reading Jasper FForde's disturbing sci-fi novel Shades Of Gray, which presents a dystopia future in which people are set in a cast system based on the primary colour they perceive their world in.
In the world of fashion, colour is an expression of a feeling, an idea or a thought, however abstract. If it is sometimes hard to differentiate between prussian blue and navy blue or mauve and wisteria - in the emotional response or sight, it is never hard to tell apart red and yellow from blue , not to mention that the feelings they evoke in us are polar opposites to each other.
For my latest Coach post, I played with the exuberance of primary colours, the latest Turnlock Tie collection, some vibrant new threads and the breath taking Sydney harbour. All this vibrance is what street style photographers' hyperventilating dreams are made of ...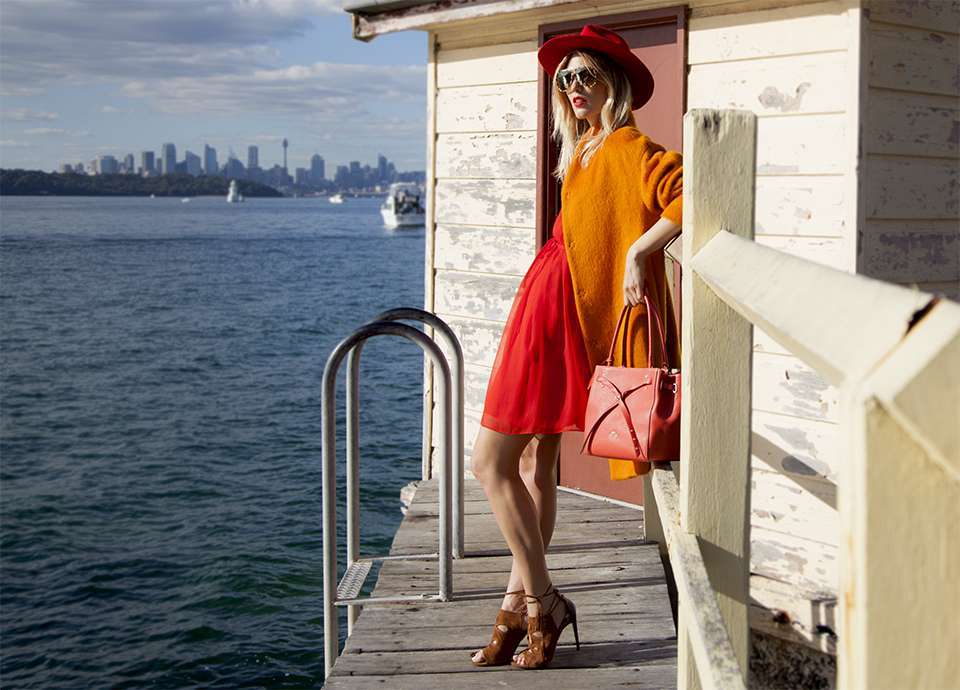 Set the day on fire in a scarlet red Camilla & Marc dress, Turnlock tie tote and Lack of Colors hat. I created contrast with an orange Marimekko coat, Dita aviator sunglasses and Aquazurra sandals. Tiffany & Co T bracelet and Cartier Love bracelet worn throughout )

Take one sleeveless red coat by Nicholas,add a blue tweed skirt by Bianca Spender, some Chloe tie up wedges and finish it off with a bright blue Coach backpack)
Use primary colours to excite neutrals - pop tan leather with bursts of colour for an updated take on an all leather ensemble  (Max Mara dress, Coach backpack ,Ellery shoes, Preen by Thornton Bregazzi sunglasses)
Beauty tip: Blend Nars' red shades in Dragon Girl and Red Square for the most vibrant pout in town
Photographed by Alice Wesley-Smith
This Friday, the 20th March is a special occasion. Not only is it the Spring equinox in the Northern hemisphere and the Autumn equinox in the Southern hemisphere but there is also a total solar eclipse happening and a supermoon will be gloriously huge in the sky. These things, you see, I take very seriously.
When I was a child growing up in Croatia, my relatives from the countryside used to tell me magical folk stories in which the heavens and Earth were always connected; planets and stars weren't masses of matter but characters personified here on earth. Whenever something was going on in space, it had direct correlations to our mortal world and we had to prepare for our life changing in some way. In this sense, faeries were completely real beings that occupied a world overlapping ours, only a thin veil away. These faeries were not some cute little creatures like Peter Pan's Tinkerbell, but female beings ,long haired, beautiful, sometimes endowed with goat legs underneath long dresses.  They harbored emotions and intentions, sometimes evil and capricious, sometimes pityingly sensitive to mankind's plights . Occasionally they fell in love with men, abducting them and the males would cross into their world never to be seen again. Congregating around water, rocks or anything misty; they danced next to flowing forest springs and roamed foggy sunset fields. I was terrified and mystified yet dreamt and wanted to be them; ethereal and eternal, perfect but ultimately flawed in their formless shape, never quite of the material world.
For my Thomas Sabo edit I wanted to emulate these otherworldly beings while showcasing some of the most gorgeous clothes available right now. Thomas Sabo is a company I have had my eye on for the last few seasons for their meticulous attention to detail, high quality and collections that vary from classically elegant to extravagant and punk rock. Their beautifully crafted , innovative silver jewellery garnered them fame in the 1990s, however the original collection has expanded into a myriad of styles ; from charms and pendants to crystal jewellery, there is something in the range for everyone. For my edit, I picked my favorite pieces ; silver seashells and white pearls, gorgeous gold plated medallions, cute flamingos and chakra inspired mandalas. I hope the faeries approve ...
This Alex Perry gown is modern romance personified while beautifully crafted silver jewellery and pearls add a little moonlight to the ancient rocks
Ellery does contemporary with a vintage twist - this gorgeous tweed fabric and flared details are completely on point. Match up tones with Lucy Folk's delicate bead clutch and Thomas Saboo's Maharani set with radiant milky quarts and milky aqua. Faerie of the seafoam would approve

The forest faerie should be so lucky to posses a special amulet such as this radiant sphere for her crown and a beautifully crafted Toni Maticevski knot top to dance around the weeping willows in

Don't let the adorable flamingo and intricate charms fool you, this faerie is being naughty in her Agent Provocateur corset.

Align your chakras by wearing beautiful pendants the other way around with a backless gown - all that skin needs ornate adornments to shine (Kaliver gown)

Toughen up pretty lace with some rock n' roll jewels - this Bianca Spender floor length dress is asking for moonlight nights and bad boys
photographed by Ana Suntay- Toledo
Among the fashion flurry of designers buyers, photographers, models , la mode folk and a liberal sprinkling of fabulousity, the jam packed 4 day Mercedes Benz Fashion Week schedule delivered surprises, creativity , newbies and awesomeness. (it wasn't all unicorns and rainbows but more on this later). During the course of the week, I kept getting asked the same questions by reporters, so I will share my answers to these with you here as they seem so pertinent, albeit probably answered here with a lot more measured fluidity!
Q: What do you think is unique, and what do you love about Australian Fashion ?
A: I believe Australia's unique geographical position as a country whose towns are urban environments situated near water lends us a laid back perspective in which our wardrobe needs to be multitasking and comfortable and yet, as any metropolis, also stylish and fashionable. I love the way Australians seem to be able to combine colour, beach lifestyle and high fashion into something that seems so effortless.
Q: What do you think about MBFWA and Australian designers in general?
A: I think , truly, that Australian fashion is better than it has ever been. I moved to Sydney and worked at the first ever Sydney Fashion Week as a wide eyed young model. Since then, I have witnessed Australian fashion become something that is distinctive, world class and exciting. Our designers are a versatile, talented and unique bunch and personally, I believe that the way forward for Australian fashion is for our designers to create transeasonal collections which will be an easier sell to opposing seasons overseas (some are doing this already).
As far as the future of MBFWA, we need to create a way to lure all our talent back from showing overseas so that our designer superstars can add gravitas and star power and make this an exclusive and exciting yearly event. The way things stand and unlike it is elsewhere, it is just a really expensive exercise for our designers and it need not be. Perhaps , if the media and sponsors could get involved in the right way, we can create an atmosphere of excitement such as exists overseas about fashion week, which will in turn create an opportunity for designers to show at low or no cost, and this may be able to stem the fashion brain drain and create an arena for fashion spectacles that Australia can be proud of. As it stands, and since it's move to Carriageworks, MBFWA has succeeded in making the week's activities more localised, organised and congruent which is a damn good way to start.
Q: How do you feel about the "skinny" debate?
A: I think coming from a background of a model, I can see this debate from both sides of a coin. Firstly, media does sensationalise this aspect of Fashion Week, ignoring everything else, because let's be real, what is a newspaper without big, polarising headlines , public outrage and cries for change? In reality, only a couple of girls I saw at Fashion Week were actually at a weight that made them look unwell, when most of the models, while extremely thin, were simply young girls who hadn't developed hips or breasts and probably ate plenty. I do however agree that in the last 10 years , the models have got thinner and I do not necessarily believe that this is the right way to go.
While the measurements have stayed in a similar vicinity, the girls have got taller. For a 6'2" girl, maintaining a 34" hip is much harder than for a 5'9" girl - and here is where the problem lays. While designers keep insisting that girls fit a certain measurement standard (no more than a 34" hip for overseas catwalks ) there will be eating disorders aplenty. A tall girl simply cannot maintain these standards and be healthy at the same time. Why not look at each model as an individual and tailor clothes to her? After all , a gorgeous 6'2" girl with 39" hips will still look very thin, but this adjustment will give her an opportunity to stay healthy and protect her future fertility. After all,for me, there is nothing worse than trying to focus on clothes and instead feeling sad/scared for a skeletal girl on the catwalk. I want my models to be aspirational, in a way that I'd think : If only I exercised more, I too could have that banging bod ! I think we all want to see models and think : Beautiful, amazing, sexy, cool… not : oh-oh, ouch ,OMG, is she ok? For the most part, however, girls in Australia do not have this problem.
Now that's out of the way let's focus on what is really important- the fashion!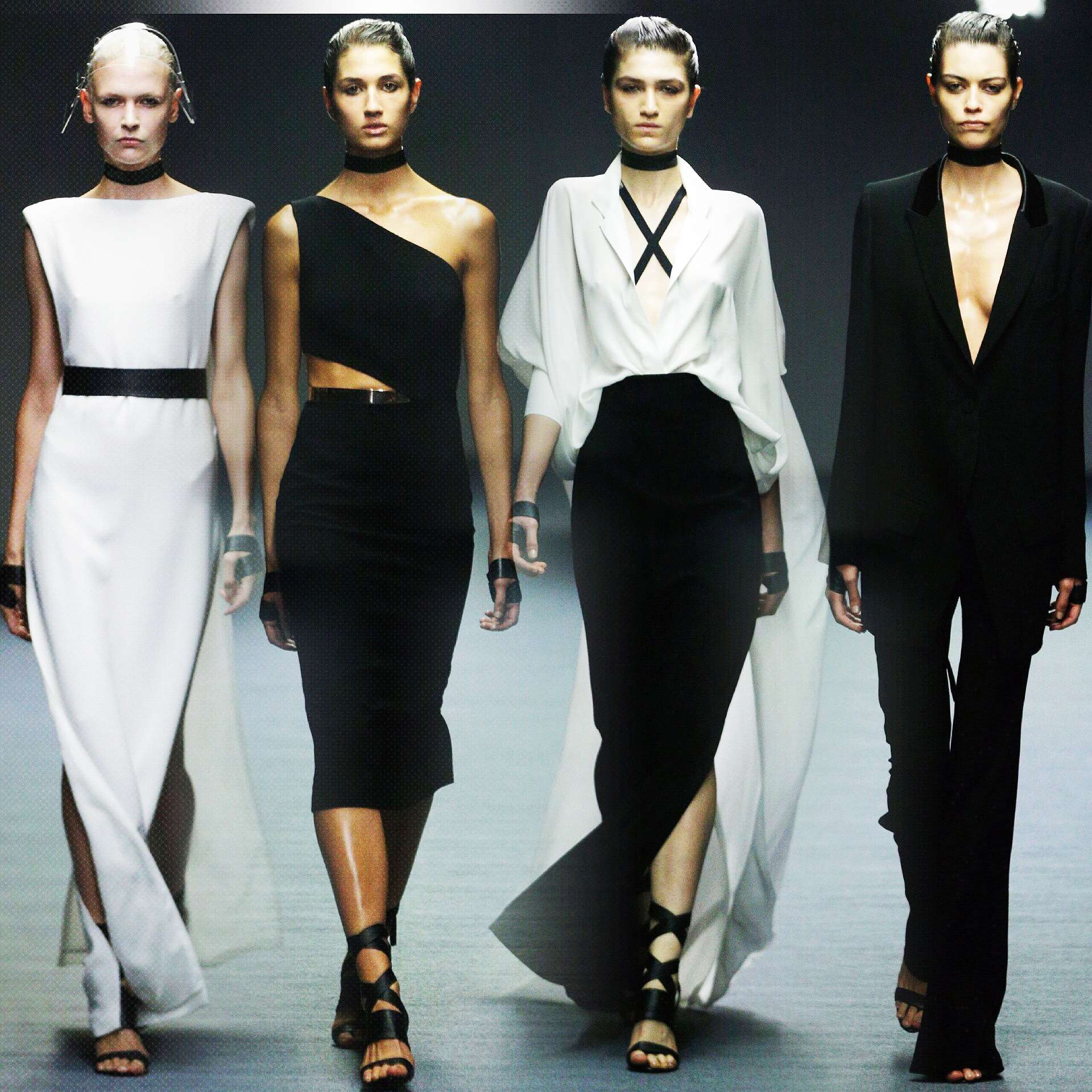 Carla Zampatti opened MBFWA, fittingly for an icon of Australian fashion who will be celebrating her 50th year in the business next year. Her designs were tailored, timeless and sexy. I especially loved the monochrome looks and sharp separates and Michelle Jank's cooler than thou styling
Ellery held a show at the sparkling Icebergs restaurant and bar in which details, craftsmanship and fabrics stood out. My favourites were the intricate bustiers,slim, slightly fluted pants , pleated details and clean blazers
Alex Perry added Angel dust via Alessandra Ambrosio but it was nothing compared to his encrusted, romantically asymmetric lace party dresses with snakeskin printed leather inserts. I really love the direction Alex has taken in the last 3 seasons and I have enjoyed shooting the clothes over that time. I am especially loving his oversized shimmering snakeskin printed t-shirts with squared off shoulders, which are totally my idea of a luxe basic.


I enjoyed Christopher Esber's show this year. His neat, boxy double breasted jackets, nautical inspired hues and shapes, the gold buttons and the asymmetric skirt all the girls I sat with at the show wanted signalled that he hit the proverbial staple nail on the head.
I love Emma Mulholland like I love the Opening Ceremony in L.A. It's young and whacky but also cool and fun.These are the pieces to mix with more tailored streamlined clothes for an instant injection of fresh. Pair her transparent sweatshirts with long leather pencil skirts or boyfriend jeans and pastel mules, or wear a printed miniskirt with an oversized cashmere sweater and stiletto sandals. Hi-Lo cool ya'll!
At Alice McCall it was all about shiny  satin, scalloped necklines, sheer fabrics , pretty dresses ,cool bombers and prints, prints , prints! I loved Mark Vassallo's styling colour and the sheen not to mention the gorgeous way the confetti fell on the catwalk at finale.
I loved the Bianca Spender show for it's mix of vintage and modern, kooky and classic, beautiful prints, sassy sequins and sexy leather dresses. Bianca asked me to walk in the show, so I had a great look at these clothes and the quality is amazing. Can't wait to use my voucher!
Dion Lee line II presented a new version of street with easy separates, cool leather pieces, androgynous shapes and flattering wrap dresses that every It girl will scramble for. I especially loved the backless tops...sexey!
Although the print clash didn't quite work for me,this newcomer still got points for it's cool shapes and marching to it's own beat. I love Macgraw's vintage/modern aesthetic ; wide pants, cute collared dresses and billowing fabrics..One to watch in the future.
My absolute favorite show of this year's MBFWA was definitely Toni Maticevki. Beautiful fabrics, elegant but cool , oh so beautiful embellishments and to die for evening wear. Want. Need!
I did an editorial spread on Dyspnea a few months ago because I love originality and imagination and these girls have it aplenty. In this show I loved their intricate sheers studded with pastel fur balls and gorgeous embellished tops. Not so much the Bollywood story, but hey - each to their own!
The biggest surprise this year was definitely Discount Universe, a new label heavy on punk, 'tood, spikes and embellishments. Katy Perry is a die hard fan, commissioning a whole tour's worth of clothes. But before you think : I ain't Katy Perry! , consider this: so beautifully finished and glossy, these clothes have the superpower of lifting anything drab to another level. My money is on the incredible studded python leather jackets. Swoon!

Working hard at MBFWA with my assistant and Lindy Klim's gorgeous back is never a chore. 'Till next year Fashion Week Australia!
photo via Vogue Australia