Pink is a more contentuous colour than any other; some love it, some hate it but most are shrug–the–shoulders ambiguous about it. Most don't really mind it but when there is a perfectly good non-pink palette of colours out there to choose from most will give it a wide berth. To me it evokes childhood memories of spun sugar coloured starched frilly dresses, sherbet hued bunny rabbits and sparkly fuchsia tiaras - all things I vehemently disliked as uncool.
Since I was a tomboy, pink only crept into my life around 18, when I developed an obsession with the 80s. Living in the East Village of New York City listening to punk rock and early electronic music while vintage shopping Patti Smith and Blondie sartorial references, pink came in as a sash here and Nars Schiap lipstick there - gateways that led to a patent kitten heel and then full blown crystal encrusted bodycon worn with a military jacket . Slowly my perception of the colour changed until it became a hue that akin to red gets one noticed.
This season, pink plays on the 70s with dusks and dirty pinks, paired against browns, floral prints, or traffic-stopping brights.
Above: Long sleeves and a covered up decolletage balance this dress out perfectly with its mini length in an outrageously decadent pink. Alex Perry dress, Gianvito Rossi sandals and Alexander McQueen clutch from Miss Louise.



Balance out a pretty dress with studs and flat, mannish sandals. Balenciaga dress and Valentino bag from Cosette and Coach sandals.
Choose dusky pinks when pairing with suede and browns then add a brighter coloured accessory for a touch of unexpected pop. Lover bra and shirt, Frame Denim culottes from Edward Imports, Max Mara bag, Mania Mania crystal necklace and vintage Prada sandals.

Pale pink doesn't need to be sweet – it is a modern shade that plays well with neutrals and monochrome. Nicholas skirt, Gary Bigeni top and Chloe wedges
Photographed by Alice Wesley-Smith
"So they close together
Dressed in red and yellow
Innocent forever, sleeping children
In their blue soft rooms still dream"
Colours are fascinating. Ever since I had a fight with my best friend at 8 years of age over the colour of a t-shirt that we couldn't agree on despite the feverish discussion, I knew that people see colours a differently. Almost everyone has 3 cones in their retina which makes us see roughly the same colours, however, some superwomen have an extra cone, making them a tetrachomat able to perceive a wider range of shades than us ordinary folk. My obsession with how we perceive colours was further amplified by reading Jasper FForde's disturbing sci-fi novel Shades Of Gray, which presents a dystopia future in which people are set in a cast system based on the primary colour they perceive their world in.
In the world of fashion, colour is an expression of a feeling, an idea or a thought, however abstract. If it is sometimes hard to differentiate between prussian blue and navy blue or mauve and wisteria - in the emotional response or sight, it is never hard to tell apart red and yellow from blue , not to mention that the feelings they evoke in us are polar opposites to each other.
For my latest Coach post, I played with the exuberance of primary colours, the latest Turnlock Tie collection, some vibrant new threads and the breath taking Sydney harbour. All this vibrance is what street style photographers' hyperventilating dreams are made of ...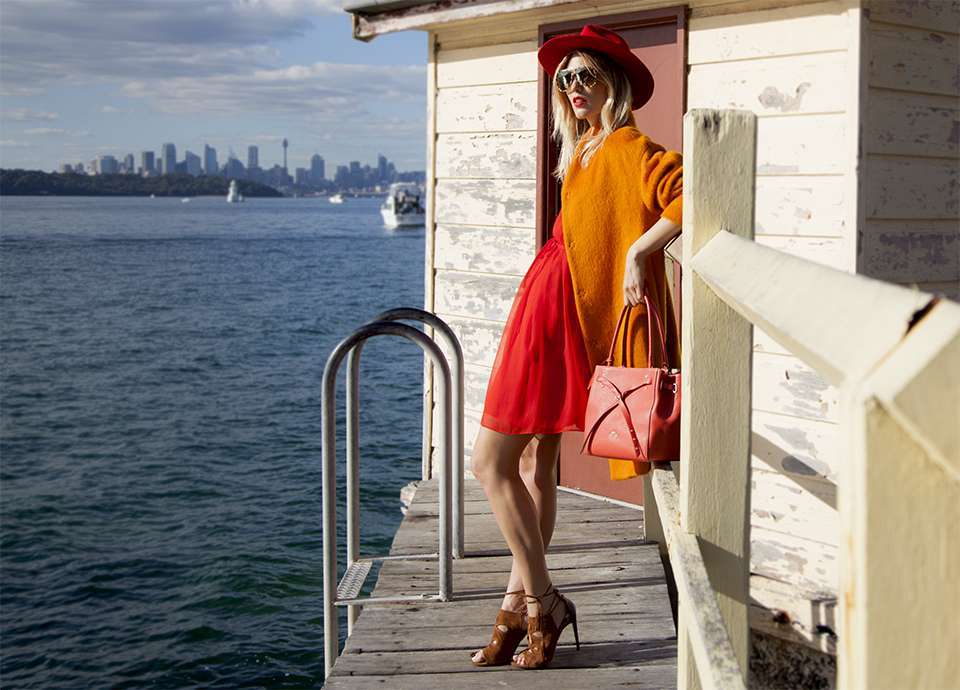 Set the day on fire in a scarlet red Camilla & Marc dress, Turnlock tie tote and Lack of Colors hat. I created contrast with an orange Marimekko coat, Dita aviator sunglasses and Aquazurra sandals. Tiffany & Co T bracelet and Cartier Love bracelet worn throughout )

Take one sleeveless red coat by Nicholas,add a blue tweed skirt by Bianca Spender, some Chloe tie up wedges and finish it off with a bright blue Coach backpack)
Use primary colours to excite neutrals - pop tan leather with bursts of colour for an updated take on an all leather ensemble  (Max Mara dress, Coach backpack ,Ellery shoes, Preen by Thornton Bregazzi sunglasses)
Beauty tip: Blend Nars' red shades in Dragon Girl and Red Square for the most vibrant pout in town
Photographed by Alice Wesley-Smith