Watch out; there is a new girl in town this season and she doesn't mind breaking some fashion rules. She is equal parts a bipolar magpie, worldly nomad and savvy investor - just look how she combines accessories with wild abandon, exhibits eccentricities by mixing eras and takes herself lightly by purchasing her wears like a shrewd romantic: emotionally and instinctively. She is a wild 70s groupie, practical modern woman and sweet hippy child rolled together - a seeming contradiction were it not for the way she is everywoman; she loves beautiful things, yet adores practicality and comfort ; she still likes to have a wild time, yet she wants to look feminine and pretty doing it too.
For this installment of my second season collaboration with Coach, I wanted to integrate one of head designer Stuart Vevers' newest ( and coolest ) additions to the family - the Saddle Bag. Not only is it crafted from premium super soft leather but the shape is new season personified: slightly vintage, in modern, punchy colours with a no nonsense utility to back up it's credentials. It is a bag for all day, everyday,  yet with pretty minimal detailing to suit even the finest of threads. Get your notepads ready: here's how to break some rules this season...

Modern hippy:  A floral silk dress is a must this season  but wear yours irreverently with sneakers, moccasins or mules . Choose offbeat accessories in similar tones to tie it all together (Coach saddle bag, Max Mara dress, Jerome Dreyfuss moccasin boots, vintage necktie, Lucy Folk earrings, Preen by Thornton Bregazi sunglasses )
All colour, all the time: Blue and green should never be seen and let's not get started on pink and red...or should we? Leave colour rules firmly in the past because this season is all about contradictory color blocking, with pink still exhibiting  the range of it's relevance in all it's pretty/cool shade incarnations.
Don't be afraid to mix turquoise, emerald or watermelon - more is more now  ( Coach saddle bag, Prism bikini top, Double Rainbuu hawaiian shirt, vintage leather skirt, Lucy Folk bracelet, Karen Walker sunglasses )
High/low, Up/down: Mix a little bit of rock and roll and a bit of prim and proper - choose sensuous, luxurious fabrics, then mix them with unexpected detailing. Go crazy with blue eyeshadow ( a hot new beauty trend of the season ) just because , then add a punchy accessory in an opposing colour to keep 'em guessing
Don't forget to wear slippers or mules everywhere, all the time with anything- a variety of delightful shapes is coming your way this season. The best way you can wear your sunday's best now is to dress it down as if you were going to the corner store to buy some milk ( Coach saddle bag, Karen Walker dress, Dita sunglasses, Gucci slippers )
Photographed by Ana Suntay- Tanedo

Summer is upon us and while the temperatures soar it's easy to drift into the repetitive cut off denim and t-shirt offender land. Sometimes I get so lazy when the days get steaming that I literally wear the same thing every day until I notice my own daughter raising eyebrows in disbelief. But there are clothes out there that are summerliscious and gorgeous, that promise elegance and ease and the sort of put together cool that makes one feel like they're a cool cucumber in the crippling heat. Then, there are totes; tote bags; easy and simple, with space for everything, practicality of a hoarder and simple beauty of an ingenue. Totes are the bag version of a secret maximalist, the happy go lucky bag that will hide all your random treasures while putting on a paired back front. This bag is a mainstay, and if you don't have one yet, well,frankly, you are missing out ; they are an absolute must have. Going to the markets? Tote is there for you. Going to the beach? The tote will hold your towel, sunnies, sunscreen and magazines. It will be there when you do an unexpected supermarket shop or when you need your laptop for a meeting. Everything is easy with a tote in tow.
In my second season in collaboration with the revamped ( and currently very cool ) Coach brand, I wanted to sing praise for this unsung hero of the accessory world while styling it back with some of my lust have clothes of the season...because; summer !
Above (Do the midriff with some interesting detailing and go day to night : Christopher Esber top, Ellery skirt, Coach tote, Giuseppe Zanotti pumps, Amber Sceats bracelets )


Beach coverup to barefoot soiree : this jumpsuit does it all ( Tome jumpsuit, Coach tote, Jordan Askill x Georg Jensen necklace )


A simple silk slip and tote are perfect for day coupled with interesting accessories ( Interval slip, Emeli earrings, Coach tote, Proenza Schouler mules )


Take your new bestie to the seaside and make it carry everything while you rock a retro inspired bikini ( Matteau bikini, Coach bag, Seed espadrilles, Dita sunglasses )
photographed by Alice Wesley-Smith
Pink is a more contentuous colour than any other; some love it, some hate it but most are shrug–the–shoulders ambiguous about it. Most don't really mind it but when there is a perfectly good non-pink palette of colours out there to choose from most will give it a wide berth. To me it evokes childhood memories of spun sugar coloured starched frilly dresses, sherbet hued bunny rabbits and sparkly fuchsia tiaras - all things I vehemently disliked as uncool.
Since I was a tomboy, pink only crept into my life around 18, when I developed an obsession with the 80s. Living in the East Village of New York City listening to punk rock and early electronic music while vintage shopping Patti Smith and Blondie sartorial references, pink came in as a sash here and Nars Schiap lipstick there - gateways that led to a patent kitten heel and then full blown crystal encrusted bodycon worn with a military jacket . Slowly my perception of the colour changed until it became a hue that akin to red gets one noticed.
This season, pink plays on the 70s with dusks and dirty pinks, paired against browns, floral prints, or traffic-stopping brights.
Above: Long sleeves and a covered up decolletage balance this dress out perfectly with its mini length in an outrageously decadent pink. Alex Perry dress, Gianvito Rossi sandals and Alexander McQueen clutch from Miss Louise.



Balance out a pretty dress with studs and flat, mannish sandals. Balenciaga dress and Valentino bag from Cosette and Coach sandals.
Choose dusky pinks when pairing with suede and browns then add a brighter coloured accessory for a touch of unexpected pop. Lover bra and shirt, Frame Denim culottes from Edward Imports, Max Mara bag, Mania Mania crystal necklace and vintage Prada sandals.

Pale pink doesn't need to be sweet – it is a modern shade that plays well with neutrals and monochrome. Nicholas skirt, Gary Bigeni top and Chloe wedges
Photographed by Alice Wesley-Smith
"So they close together
Dressed in red and yellow
Innocent forever, sleeping children
In their blue soft rooms still dream"
Colours are fascinating. Ever since I had a fight with my best friend at 8 years of age over the colour of a t-shirt that we couldn't agree on despite the feverish discussion, I knew that people see colours a differently. Almost everyone has 3 cones in their retina which makes us see roughly the same colours, however, some superwomen have an extra cone, making them a tetrachomat able to perceive a wider range of shades than us ordinary folk. My obsession with how we perceive colours was further amplified by reading Jasper FForde's disturbing sci-fi novel Shades Of Gray, which presents a dystopia future in which people are set in a cast system based on the primary colour they perceive their world in.
In the world of fashion, colour is an expression of a feeling, an idea or a thought, however abstract. If it is sometimes hard to differentiate between prussian blue and navy blue or mauve and wisteria - in the emotional response or sight, it is never hard to tell apart red and yellow from blue , not to mention that the feelings they evoke in us are polar opposites to each other.
For my latest Coach post, I played with the exuberance of primary colours, the latest Turnlock Tie collection, some vibrant new threads and the breath taking Sydney harbour. All this vibrance is what street style photographers' hyperventilating dreams are made of ...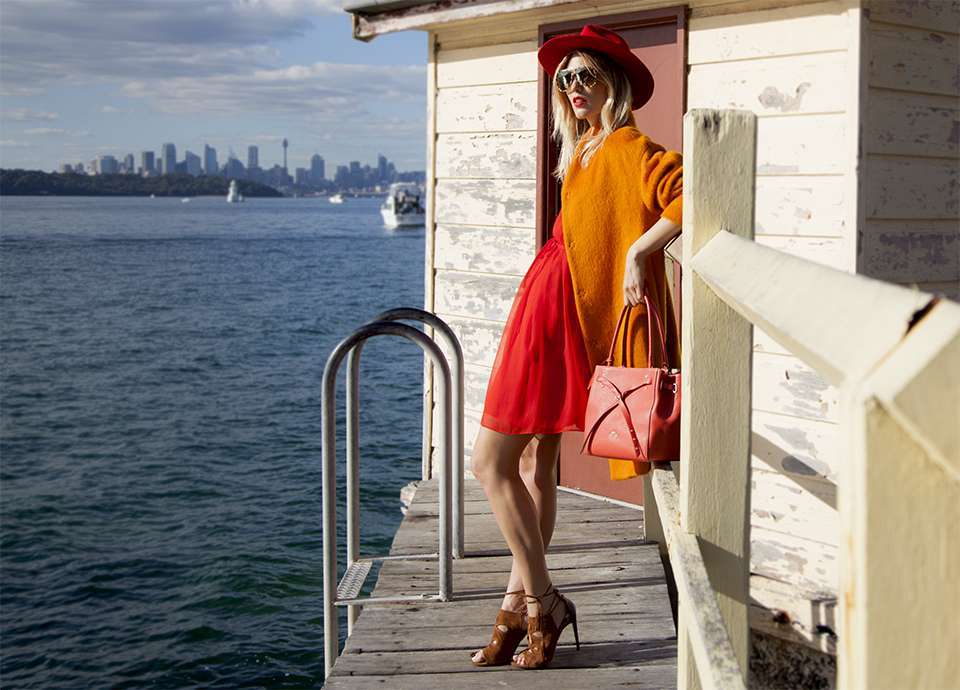 Set the day on fire in a scarlet red Camilla & Marc dress, Turnlock tie tote and Lack of Colors hat. I created contrast with an orange Marimekko coat, Dita aviator sunglasses and Aquazurra sandals. Tiffany & Co T bracelet and Cartier Love bracelet worn throughout )

Take one sleeveless red coat by Nicholas,add a blue tweed skirt by Bianca Spender, some Chloe tie up wedges and finish it off with a bright blue Coach backpack)
Use primary colours to excite neutrals - pop tan leather with bursts of colour for an updated take on an all leather ensemble  (Max Mara dress, Coach backpack ,Ellery shoes, Preen by Thornton Bregazzi sunglasses)
Beauty tip: Blend Nars' red shades in Dragon Girl and Red Square for the most vibrant pout in town
Photographed by Alice Wesley-Smith
Sydney has been bathing in sunshine lately and even though the nights are close to freezing ,the days have been gorgeously mild. Which suits me perfectly because there is a lot of desperate tan preservation going on at the moment. I'd like to say that I can go pale and interesting, but in reality, my Croatian olive skin just kind of goes yellow in the winter, which is neither english rose pretty nor in any way vampire interesting, in fact it's more jaundice than anything. Ofcourse, being sun kissed also makes you look a bit healthier, which is always a bonus when you are sampling natural wine at Icebergs the night before a shoot. Not that that's what happened here (ahem)!
Anyway, I am bringing back the Look of the day section because I feel like there is so many outfits I wear that my readers only really get a one dimensional look at through Instagram - this way I can show you all the details in more pictures. This particular look is perfectly suited to leisurely weekend lunches while staying 70s inspired...
I love the timelessness of my Sportsmax shirtdress and it's gorgeous reddish orange hue. The coat, by Viktoria + Woods is light, yet warm and enveloping in a cocoon sort of way. It double ups as a blanket, cape or my cat Tiger's favorite place to sleep (whether or not I am in it). My sunglasses are reflective Miu Mius, my bracelets are Petite Grand and my shoes and bag are from Coach
Shot by Alice Wesley Smith
Shooting this editorial the other day in the last days of Autumn - sun still warm on the skin, dappled glow on the water, sand under my toes, music drifting from an open window - had me wishing I was somewhere dancing into the sunset. Morocco, Cuba, India, Mexico - anywhere I could feel like Yves'(Saint Laurent's) muse LouLou de la Falaise -bohemian, wild and free. What better way to catch the rhythm than with a swaying long dress, this season's parennial favorite. Some of my favorite dresses this season are long, unhinged, unexpectedly detailed and timelessly beautiful .
On the other side of the proportional spectrum this season sit the mini bags - tiny and cute they are the antidote and the perfect match to their flowing counterparts  - enough for a credit card, phone, keys and a lipstick , they come to free us from the restraints of the world so we can dance long into the night unburdened from the clunkiness of the world. With a long practical strap in an on trend tan shade, this little Dakota bag from Coach has been my favourite over Fashion Week and beyond. Perfectly happy with flares, maxi dresses or tulip skirts , it's an all around overachiever. Just as at home on sunny Ibiza isles come August as it is going to be worn with fluffy jackets and suede trenches over Sydney's winter. Who needs a full sized wallet anyway?

Accessorize your maxi with some leopard - it is a neutral after all! (Kate Sylvester dress, vintage jacket, Coach bag, Gianvitto Rossi sandals)

Asymmetric lace and long sunny days 4eva (Zimmermann dress, Coach bag )

Add a gold toned statement jewellery piece to fast forward your 70s to the present ( Amber Sceats ear cuff )

One of this season's best trends is a backless dress.. uncovering one of the sexiest parts of a woman's body while demurely covering the front ( Ellery dress, Coach bag )

And when the rains come, be ready for them with some gumboots masquerading as riding boots ( Givenchy rain boots ) ( Tiffany T bracelet and Cartier Love bracelet worn throughout )
Photographed by Alice Wesley-Smith
Ahhhh, springtime in Paris...Tiny little green buds on the trees, bright jonquils and saffron dotting the meadows, blue skies, fresh strawberries with creme fraiche, bustling mornings with happy enfants walking to school in packs past a fast moving river Seine, jewel like Ile Saint-Louis and Ile de la Cite winking out of the water, Eiffel tower doing it's romantic Christmas tree nighttime routine and warm croissants straight out of the oven (damn freaking delicious croissants totally ruining my record 3 month gluten free run! ). I hate to be so lyrical, so positively full of sparkling, wholesome adjectives but unfortunately it is all true - it is so disgustingly beautiful and horribly nice this Paris in springtime business that every time I wish I was staying, perhaps in a little attic apartment somewhere up high, on the end of a 5th floor walk up, where I could eat all the croissants and drink all the wine I want because, let's face it , when you live up a 5th floor walk up, you are the epitome of that book "French Women Don't Get Fat".
Look, I could talk about food all day, but in Paris, fashion is equally as important, in fact, this is the epicenter, the Vatican of fashion. Other cities might try to deny this but they are the spurned ugly stepsisters just being jealous. So for my newest Coach edit, I wanted to take on the patchwork trend that is currently sweeping the world. A bit 70s and all art class, patchwork is not so much a trend as a way of incorporating different ideas, textures and colors into a unified new entity. For late Spring 2015's collection Stuart Vevers has remixed the classic turn-of-the-century bandana prints and combined them with denim and florals, for an uncontrived femininity inspired by the wilderness of the American Prairie Badlands. Prints such as Badlands Flora, Bramble Rose and Bandit patterns, either printed or appliquéd on bags and accessories or introduced on rugged blue "demin washed" burnished leathers create a modern iteration of one of America's most loved style propositions. I mixed this gorgeous bag with some great new season patchwork pieces and took it all out on a spin in the iconic Luxembourg gardens ...
(Above and here: Coach Americana bag, Karen Walker top, Topshop skirt, Proenza Schouler booties, Olivier Peoples X Isabel Marant sunglasses)


( Coach Americana bag, Lover trench coat, Tigerlilly top,Citizens of Humanity jeans, vintage Marc Jacobs sandals )
( Coach bag and sweater, jeans and shoes as before)
2015 is definitely all about a 70s revival. Maxi dresses, flares, blousons and velvet on carefree, rock n'roll girls that look like they are a lovechild of Janis Joplin and Michelle Phillips. But if the thought of incorporating flares into your life is giving you the style equivalent of a Nag Champa incense headache, fear not. There are ways to wear your flares that are appropriate for work or the weekend.
This story also heralds my first collaboration with Coach, the iconic New York based accessories and ready to wear company that has recently been helmed by Stuart Vevers; the man who has in the past brought magic to labels such as Mulberry, Bottega Veneta and Loewe. Under Stuart's direction, Coach has grown into a super cool, youthful and playful brand with a kaleidoscopic use of color, print, cute cartoon characters as well as polished, lust worthy pieces. I am proud to announce I will be collaborating with Coach all this season - there are so many beautiful accessories I get to play with - I hope you fall in love with them as much as I have.
First up is the Swagger collection where Mr Vevers explores modern elegance and streetwise sophistication. It's all about delicate, jewelry like chains, hantags and amped up turnlocks. I wanted to pair my picks of the collection with the best of new season clothes and to show you just how easy it is to turn into Stevie Nicks without losing your 2015 modernity. All hail the flare!
So you think flares are best kept for the weekend? You haven't seen the Ellery version yet. With their swishing, multi layered bottom, these pants are not just elegant but super fun to walk, dance or run after a cab in. An all black palette means business and gold hardware details add luxe bling - I paired this outfit with a Swagger bag in black crock because, well, crock print is everything
( Ellery pants, Christopher Esber top, Max Mara jacket, Coach bag, Hermes cuff, Cartier bracelet, Tom Ford sunglasses, Aquazurra shoes )
Karen Walker has done some amazing flares this season and this pair is printastic as well as a great 70s shade of orange. Tan and brown accessories are de rigoeur this season to elevate any 70s look. Pair with a floaty white blouse for effortless cool ( Karen Walker pants, Isabel Marant top from Parlour X, vintage Gucci belt, Sunday Somewhere sunglasses, Kirsten Ash necklace, Prada shoes )
Photographed by Nicole Cooper