Not only do women on occasion want to get dressed up and be fabulous, but the solidity of precious jewels in a shifting stock market represents true value in the face of uncertain, unproven investments. A diamond lasts forever and represents a true mark of eternity in an increasingly throw away world in which items are replaced with ever increasing speed. There is something to be said about quality, craftsmanship and lasting beauty, and this is why buying beautiful jewellery is such a wonderful expression of honouring a special moment in time. Marking an occasion with an item that will be cherished and passed down generations transforms the item into family heritage, a tradition, a memory that never dies.
"Once upon a time" may be a sentence once used to begin stories of princesses in gowns wearing precious jewels, yet women today still relish feeling like princesses, even if it is in a decidedly more modern rendition of an exciting break from every day jeans and knits.
For my second collaboration with Hardy Brothers, I wanted to utilize the gowns I am currently day dreaming about and accessorize them with exclusive, unique and utterly luxurious pieces that the company is so famous for a 21st century take on going to the ball.

Above: HARDY BROTHERS 18CT WHITE & YELLOW GOLD CUSHION CUT YELLOW DIAMOND HALO RING, HARDY BROTHERS PLATINUM & 18CT YELLOW GOLD PEAR CUT YELLOW DIAMOND EARRINGS, HARDY BROTHERS 18CT WHITE & YELLOW GOLD PEAR CUT YELLOW DIAMOND RING, CHRISTIAN LOUBOUTIN HEELS AND BAG, CUTLER AND GROSS SUNGLASSES.
Yellow is the stand out colour of the upcoming season, so go all out on the glamour with an asymetrical dress in vibrant lemon that comes replete with romantic flowing sleeves. Pair it back with tough accessories to add a modern edge, then up the shine with a smattering of gorgeous yellow diamonds

WEARING HARDY BROTHERS PLATINUM DIAMOND NECKLET AND HARDY BROTHERS PLATINUM EMERALD CUT DIAMOND HALO RING

Lounging by the pool is all the better when it's done in off the shoulder, sequined perfection. Exposing the decolletage is just asking for timeless pieces that won't ever go out of style ( Rachel Gilbert dress )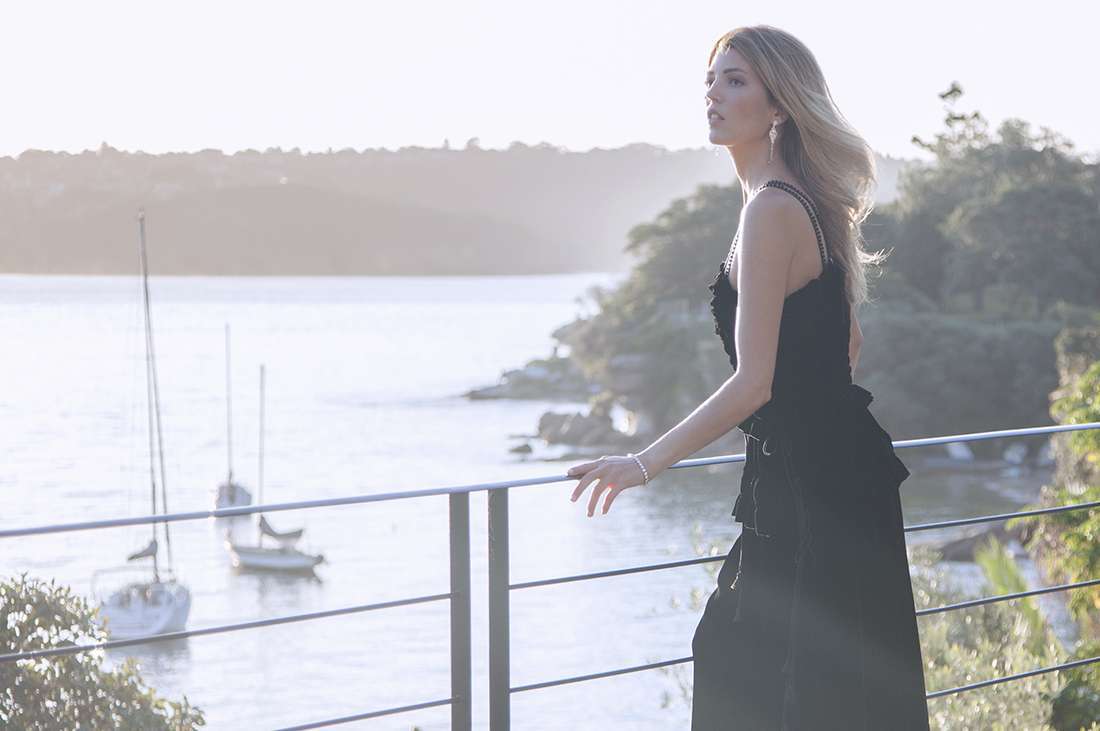 WEARING HARDY BROTHERS 18CT WHITE & ROSE GOLD PINK DIAMOND DROP EARRINGS, HARDY BROTHERS 18CT WHITE GOLD DIAMOND TENNIS BRACELET AND CHLOE DRESS FROM PARLOUR X.
Velvet is the fabric to buy now, cherish forever and a perfect juxtaposition to icy diamonds. Invest in stunning pieces that are not only delicate and unique but your children will fall in love with and fight over one day.
Photographed by Alice Wesley-Smith
With thanks to Justin Hemmes and Kate Fowler for the stunning location The Hermitage.
I adore the minimalist trend – the simple, monochromatic outfits, clean cut shirts and dainty, barely-there accessories, but I'll always have a special place for statement, unique jewellery pieces – especially those that have been thoughtfully handcrafted and will surely one day have heirloom status.
Strolling through antique jewellery stores when travelling overseas I would sometimes make impulse purchases ,slowly managing to build a little collection I tried to hide from my boyfriend - who should probably know by now that all this jewellery couldn't possibly be from my deceased Croatian grandmother who lived in communist times.
So when I first heard of the Hardy Brothers Vault Collection, I couldn't hide my excitement at the prospect of shooting this story. Heirloom inspired and unique yet timeless, this collection is handcrafted by master jewellers using some of the most sought-after diamonds and gems in the world.
Wearing an Alex Perry gown and Hardy Brothers necklet and ring.
I'm a firm believer that wearing statement jewellery is something that should not be strictly limited to special ocassions. An art deco ring can work just as well with a day dress or an evening gown. The trick is to invest in pieces that are classic, with gems that will complement most of the colours in your wardrobe.
Statement jewellery needs to be enjoyed and celebrated for their unique beauty and intricacy - so why keep them locked up and hidden away?

Wearing Hardy Brothers rings, Christopher Esber top and skirt, Max Mara coat.
full story with more pictures now up on vogue.com.au here!
Beauty note:Beauty note: Lancome Miracle cushion foundation in shade 3, Nars lipstick in Schiap and M.A.C lipstick in Russian Red, Charlotte Tilburry blush in Love Glow, Super Liner eye liner by L'Oreal.
photographed by Alice Wesley-Smith