Remember the Youthquake ? No?  Neither do I - I was nowhere near being born when this phenomenon of the 1960s resulted in a cultural change encompassing culture, music and fashion. Where fashion was once dictated by the rich, it became all about rebellious teenagers, Beetles and Mod, designers started making clothes for teenagers and fashion became youthful, fun and spirited -think miniskirts and jumpsuits on girls such as Edie Sedgwick, Twiggy and Jean Shrimpton. This year's Sydney Fashion week reminded me of the spirit of this time as the schedule was packed full of exciting new designers like Discount Universe, Emma Mulholland, By Jonny, Dyspnea and Haryono Setiadi - designers whose clothes seemed to be made for the new generation. Outside of the venue, street style photographers like Tommy Ton and Phil Oh chased down a new, defiant type of girl - one who mixed punk and rock n' roll whilst staying intelligently outspoken and concerned about the environment ( check out Ollie Henderson's Start The Riot initiative  for clues).
If you've been following this blog, you'd be aware I am a little bit of a magpie when it comes to fashion - let's face it ; Joan Collins is my style icon. It's not that I don't like a well cut suit, monochrome or simple, abhor clean lines or on the other side of the spectrum wake up and think Liberace is my reference when I'm getting dressed -  it's that I need variety in fashion like I need it in food, music and life in general. I also firmly believe in the powers of color, stand out pieces, a dash of kooky and cultivating your own kind of eccentrism. It's never too late to get younger!
For this story, I adjusted my multitasking fun cap and photographed, styled and played with make up on five gorgeous new faces while combining some exciting new fashion from the old and new guard. Hope you like...

Roberta gives good 'tood in a Josh Goot bodysuit and skirt, Discount Universe corset, vintage cap and Poms necklace and bracelet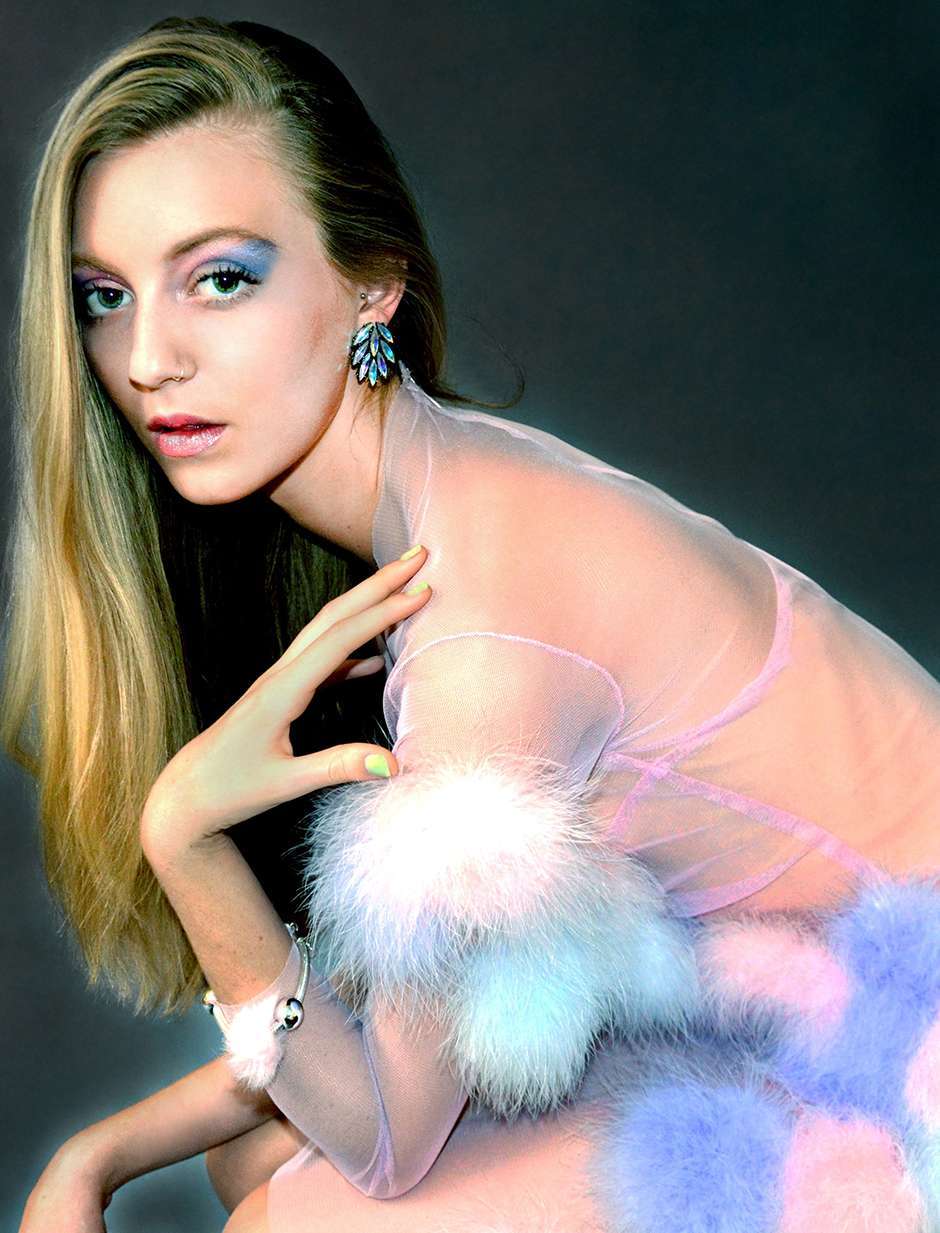 Milla is ethereal in a dress by Dyspnea, bracelet by Poms and earrings by 8 Other Reasons

Annabel slouches in a top by Emma Mulholland, skirt By Jonny, coat by Josh Goot and clutch by A-esque

Kate says hi in a Discount Universe top, Camilla & Marc skirt and Rag & Bone hat

Emily relaxes in a Zulu & Zephyr bikini, Discount Universe leather jacket and Poms earrings
In order of appearance: Roberta Pecoraro, Milla McKenzie and Annabel Moore all from Chic management, Kate Bonnet from IMG management and Emily Green from London management
Never was I the sort of little girl that admitted to liking anything remotely girly, shiny or sparkly. My childhood hero was Sheena Queen of The Jungle, a fierce warrioress feared by men who could speak to animals. There was no time to waste on flounce and gloss when days were already kept busy by splitting my head pretending tree branches were lianas and chasing imaginary tigers. Let's just say, the scars are still there but I'm making up for lost time like a magpie let loose in a jewellery store. When done right, this trend can look simple, cool and beautiful.
Sequins, embellishments and interesting metallic detailing were big on the international autumn/winter '14/'15 catwalks. From concrete mesh and crystal innovations at Chanel, to silver beading at Lanvin and sequined minidresses at Tom Ford, designers created clothes to light up the night.Not to be beaten, Australian designers forged deliciously embellished creations too; so I thought I'd share some of these with you now. Just remember not to over accessorise and let the shine speak for itself!

(Toni Maticevski top and skirt)
I loved Toni Maticevski's collection at Fashion Week this year- it was so intricate but modern at the same time. This embellished "sweatshirt" is insanely beautiful and I loved the faux tie details across the pants and skirts.

(Dyspnea top, Zulu & Zephyr bralette)
Cloud, crystal and crop meet in this delicate creation– unicorns optional.

(Ellery bustier, Dion Lee skirt, Tiffany & Co bracelet, Louis Vuitton bag)
Subtle shimmering detailing adds a sculptural feel to a netted bustier...
Read the full story and more pictures on Vogue.com.au here!

Photographed by Alice Wesley Smith
One of the best aspects of being a blogger is playing dress ups with fabulous clothes - whereas I usually dress down in everyday staples, Fashion Week is always a great excuse to go a little wild and have some fun. My outfits this year were so intricate and beautiful, I felt that they needed a post of their own to show off the sheer amazingness of the details .
We shot this post in front of my house at Bondi Beach and boy, did we get a lot of looks and even a little audience from the nearby Muscle gym, but not for reasons you'd think! The boys were more enamoured with the lace and the crystal encrusted jacket then they were with the two girls shooting. I'm not surprised, I mean who wouldn't swoon over the way the near artpiece sparkles in the sun ?
The light kept playing peekaboo behind the clouds and the night came quickly with autumn daylight savings giving the looks from Burberry, Dion Lee, Toni Maticevski,Alex Perry and Dyspnea their own special glow.

When I saw this Burberry outfit, I fell in love..hard! It's crazy beautiful embellishments, plastic capelet detailing , mermaid-esque scaled clutch detailing and shimmering crystals are out of this world. The near exact match of Sarina Suriano jewellery added to the drama. ( top, jacket, skirt, clutch and sandals -all by Burberry, necklace and bracelet by Sarina Suriano )
One of the big trends this season is the exuberant shade of yellow. This gorgeous lace dress made me feel like a candy hued princess coupled with hundreds and thousands accessories (dress by Alex Perry, bag and shoes by Christian Louboutin )
For the last few seasons a momentum has been building for a flashback to fuller, ladylike skirts and cinched in waists. I wanted to juxtapose the elegance, softness and femininity of the silhouette with intricate hardware and toughness of a leather corset. It made for an interesting sartorial dynamic - I coined it the dominatrix princess ! ( Skirt and bustier both by Toni Maticevski, Christian Louboutin pumps, Louis Vuitton bag, vintage earrings )

Pale pinks are the new way to do neutrals this season and this beautiful, shimmering, python scaled leather dress is this trend personified. Combined with gorgeous silver jewellery, it made for a subtly glamorous, figure hugging look. ( Dress by Dion Lee, cuffs by Tiffany & Co, vintage earrings, A-esque clutch, Sheriff & Cherry sunglasses, Giuseppe Zanotti pumps)

Sheer layers, mesh fabrics, metallics and pastels are huge at the moment - I wanted to give this trend a spin in an elegant lilac coat and mirror encrusted dress that made me feel modern and feminine at the same time. ( Dyspnea dress, Toni Maticevski coat, Sarina Suriano jewellery, A-esque clutch , Giuseppe Zanotti pumps )

Photographed by Kasia Werstak
Among the fashion flurry of designers buyers, photographers, models , la mode folk and a liberal sprinkling of fabulousity, the jam packed 4 day Mercedes Benz Fashion Week schedule delivered surprises, creativity , newbies and awesomeness. (it wasn't all unicorns and rainbows but more on this later). During the course of the week, I kept getting asked the same questions by reporters, so I will share my answers to these with you here as they seem so pertinent, albeit probably answered here with a lot more measured fluidity!
Q: What do you think is unique, and what do you love about Australian Fashion ?
A: I believe Australia's unique geographical position as a country whose towns are urban environments situated near water lends us a laid back perspective in which our wardrobe needs to be multitasking and comfortable and yet, as any metropolis, also stylish and fashionable. I love the way Australians seem to be able to combine colour, beach lifestyle and high fashion into something that seems so effortless.
Q: What do you think about MBFWA and Australian designers in general?
A: I think , truly, that Australian fashion is better than it has ever been. I moved to Sydney and worked at the first ever Sydney Fashion Week as a wide eyed young model. Since then, I have witnessed Australian fashion become something that is distinctive, world class and exciting. Our designers are a versatile, talented and unique bunch and personally, I believe that the way forward for Australian fashion is for our designers to create transeasonal collections which will be an easier sell to opposing seasons overseas (some are doing this already).
As far as the future of MBFWA, we need to create a way to lure all our talent back from showing overseas so that our designer superstars can add gravitas and star power and make this an exclusive and exciting yearly event. The way things stand and unlike it is elsewhere, it is just a really expensive exercise for our designers and it need not be. Perhaps , if the media and sponsors could get involved in the right way, we can create an atmosphere of excitement such as exists overseas about fashion week, which will in turn create an opportunity for designers to show at low or no cost, and this may be able to stem the fashion brain drain and create an arena for fashion spectacles that Australia can be proud of. As it stands, and since it's move to Carriageworks, MBFWA has succeeded in making the week's activities more localised, organised and congruent which is a damn good way to start.
Q: How do you feel about the "skinny" debate?
A: I think coming from a background of a model, I can see this debate from both sides of a coin. Firstly, media does sensationalise this aspect of Fashion Week, ignoring everything else, because let's be real, what is a newspaper without big, polarising headlines , public outrage and cries for change? In reality, only a couple of girls I saw at Fashion Week were actually at a weight that made them look unwell, when most of the models, while extremely thin, were simply young girls who hadn't developed hips or breasts and probably ate plenty. I do however agree that in the last 10 years , the models have got thinner and I do not necessarily believe that this is the right way to go.
While the measurements have stayed in a similar vicinity, the girls have got taller. For a 6'2" girl, maintaining a 34" hip is much harder than for a 5'9" girl - and here is where the problem lays. While designers keep insisting that girls fit a certain measurement standard (no more than a 34" hip for overseas catwalks ) there will be eating disorders aplenty. A tall girl simply cannot maintain these standards and be healthy at the same time. Why not look at each model as an individual and tailor clothes to her? After all , a gorgeous 6'2" girl with 39" hips will still look very thin, but this adjustment will give her an opportunity to stay healthy and protect her future fertility. After all,for me, there is nothing worse than trying to focus on clothes and instead feeling sad/scared for a skeletal girl on the catwalk. I want my models to be aspirational, in a way that I'd think : If only I exercised more, I too could have that banging bod ! I think we all want to see models and think : Beautiful, amazing, sexy, cool… not : oh-oh, ouch ,OMG, is she ok? For the most part, however, girls in Australia do not have this problem.
Now that's out of the way let's focus on what is really important- the fashion!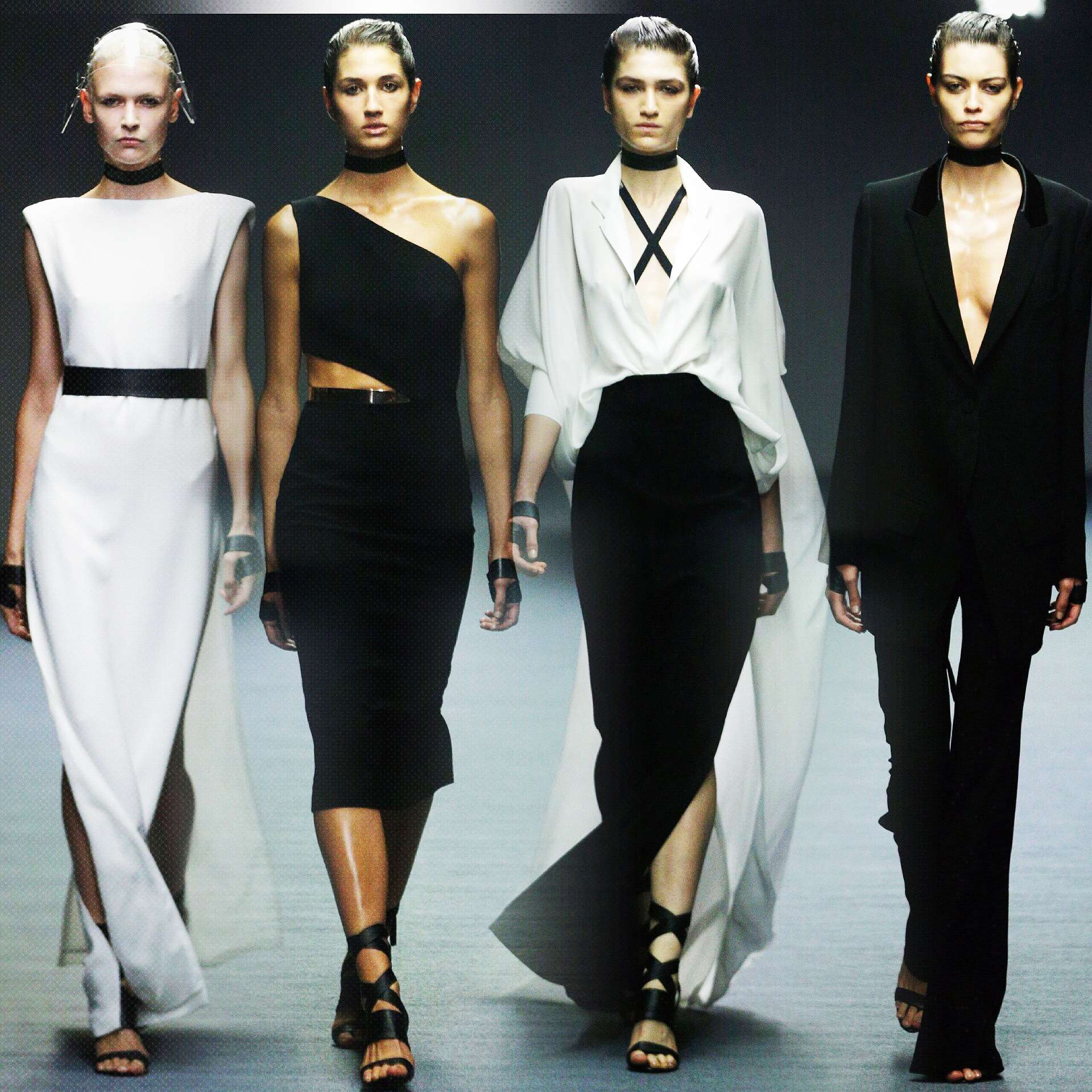 Carla Zampatti opened MBFWA, fittingly for an icon of Australian fashion who will be celebrating her 50th year in the business next year. Her designs were tailored, timeless and sexy. I especially loved the monochrome looks and sharp separates and Michelle Jank's cooler than thou styling
Ellery held a show at the sparkling Icebergs restaurant and bar in which details, craftsmanship and fabrics stood out. My favourites were the intricate bustiers,slim, slightly fluted pants , pleated details and clean blazers
Alex Perry added Angel dust via Alessandra Ambrosio but it was nothing compared to his encrusted, romantically asymmetric lace party dresses with snakeskin printed leather inserts. I really love the direction Alex has taken in the last 3 seasons and I have enjoyed shooting the clothes over that time. I am especially loving his oversized shimmering snakeskin printed t-shirts with squared off shoulders, which are totally my idea of a luxe basic.


I enjoyed Christopher Esber's show this year. His neat, boxy double breasted jackets, nautical inspired hues and shapes, the gold buttons and the asymmetric skirt all the girls I sat with at the show wanted signalled that he hit the proverbial staple nail on the head.
I love Emma Mulholland like I love the Opening Ceremony in L.A. It's young and whacky but also cool and fun.These are the pieces to mix with more tailored streamlined clothes for an instant injection of fresh. Pair her transparent sweatshirts with long leather pencil skirts or boyfriend jeans and pastel mules, or wear a printed miniskirt with an oversized cashmere sweater and stiletto sandals. Hi-Lo cool ya'll!
At Alice McCall it was all about shiny  satin, scalloped necklines, sheer fabrics , pretty dresses ,cool bombers and prints, prints , prints! I loved Mark Vassallo's styling colour and the sheen not to mention the gorgeous way the confetti fell on the catwalk at finale.
I loved the Bianca Spender show for it's mix of vintage and modern, kooky and classic, beautiful prints, sassy sequins and sexy leather dresses. Bianca asked me to walk in the show, so I had a great look at these clothes and the quality is amazing. Can't wait to use my voucher!
Dion Lee line II presented a new version of street with easy separates, cool leather pieces, androgynous shapes and flattering wrap dresses that every It girl will scramble for. I especially loved the backless tops...sexey!
Although the print clash didn't quite work for me,this newcomer still got points for it's cool shapes and marching to it's own beat. I love Macgraw's vintage/modern aesthetic ; wide pants, cute collared dresses and billowing fabrics..One to watch in the future.
My absolute favorite show of this year's MBFWA was definitely Toni Maticevki. Beautiful fabrics, elegant but cool , oh so beautiful embellishments and to die for evening wear. Want. Need!
I did an editorial spread on Dyspnea a few months ago because I love originality and imagination and these girls have it aplenty. In this show I loved their intricate sheers studded with pastel fur balls and gorgeous embellished tops. Not so much the Bollywood story, but hey - each to their own!
The biggest surprise this year was definitely Discount Universe, a new label heavy on punk, 'tood, spikes and embellishments. Katy Perry is a die hard fan, commissioning a whole tour's worth of clothes. But before you think : I ain't Katy Perry! , consider this: so beautifully finished and glossy, these clothes have the superpower of lifting anything drab to another level. My money is on the incredible studded python leather jackets. Swoon!

Working hard at MBFWA with my assistant and Lindy Klim's gorgeous back is never a chore. 'Till next year Fashion Week Australia!
photo via Vogue Australia
When I was a little girl, I was obsessed with mermaids. Not happy, beautiful mermaids that welcome you onto their backs for a ride on their shimmering tails or give you rare pearl necklaces from the depths of their father's ocean but murderous, blood thirsty, mercurial creatures that await in the depths to pull you down by your feet into the black abyss of the ocean and devour you in chunks with their gnashing pointy teeth. It didn't help my case that I was obsessed with books from a young age, traversing the forbidden distance to the library on my own in search of more tales to feed my already overactive imagination.
When I first read Hans Christian Andersen's The Little Mermaid, it somewhat dulled the fear that any time I get into the water I might be eaten but instead of this horror it took away, the tale brought a dull sadness and visceral pain into my somewhat innocent view of the world. For you that have never read the original of this not-quite-suitable-for-children story, the Little Mermaid is an altogether more tortured creature: once she gains her much wished for legs, she can hardly walk for the pain is like being cut with knives, the prince she loves falls in love with another woman and the only way the Mermaid is able to turn back into her previous form is to stab the prince to death with a witch's dagger. Innocent this story ain't and somehow , after reading this , I understood the world as it is - altogether more tragic, melancholy, fallible and imperfectly beautiful than I had previously presumed.
When I saw these clothes in Bonel Pr's showroom, they reminded me of the mermaids of my youth. Beautiful, fragile, kaleidoscopic, strong, unpredictable. It seemed entirely fitting that the young label's name is Dyspnea. Established in 2012 by Aimee-Cherie Kendall, Jameen Zalfen and Rachel Motteram in Perth, the new range titled Reptilia uses Swarovski crystal embellishments, leather, soft cotton, PVC ,plastic feel fabrics and mirror detailing for a demi-couture feel. Compelled by the colours , I borrowed these clothes and gave them a dystopian mermaid make-over on one of Australia's most beautiful (and whitest!) beaches - Hyams beach.
Dress by Dyspnea, headpiece by Sarah and Sebastian X Hatmaker
Top and skirt by Dyspnea, bracelet, rings and neckpiece by Sarah and Sebastian
Skirt and top by Dyspnea, cuff by Vera Xane, earrings by 8 Other Reasons
photographed by Alice Wesley-Smith