What does a girl do when given the chance to attend New York Fashion Week? Well, pack a suitcase full of spring trends and jump on the plane of course!
The weather was beautifully temperate, Australian designers rocked NYC catwalks, many Manhattan cocktails were drunk and beautiful dinners with friends accompamied by quite a bit of dancing took place — to give you an idea.
Here, I've pulled together three trends I loved wearing while in New York.
( Zimmermann playsuit, Chloe x Net-a-porter sunglasses, Gucci Bag, Alice McCall jacket and JYJewels earrings)
Playsuits
Playsuits are a favourite come warm weather for their cute yet practical versatility. Floral prints are always in, come spring, but throw on a big fluffy coat and a pair of oversized sunglasses and you have a 70s redux outfit that is somewhere between rockstar and disco diva. Lay on the glitz this season.
( Trelise Cooper coat, Double Rainbuu sweater, vintage skirt and Balenziaga mules)
Colour blocking
Colour blocking is back in a big way for spring, so choose primary colours for maximum impact. Big, feathery coats, oversized sweaters and pencil skirts are also a current trend. Try a kitten heel mule for ultimate comfort.
(Tanja wears vest by Tome, Elley flares, YSL bag and sunglasses)
Suiting
Suiting is one of those trends that will never age, but this season it's de rigueur, or required. Choose from oversized, slouchy to form fitting and feminine, long suits a lá dresses, or vests as tops.
Shot by: India Hartford in New York
read the original story up on the newly relaunched vogue.com.au here!
Layers may not be the sexiest clothing option in the world, yet winter is the most imaginative time in the style stakes because we finally get to play with investment coats, beautiful boots and cosy knits.
Each year I invest in a few pieces that will take me through the coldest months, yet I want to make sure that my purchases last me through another winter without looking dated whilst staying reasonable in the cost-per-wear equations. And oh boy, were there some trends across the autumn/winter '17/'18 runways! From silver to folklore and ostrich feather, individuality was celebrated, but here are the ones I think will stand the test of time — or until next year, at least.
Winter may be threatening with its icy fingers but it has nothing on blanketed padded jackets in high tech incarnations. Even if it did, the oversize knitwear trend would stop it dead in it's tracks. Still not enough? Matrix style patent leather brings out our inner dominatrix, whilst the stunning combination of blue and black will make winter surrender through sheer fashion domination.
(Ellery pants and jacket, Jac&Jack sweater and cardigan, Dion Lee sunglasses, Ole Lynegaard pearl earring sold individually)
Choose high-shine accessories with a lot of high power attitude.(Stillettos and bag both Saint Laurent from Farfetch)
(Tome dress, Sarah and Sebastian choker, Jimmy Choo sandals, vintage bracelet)
Gilded saffron spice, mustard, 70s sunflower and all shades of yellow are my colour crush. Mix them in any and all combinations including lime, earthy tones, reds, plums, even turquoise for a colour explosion – or just wear on their own.
Read more on vogue.com.au here!
photographed by Alice Wesley-Smith
Suits may have been invented for men but women have appropriated the codes since the beginning of the last century – Coco Chanel made her own version in 1914, Marlene Dietrich made the tuxedo famous, Pachucas women wore zoot suits as an expression of their strenght and feminism while Katherine Hepburn and Kim Novak pushed it to the forefront of the feminine psyche. Yves Saint Laurent made a formal tuxedo "Le Smoking" look more appealing than a dress, hit show "Dynasty" repeatedly conveyed women's power with skirt suits and Grace Jones and Madonna made a tuxedo look not only sexy but rock n'roll iconic.
These days a well cut suit is an essential in a women's wardrobe and represents an investment well spent: not only does it impart a sharp impact when worn together but presents multiple usages when worn as separates. This season, play with new codes and accessories for an updated take on the mainstay staple.
Above : Exaggerate proportions for maximum impact – oversized pants are all the rage this season, romantic ruffles add drama while silver detailing offsets grey tones ( Ellery suit, Swarovski necklace )
Choose an oversized jacket paired with ankle grazing pants for a look that's both 90s elegance and punk rock cool, then add accessories that offset the look while enhancing it's feminine and masculine qualities.A pair of beautiful loafers will not only match your suit but come in very handy for all those floral dresses in the upcoming season ( Toni Maticevski suit, Stella Mccartney lace bra from Net-a-Porter, Lack of Colours hat , Gucci loafers )
This season, eccentricities reign supreme but a floral strewn suit in the right designer's hands becomes a well cut forever piece. Bonus points on breathable fabric that cools the body in the sun and ankle zips that make it wearable in 2 ways. ( Max Mara suit, Giuseppe Zanotti pumps )
Pair it back with a beautiful silk tank top and simple jewelry ( Lover top, Cartier Love bracelet, Thomas Saboo Love bridge bracelet )
Photographed by Alice Wesley- Smith
See the full story up on vogue.com.au here !
Christmas time is always such a whirlwind in houses across Australia with present shopping, last minute deadlines, food preparation and school holidays colliding with long ques, traffic jams and sweltering temperatures. I have just moved into a new apartment and all of my worldly sartorial possesions sit in 48 boxes in my new office, completely filling the room. To say that I look at it and feel overwhelmed is an understatement of the century; so after closing the door and hoping it would go away , I have slowly edged back in and started sorting through this cardboard hill, coming swiftly to a realisation that all I needed now is a clowder of cats and then I could be labeled not only a hoarder but a crazy cat lady as well.
Melancholy is my vice and sentimental attachement to clothes as memories my ultimate downfall. Funnily enough, since I was travelling so much over the last 3 months after selling my house, I had no permanent home, and with all my possesions in storage, I made do with one suitcase of essentials. It was an eye opener into how many things I truly need in my life and it inspired me to really, truly cull through my material possesions. I forgot all about my things and felt free and easy with my simple life …until December came. It was then that I realized I needed clothes for all the ocassions that come with the holiday season and less was definitely not more anymore. On my new wishlist? Beautiful dresses and separates, luxe shoes and immaculate jewellery . Maybe Santa wants to trade me in for some mystery boxes?

White is always in in the summer, but romantic sleeves and cute flippy skirts are on my lust list this year ( Ellery top and skirt ) Above:Metallic mules are the right mix between summer ease and tongue-in-cheek Barbie doll.
(Gucci mules)

Who could be angry with a Santa that brings forever jewellery? (Tiffany&co bangle and necklace )

This little black dress in neoprene is my wish list go-to. Not only is it an interesting take on sport luxe but the oversized proportions will be a welcome detail when asking for second helpings.(Balenciaga dress from MyTheresa and Camilla and Marc shoes).



Who says getting nailed is a bad thing? These gorgeous accessories prove otherwise.
(Cartier bracelets and ring).

When meeting the in-laws,please observe the less skin is better rule. This nude toned lace dress with its unlined sleeves is the perfect mixture between maintaining chic and staying cool in summer.(Burberry dress and Valentino heels)

See more on vogue.com.au here!

Summer is upon us and while the temperatures soar it's easy to drift into the repetitive cut off denim and t-shirt offender land. Sometimes I get so lazy when the days get steaming that I literally wear the same thing every day until I notice my own daughter raising eyebrows in disbelief. But there are clothes out there that are summerliscious and gorgeous, that promise elegance and ease and the sort of put together cool that makes one feel like they're a cool cucumber in the crippling heat. Then, there are totes; tote bags; easy and simple, with space for everything, practicality of a hoarder and simple beauty of an ingenue. Totes are the bag version of a secret maximalist, the happy go lucky bag that will hide all your random treasures while putting on a paired back front. This bag is a mainstay, and if you don't have one yet, well,frankly, you are missing out ; they are an absolute must have. Going to the markets? Tote is there for you. Going to the beach? The tote will hold your towel, sunnies, sunscreen and magazines. It will be there when you do an unexpected supermarket shop or when you need your laptop for a meeting. Everything is easy with a tote in tow.
In my second season in collaboration with the revamped ( and currently very cool ) Coach brand, I wanted to sing praise for this unsung hero of the accessory world while styling it back with some of my lust have clothes of the season...because; summer !
Above (Do the midriff with some interesting detailing and go day to night : Christopher Esber top, Ellery skirt, Coach tote, Giuseppe Zanotti pumps, Amber Sceats bracelets )


Beach coverup to barefoot soiree : this jumpsuit does it all ( Tome jumpsuit, Coach tote, Jordan Askill x Georg Jensen necklace )


A simple silk slip and tote are perfect for day coupled with interesting accessories ( Interval slip, Emeli earrings, Coach tote, Proenza Schouler mules )


Take your new bestie to the seaside and make it carry everything while you rock a retro inspired bikini ( Matteau bikini, Coach bag, Seed espadrilles, Dita sunglasses )
photographed by Alice Wesley-Smith
"So they close together
Dressed in red and yellow
Innocent forever, sleeping children
In their blue soft rooms still dream"
Colours are fascinating. Ever since I had a fight with my best friend at 8 years of age over the colour of a t-shirt that we couldn't agree on despite the feverish discussion, I knew that people see colours a differently. Almost everyone has 3 cones in their retina which makes us see roughly the same colours, however, some superwomen have an extra cone, making them a tetrachomat able to perceive a wider range of shades than us ordinary folk. My obsession with how we perceive colours was further amplified by reading Jasper FForde's disturbing sci-fi novel Shades Of Gray, which presents a dystopia future in which people are set in a cast system based on the primary colour they perceive their world in.
In the world of fashion, colour is an expression of a feeling, an idea or a thought, however abstract. If it is sometimes hard to differentiate between prussian blue and navy blue or mauve and wisteria - in the emotional response or sight, it is never hard to tell apart red and yellow from blue , not to mention that the feelings they evoke in us are polar opposites to each other.
For my latest Coach post, I played with the exuberance of primary colours, the latest Turnlock Tie collection, some vibrant new threads and the breath taking Sydney harbour. All this vibrance is what street style photographers' hyperventilating dreams are made of ...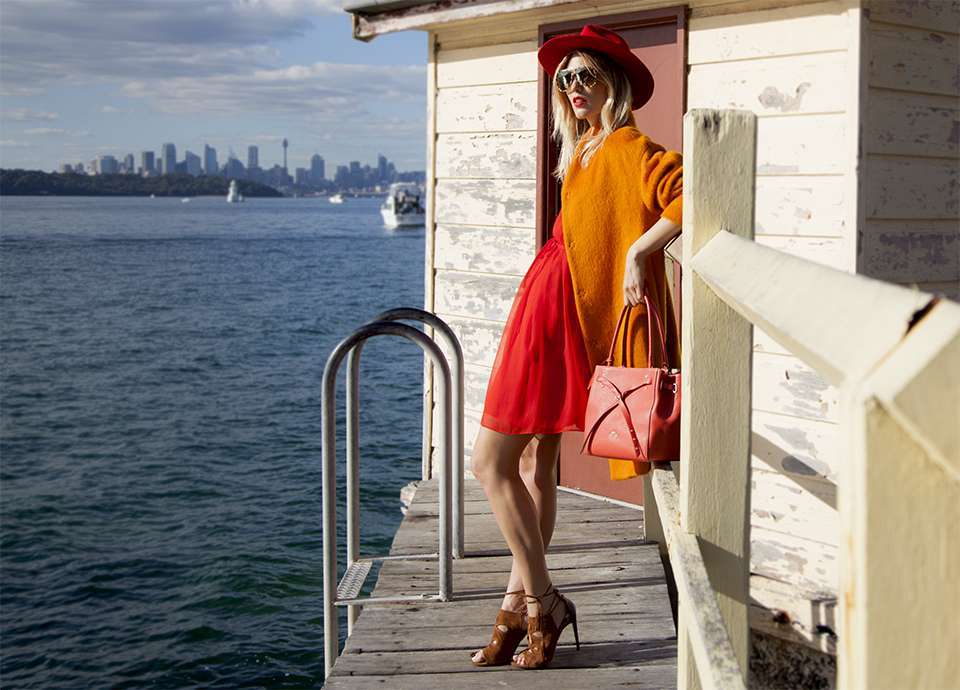 Set the day on fire in a scarlet red Camilla & Marc dress, Turnlock tie tote and Lack of Colors hat. I created contrast with an orange Marimekko coat, Dita aviator sunglasses and Aquazurra sandals. Tiffany & Co T bracelet and Cartier Love bracelet worn throughout )

Take one sleeveless red coat by Nicholas,add a blue tweed skirt by Bianca Spender, some Chloe tie up wedges and finish it off with a bright blue Coach backpack)
Use primary colours to excite neutrals - pop tan leather with bursts of colour for an updated take on an all leather ensemble  (Max Mara dress, Coach backpack ,Ellery shoes, Preen by Thornton Bregazzi sunglasses)
Beauty tip: Blend Nars' red shades in Dragon Girl and Red Square for the most vibrant pout in town
Photographed by Alice Wesley-Smith
Shooting this editorial the other day in the last days of Autumn - sun still warm on the skin, dappled glow on the water, sand under my toes, music drifting from an open window - had me wishing I was somewhere dancing into the sunset. Morocco, Cuba, India, Mexico - anywhere I could feel like Yves'(Saint Laurent's) muse LouLou de la Falaise -bohemian, wild and free. What better way to catch the rhythm than with a swaying long dress, this season's parennial favorite. Some of my favorite dresses this season are long, unhinged, unexpectedly detailed and timelessly beautiful .
On the other side of the proportional spectrum this season sit the mini bags - tiny and cute they are the antidote and the perfect match to their flowing counterparts  - enough for a credit card, phone, keys and a lipstick , they come to free us from the restraints of the world so we can dance long into the night unburdened from the clunkiness of the world. With a long practical strap in an on trend tan shade, this little Dakota bag from Coach has been my favourite over Fashion Week and beyond. Perfectly happy with flares, maxi dresses or tulip skirts , it's an all around overachiever. Just as at home on sunny Ibiza isles come August as it is going to be worn with fluffy jackets and suede trenches over Sydney's winter. Who needs a full sized wallet anyway?

Accessorize your maxi with some leopard - it is a neutral after all! (Kate Sylvester dress, vintage jacket, Coach bag, Gianvitto Rossi sandals)

Asymmetric lace and long sunny days 4eva (Zimmermann dress, Coach bag )

Add a gold toned statement jewellery piece to fast forward your 70s to the present ( Amber Sceats ear cuff )

One of this season's best trends is a backless dress.. uncovering one of the sexiest parts of a woman's body while demurely covering the front ( Ellery dress, Coach bag )

And when the rains come, be ready for them with some gumboots masquerading as riding boots ( Givenchy rain boots ) ( Tiffany T bracelet and Cartier Love bracelet worn throughout )
Photographed by Alice Wesley-Smith
If I were to judge the upcoming MBFWA 2015 solely based on the samples pulled for this story , the keyword of the week would be volume. As in slightly impractical, wonderfully dramatic and so much fun to shoot! The all seeing wizard I am not, but I know I will be proven both correct and incorrect numerous times over the week -Australian fashion is always about providing a number of conflicting trends– from whimsical and dreamy to utalitarian, well cut , feminine, practical, beachy or vintage inspired ; we are blessed to have such a talented and varied bunch of designers in this country.
I have to admit, as soon as I had an idea for this story, I was seeing a remote location – somewhere idylic and breathtakingly beautiful where I could juxtapose all the volume with sweeping vistas and nonpulsed kangaroo locals. Not only is it incredibly exciting seeing previously unseen fashion and taking it for a spin, but also quite scary and nerve wrecking taking original samples out of Syndey a week before fashion week! Thankfully we were blessed with a gorgeous set – an original , renovated 1800s homestead with fields and kangaroos on the grounds of the stunning Emirates Wolgan Valley One & Only luxury resort. Mountain paradise – meet fashion heaven!
(above) AJE : Calling spring! Intricate beading and structured shape of this bustier is vying for attention with the homestead's white flowers (shhhh, Aje's new denim pieces also looked amazing)

MATICEVSKI Resident marsupials meet Maticevski's dreamy polka dot confection
TOME  They may be intended for a more urban environment with their cool detailing and oversized shilouette, but these Tome clothes are also high in chill cred

ALICE MCCALL Mesh pleating and feminine shapes take on country simplicity

ROMANCE WAS BORN  The road is long and there are mountains in our way, but flared overalls will make sure we climb a step every day –and not just because Joe Cocker says so.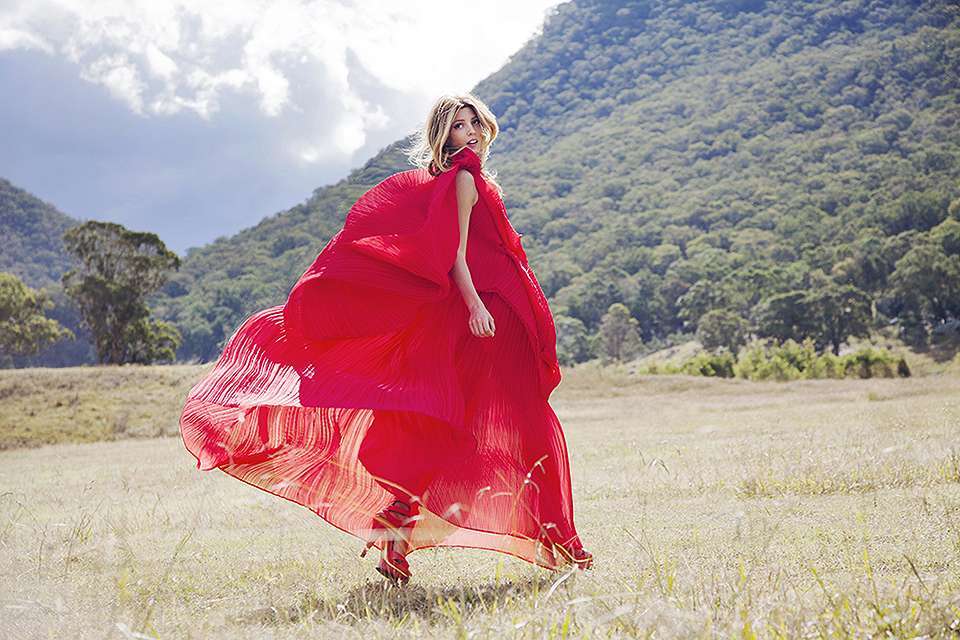 MICHAEL LO SORDO: Pleats please! This modular skirt and top combo had numerous ways of wearing it and they were all incredible.Red pleats & wind = heaven!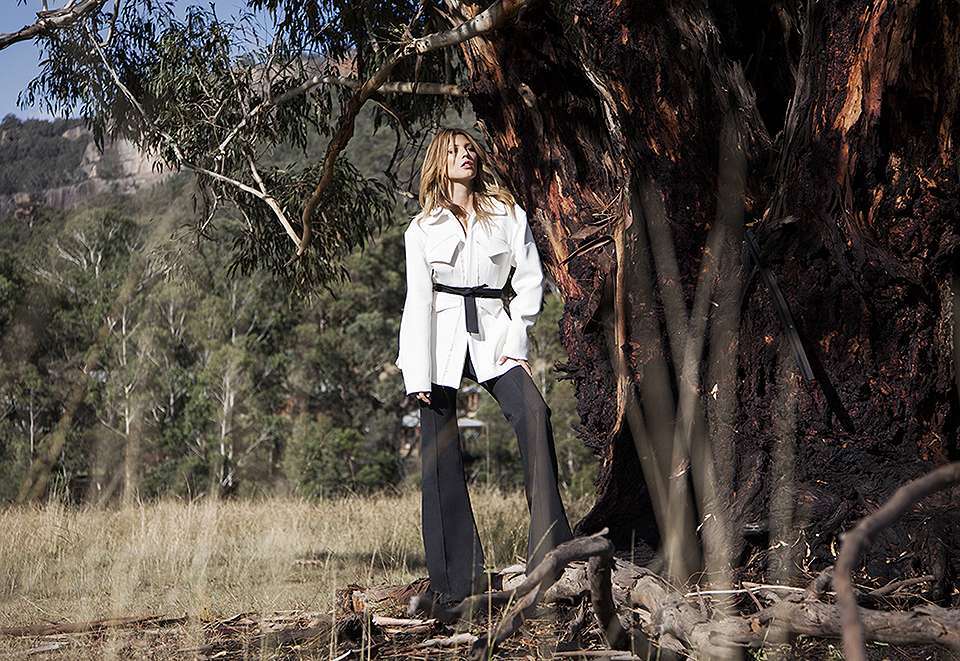 ELLERY: Ellery continues her fashion code legacy with sumptious fabrics and exaggerated lines
See the full story on Vogue.com.au here!
Photographed by Alice Wesley-Smith
With thanks to the Emirates One&Only Wolgan Valley resort
Our designers on their inspirations and favourite Paris haunts
During Fashion Week, Paris is a whirlwind of activity – not only is it an arguable epicentre of the world's most eagerly awaited fashion shows but numerous buyers flock to Paris for re-sees of collections that occurred elsewhere in the world. This year, I enlisted my dear friend Lindy Klim to help me find out what Australian designers love most about the city of love. We used the opportunity to visit their Parisian showrooms and choose our favourite pieces for a whirlwind shoot whilst picking their brains on their beautiful collections…
(above)Dion Lee
Tell me a little bit about the inspiration behind the collection, which fabrics did you use and why?
With this collection I wanted to explore evening wear silhouettes, that felt grounded and relatable.The silhouettes were created through slashing into the fabric at different points and alloying the fabric to collapse around the body.
We have worked with silk satin, triple viscose, leather and mohair; a mixture of contrasting, luxurious textures.
What do you love about Paris?
I love the sense of intimacy.You feel like you are in a small town, on a large scale.
Favourite spot in Paris?
Comptoir De L'Image on de Sevigne;An incredible archive of photography monoliths and rare design books.
Tell me a little bit about the inspiration behind the collection, which fabrics did you use and why?
Desert landscapes were a major notion in this seasons collection influencing the white chalky hues and burnt yellows through to the Raffia textures and finer pleat details. I wanted to take a skewed approach on the Classics- the essentials that every woman needs in her wardrobe.
What do you love about Paris?
All the doors and architecture
Favourite spot in Paris?
Brezih Cafe would have to be my favourite café
Tell me a little bit about the inspiration behind the collection, which fabrics di you use and why?
This season we chose two female artists: Belgian dancer Ann Terese Der Keersmaker and American Designer Donna Karan .They both rose to prominence in the early 80s and their aesthetic involved feminising and sensualising traditionally masculine elements . We took on their love of jersey and leotards -from Ann we took her geometry and from Donna the business banker cotton shirring stripes, bias cut satin dresses, and love for animal print. Then we took animal print in different directions by distorting it and elevating it in printed tissue silk lame, embroidered organza and wool blend jacquard
What do you love about Paris?
The food, the museums, the Bon marche!
Favourite spot in Paris?
It's not so secret but my favorite place is the Brancusi Atelier just outside the Centre Pompidou.
Tell me a little bit about the inspiration behind the collection, which fabrics did you use and why?
My inspiration for Spring Summer would have to be the creative gathering of models, photographers and fashion designers in early '70s Paris mixed with a hint of romance. One thing I've always loved on a woman is a sexy dress that makes her not only feel beautiful but also empowered. The collection has a hint of softness with movement of the sheer pleats – chiffons in black, white and red with an undertone of relaxed and effortless dressing.
What do you love about Paris?
There is a certain buzz that hits Paris during Fashion Week. You can feel the spark all around from the Eiffel Tower to the Sacré-Cœur. It's hard not be inspired on a daily basis - whether I'm in the car or walking the streets – you never know what might see and grab your attention.
Favourite spot in Paris?
Every time I go to Paris the first thing I do is attempt to make a reservation at Breizh Cáfe in the Marais which is impossible at times because they are booked out until like 2018 and even though you must make a reservation over the phone they never pick up. But without a doubt the best crepes you will EVER have.
Tell me a little bit about the inspiration behind the collection,which fabrics did you use and why?
It started out purely about the fabrics. I noticed they all have a papery feel- everything was a bit tone on tone and shade against shade. So then I worked on silhouettes and shapes to exaggerate that flinging of supple crispness. I wanted it to feel clean but the detail in the garment to be really structured. So the whole thing felt a little constrained and relaxed at the same time.
What do you love about Paris?
Whats not to love! The pastry, the language, the people, the city. It really feels like my second home. Since living there over ten years ago just being able to go down any street and still discover something amazing is exciting.
Favourite spot in Paris?
Hmmmm. I love the little gardens across the city.. its so nice to be able to sit for five minutes outdoors surrounded by beautiful buildings, watching kids play and perfectly manicured flowers blooming.
Tell me a little bit about the collection, which fabrics did you use and why?
Artist Egon Schiele's expressionistic painting kicked off inspiration for the collection, and is the muse you can thank for the voluminous, twisted, sharp, soft and asymmetrical shapes which were strong throughout the showcase. Think flared pants which are more office-chic than 70s flower child and frilled criss-cross draping on layered shirting, both exuding a certain sophisticated and clean-cut femininity. Fabrics: When designing I tend to choose my fabrics first.
I feel like they really set the mood for the collection. I love to source unique textiles from Switzerland, France and Italy and there is never any substitute for quality.
What do you love about Paris?
I love the culture and history that comes with Paris. The city has such a rich history with so many stories, I really feel that when I walk the streets there.

Favourite spot in Paris?
I love sitting on the grass in the garden at Place des Vosges. Watching the children play in the fountain's water is one of my favourite things to do on the weekend.The fountains are the closest things to being at the beach for Parisians so and as an Australian it is so fascinating to watch.
Ellery photographed by Jake Terrey
All others photographed by Claire Price
The new Ellery resort collection is the stuff sartorial dreams are made of. Sumptuous, thick satins, bonded Lycra on foam, skinny zipped flares, sundresses that are voluminous, wide and optimistic but somehow dressy,cool and nonchalant, to die for suits and intricate corsets,made for summer dinner shorts, booties that go with everything and a lot of fashion's favorite new length - the midi - incarnated in immaculately cut skirts and dresses. This collection is a return to Ellery's covetable codes: the desirable mix of luxury, je ne sais quoi, irreverence, modernism and femininity. I'm sorry to break this to you, but this is the collection that you will want to spend a lot of money on. The prints in the collection are vibrant and exciting too - inspired by David Hockney's brush strokes and block colors they jump off the fabric and add a bold, architectural feel to the resort collection.
This season, Ellery has partnered with Vittoria Coffee on launching the Vittoria Coffee Summer Fashion Series ; a collection of limited edition designer takeaway cups created by some of Australia's best design talent (other designers lending their signature prints is the swimwear brand We Are Handsome, menswear label Insted We Smile, and recently launched fashion label We Are Kindred). The cups come in 8 designs and represent a visual experience for Vittoria customers, not to mention Vittoria Coffee's ongoing partnership with leading and emerging designers each season.
In this story, I have a play with the new collection, the amazing prints and Kym Ellery herself. I truly loved the clothes so much that I still have recurring fantasies of disappearing with all the samples...Oh Kym, you did it again!
Booties that go with everything and the amazing printed sundress ( Ellery boots and dress, Dior earrings)
Blue is the warmest colour when paired with cropped pants and exaggerated collars
Monochrome should never default to mean boring. This pretty dress features a gorgeous print and mesh detailing on the back ( Ellery dress and shoes, Sarina Suriano earrings )

Post shoot fun with Kym Ellery showcasing her Vittoria Summer Fashion Series prints
Photographed by Kasia Werstak
Never was I the sort of little girl that admitted to liking anything remotely girly, shiny or sparkly. My childhood hero was Sheena Queen of The Jungle, a fierce warrioress feared by men who could speak to animals. There was no time to waste on flounce and gloss when days were already kept busy by splitting my head pretending tree branches were lianas and chasing imaginary tigers. Let's just say, the scars are still there but I'm making up for lost time like a magpie let loose in a jewellery store. When done right, this trend can look simple, cool and beautiful.
Sequins, embellishments and interesting metallic detailing were big on the international autumn/winter '14/'15 catwalks. From concrete mesh and crystal innovations at Chanel, to silver beading at Lanvin and sequined minidresses at Tom Ford, designers created clothes to light up the night.Not to be beaten, Australian designers forged deliciously embellished creations too; so I thought I'd share some of these with you now. Just remember not to over accessorise and let the shine speak for itself!

(Toni Maticevski top and skirt)
I loved Toni Maticevski's collection at Fashion Week this year- it was so intricate but modern at the same time. This embellished "sweatshirt" is insanely beautiful and I loved the faux tie details across the pants and skirts.

(Dyspnea top, Zulu & Zephyr bralette)
Cloud, crystal and crop meet in this delicate creation– unicorns optional.

(Ellery bustier, Dion Lee skirt, Tiffany & Co bracelet, Louis Vuitton bag)
Subtle shimmering detailing adds a sculptural feel to a netted bustier...
Read the full story and more pictures on Vogue.com.au here!

Photographed by Alice Wesley Smith