Remember the Youthquake ? No?  Neither do I - I was nowhere near being born when this phenomenon of the 1960s resulted in a cultural change encompassing culture, music and fashion. Where fashion was once dictated by the rich, it became all about rebellious teenagers, Beetles and Mod, designers started making clothes for teenagers and fashion became youthful, fun and spirited -think miniskirts and jumpsuits on girls such as Edie Sedgwick, Twiggy and Jean Shrimpton. This year's Sydney Fashion week reminded me of the spirit of this time as the schedule was packed full of exciting new designers like Discount Universe, Emma Mulholland, By Jonny, Dyspnea and Haryono Setiadi - designers whose clothes seemed to be made for the new generation. Outside of the venue, street style photographers like Tommy Ton and Phil Oh chased down a new, defiant type of girl - one who mixed punk and rock n' roll whilst staying intelligently outspoken and concerned about the environment ( check out Ollie Henderson's Start The Riot initiative  for clues).
If you've been following this blog, you'd be aware I am a little bit of a magpie when it comes to fashion - let's face it ; Joan Collins is my style icon. It's not that I don't like a well cut suit, monochrome or simple, abhor clean lines or on the other side of the spectrum wake up and think Liberace is my reference when I'm getting dressed -  it's that I need variety in fashion like I need it in food, music and life in general. I also firmly believe in the powers of color, stand out pieces, a dash of kooky and cultivating your own kind of eccentrism. It's never too late to get younger!
For this story, I adjusted my multitasking fun cap and photographed, styled and played with make up on five gorgeous new faces while combining some exciting new fashion from the old and new guard. Hope you like...

Roberta gives good 'tood in a Josh Goot bodysuit and skirt, Discount Universe corset, vintage cap and Poms necklace and bracelet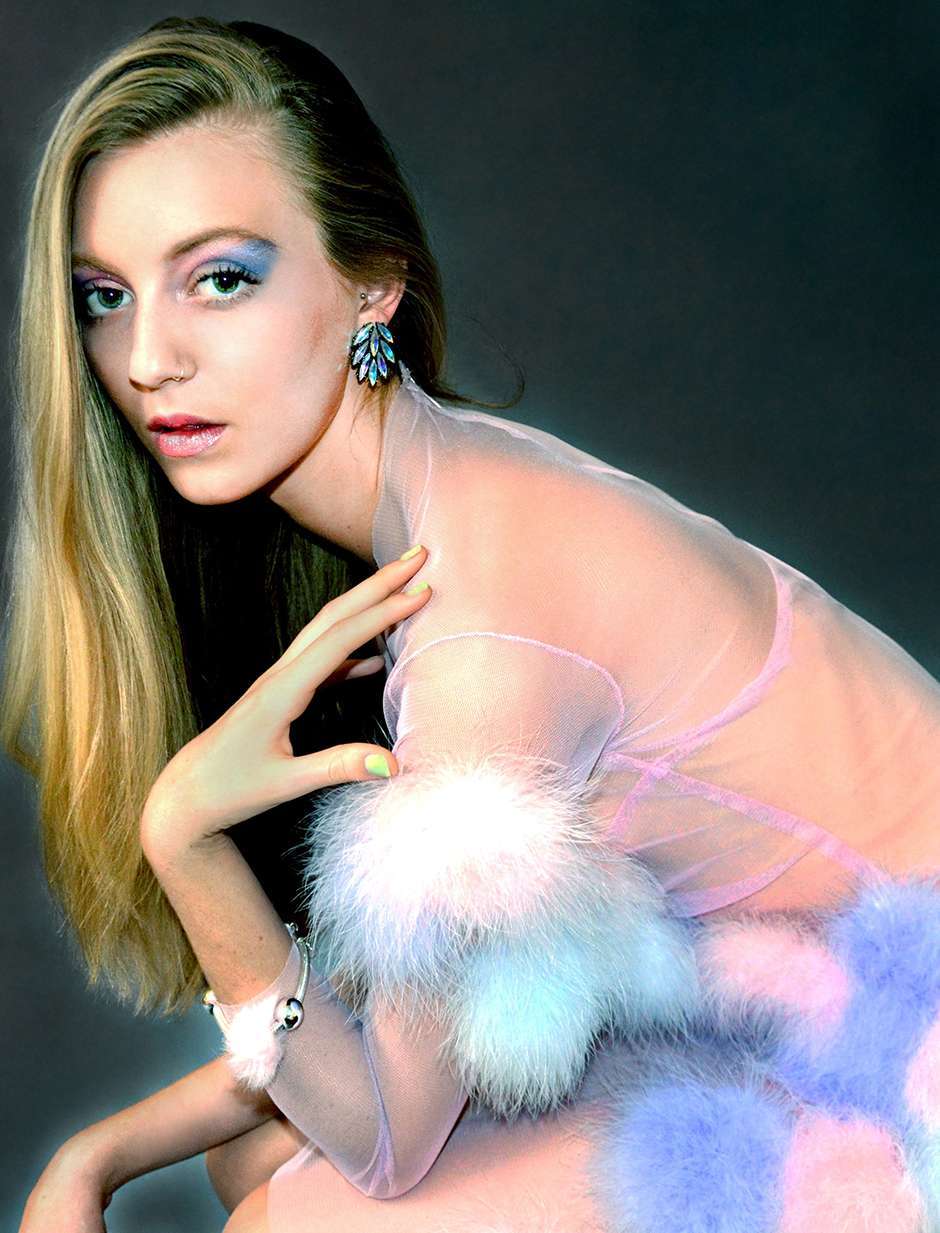 Milla is ethereal in a dress by Dyspnea, bracelet by Poms and earrings by 8 Other Reasons

Annabel slouches in a top by Emma Mulholland, skirt By Jonny, coat by Josh Goot and clutch by A-esque

Kate says hi in a Discount Universe top, Camilla & Marc skirt and Rag & Bone hat

Emily relaxes in a Zulu & Zephyr bikini, Discount Universe leather jacket and Poms earrings
In order of appearance: Roberta Pecoraro, Milla McKenzie and Annabel Moore all from Chic management, Kate Bonnet from IMG management and Emily Green from London management