A suit is by definition a set of outer clothes made in the same fabric, designed to be worn together and yet, in the human psyche, it is synonymous with power, masculinity, business and competence.
Clothes do not make the man, yet our perceptions of a person are seized up within mere seconds- it's pretty hypocritical we preach that it's the inside that matters yet make lasting judgements on people based on their outerwear.
Whether it was 1920s libertines shaking off the shackles of society, actresses using tailoring to convey power and character throughout the 20thcentury or Madonna expressing herself in the 80s, a woman wearing a suit challenged societies' perceptions and expectations furthering feminism by asserting our strength and equality. Plus, a bit of good tailoring never hurt anyone, let's face it! The steadfast trend is back in numerous incarnations.
 Checked and herringboned suits have been on point for a couple of seasons now and the trend is holding fast. This quirky jacket and suit combo comes with unusual details such as ruffles and ruched sleeves ( Maggie Marilyn suit, Gucci tote, Givenchy sunglasses, Bulgari and Cartier bracelets)
Return to 70s power in burgundy cord ( Anna Quan suit, Bec& Bridge bodysuit, YSL bag from Net-a-Porter, Chaumet, necklace and ring worn throughout)

Double or even triple denim is all the rage right now so why not go all out like this suit and do it the 80s, acid wash way? ( Miu Miu denim suit and booties, Karen Walker sweater)

Pinstriped and double breasted navy is a classic choice. Pair it with some furry slip ons for a casual power move ( Camilla and Marc suit, Bally slippers)

Sometimes the simplicity of black is all you need. Choose cigarette pants for their elongating effect on legs – just ask Meghan Markle (Nice Martinsuit, Gucci shoes)
Why not get out of bed and skip the whole getting dressed routine? Pajama suits are stylish, classy and feel incredible to wear ( Bally suit, Givenchy sunglasses, Gucci slippers, Miu Miu bag)
This post originally appeared on vogue.com.au here!
Fashion Week only swings around once a year in Australia so come May everyone in the industry is lining up their outfits, pillaging pr agencies, last minute online shopping, loaning from friends and otherwise spending solid quality time in front of the mirror.
Dear reader; I wanted to be one of these people but I was doing the MBFWA review story for vogue.com.au in the lead up and hence was too overwhelmed with existing loans,countless emails and shoot production to think street style.When Monday came around and I had no outfit, I sent some emails and my assistant to pick up a few things from a couple of ravaged pr offices that now looked like supermarkets before Hurricane Irma hit ; barren and sparse.
First world problems these may be but one needs to get through the week clothed and my preference is a tad more fabric than what Bella Hadid wears on the Cannes red carpet 😉
Even though many Australian heavyweights didn't show this year, there were many highlights to the week so I decided to do a little photo diary - I want you to see all the fun that was to be had ! Sadly, I'm not posting all the shows I went to- some of them I just didn't get great pictures at - sometimes the lights are too low and the models move too fast.
DAY 1: Camilla & Marc started off the week with a bang, all cool tailoring, oversized jackets, shoulder pads, ruffles, off the shoulder dresses and skirts over pants. There were so many things to love here, all I can say is: send separates guys!

The Camilla & Marc stage was this amazing outback-ey looking set that every single person tried to get a photo in after the show. Here's me, semi soaked still cause it was pouring outside, elbowing my way to a quiet corner with the help of Yan Yan Chan who took these photos for me (thanks Jan ; )).
Wearing Rebecca Valance skirt and bustier, Balmain Top, La Perla bra, Gucci bag, Zimmermann shoes and a vintage Versace jacket
DAY 2 :Monday was a busy day, so what better way to start it but by wearing head to toe pink and matching it to a double shot flat white in a Dion Lee Vittoria cup ? Wearing Dion Lee top and pants, Michael Lo Sordo jacket, Fendi bag, Charlotte Olympia shoes, Balenciaga earring and vintage Balenciaga sunglasses
I loved the Bianca Spender show; all oversized, feminine suits and flowing, sensual silks. Well tailored and flattering with a sustainable bend, I can't wait to wear some of those slinky silk dresses over wide legged pants
En route to the Alice McCall show  (Alice Mccall pants, Ginger and Smart top, Gucci shoes, YSL bag and Matteau bikini top )
If Alice Mccall had a girl she were making clothes for it would be a fun party girl with vintage sensibilities. Some of her dresses and shorts used to be so short they'd make my eyes water ( cause I didn't have the guts to expose so much of my pins ) so I'm loving how some of the hemlines are longer this season and there are amazing maxi gowns in the fray too. Lace detailing and lamé dresses never hurt the party girl either, let's face it
My mates Mikey & Toby over at Double Rainbow did an amazing job growing their hawaiian shirt label into a veritable style reference of their own. This show was pure festival summer incarnated with mesh tops, prints galore, tracksuit combos, clever t-shirts and beach shorts we all need once the heatwave hits. Big love to Sarah Starkey who styled this show to perfection, within the restricted confines of the Landsdowne hotel non the less.
It was 9 pm when the Double Rainbuu show finished so I rushed to the intimate dinner Michael Lo Sordo was hosting at the city institution that is Bambini Trust. I had to make a swift change into a Michael Lo Sordo look in the car, across the road from a packed bus stop which was as hilariously awkward as you can imagine. The girls and I were all Lo Sordo brides that night- Sunny Vandervelde took this fun snap of us in front of the restaurant before we all settled to a gorgeous candlelit dinner. Thanks Michael and MCM pr for this wonderful night!
DAY 3 When you're dressed so farshion but you wish you were wearing a bikini and diving in!
Wearing Undone Project pants, Jill Sander t-shirt from Net-a-Porter, Zimmermann shoes, Dinosaur designs earrings and bracelet, From St Xavier clutch and Double Rainbuu x Le Specs sunglasses 
The Emilia Wickstead x Matches Fashion was a pure delight. Not only was it held at the spectacular Wylie's baths which I'd never been to before but the weather was incredible, the clothes lovely, the atmosphere magical, the champagne cold and the appetisers delicious. Can every show be like this? I wanted to twirl in these pretty dresses and dive into some long gone Riviera pool whilst wearing a pink swim cap. This show evoked so many feels that I escaped through a portal to another time. When the show finished, I still didn't want to leave because the reality was wonderful too.
Snakeskin, lamé, 70s, gingham, sheer...the Hansen & Gretel show had all the trends. All I can say is: I'm coming for you head to toe snakeskin print, don't even bother hiding cause I'll find you!
I had some time to rush home and get changed for the Romance Was born show ( wearing Romance Was Born, Gianvitto Rossi from Net-a-porter shoes, Reliquia earrings )
Hello lamé, hello slinky goddesses, hello prints, ruffles and the joy of seeing creativity unbridled - Romance Was Born show is always such an unmissable event on the week's calendar. This year, the underbelly of Hubert's was transformed into a Parisian salon where models twirled between tables and enchanted us with ruffles, lace and batwings.
As if the beautiful clothes weren't enough, guests were presented with a delicious 3 course sit down dinner and drag queen singers that ravished the captive audience with vintage hits. The night also served as a launch for RWB's incredible retrospective book - if you love fashion, buy this book as it's sure to be iconic ( and whilst you're page turning, play a little find Tanja game- there are a few pictures in there from my modelling days ) The fun didn't stop there- after the show, some of us stayed on for a nightcap and danced on tabletops ( i'm looking at you Isabella Manfredi ; ))
DAY4: One of the highlights was the Christopher Esber show today, with it's impeccable detailing and painstakingly beautiful beaded knits. I wanted so many items from this show. Worn as a look , these were strong pieces but equally important; any one of them would elevate plain old t-shirts or jeans to new heights. I also had a deadline today so I spent most of my day just editing : (

Wearing Zimmermann pants, Michael Lo Sordo top, Gucci Belt, Byfar x Net-a-Porter sandals, YSL bag from Net-a-Porter, vintage necklaces and jacket, Reliquia earrings
Day5: Nothing like the joy of arriving to the Ten Pieces show at Icebergs and finding my girl Lindy Klim was seated next to me. Love an early morning catch up! ( Wearing vintage top, Fendi sunglasses, Lindy wearing Rama Voyage and Dion Lee)
Maurice Terzini and his partner Lucy did such a great job with this collection. Modern, fresh,androgynous and wearable, the clothes were as cool as the show was fast paced and to the point, a bit like mr Terzini himself. Bonus points for casting some of the coolest characters around who promptly started a dance off on the balcony when the show ended.
The evening saw the ethereal Akira show and the tribal inspired Camilla show, followed by Russh magazine's dance party extravaganza ..needless to say the weekend in bed was heaven sent!
Thanks so much to all the designers, models, hair and make up artists, pr and my fellow journalist and bloggers for making this MBFWA such a hoot
Hit the town dressed to impress with these top tips—they're as easy as one, two, three.
This season is all about embracing individuality, having fun, making an impact and flaunting your own brand of uniqueness. So many trends are happily coexisting at the moment that it's near impossible to make a fashion misstep.
I am loving the move by brands such as Gucci and Balenciaga in bringing us staple transeasonal items throughout recurrent seasons–it's now easier than ever to make a big-ticket purchase with the assurance that it won't quickly become passé.
Embrace your inner wild child, have fun with fashion and dare to take a few risks!
( Above) Make a bold move
Sequin and lamé are on call , so go forth and light up the night. Make waves with a big and bold solo earring–designers are selling them individually. Cut outs are also a sexy new trend, but only for the brave hearted.
(wearing a Michael Lo Sordo dress, a Balenciaga earring from Matches Fashion, Charlotte Tilbury eyeshadow in La Dolce Vita, and Nars lipstick in Schiap)
Embrace boho-chic
Tune into your inner hippy with the help of romantic frills, feathers and pastels–all are trending this season. Pair long dresses with flats or kitten heels as fashion is firmly in favour of the more comfortable spectrum of the shoe department.
(wearing a Romance Was Born dress and feather boa, Hermès clutch and shoes, Karen Walker jewellery, Shu Uemura drawing pencil in Royal Blue and Clinique Chubby Stick Baby Tint in Flowering Freesia)
Opt for a print and a pattern
Patterns and prints are back so have a go at combining clashing styles. Wide legged pants rejoin the fashion fray as firm and comfortable favourites. It also can't hurt to invest in a logo-heavy bag because logomania is here!
(wearing Hermès top, pants and scarf, YSL bag from Farfetch, Affinity earrings and Guerlain Rouge Automatique lipstick in Fleur de Feu)
Florals are a constant
Florals are here to stay and exaggerated shoulders are a hot ticket–accessorise with metallics and throw on your favourite kitten heels.
( wearing Zimmermann dress, Bulgari bag, Reliquia earrings and Balenciaga heels. )
Go big or go home
For the ultimate date-night outfit, choose a backless rose strewn maxi dress then throw on an oversized cardigan and a sparkly low heel, because this season elegance is all about comfort.
(Gucci dress, shoes and cardigan, Begum Khan earrings and Dior Double Rouge lipstick in Poison Purple.)
Beauty note: Hourglass Vanish Seamless Finish foundation, Charlotte Tilbury Filmstar Bronze and Glow, Shu Uemura Brow Sword and Gigi Hadid for Maybelline Fiber Mascara worn throughout. 
Photographed by Alice Wesley-Smith
Assisted by Eleni George
This post appeared on Vogue.com.au here!
Last week was steaming but the last 2 days have felt more like winter. Summer is here but it's either too drunk, bipolar or painfully shy. Whatever it is, bikini weather it ain't - as I write this, I'm watching dusk fall over a stormy grey day on my couch , cocooned in a merino blanket. In excitement, I prematurely lined up my summer dresses in the closet; one of them made it out last week I think. The only thing that can deal with this craziness are jeans and these 3 babies are my current favourites.
Some people hate high wasted jeans and wish the trend would die already , but I'm still into them. Think that's 'cause I used to be one of those girls that wore super low slung jeans, perhaps spending most of the early 2000s with my butt cheeks hanging out to various degrees. To all the people that had to witness this; I am profoundly sorry. These Nobody jeans won't do any such thing plus they are also wide legged and cut off in a way that makes me feel like a pirate. I'm always into oversized cashmere and my current obsession is Everlane; it's inexpensive whilst providing quality and sustainable practices.
( Bally slip on loafers, vintage Gucci belt, Gucci bag, Reliquia earrings, Nobody jeans, Everlane sweater )
This number is not only flattering but comes with generous stretch; a jean equivalent of tracksuit pants in the comfort department. I love how they are cut off at the bottom- perfect for showing off fancy footwork on the dancefloor.
(Frame denim jeans, Trelise Cooper top, Casadei sandals, YSL bag)
These honeys are perfection for everyday, party day or white t-shirt day.They are highwaisted but carrot shaped through the leg, just to finish up tight and above ankle, i.e.; great with stilettos, sandals or boots. Today I'm wearing them á la my birthplace of Eastern Europe
(Bec & Bridge jeans, Gucci belt, Acne sweatshirt, Gucci belt, YSL bag)
Fashion has been morphing so much the last few years that no one decade has precedent anymore. This season, the 80s are entering centre stage, early 90s are all the rage, the 70s is still going strong, sports luxe has stretched its tendrils into evening wear, the rock and roll chick has gone into Samantha Fox territory and all things lurex have taken charge.
As Vetements predicted fashion is now all about diversity in taste, age, gender and style. It is no longer taboo to mix up pieces that don't belong together — we just witnessed the trend of mixing puffer jackets with cocktail dresses, remember? Here, we investigate the highlights and must-have trends of the season and how to wear them now.

Dolce & Gabbana sunglasses from Sunglass Hut, Max Mara crop top, Gucci belt, Rolla's jeans, Isabel Marant boots, Ellery jacket, stylist own vintage earrings
Choose high waisted, slightly cropped, carrot shaped jeans in stiff denim this season - this shape is surprisingly flattering across all body sizes. Boots are either cone shaped in the heel department and wide in the ankle or socked and pointy with a stiletto heel– choose your poison. An updated motorcycle jacket will get you through everything – oversize,studded, embroidered; fancy is the new norm.

Hermés pants and jacket, Calvin Klein swimsuit, Givenchy slides, stylist's own vintage earrings
Embrace your new comfort zone in wide legged pants that can be worn for any occasion and are sure to become the antithesis to the legging. Slides continue their reign as the ultimate chilled shoe.

Sportsmax jumpsuit, Balmain slides from Farfetch, Dior bag, Max Mara jacket, Bvlgari Serpenti necklace
Sports luxe has grown up, so choose across a wide array of applicable items including stirruped 80s exercise pants worn with heels, puffer jackets worn with everything, tricked up slides and jumpsuits that belong in the disco.
Don't be aftraid of OTT jewellery this season, it can go with everything any time. The bigger and flashier the better, whether it is across ear cuffs or drop earrings.

Rue Stiic jacket, Interval top, Prada skirt, Gianvitto Rossi booties, Ray Ban sunglasses, stylist's own earrings
Don't give up on your army greens – khaki is set to stick around for a while. Pick out an oversized jacket, then drape it over your nighttime or daytime look.
Styled by Tanja Gacic of My Empirical Life
Photographed by Alice Wesley-Smith
Hair and Make up by Claire Thomson
Model: Stephanie Joy Field from Chic
This post originally appeared on vogue.com.au!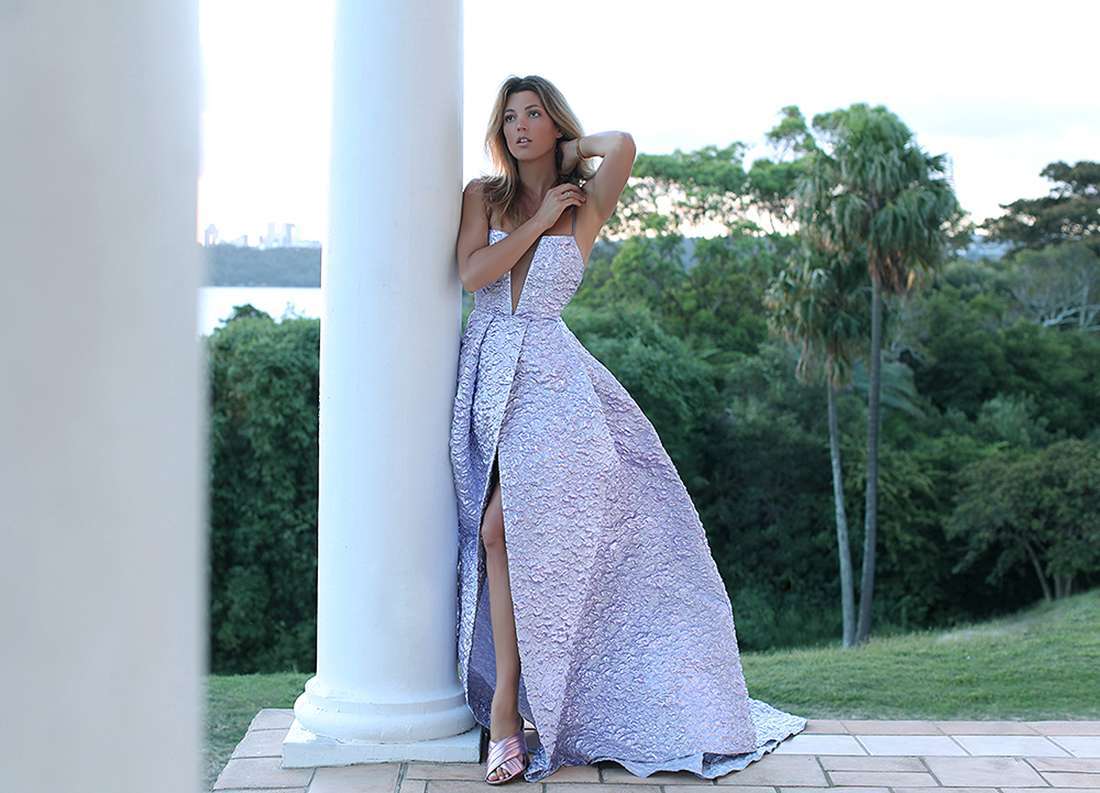 It's all about the impact
From Gucci to Valentino, the runways seem to be awash with a new message: minimalism is dead, long live maximalism! Sure, there are times when we need a little normcore in our lives, but forever? How boring. I'm a jeans and t-shirt kind of girl most days but the days I do get to go out and dress up, I relish with the enthusiasm of an overexcited toddler in a candy store.Sometimes, it is about making the effort and feeling like a star and there is no better way to do that but by adding a bit of drama.For this story I reviewed Max Factor's False Lash Epic Brush mascara and a few high impact dresses that are sure to turn up the glamour dial this autumn. This is not the first Max Factor mascara I have reviewed, but it certainly has the highest impact.

Above : Alex Perry dress, Maria Tash earring from Net-a-Porter
One layer was bold and voluminous; two coats made my eyes look like I was wearing false lashes, due to the brush's wide arched shape. With a mix of conical and flat pointing bristles and a zoom action tip that captures and magnifies every detail of every lash for an epic lash fan – no wonder it was the official mascara of the Victoria's Secret Fashion Show.
Global Max Factor Creative Director is none other than the legendary Pat McGrath who uses it for high impact on shoots and shows – this mascara is certainly noticeable on film, unlike many others. Here is my personal step-by-step on adding a little impact:
Use the zoom action tip to bring more va-va-voom to the edges of eyes by building extreme lift and volume in just 2 coats.

Rachel Gilbert dress, Rochas heels
Bell sleeves and pretty embroidered flowers add drama in the diffused afternoon glow.

Zimmermann dress, Maria Tash hoop earring from Net-a-Porter, Ole Lynggaard Copenhagen pearl and diamond ring and earrings
My rule tends to be to either accentuate eyes or lips, keeping the overall look lady like. Add gorgeous jewels as an added accent.
See the rest of the story on Vogue.com.au here!
photographed by Alice Wesley-Smith
"There is only one success in life - to be able to spend your life in your own way."
It's funny; this sentence perfectly encapsulates the fact that our lives are so much a direct part of our creative direction; thoughts, feelings, conditioning, expectations and the search of what we perceive as love, happiness and prosperity. To ask ourselves what we truly want out of our journey requires a readiness to strip all the onion layers and embrace a zen like bird's eye view over the whole, not just the momentarily needs and wants of today. Sometimes these snippets of clarity come to us easily and effortlessly, at other times, akin to diamonds, they come through crushing pressure and pain that forces us to re-evaluate the motives that drive us.
When I look back on my journey on this Earth, it becomes evident that it has been a steady stream of peaks and valleys that has perpetuated my personal growth. As in most people's lives, crushing defeat and sadnesses are superimposed with moments of pure joy and hope, both ultimately driving us to question ourselves and the world around us for clues to our personal happiness. It is not only the alchemy and transmutation of negatives or the allowance and acceptance of positives that are each of our most difficult quests but also our willingness to wrangle the reins and establish ourselves as the chosen architects of our reality by becoming aware of our thoughts and actions.
I always feel lucky to meet people who enjoy the same things as I do and have a similar aesthetic ( probably because I love talking to people about all the shades of our shared perceptions ) but I feel extra blessed to know humans with whom I click so much that even spending exorbitant amounts of time together goes by in a hilarious flash. Sometimes , an extra bonus is that these are individuals that I can create with and in doing so, weave a shared vision into the fabric of reality. My best friend, who also happens to be a photographer and videographer ( and serial M.E.L collaborator) Alice Wesley-Smith is one of those people. During fashion shoots at special locations we both felt that pictures can sometimes be too one dimensional, not allowing for the full ambiance of the experience before us and so the idea for this video was born; we wanted to conceive not only how amazing fashion is by showing the swoosh of a beautiful dress but also the magic mood of perfect light falling on us and beauty of nature before us. After all fashion and travel are complimentary bedfellows and producing this idea would selfishly allow us to invest into a shared need to travel and document the things we love.
For our first video, we chose the unforgettable Australiana of the One & Only Wolgan Valley resort; because where else can you feel dwarfed by orange cliffs and fragrant eucalyptus whilst watching kangaroos play fight in pure luxury? This place is one I hold a soft spot for because it feels like a world away from anywhere; the quiet and the simple opulence are incredibly relaxing while the eco credentials are impressive to say the least. This video encapsulates my perfect trip to Wolgan Valley, complete with horse riding, remote picnicking and swimming in the  private villa pool at dusk whilst wearing some gorgeous clothes tailored to all occasions. I hope you enjoy our labour of love! x

In order of appearance:
Picnic: Zimmermann top, Rachel Gilbert skirt, Akubra hat, Tiffany & Co smile necklace
Hotel room: Camilla & Marc leather tights, vintage jacket, Massimo Dutti shirt, Gucci slippers, Cartier Watch, Mania Mania rings
Horse riding : Levis jeans, Gucci belt, Ryder t-shirt, Coach coat, Akubra hat, Cartier watch, RM Williams boots
Sunset : Lover dress, RM Williams x Dion Lee boots, Akubra hat
Pool: Zimmermann full cover swimsuit
When Alessandro Michele was appointed at the helm of Gucci at the beginning of last year, there were many that were completely shocked and quite miffed at the arrival of this relative newcomer at the helm of the mega popular designer brand. Within a month,  the multifaceted young designer created a womenswear collection for Gucci that was a huge departure from his predecessor Frida Giannini yet felt more whole, extensive, exciting and diverse than anything that was happening a season before.
My love affair with the brand started when I moved to New York in the 90s and Tom Ford was doing amazing things at the helm of an extremely desirable and overtly sexy Gucci . Still, when Alessandro's first collection came down the Gucci runway, my face may as well had turned into a heart shaped eyes emoji, since the instinct wasn't so much:  "I want this" , but an overwhelming: "OMG! This is amazing! I need this! When is it dropping? Can I call the store and reserve NOW?" It made no sense. Here were clothes and accessories that were as eclectic as they were beautiful, as Wes Anderson kooky as they were flowing and cinematic, as gorgeously nerdy as they were iconic. Here was a style that didn't scream practicality yet produced an immediate emotion of excitement and desireability.
The way I explain it ( and have justified to myself the numerous purchases from Gucci since )  was that I witnessed a significant moment, a turnaround in the way women respond to fashion. Whereas I think so many of us are so wrapped up in building matching wardrobes by acquiring simple basics and quality staples; this was an abrupt intrusion into that frame of mind. It showed that no matter how much lamè, floral, sequin, embroidery or animal motifs there are layered on top of each other ; it can work and it can look really good - it is possible to build a wardrobe around gorgeous ott pieces in a way more original and fresh than practicality could ever muster. On second glance something else became apparent: Alessandro created his own practicality by meshing amazing pieces together and creating his own staples of comfort ( enter the slippers, mules and beautiful loafers ). It became easy to be a bohemian bird of paradise with the new Gucci classics - all it took was some iconic pieces and the right attitude. Some of his items became a legitimate craze for women; I personally hunted the fur lined slippers around the world like some sort of crazed fashion stalker.
When Gucci approached me to do a story on the launch of the new gucci.com website and it's lust worthy accessories , I couldn't think of a more exciting project. Not only am I obsessed with the brand but the sensibility of the new aesthetic made me decide to style this project entirely out of my vintage collection. The accessories are so intricate and breath taking,  the detailing impeccably gorgeous. To herald the launch of the new, fully shoppable Gucci website all the product links you see in this post lead you directly to the new online store. We shot this as an ode to the new Gucci girl - a wild thing with beauty, brains and enough pizazz to keep a room captive. Hope you enjoy! x

The new Gucci Dionysus GG supreme bag comes in many incarnations - I love this style for it's rock and roll attitude mixed with pretty detailing 

When a snake as pretty as this one slithers atop GG Supreme canvas (made using an earth conscious process) plus snakeskin and tiger head detailing ; who wouldn't bite the apple?  (Dionysus GG Supreme embroidered bag , vintage jewellery and dress )

All aboard the mule train! Not only do these babies go with everything and are extremely comfortable but look! How pretty!

Platforms make their return this season as a perfect pairing to flares, suits and anything 70s inspired. Gucci's vertiginous offering comes replete with spiky studs and the signature tiger head. Don't forget to cinch everything in with the iconic CC logo belt
More is more this season, so make like a Gucci girl by gathering all your sequin, velvet, rhinestone and print , then mix and match with wild abandon - life is too short not to! 
photography and video by Alice Wesley-Smith
Styling and direction by Tanja Gacic
Christmas time is always such a whirlwind in houses across Australia with present shopping, last minute deadlines, food preparation and school holidays colliding with long ques, traffic jams and sweltering temperatures. I have just moved into a new apartment and all of my worldly sartorial possesions sit in 48 boxes in my new office, completely filling the room. To say that I look at it and feel overwhelmed is an understatement of the century; so after closing the door and hoping it would go away , I have slowly edged back in and started sorting through this cardboard hill, coming swiftly to a realisation that all I needed now is a clowder of cats and then I could be labeled not only a hoarder but a crazy cat lady as well.
Melancholy is my vice and sentimental attachement to clothes as memories my ultimate downfall. Funnily enough, since I was travelling so much over the last 3 months after selling my house, I had no permanent home, and with all my possesions in storage, I made do with one suitcase of essentials. It was an eye opener into how many things I truly need in my life and it inspired me to really, truly cull through my material possesions. I forgot all about my things and felt free and easy with my simple life …until December came. It was then that I realized I needed clothes for all the ocassions that come with the holiday season and less was definitely not more anymore. On my new wishlist? Beautiful dresses and separates, luxe shoes and immaculate jewellery . Maybe Santa wants to trade me in for some mystery boxes?

White is always in in the summer, but romantic sleeves and cute flippy skirts are on my lust list this year ( Ellery top and skirt ) Above:Metallic mules are the right mix between summer ease and tongue-in-cheek Barbie doll.
(Gucci mules)

Who could be angry with a Santa that brings forever jewellery? (Tiffany&co bangle and necklace )

This little black dress in neoprene is my wish list go-to. Not only is it an interesting take on sport luxe but the oversized proportions will be a welcome detail when asking for second helpings.(Balenciaga dress from MyTheresa and Camilla and Marc shoes).



Who says getting nailed is a bad thing? These gorgeous accessories prove otherwise.
(Cartier bracelets and ring).

When meeting the in-laws,please observe the less skin is better rule. This nude toned lace dress with its unlined sleeves is the perfect mixture between maintaining chic and staying cool in summer.(Burberry dress and Valentino heels)

See more on vogue.com.au here!