Red is my mother's favourite colour so by proxy I've had a lot of experience wearing the hue head to toe like it's no thang. It wasn't until later on in my teens, when I learnt my horoscope sign was Aries; a fiery sign whose power colour is scarlet, that I consciously decided I needed to get back to my power hue roots.
Red became associated less with awkward crimson cord overalls and more with Jessica Rabbit's ruby slinkiness, the classic beauty of Valentino, power of a Ferrari, Louboutin soles and that dress Julia Roberts wore in Pretty Woman. Whether traffic light, cherry, scarlet or tomato this season's hue is coming in red hot across the runways of Dior, Hermes, Marni and Fendi among others. Make like a lady in red in 6 erubescent looks
Above: Taking on the waves while embodying Bond Girl chic is easy with this showstopping spring suit ( Duskii wetsuit, Dita sunglasses, Sarah and Sebastian necklace and ring, Cartier Love bracelet worn throughout)
2. Red leather isn't just for oversized 80s jackets - this perforated wrap dress is as modern as it is cool in summer ( Kacey Devlin dress, Lucy Folk bag, Christian Louboutin shoes )
3. Mix frills with structure for timeless elegance ( Gucci dress, Balmain jacket, Marcus Lupfer bag all from Net-a-Porter )
4. Catch the summer breeze by floating barefoot in a star spangled cerise dress ( Tommy Hillfigher dress )
Read the rest of the story now up on vogue.com.au here!
Photographed by Alice Wesley Smith
Whether it's the smell of opening jasmine, warm northerly breezes or the still shy crickets' song ; summer is on it's way and let's face it- boy does it feel good. I travelled to Paris recently to shoot some fun stories (that I cannot wait to share with you) but before I left Sydney I had to move house and nearly froze in the weird coldsnap storm that gripped the city in it's frosty clutches. Coming back home was a delightful and decidedly beachy welcome and my only plans for this weekend include assuming the lazy lizard pose on the Bondi Beach sands ( oh please stay sunny! )
This summer's edit for Shona Joy was such a hoot to make. Shot  at the hip Beach Club resort on Hamilton Island, my photographer and I ran around the beach and grounds of the hotel while I pretended I was a spoilt heiress with all the funds and time in the world to enjoy being absolutely languidly fabulous. I feel Shona's clothes have been going from strength to strength with amazing new silhouettes and I have had so much fun shooting the edit this year in fabulous locations around Australia. This season, revel in flippy hems, high thigh splits and exuberant print - a summerliscious SJ affair indeed
above: pop white with red for a Billy Idol kind of white wedding ( Shona joy dress, Christian Louboutin heels)

Wide legged pants and tunic tops are what leisurely summer days are made of ( Shona Joy top and pants, Chloe wedges, vintage hat, Sarah and Sebastian jewellery )

Hello sailor! Don't be afraid to play it sexy this summer ( Shona Joy dress, Sarah and Sebastian necklace )

A simple dress gets tricky with side detailing and mixed print while staying firmly boy friendly with a deep neckline ( Shona Joy dress, Amber Sceats necklace, Pushmataaha bracelet and ring )

Whether it's lazing on a yacht or surveying the beach, this dress is on the prowl ( Shona Joy dress, Dita eyewear sunglasses, vintage Prada sandals )

Waiting for your heart on the dance floor is this little number- just wait 'till you see it twirl! ( Shona Joy dress, Chloe sandals, Pushmataaha bracelets )
Shot by Alice Wesley - Smith
With thanks to Hamilton Island and Beach Club Resort
beauty note : Charlotte Tilbury's lipstick in Lost Cherry and Beach Stick in Formentera will brighten up day or night
Like all mothers, my morning make up protocol is overshadowed by hurrying, nagging and sandwich making. Thinking about looking radiant while unearthing school socks is hardly practical and most times, I do my 5 minute make up application in the rearview mirrow while stuck in traffic, making me the ideal candidate for any beauty product that shaves time off my routine and really delivers. Enter Miracle Cushion, Lancome's answer to a fluid foundation in a compact. To be honest, I was sceptical at first; how can a fluid stay in a compact and what sort of texture would this product provide? My Korean friend was more enthusiastic, assuring me that this sort of technology has been all the rage in her home country and that it encapsulates BB cream, foundation and 23PA++ sunscreen in an easy to use format.
Upon first inspection, I felt a little like Tarzan coming out of the jungle into civilisation - there is a soft cushion inside filled with a wet liquid that doesn't leak and an applicator that delivers just the right amount of foundation when pressed into the cushion ( what?! no messy fingers, no dripping onto my blouse?). The packaging is gorgeous and refillable, so do not throw it out - it's perfect for changing foundation shade due to the change of seasons . The results? This is a buildable foundation so the results can range from sheer to opaque depending on application - I must say I was quite impressed by the way the texture seemed light and natural while covering lines and blemishes. This is not a cakey foundation, in fact you will forget you are even wearing make up at all. And in the end- isn't that exactly what we all want?
This story was shot at the heavenly Qualia resort in Hamilton Island,a child free paradise where I could incapsulate my fantasy of a perfectly serene beauty routine while wearing amazing clothes and accessories
Above: Make it sparkle: Miracle Cushion joins a host of light reflecting treasures (Clockwise from bottom: Balenciaga cuff and Oscar De la Renta clutch both from Net-a-Porter, Dita sunglasses, Paspaley pearls ring and earrings )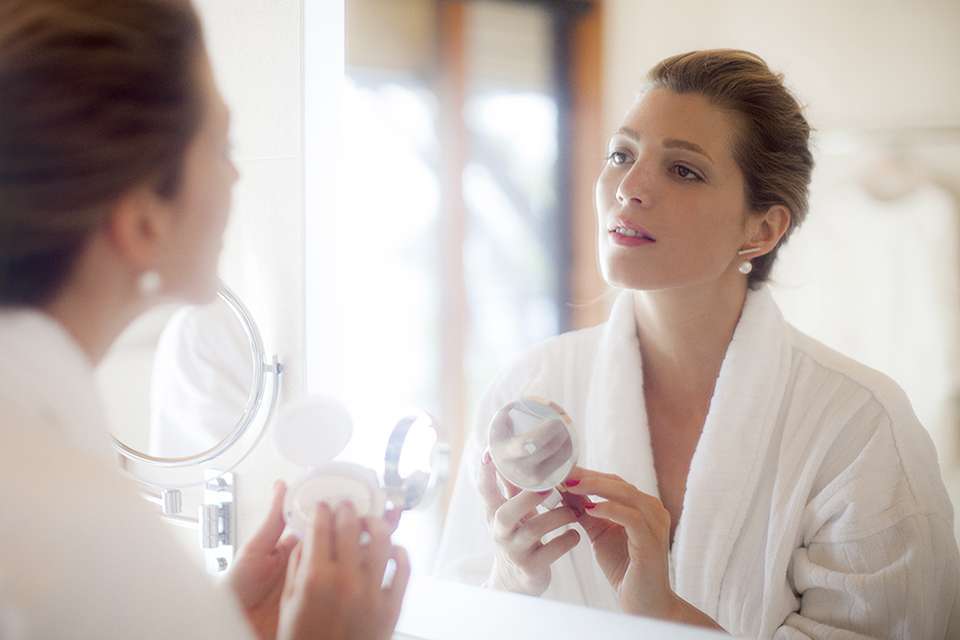 Applying Miracle cushion is a breeze. Dab on in small motions until the desired opacity is concieved ( Qualia bathrobe, Paspaley earrings )

Tako on the 70s trend in spring ready white in a Zimmermann dress and gorgeous accessories

Miracle Cushion fits in the smallest of clutches ( Oscar De La Renta clutch, Balenciaga cuff, Paspaley pearls ring )
Perfect for touch ups on the go! ( Paspaley Pearl earrings and ring )

Photography & film by Alice Wesley-Smith
Synchronicities. Some say they don't mean anything in particular and others in the more spiritual camp say that circumstances perfectly aligning , like de ja vu , is a sign from the Universe that you are on the right path in life. When I heard that Willow wanted to collaborate on a post I also received an invite to attend Hamilton Island Race Week so in my eyes it was a no brainer; beautiful ethereal location coupled with gorgeous clothes is always a win in my eyes.
The Spring Summer 15 Willow collection is part glam rock, part modern goddess so I wanted to convey this in the colours , tones and contrast of this editorial. The first thing I felt and saw in my mind when I looked at these clothes is that girl who is at a beach party as the sun is rising, slightly messy, reflective, dreamy and dangerous with wind catching her hair and the hem of her dress. There is an edginess and sexiness to these looks but ultimately, I found these clothes extremely comfortable to wear - which is a miracle for evening wear. Hope you like! X

A beautiful lace dress is a forever piece. This one features long sleeves and spider web fine lace ( Givenchy booties ) shop it here !

I love mixing high and low and this combination of a t shirt top and intricate skirt is one of my favourite combinations for day or night ( Cartier bracelet, worn throughout ) Shop them here and here!

A good bustier dress is a miracle maker. This one features a corseted top for amazing support and zip down access ( Aquazzura sandals ) Shop it here! 

Make like Khaleesi in this Grecian dress that is perfect for summer with flats or high heels due to it's elongating effect ( Ancient Greek Sandals, Sarina Suriano earrings ) Shop it here! 

Feather light and oh so soft, this dress is all about details and flattering body con that doesn't cling in the wrong places ( Hatmaker hat , special Hamilton Island edition ) Shop the dress here !



This dress had me wishing I were dancing all night waiting for the sunrise with it's light fabric and asymmetric hem that rippled with the breeze ( Aquazurra sandals ) Shop it here! 
Shot by Alice Wesley Smith
With thanks to Hamilton Island and Qualia
To me a good holiday conveys the following experiences in no particular order: sunny, beachy days and moonlit nights full of starlight and romance, the promise of spontaneous adventure and no set schedules or obligations, the allowance of laziness but never at the expense of a new experience, feeling languid and lost in thought as if caught in a constant daydream, a giddy excitement that feels like radiating warmth straight from the belly, that thrilling book you've been meaning to read for like, forever, now actually read every day with fervour and commitment, a rediscovery of pleasures that ought to be slow like eating and drinking and diving under the sea, the chance to connect with family and friends old and new and above all - what I love about holidays most is that moment you catch yourself feeling alive, really, truly alive in the current moment.
But let's face it, holiday time also requires some amazing fashion essentials. Resort is my favourite collection of the year – clothes are generally more colourful and exciting – not to mention more affordable. For this story, I wanted to focus on some of my holiday necessities and I was fortunate enough to shoot on the beautiful beach of the stunning and utterly luxurious Qualia resort on Hamilton Island utilising the must-have pieces to covet now for a stylish getaway.
A humble denim shirt works hard dressed up or down, on a boat or in a taverna. Just unbutton and wear with a bikini underneath to highlight jewellery and a tanned decolettage.(Levi's shirt, Zulu & Zephyr bikini, Dion Lee skirt, Prism sunglasses, Lucy Folk necklace and bracelet, Monica Vinader bracelet, Pushmataaha ring, Stuart Weitzman gladiator sandals.)
A gorgeous dress in a maxi length is my first choice for relaxed elegance and easy glamour. Leopard print is always a print de jour, but this season more is more. (Roberto Cavalli dress and cuff, Nina Ricci fur coat, Dolce & Gabbana sunglasses -all from Net-A-Porter.)
Once the temperatures cool with nightfall a cosy knit is a must. This cashmere/merino wool blend is soft and beautiful with its ribbed, pleated detailing. (Gasparre cashmere sweater, Prism bikini bottom, Preen by Thornton Bregazzi sunglasses, Prism espadrilles. )
See the full story, now up on Vogue.com.au here!
Photographed by Scott Lowe