Spring is awakening in the depths of the Antipodean countries like a shy deciduous leaf bud, magnetic fullness of the sun tingling it's roots outward with a promise of warmth . Just as the golden rays of summer dim in the North by a minute at first, then two are added to days here and just like that, the light changes and daylight after 5pm starts again. Oh sweet daylight life after 17 o'clock! I have missed you!
Ok, ok, I must disclose, and many of you would know if you follow my instagram, in fact I slightly cheated and spent 3 weeks in my birth country of Croatia in July enjoying a hiatus from blog life, each day filled with sun, swimming , cooking and watching my daughter pull out an array of various sea urchins out of the sea for inspection before throwing them back , wide eyed, each time, as if it were a miracle. Which, indeed it is, as is anything we really look at with unclouded, curious eyes. Everything around us is a wonder, a dream within a dream, and a dear friend of mine tells me each time he sees me : "Tanja, all you touch and all you see is all your life will ever be!", quoting of course Pink Floyd's Breathe. And he is right. If anything I'm realising more and more with each day of being alive, it would be how much more I can open my eyes,  how many more ways there are to see, to touch, to taste, to smell, to understand , breathe, love, embrace. It truly is all about perception of our experience, what we allow ourselves to compute once we peer past the programs we run in our heads as defaults.
Take next season's curious mix of burgundy, maroon, pink and mauve shades for example. Not just because they are your ticket to one of 2016/2017 's hottest fashion trends but also because they are a conundrum of simultaneously being sweet as spring berries, punchy and spicy as heavy Malbec wine and other non simile laden , simple adjectives such as understated, feminine, elegant and earthy. For my third collaboration with Thomas Sabo, I picked out my favourite jewellery pieces from the new collections for three different personalities, then mixed them in with lustful new season examples of marooney, pink camellia goodness . My Moon, after all is in Gemini, so personalities I know!Above: Unleash your inner punk but switch the Christian symbolism with ancient Egyptian. For example, did you know that some speculate an Ankh was a symbol for a primitive energy transformer? It may sound like a conspiracy theory but the mere whiff of magic excites me, as do winged goddesses on necklaces and the sheen of silver
  Wearing: Ring, bracelet, earrings and necklace by Thomas Sabo, bralette by Agent Provocateur, vintage leather pants, Dorateymur mules, Oroton bag, Dion Lee coat 
Fine jewellery looks best layered and the new triangle collection is no exception. Add a scarab for extra wondering tribal goddess vibes

Wearing: Thomas Sabo bracelets, necklaces and rings, dress by Dion Lee
As the sun sets any self respecting bohemian will reach for her plunging maxi dress - for what else could be more perfect for displaying rows of her protective amulets? Or maybe they are her swan caller charms?

Wearing : Thomas Sabo rings and pendant necklaces, Zimmermann dress
photographed by Alice Wesley- Smith
Fashion is a fascinating concept. Besides being something solid created purely out of imagination, it is also a rare marker of human changeability and adaptability over a long and well recorded time period. Being obsessed with the beauty of fashion is one thing, yet having a penchant for historical nerdiness, I find it utterly absorbing that we can track thought processes, leaps and bounds of human progress, climate change and even misguided prejudices through what we wore during our lenghty reign on this planet. Jewellery on the other hand pre-dates all this textile nonsense. We were naked once, it was warm, we didn't need to be cacooned , so why is it that we chose to adorn ourselves with shells, bones and feathers whilst walking around butt naked? Akin to make up, accessorizing doesn't fulfill a clear biological need apart from adorning ourselves to stand out from the crowd in a way that a bird of paradise attempts to shut down other birds with it's sheer spectacular beauty and uniqueness.
Harry Winston once said : " People will stare. Make it worth their while." Coco Chanel quipped:" Before you leave the house, look in the mirror and remove one accessory". Being stylish can mean incorporating so many opposing ideas, yet, it is the ones that make sense to you personally that truly matter. Trends come and go yet timeless style is forever relevant. For my second collaboration with Swarovski and Who What Wear Australia, I'm bringing you 6 classic styling tips that are not only modern now but wearable forever.
1. Is it the show of décolletage or bare shoulders that makes off the shoulder tops so irresistible? To me it is the timeless femininity of the cut that just works in the elegance stakes. Whether it is a peasant, gypsy top or a structured evening piece, dare to bare. Mix with a classic pencil skirt and co-ordinate the colours for the ultimate day to night look ( Yeojin Bae top, By Johnny skirt )
2. Play with accessorizing by layering your necklaces. Choose necklaces of similar lenghts, then use slightly higher or lower loops to fasten them so they sit neatly next to each other . This trick looks best when utilizing the suprasternal notch, ie; that little dent between the neck and the chest. Voila! You've just created a one off, unique jewellery combination that no one else will be wearing, whilst showing off an erogenous zone. ( necklaces and watch, both by Swarovski )
3. Swoosh it around. Dramatic, tassled pieces add a visceral dimension to evening wear and announce your presence without reaching for overt sexuality ( Rae official dress, Giuseppe Zanotti heels)
4. Layer your rings on multiple fingers for maximum impact. From the thumb to the pinky, knuckle to tip, play with wearing your rings wherever they may fit – then watch the dazzle as you gesture your way through the day ( rings and earrings, all Swarovski )
5. Choose masculine staples with a feminine edge. Whether mixing up a mannish suit with a delicate camisole or letting your scalloped underwear show just a little underneath a tailored shirt, the contrasting polarities will make each other shine. In this case a tailored trench coat is a traditionally masculine piece, yet it gets a feminine update via silky satin and lightweight tailoring. Belt it up to create a dress that hides as much as it reveals for the ultimate yin/yang balance ( Rachel Gilbert coat, Gucci belt )
6. I love large faced watches on women. I used to buy men's watches when younger because I loved how they simultaneously made my wrist look delicate, yet toughened it up as well. Better yet, layer the watch up with other favourite pieces for ultimate arm candy.
photographed by Alice Wesley-Smith
Not only do women on occasion want to get dressed up and be fabulous, but the solidity of precious jewels in a shifting stock market represents true value in the face of uncertain, unproven investments. A diamond lasts forever and represents a true mark of eternity in an increasingly throw away world in which items are replaced with ever increasing speed. There is something to be said about quality, craftsmanship and lasting beauty, and this is why buying beautiful jewellery is such a wonderful expression of honouring a special moment in time. Marking an occasion with an item that will be cherished and passed down generations transforms the item into family heritage, a tradition, a memory that never dies.
"Once upon a time" may be a sentence once used to begin stories of princesses in gowns wearing precious jewels, yet women today still relish feeling like princesses, even if it is in a decidedly more modern rendition of an exciting break from every day jeans and knits.
For my second collaboration with Hardy Brothers, I wanted to utilize the gowns I am currently day dreaming about and accessorize them with exclusive, unique and utterly luxurious pieces that the company is so famous for a 21st century take on going to the ball.

Above: HARDY BROTHERS 18CT WHITE & YELLOW GOLD CUSHION CUT YELLOW DIAMOND HALO RING, HARDY BROTHERS PLATINUM & 18CT YELLOW GOLD PEAR CUT YELLOW DIAMOND EARRINGS, HARDY BROTHERS 18CT WHITE & YELLOW GOLD PEAR CUT YELLOW DIAMOND RING, CHRISTIAN LOUBOUTIN HEELS AND BAG, CUTLER AND GROSS SUNGLASSES.
Yellow is the stand out colour of the upcoming season, so go all out on the glamour with an asymetrical dress in vibrant lemon that comes replete with romantic flowing sleeves. Pair it back with tough accessories to add a modern edge, then up the shine with a smattering of gorgeous yellow diamonds

WEARING HARDY BROTHERS PLATINUM DIAMOND NECKLET AND HARDY BROTHERS PLATINUM EMERALD CUT DIAMOND HALO RING

Lounging by the pool is all the better when it's done in off the shoulder, sequined perfection. Exposing the decolletage is just asking for timeless pieces that won't ever go out of style ( Rachel Gilbert dress )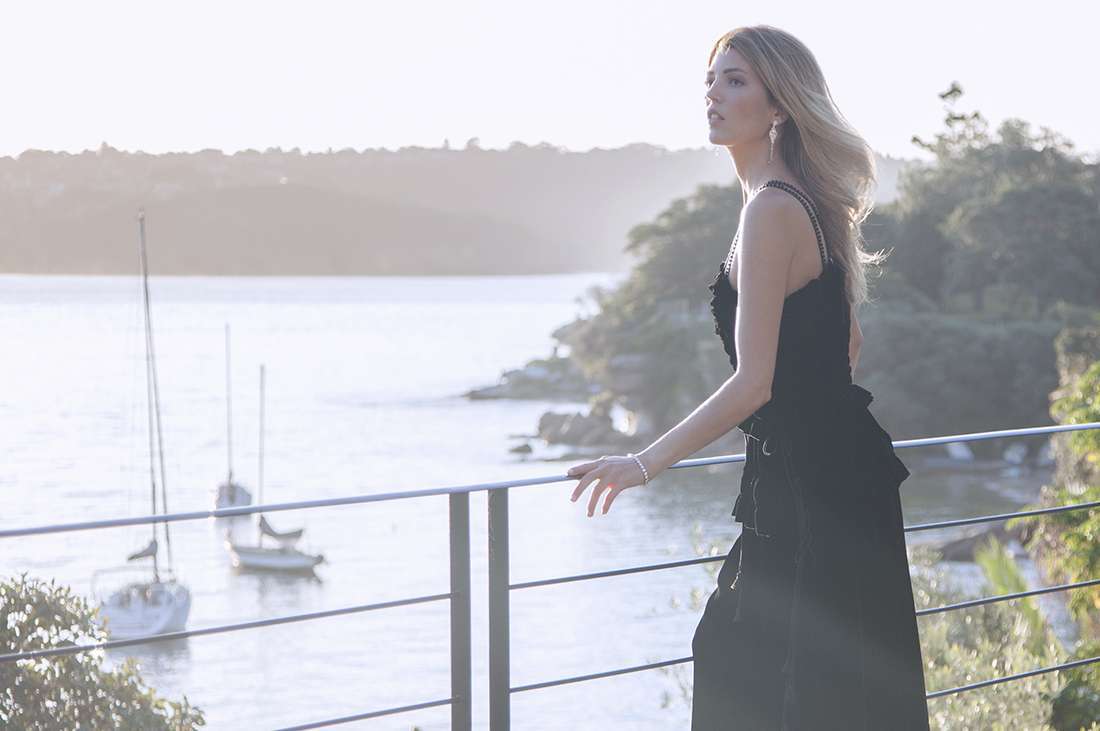 WEARING HARDY BROTHERS 18CT WHITE & ROSE GOLD PINK DIAMOND DROP EARRINGS, HARDY BROTHERS 18CT WHITE GOLD DIAMOND TENNIS BRACELET AND CHLOE DRESS FROM PARLOUR X.
Velvet is the fabric to buy now, cherish forever and a perfect juxtaposition to icy diamonds. Invest in stunning pieces that are not only delicate and unique but your children will fall in love with and fight over one day.
Photographed by Alice Wesley-Smith
With thanks to Justin Hemmes and Kate Fowler for the stunning location The Hermitage.
After a month of temperatures in the high 20 Celsius and above, it started feeling like Sydney was stuck in some sort of Ground Hog Day scenario where sunny, perfect days were becoming a hot nuisance instead of a heavenly blessing. A few people remarked how they longed to wear jeans and jackets and one friend exclaimed she was sick of being so tanned. After a while, I couldn't even be bothered to run to the beach after work...after all, there will be another perfect day tomorrow and my couch and closed plantain shutters were so much less stressful than dehydration and crowds. Some claim we live in a world of duality because humanity still has to learn about what it truly likes and wants from experiencing it's absence. Black is too severe, white is too pure; so praise be, what is the exact shade of grey we need for our worlds to feel just perfect?
In my personal world, that nuanced grey , that dream life of perfect temperature, look, taste and feel would probably be one of a mid century heiress living in Palm Springs, blue skies above me, Richard Neutra home behind me, a cold amaretto sour in my hand, feet dangling languidly in a sparkling pool. I would have a walk in wardrobe full of beautiful 50s linens, tweeds, terry toweling and diamonds; all colour co-ordinated by my fateful butler with insane organizational and bartending skills. I would spend half the year doing hands on charity in far away lands such as Zanzibar, Tunisia and Fiji whilst I wrote books on new found botanical species and had exciting, adventurer boyfriends and many brilliant, loving yet self-sufficient children. I think about this picture and it seems complete perfection but then I remember how I would miss hip-hop and the internet and how terribly horrid it would be to live in a world even more racist and misogynist than the one we are still trying to change today ...and a little part of me shudders.
Duality is a bitch but there is a lot to learn from Palm Spring Heiress' fashion. For my newest Thomas Sabo jewellery edit I re-imagined my dream girl as a modern woman with a minimal mid century aesthetic and desert turquoise running through her veins...after all there is something so American Indian ethnic yet completely elegant about this newest collection. This season also introduces Thomas Sabo Love Bridge bracelets, which will become a modern classic and fit in with anything from suits to sportswear. This season, mix silver accents with beige, brown, tan and grey for the ultimate in Palm Springs inspired elegance
As the temperatures cool down consider cacooning yourself in a whole new manner of leisure suits and ensembles - they are all the rage this season. This cashmere combo is elegant and soft at the same time whilst the turquoise dream catcher and feather shaped necklaces mix in a vintage American influence
( Necklaces by Thomas Sabo, Iris and Ink top and skirt from the Outnet, Christian Louboutin pumps)
Stand strong and deliver: offset neutrals with turquoise accents for impact ( Thomas Sabo necklace and bracelets, Asos jumpsuit, Aquazurra sandals )
Silver toned accessories are all the rage this season - mix them with beautiful separates for the ultimate in Palm Springs elegance ( Thomas Sabo Love Bridge bracelets, Zimmermann swimsuit worn as bustier, TY-LR coat dress, Karen Walker skirt )
photographed by Alice Wesley-Smith
direction, styling and production by Tanja Gacic
This Friday, the 20th March is a special occasion. Not only is it the Spring equinox in the Northern hemisphere and the Autumn equinox in the Southern hemisphere but there is also a total solar eclipse happening and a supermoon will be gloriously huge in the sky. These things, you see, I take very seriously.
When I was a child growing up in Croatia, my relatives from the countryside used to tell me magical folk stories in which the heavens and Earth were always connected; planets and stars weren't masses of matter but characters personified here on earth. Whenever something was going on in space, it had direct correlations to our mortal world and we had to prepare for our life changing in some way. In this sense, faeries were completely real beings that occupied a world overlapping ours, only a thin veil away. These faeries were not some cute little creatures like Peter Pan's Tinkerbell, but female beings ,long haired, beautiful, sometimes endowed with goat legs underneath long dresses.  They harbored emotions and intentions, sometimes evil and capricious, sometimes pityingly sensitive to mankind's plights . Occasionally they fell in love with men, abducting them and the males would cross into their world never to be seen again. Congregating around water, rocks or anything misty; they danced next to flowing forest springs and roamed foggy sunset fields. I was terrified and mystified yet dreamt and wanted to be them; ethereal and eternal, perfect but ultimately flawed in their formless shape, never quite of the material world.
For my Thomas Sabo edit I wanted to emulate these otherworldly beings while showcasing some of the most gorgeous clothes available right now. Thomas Sabo is a company I have had my eye on for the last few seasons for their meticulous attention to detail, high quality and collections that vary from classically elegant to extravagant and punk rock. Their beautifully crafted , innovative silver jewellery garnered them fame in the 1990s, however the original collection has expanded into a myriad of styles ; from charms and pendants to crystal jewellery, there is something in the range for everyone. For my edit, I picked my favorite pieces ; silver seashells and white pearls, gorgeous gold plated medallions, cute flamingos and chakra inspired mandalas. I hope the faeries approve ...
This Alex Perry gown is modern romance personified while beautifully crafted silver jewellery and pearls add a little moonlight to the ancient rocks
Ellery does contemporary with a vintage twist - this gorgeous tweed fabric and flared details are completely on point. Match up tones with Lucy Folk's delicate bead clutch and Thomas Saboo's Maharani set with radiant milky quarts and milky aqua. Faerie of the seafoam would approve

The forest faerie should be so lucky to posses a special amulet such as this radiant sphere for her crown and a beautifully crafted Toni Maticevski knot top to dance around the weeping willows in

Don't let the adorable flamingo and intricate charms fool you, this faerie is being naughty in her Agent Provocateur corset.

Align your chakras by wearing beautiful pendants the other way around with a backless gown - all that skin needs ornate adornments to shine (Kaliver gown)

Toughen up pretty lace with some rock n' roll jewels - this Bianca Spender floor length dress is asking for moonlight nights and bad boys
photographed by Ana Suntay- Toledo