Wearing Equipment shirt from Edwards Imports, Holly Ryan earrings, Ellery jacket, Smooth Miracle Primer, Miracle Touch Foundation and Eyefinity Smokey Eye Pencil in Black charcoal and brushed copper.
Glam in under 10 minutes
Some days, I wake up in the morning and everything goes smoothly; alarm goes off on time, child doesn't wake me up in the night and the cat doesn't attempt to sit on my face at 4:30am. I savor my coffee in a dignified manner, do a 10 minute meditation and apply my make up in peace, smug in my utter personification of efficiency.
And then, there are the other mornings, where everything goes awry and I end up getting everyone ready in a hurry only to look at the mirror, sigh at my dark circles and the 1 minute left on the clock to make them disappear. The day is a blur of appointments and then I remember that post work event, the one I must rush to without going home. What's a girl to do? Here are some of my tips of the trade as brought to you by the new Max Factor Miracle Collection
Start the day with The New Smooth Miracle Primer because this little helper provides a smooth and even application of foundation, sealing it for longer, lasting wear. Perfect for dry skin that gets even more dehydrated by make-up, this primer will care for your skin all day long. Follow this up with the New Miracle Touch Foundation for a seamless blending and shade matching that blurs imperfections and nourishes skin.
Next up, choose one of the 2 new Eyefinity Smokey Eye Pencils; the dual sided pencil features vibrant colours for intensity and deep metallic shade for highlighting. Bonus; the waterproof formula will stay on until you decide to take it off, not that accidental eye rub during the afternoon slump. I love how the dark shade frames the eyes, highlights and defines the brow bone and the inner corner of the eyes. For day I used the highlighting copper end as a liner, it gave me just the right amount of definition without being overly made up.
Read the rest of the story on vogue.com.au here!
There isn't anything like healthy, even and smooth skin that makes me feel more self-confident in my day to day life. With so much time spent on the go, I can't afford to spend hours on such fanciful pursuits as lengthy make up applications or time consuming beauty regimes so; I've had to find other ways to make my skin glow. Trust me, things weren't always peachy keen in the complexion department and it took decades of trial and error, fads and failures, blemishes and unevenness to get to where I am now.
In collaboration with Max Factor's Miracle Collection, I am dishing out all my skin care secrets so that you can take a shortcut to a heavenly glow.
Great skin is always a mirror of your internal health so the journey to smoothness starts in the gut. Eat lots of fruit and vegetables as they are rich in vitamins, minerals, phytonutrients and prebiotics necessary to feed the good bacteria that keeps our body (and skin!) in tip-top shape. Increase your consumption of orange varieties as these contain carotenoids, which filter blue light, protect skin from environmental factors and add a visible healthy hue. Don't forget to cut out any foods that your body is sensitive to as well as any preservatives, colours or artificial ingredients- all a sure fire way to a break out. Make sure your lifestyle isn't depleting all your B vitamins which are necessary for blemish free skin, things like life stresses and nights out all run our reserves low. Forgo botox by adding plentiful collagen into your diet via long cooked bone broths or supplements and over time the skin will develop more bounce, moisture and resilience. Sugar is not the skin's friend, leading to premature aging and oxidation so replace it with occasional natural sweets and supplement with probiotics which help our body to thrive.
Move that bod every day until you sweat so that toxins are cleared out in a timely manner. Support your body's detoxification patterns by drinking at least 2 litres of pure water - all the hydration will plump up the skin from the inside. Try to meditate each day for at least 5-10 minutes as this develops a sense of calm that becomes an anchor point when life takes us on unpleasant journeys – I believe that hard emotions can lead to break outs. ( wearing Lonely Label swimwear)
read the rest on vogue.com.au here!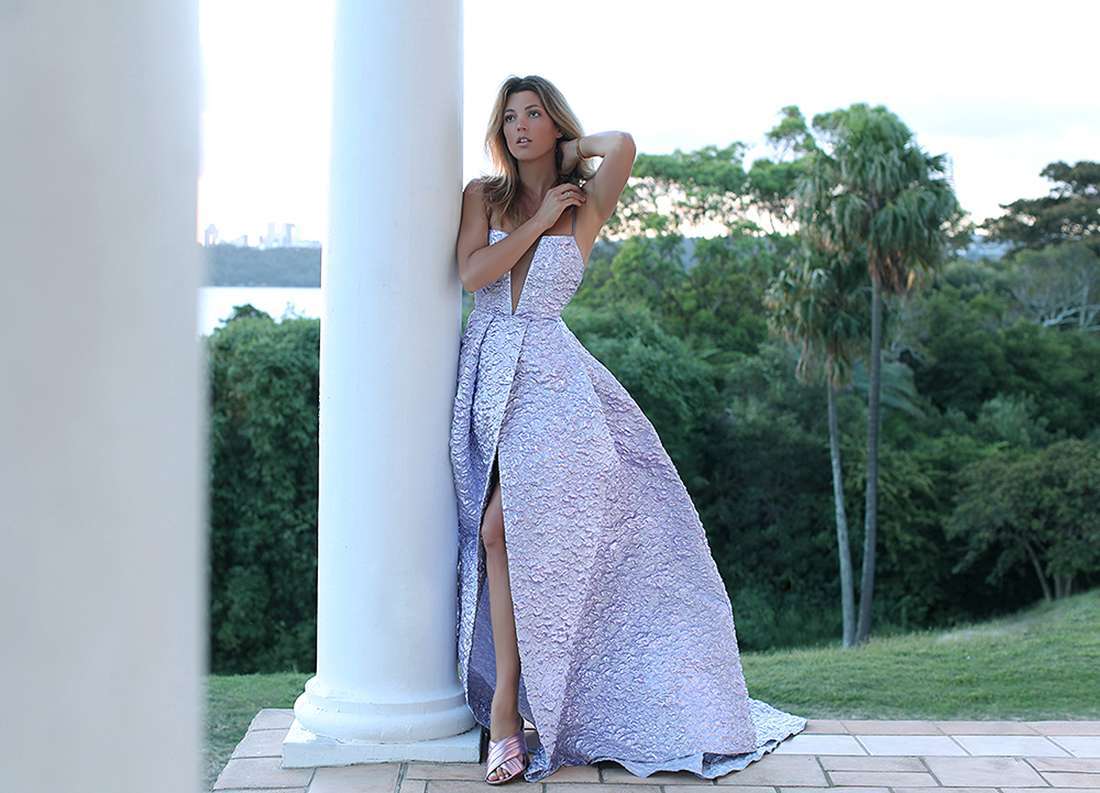 It's all about the impact
From Gucci to Valentino, the runways seem to be awash with a new message: minimalism is dead, long live maximalism! Sure, there are times when we need a little normcore in our lives, but forever? How boring. I'm a jeans and t-shirt kind of girl most days but the days I do get to go out and dress up, I relish with the enthusiasm of an overexcited toddler in a candy store.Sometimes, it is about making the effort and feeling like a star and there is no better way to do that but by adding a bit of drama.For this story I reviewed Max Factor's False Lash Epic Brush mascara and a few high impact dresses that are sure to turn up the glamour dial this autumn. This is not the first Max Factor mascara I have reviewed, but it certainly has the highest impact.

Above : Alex Perry dress, Maria Tash earring from Net-a-Porter
One layer was bold and voluminous; two coats made my eyes look like I was wearing false lashes, due to the brush's wide arched shape. With a mix of conical and flat pointing bristles and a zoom action tip that captures and magnifies every detail of every lash for an epic lash fan – no wonder it was the official mascara of the Victoria's Secret Fashion Show.
Global Max Factor Creative Director is none other than the legendary Pat McGrath who uses it for high impact on shoots and shows – this mascara is certainly noticeable on film, unlike many others. Here is my personal step-by-step on adding a little impact:
Use the zoom action tip to bring more va-va-voom to the edges of eyes by building extreme lift and volume in just 2 coats.

Rachel Gilbert dress, Rochas heels
Bell sleeves and pretty embroidered flowers add drama in the diffused afternoon glow.

Zimmermann dress, Maria Tash hoop earring from Net-a-Porter, Ole Lynggaard Copenhagen pearl and diamond ring and earrings
My rule tends to be to either accentuate eyes or lips, keeping the overall look lady like. Add gorgeous jewels as an added accent.
See the rest of the story on Vogue.com.au here!
photographed by Alice Wesley-Smith
On my days off, I'm not much of a make up girl, but catch me on a work day or on the way to an event and you'll see someone who looks quite made up. Ok, to be fair, my make up skills are questionable at best as they are always put to practice between frantically feeding the cat, getting the child to school or navigating the car in traffic. Just don't come too close and everything looks flawless. Come a little closer and you may see some patchy eyeshadow or unblended blush, however, the one thing you won't see is clumpy or flaky mascara. Why? Because I am weirdly OCD about it, to the point that I spend half of my 5 minute routine expressly on applying it and making sure it's perfect. Don't ask me why this is a thing, it just is ; I cannot stand mascara that doesn't perform well.
For this story, I reviewed the new Voluptuous False Lash Effect Mascara from Max Factor, in my eyes one of the best mascara companies on the market.

Max Factor Voluptuous False Lash Mascara, Sarina Suriano cuff, TDE passport holder, Thomas Sabo pinky rings and Ole Lynegaard diamond stars and pearl ring, Christian Louboutin bag, Josefinas ballerinas

The False Lash Effect Mascara features the redesigned Lash Lifting brush with a spiral shape and long bristles designed to provide a beautiful lift and separation. The bottom of the rounded spiky tip is best used on the outer and bottom lashes to add that extra va-voom. The biggest selling point of this mascara is not relying on curling lashes but allowing the lashes to maintain their natural shape by lifting them and thus opening the eye.
I loved how natural this mascara looked when incorporated in my usual day look with just one application. I like my day make up to be very subtle, and my eyelashes to only be slightly enhanced;  I don't like to appear too overdone and only apply mascara to my upper lashes for day. I loved how the Wonder brush coated, coated and combed each lash for an instant pepped up look that we all love, without seeming done up

Max Factor Voluptuous False Lash Mascara, Thomas Sabo pinky rings and Ole Lynegaard diamond stars and pearl ring, Christian Louboutin bag, Kate Sylvester dress
For night, when going out, I really love piling on mascara on top and bottom lashes and emulating Brigitte Bardot's bombshell eye make up. I used four coats of the new Voluptuous False Lash Mascara and even then I did not see any clumping or flaking. I danced the night away and my lashes came home perfectly done up, which is better than I can say for my lipstick!

Rebecca Vallance dress, Giuseppe Zanotti pumps, Sarina Suriano earrings
Full story on Vogue.com.au here!
Over the ages, lipstick has been used as a cosmetic enhancer for both men and women alike. But it wasn't until the late 19th century that famous actresses began wearing it on film – and since then, lipstick was crowned as the fashion accessory du jour. Max Factor & Company was founded by Mr. Max Factor himself in 1909. By 1914, he had perfected his first cosmetic product and he quickly became an icon within the film industry for having the ability to "make up one's face".
100 years on and Max Factor is still leading with innovation with the launch of their new lipstick range, Lipfinity. With a base of shea butter, squalane and lanolin, Lipfinity contains over 60% skin-conditioning serums to replenish the delicate lip area whilst being rich in pigment, making it intensely moisturising and long lasting to ensure coverage for the whole day – perfect for the modern woman.

A red lipstick should be every woman's go-to cosmetic item to instantly brighten and add drama to any outfit – and Max Factor's Lipfinity in Just Deluxe is a perfect red to suit my skin tone. Emulate Parisian chic with a striking slick of scarlet lipstick on an otherwise bare face and complement with similar toned accessories for a playful look.

wearing: Isabel Marant skirt, La Perla bra, Jac& Jack tank top, knitted scarf from Etsy, greek fisherman's hat from Mikanos and Saint Laurent bag )
Spring is a good time to experiment with colour – and this applies to both fashion and beauty. By mixing the soft violet shade of So Luxuriant with the pretty pink shade of Evermore Sublime, I created the perfect lip hue to compliment my colourblock dress.
Wearing Roksanda Ilincic dress and Loewe bag from Tom Greyhound (also available at Farfetch) and Valentino sandals.
Shop Max Factor's Lipfinity now.

Photographed by Adam Katz Sinding in Paris.