I must say I was so excited to shoot this story on my recent European holiday, as Venice has always been one of my favourite places in the world. Apart from gondolas, bridges and canals, this town is also magic for its culture and architecture, the highlight of which I got to experience while shooting at Palazzo Gritti, a beautiful 14th century palace that has been converted into a hotel brimming with luxury and old-school opulence.
Positioned right on the Grand Canal, the location proved the perfect place to shoot this story on the five trends in footwear you need to familiarise yourself with now. For more, scroll on to browse the season's must-have styles.

Kitten crazy
No need to tottle around on stilts when kitten heels are having a comeback - choose from a variety of options; mules, slingbacks, pumps or even boots.
Above: Tanja wears YSL sandals, Michael Lo Sordo dress.
Slip on
Slippers have become a must-have shoe item in any woman's wardrobe. Not only are they supremely comfortable, they are also versatile – try rocking yours with anything from jeans and pants to maxi dresses and split skirts.
Above: Tanja wears Art Of Day sustainable slippers, Nique pants, Alice McCall top.
Thongs are making a comeback
Whether it's highlighted in a flip flop style sandal or ensconced in 70s leather vibes, this season it's all about the thong. Mules are also having a moment and strappy styles are a always a hit.
Above: Tanja wears Mara and Mine heels, MLM dress, Tiffany & Co smile necklace, Sarah and Sebastian astrological sign necklace, Jordan Askill diamond heart ring, Ole Lyngaard diamond flower ring, Cartier love bracelet worn throughout.
The fancy sandal flat
Celine and Prada have been making incarnations of this style for years but this season, it's become a go-to for whatever occasion or time of the day it may be. Wear it with anything from jeans to skirts and evening dresses – bonus points for patent, boucle, embroidery or rhinestones.
Above: Tanja wears Christopher Kane sandals, Rebecca Valance dress.
Disco fever
Gold and silver, platforms and wedges – the fun era of shoes has returned. Whether you want to inject metallics for added wow factor to your outfit or pretend you're a dancing queen at Studio 54, this season it's time to go all out.
Above: Tanja wears vintage shoes, Rebecca Valance dress.
This story appears on vogue.com.au here! 
Yeah, I'm a terrible blogger guys, I geddit. Whereas a normal blogger will do at least a self respecting one post a week, I pretty much go awol for weeks. Needing sensible clothes that you can wear to work everyday, preferably black? I can't help you, I haven't done an office job in my life. The only time I truly looked perfectly proper was for select funerals and my Australian citizenship certificate ceremony (cause you don't wanna tell a country they about to let a loonie in right? 🙂 Yes, maybe you won't read this blog every day or even every week but when it's finally up, I try to deliver some insensibly impractical ,yet amazing clothes.

Sometimes , I meet a cutie patootie photographer like Jordann Wood who came to my house and shot this story in one Ovo Sound Radio episode blaring from the speakers. My new place is the weirdest space ever, a 1920s Art Deco place with original ornamental high ceilings, no straight walls, a sloping living room and 3 inbuilts that consist of a large display cabinet, a smaller display cabinet and an actual pull out bar. After having really modern, minimalist apartments in the past, I wasn't sure this was my vibes. My daughter Coco tried to sell it to me by enticing me with ample storage for all my shoes, the separate living and dining, the terrace and garden but the over eager glint in her eye gave away the fact she was desperate for me to take it for the damn pool. Still, I can't deny the fact that all the weird old stuff that I obsessively collected over the years found it's own niche in this place.
In the last 4 months in no particular order a plethora of things happened; a break up with my boyfriend, my cat Tiger getting attacked by massive dogs , a 6 week trip to the homeland of Croatia and Italy for my bestie's wedding, and now, a move to a new apartment.  I wish I was one of those people that use their pain and overexertion as a springboard, but honestly, all I wanted to do in my spare time was wallow in self pity, eat my weight in pasta and make friends with all the red wine. Stay tuned for the nuggets of wisdom I procured during this time spent in a dark vortex.


Wearing Double Rainbuu tracksuit, Matin top, Beghum Khan earrings, Giuseppe Zanotti pumps, Amethyst and Citrine ring. vintage marble table, Eames chairs, Australian Wattle
Wearing Rebecca Valance dress Bulgari bag,earrings, necklace custom rug B&B italia couch
The first thing about being single again that immediately became a positive is that now I could get all my clothes and shoes out of storage and fit them in all the cupboards around the house. I may be single, but with my wasted retirement money spread safely around me at least I am not anxious. In my eager redecorating , I even bought new pieces of furniture like these funky vintage chairs that will make absolutely 0 sense in any other apartment


Michael Lo Sordo suit,Zimmermann top,Brie Leon bag,vintage chairs
In parting, a funny story. Behind me in this photo is a picture of me crying on a floor of a hotel room in the south of france 15 years ago with stuff all around me. My ex boyfriend, a photographer who is a good friend now, gave me this photo last year for my birthday. Immediately, I became upset: "But this is a photo of the day we broke up! Why this photo? And on my birthday?" He replied laughing: " Yes, it was sad then, but look at us now. It was just the beginning of something else special !"
Fashion Week only swings around once a year in Australia so come May everyone in the industry is lining up their outfits, pillaging pr agencies, last minute online shopping, loaning from friends and otherwise spending solid quality time in front of the mirror.
Dear reader; I wanted to be one of these people but I was doing the MBFWA review story for vogue.com.au in the lead up and hence was too overwhelmed with existing loans,countless emails and shoot production to think street style.When Monday came around and I had no outfit, I sent some emails and my assistant to pick up a few things from a couple of ravaged pr offices that now looked like supermarkets before Hurricane Irma hit ; barren and sparse.
First world problems these may be but one needs to get through the week clothed and my preference is a tad more fabric than what Bella Hadid wears on the Cannes red carpet 😉
Even though many Australian heavyweights didn't show this year, there were many highlights to the week so I decided to do a little photo diary - I want you to see all the fun that was to be had ! Sadly, I'm not posting all the shows I went to- some of them I just didn't get great pictures at - sometimes the lights are too low and the models move too fast.
DAY 1: Camilla & Marc started off the week with a bang, all cool tailoring, oversized jackets, shoulder pads, ruffles, off the shoulder dresses and skirts over pants. There were so many things to love here, all I can say is: send separates guys!

The Camilla & Marc stage was this amazing outback-ey looking set that every single person tried to get a photo in after the show. Here's me, semi soaked still cause it was pouring outside, elbowing my way to a quiet corner with the help of Yan Yan Chan who took these photos for me (thanks Jan ; )).
Wearing Rebecca Valance skirt and bustier, Balmain Top, La Perla bra, Gucci bag, Zimmermann shoes and a vintage Versace jacket
DAY 2 :Monday was a busy day, so what better way to start it but by wearing head to toe pink and matching it to a double shot flat white in a Dion Lee Vittoria cup ? Wearing Dion Lee top and pants, Michael Lo Sordo jacket, Fendi bag, Charlotte Olympia shoes, Balenciaga earring and vintage Balenciaga sunglasses
I loved the Bianca Spender show; all oversized, feminine suits and flowing, sensual silks. Well tailored and flattering with a sustainable bend, I can't wait to wear some of those slinky silk dresses over wide legged pants
En route to the Alice McCall show  (Alice Mccall pants, Ginger and Smart top, Gucci shoes, YSL bag and Matteau bikini top )
If Alice Mccall had a girl she were making clothes for it would be a fun party girl with vintage sensibilities. Some of her dresses and shorts used to be so short they'd make my eyes water ( cause I didn't have the guts to expose so much of my pins ) so I'm loving how some of the hemlines are longer this season and there are amazing maxi gowns in the fray too. Lace detailing and lamé dresses never hurt the party girl either, let's face it
My mates Mikey & Toby over at Double Rainbow did an amazing job growing their hawaiian shirt label into a veritable style reference of their own. This show was pure festival summer incarnated with mesh tops, prints galore, tracksuit combos, clever t-shirts and beach shorts we all need once the heatwave hits. Big love to Sarah Starkey who styled this show to perfection, within the restricted confines of the Landsdowne hotel non the less.
It was 9 pm when the Double Rainbuu show finished so I rushed to the intimate dinner Michael Lo Sordo was hosting at the city institution that is Bambini Trust. I had to make a swift change into a Michael Lo Sordo look in the car, across the road from a packed bus stop which was as hilariously awkward as you can imagine. The girls and I were all Lo Sordo brides that night- Sunny Vandervelde took this fun snap of us in front of the restaurant before we all settled to a gorgeous candlelit dinner. Thanks Michael and MCM pr for this wonderful night!
DAY 3 When you're dressed so farshion but you wish you were wearing a bikini and diving in!
Wearing Undone Project pants, Jill Sander t-shirt from Net-a-Porter, Zimmermann shoes, Dinosaur designs earrings and bracelet, From St Xavier clutch and Double Rainbuu x Le Specs sunglasses 
The Emilia Wickstead x Matches Fashion was a pure delight. Not only was it held at the spectacular Wylie's baths which I'd never been to before but the weather was incredible, the clothes lovely, the atmosphere magical, the champagne cold and the appetisers delicious. Can every show be like this? I wanted to twirl in these pretty dresses and dive into some long gone Riviera pool whilst wearing a pink swim cap. This show evoked so many feels that I escaped through a portal to another time. When the show finished, I still didn't want to leave because the reality was wonderful too.
Snakeskin, lamé, 70s, gingham, sheer...the Hansen & Gretel show had all the trends. All I can say is: I'm coming for you head to toe snakeskin print, don't even bother hiding cause I'll find you!
I had some time to rush home and get changed for the Romance Was born show ( wearing Romance Was Born, Gianvitto Rossi from Net-a-porter shoes, Reliquia earrings )
Hello lamé, hello slinky goddesses, hello prints, ruffles and the joy of seeing creativity unbridled - Romance Was Born show is always such an unmissable event on the week's calendar. This year, the underbelly of Hubert's was transformed into a Parisian salon where models twirled between tables and enchanted us with ruffles, lace and batwings.
As if the beautiful clothes weren't enough, guests were presented with a delicious 3 course sit down dinner and drag queen singers that ravished the captive audience with vintage hits. The night also served as a launch for RWB's incredible retrospective book - if you love fashion, buy this book as it's sure to be iconic ( and whilst you're page turning, play a little find Tanja game- there are a few pictures in there from my modelling days ) The fun didn't stop there- after the show, some of us stayed on for a nightcap and danced on tabletops ( i'm looking at you Isabella Manfredi ; ))
DAY4: One of the highlights was the Christopher Esber show today, with it's impeccable detailing and painstakingly beautiful beaded knits. I wanted so many items from this show. Worn as a look , these were strong pieces but equally important; any one of them would elevate plain old t-shirts or jeans to new heights. I also had a deadline today so I spent most of my day just editing : (

Wearing Zimmermann pants, Michael Lo Sordo top, Gucci Belt, Byfar x Net-a-Porter sandals, YSL bag from Net-a-Porter, vintage necklaces and jacket, Reliquia earrings
Day5: Nothing like the joy of arriving to the Ten Pieces show at Icebergs and finding my girl Lindy Klim was seated next to me. Love an early morning catch up! ( Wearing vintage top, Fendi sunglasses, Lindy wearing Rama Voyage and Dion Lee)
Maurice Terzini and his partner Lucy did such a great job with this collection. Modern, fresh,androgynous and wearable, the clothes were as cool as the show was fast paced and to the point, a bit like mr Terzini himself. Bonus points for casting some of the coolest characters around who promptly started a dance off on the balcony when the show ended.
The evening saw the ethereal Akira show and the tribal inspired Camilla show, followed by Russh magazine's dance party extravaganza ..needless to say the weekend in bed was heaven sent!
Thanks so much to all the designers, models, hair and make up artists, pr and my fellow journalist and bloggers for making this MBFWA such a hoot
Hit the town dressed to impress with these top tips—they're as easy as one, two, three.
This season is all about embracing individuality, having fun, making an impact and flaunting your own brand of uniqueness. So many trends are happily coexisting at the moment that it's near impossible to make a fashion misstep.
I am loving the move by brands such as Gucci and Balenciaga in bringing us staple transeasonal items throughout recurrent seasons–it's now easier than ever to make a big-ticket purchase with the assurance that it won't quickly become passé.
Embrace your inner wild child, have fun with fashion and dare to take a few risks!
( Above) Make a bold move
Sequin and lamé are on call , so go forth and light up the night. Make waves with a big and bold solo earring–designers are selling them individually. Cut outs are also a sexy new trend, but only for the brave hearted.
(wearing a Michael Lo Sordo dress, a Balenciaga earring from Matches Fashion, Charlotte Tilbury eyeshadow in La Dolce Vita, and Nars lipstick in Schiap)
Embrace boho-chic
Tune into your inner hippy with the help of romantic frills, feathers and pastels–all are trending this season. Pair long dresses with flats or kitten heels as fashion is firmly in favour of the more comfortable spectrum of the shoe department.
(wearing a Romance Was Born dress and feather boa, Hermès clutch and shoes, Karen Walker jewellery, Shu Uemura drawing pencil in Royal Blue and Clinique Chubby Stick Baby Tint in Flowering Freesia)
Opt for a print and a pattern
Patterns and prints are back so have a go at combining clashing styles. Wide legged pants rejoin the fashion fray as firm and comfortable favourites. It also can't hurt to invest in a logo-heavy bag because logomania is here!
(wearing Hermès top, pants and scarf, YSL bag from Farfetch, Affinity earrings and Guerlain Rouge Automatique lipstick in Fleur de Feu)
Florals are a constant
Florals are here to stay and exaggerated shoulders are a hot ticket–accessorise with metallics and throw on your favourite kitten heels.
( wearing Zimmermann dress, Bulgari bag, Reliquia earrings and Balenciaga heels. )
Go big or go home
For the ultimate date-night outfit, choose a backless rose strewn maxi dress then throw on an oversized cardigan and a sparkly low heel, because this season elegance is all about comfort.
(Gucci dress, shoes and cardigan, Begum Khan earrings and Dior Double Rouge lipstick in Poison Purple.)
Beauty note: Hourglass Vanish Seamless Finish foundation, Charlotte Tilbury Filmstar Bronze and Glow, Shu Uemura Brow Sword and Gigi Hadid for Maybelline Fiber Mascara worn throughout. 
Photographed by Alice Wesley-Smith
Assisted by Eleni George
This post appeared on Vogue.com.au here!
Navy is one of my favourite colours. Not only is it chic, elegant and less severe than black, but it suits every skintone and hair colour. Best of all, navy comes into fashion so regularly, some would argue that like leopard print , it is a mainstay and therefore never out of fashion. In my eyes, this spells go forth and invest !
This season, in keeping with the 70s theme, there are ways to wear navy that will keep it current and on trend. Ofcourse, navy always looks great with white or black but have you tried it with tan, orange or camel ?
Above :Pop your navy with some 70s orange hued shearling, round sunglasses and gold for an instant seasonal update ( Zimmermann jumpsuit, Coach jacket, Sunday Somewhere sunglasses, Tiffany T bracelet, Cartier bracelet
Try navy in a bell sleaved jumpsuit with some tan accessories ( Zimmermann jumpsuit, A-esque bag, Topshop platforms)
Jump on the bell sleeved and fluted skirt bandwagon – it's all the rage this season ( Ellery top, Sportsmax skirt, Aquazurra sandals from Net-a-porter )
Keeping it simple : turtlenecks and maxi skirts are a match made in fashion heaven ( Zimermann turtleneck, Michael Lo Sordo skirt, Mode collective sandals
View the rest of the story on vogue.com.au here!
Photographed by Alice Wesley Smith
If I were to judge the upcoming MBFWA 2015 solely based on the samples pulled for this story , the keyword of the week would be volume. As in slightly impractical, wonderfully dramatic and so much fun to shoot! The all seeing wizard I am not, but I know I will be proven both correct and incorrect numerous times over the week -Australian fashion is always about providing a number of conflicting trends– from whimsical and dreamy to utalitarian, well cut , feminine, practical, beachy or vintage inspired ; we are blessed to have such a talented and varied bunch of designers in this country.
I have to admit, as soon as I had an idea for this story, I was seeing a remote location – somewhere idylic and breathtakingly beautiful where I could juxtapose all the volume with sweeping vistas and nonpulsed kangaroo locals. Not only is it incredibly exciting seeing previously unseen fashion and taking it for a spin, but also quite scary and nerve wrecking taking original samples out of Syndey a week before fashion week! Thankfully we were blessed with a gorgeous set – an original , renovated 1800s homestead with fields and kangaroos on the grounds of the stunning Emirates Wolgan Valley One & Only luxury resort. Mountain paradise – meet fashion heaven!
(above) AJE : Calling spring! Intricate beading and structured shape of this bustier is vying for attention with the homestead's white flowers (shhhh, Aje's new denim pieces also looked amazing)

MATICEVSKI Resident marsupials meet Maticevski's dreamy polka dot confection
TOME  They may be intended for a more urban environment with their cool detailing and oversized shilouette, but these Tome clothes are also high in chill cred

ALICE MCCALL Mesh pleating and feminine shapes take on country simplicity

ROMANCE WAS BORN  The road is long and there are mountains in our way, but flared overalls will make sure we climb a step every day –and not just because Joe Cocker says so.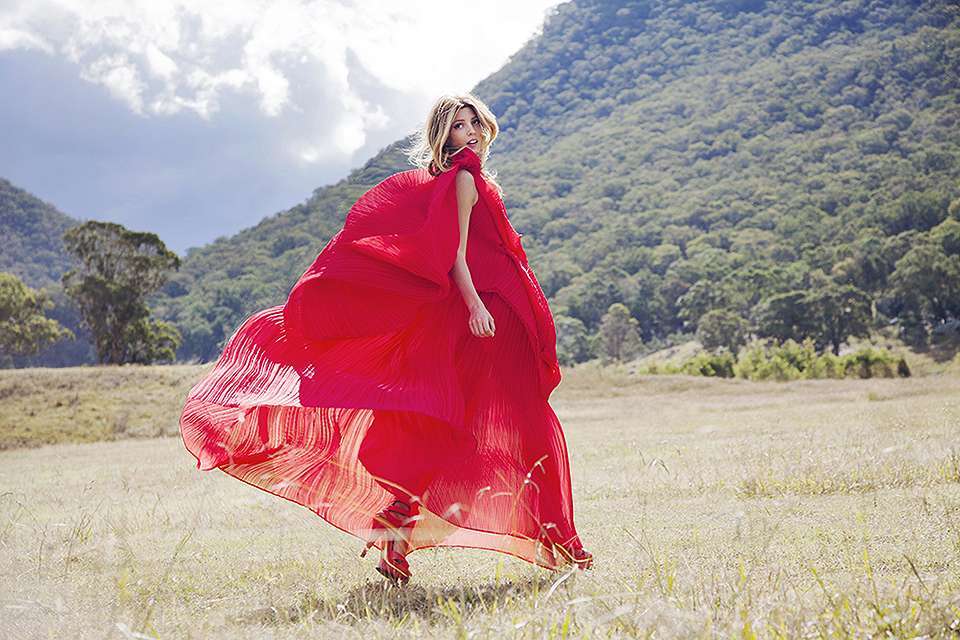 MICHAEL LO SORDO: Pleats please! This modular skirt and top combo had numerous ways of wearing it and they were all incredible.Red pleats & wind = heaven!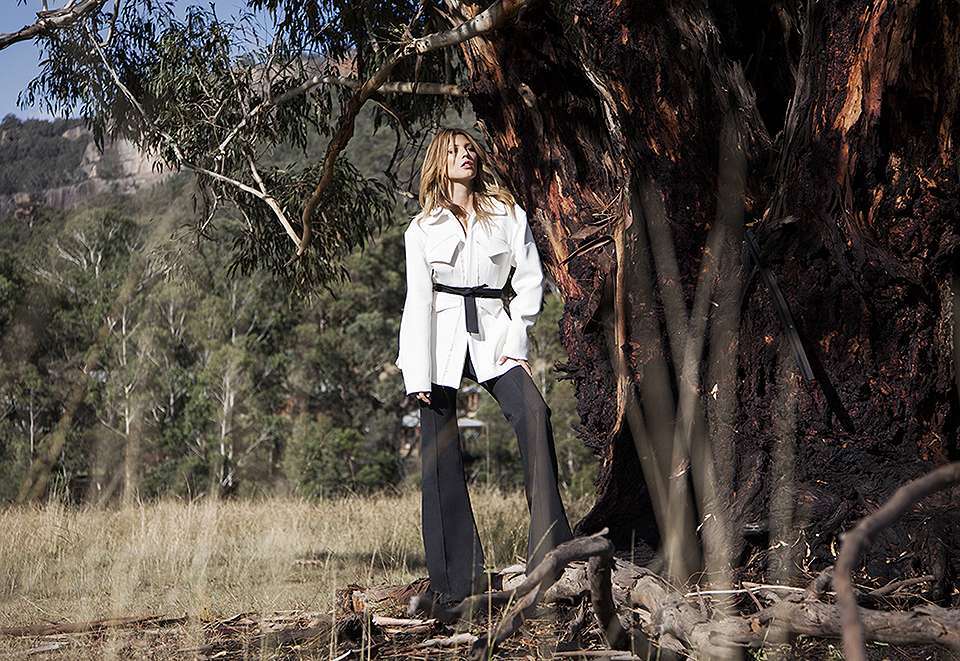 ELLERY: Ellery continues her fashion code legacy with sumptious fabrics and exaggerated lines
See the full story on Vogue.com.au here!
Photographed by Alice Wesley-Smith
With thanks to the Emirates One&Only Wolgan Valley resort
Our designers on their inspirations and favourite Paris haunts
During Fashion Week, Paris is a whirlwind of activity – not only is it an arguable epicentre of the world's most eagerly awaited fashion shows but numerous buyers flock to Paris for re-sees of collections that occurred elsewhere in the world. This year, I enlisted my dear friend Lindy Klim to help me find out what Australian designers love most about the city of love. We used the opportunity to visit their Parisian showrooms and choose our favourite pieces for a whirlwind shoot whilst picking their brains on their beautiful collections…
(above)Dion Lee
Tell me a little bit about the inspiration behind the collection, which fabrics did you use and why?
With this collection I wanted to explore evening wear silhouettes, that felt grounded and relatable.The silhouettes were created through slashing into the fabric at different points and alloying the fabric to collapse around the body.
We have worked with silk satin, triple viscose, leather and mohair; a mixture of contrasting, luxurious textures.
What do you love about Paris?
I love the sense of intimacy.You feel like you are in a small town, on a large scale.
Favourite spot in Paris?
Comptoir De L'Image on de Sevigne;An incredible archive of photography monoliths and rare design books.
Tell me a little bit about the inspiration behind the collection, which fabrics did you use and why?
Desert landscapes were a major notion in this seasons collection influencing the white chalky hues and burnt yellows through to the Raffia textures and finer pleat details. I wanted to take a skewed approach on the Classics- the essentials that every woman needs in her wardrobe.
What do you love about Paris?
All the doors and architecture
Favourite spot in Paris?
Brezih Cafe would have to be my favourite café
Tell me a little bit about the inspiration behind the collection, which fabrics di you use and why?
This season we chose two female artists: Belgian dancer Ann Terese Der Keersmaker and American Designer Donna Karan .They both rose to prominence in the early 80s and their aesthetic involved feminising and sensualising traditionally masculine elements . We took on their love of jersey and leotards -from Ann we took her geometry and from Donna the business banker cotton shirring stripes, bias cut satin dresses, and love for animal print. Then we took animal print in different directions by distorting it and elevating it in printed tissue silk lame, embroidered organza and wool blend jacquard
What do you love about Paris?
The food, the museums, the Bon marche!
Favourite spot in Paris?
It's not so secret but my favorite place is the Brancusi Atelier just outside the Centre Pompidou.
Tell me a little bit about the inspiration behind the collection, which fabrics did you use and why?
My inspiration for Spring Summer would have to be the creative gathering of models, photographers and fashion designers in early '70s Paris mixed with a hint of romance. One thing I've always loved on a woman is a sexy dress that makes her not only feel beautiful but also empowered. The collection has a hint of softness with movement of the sheer pleats – chiffons in black, white and red with an undertone of relaxed and effortless dressing.
What do you love about Paris?
There is a certain buzz that hits Paris during Fashion Week. You can feel the spark all around from the Eiffel Tower to the Sacré-Cœur. It's hard not be inspired on a daily basis - whether I'm in the car or walking the streets – you never know what might see and grab your attention.
Favourite spot in Paris?
Every time I go to Paris the first thing I do is attempt to make a reservation at Breizh Cáfe in the Marais which is impossible at times because they are booked out until like 2018 and even though you must make a reservation over the phone they never pick up. But without a doubt the best crepes you will EVER have.
Tell me a little bit about the inspiration behind the collection,which fabrics did you use and why?
It started out purely about the fabrics. I noticed they all have a papery feel- everything was a bit tone on tone and shade against shade. So then I worked on silhouettes and shapes to exaggerate that flinging of supple crispness. I wanted it to feel clean but the detail in the garment to be really structured. So the whole thing felt a little constrained and relaxed at the same time.
What do you love about Paris?
Whats not to love! The pastry, the language, the people, the city. It really feels like my second home. Since living there over ten years ago just being able to go down any street and still discover something amazing is exciting.
Favourite spot in Paris?
Hmmmm. I love the little gardens across the city.. its so nice to be able to sit for five minutes outdoors surrounded by beautiful buildings, watching kids play and perfectly manicured flowers blooming.
Tell me a little bit about the collection, which fabrics did you use and why?
Artist Egon Schiele's expressionistic painting kicked off inspiration for the collection, and is the muse you can thank for the voluminous, twisted, sharp, soft and asymmetrical shapes which were strong throughout the showcase. Think flared pants which are more office-chic than 70s flower child and frilled criss-cross draping on layered shirting, both exuding a certain sophisticated and clean-cut femininity. Fabrics: When designing I tend to choose my fabrics first.
I feel like they really set the mood for the collection. I love to source unique textiles from Switzerland, France and Italy and there is never any substitute for quality.
What do you love about Paris?
I love the culture and history that comes with Paris. The city has such a rich history with so many stories, I really feel that when I walk the streets there.

Favourite spot in Paris?
I love sitting on the grass in the garden at Place des Vosges. Watching the children play in the fountain's water is one of my favourite things to do on the weekend.The fountains are the closest things to being at the beach for Parisians so and as an Australian it is so fascinating to watch.
Ellery photographed by Jake Terrey
All others photographed by Claire Price