Pip Edwards and I have been friends for 20 years, way back when we had terrible hairstyles, wore questionable clothes and did a lot of dancing on the weekends.
We both had kids before any of our friends and then navigated heartbreak, single motherhood and career life in parallel timing, so these days when life gives both of us a snippet of free time at the same time, we like to live it all the way up.
Pip is a powerhouse at the amazing sportswear brand P.E nation, so catching her is near impossible. But, it just happened to be that we were both in Los Angeles at the same time so we drove into the desert, Thelma & Louise-style, to one of my favourite hotels in the world: the Parker Palm Springs.
This iconic accommodation is an oasis in the desert teeming with hummingbirds in beautiful lush grounds, with mid-century styling, hip restaurants and cool art. I managed to persuade Pip to take part in this trend-based story. And, oh boy did we have some fun along the way!
Scroll on to see five summer trends showcased in the iconic desert surrounds of Palm Springs.
Above: Tanja wears Double Rainbouu dress, Reliquia scrunchie and star earrings, Le Specs sunglasses; Pip wears Balenciaga sunglasses and Versace swimsuit.
Excess all areas
This summer is all about bringing the excess of the '80s and early '90s back. Think: bright colours, over-the-top styling and gold baby, gold!
Above: Pip wears Double Rainbouu shirt, Versace swimsuit, Nomadic State of Mind sandals, Jordan Askill necklace, Sarah & Sebastian necklace, Balenciaga sunglasses.
Strolling through Joshua Tree National Park like…

'90s minimalism is also having a revival. The normcore polar opposite to excess, this trend highlights clean lines and simple styling, think:
Carolyn Bessette-Kennedy
. Bermuda shorts are a must.
Above: Pip wears Balenciaga sunglasses and thongs, Dion Lee top and shorts; Tanja wears Dion Lee top and skirt, Dior sunglasses, vintage shoes.
Jungle fever
You can't put a foot wrong if you wear animal print this season, so why not make it a full look.
Above: Pip wears a vintage hat, Zimmermann bikini, SWF skirt, Chanel sandals; Tanja wears Reliquia headband, Jimmy Choo sunglasses, Zimmermann playsuit, vintage heels.
Bird of paradise
Don't hold back on wild feathers and vintage styling à la the '60s and '70s, this season is all about fun.
Above: Tanja wears Alice McCall playsuit, vintage heels.
Dancing queens
Bring the swish of the '80s and the nightclub scene back with sequins.
Above: Pip wears Dior sunglasses, Alice McCall dress, Chanel sandals; Tanja wears Moschino sunglasses, Rachel Gilbert dress, YSL heels.
This story originally appeared on vogue.com.au
here 
With thanks to The Parker Palm Springs xx
Sometimes in life, it's fun to be a little bit extra but with the holidays fast approaching, I'm taking it up several notches. Welcome to my old kitchen where this video was shot amidst amazing gowns, accessories and food in one whirlwind afternoon. I've been known to have dress up dinner parties and pretend my life is perfect in every way when guests arrive (don't we all?) , but this OTT version also features some incredible diamonds, feathers, sequins and a touch of dramatic flourish. As this was a passion project it took a while to finalise and I want to say a big thank you to Rachel Gilbert who made the first gown, Aje; who made the second, Chaumet and Bulgari for their incredible jewellery and accessories, Stuart Weitzman for the pink shoes, Commune Bondi for the plates, In Bed Store for their linen napkins, and Native Drops for their incredible organic wine.
Couture it may nearly be but let's not forget about the cooking - this is a recipe video after all! It's a little challenging as it requires some multitasking - it's best to prep everything before the heat is on, because the end of the recipe happens fast!
( makes 2 large servings )
INGREDIENTS:
-4 scampi, halved (ask your fishmonger to do it for you-these babies are hard to slice!)
Reserve the heads for the sauce
- Linguine pasta
- baby zucchini, sliced
-green olives sliced or capers
- 2 punnets of cherry tomato sliced in half
- white wine, about a small glass
- a few sprigs of thyme
-parsley
-chilli
-garlic, half a head, finely chopped
-butter
- olive oil
-salt and pepper
METHOD
- Place the scampi heads into a pan with a good glug of oil. Fry on medium heat for 5 minutes, then add white wine, thyme sprigs, salt and pepper, chilli and garlic. Keep cooking on low heat for another 10 minutes. Remove the heads, add the cherry tomato, capers or olives and once the tomato soften, add the sliced zucchini. Keep cooking on low and add more white wine if it starts getting dry (just don't forget to cook the alcohol off before serving!)
-Boil water and add salt to it. Cook the pasta until al dente (check the packet for exact instructions)
-In the meantime, soften the butter and mix in chopped up garlic, thyme,parsley and salt and pepper. Pre-heat the grill, butter the scampi well and place on the hot plate. Scampi are very delicate and don't need a lot of cooking time. Depending on the size it should only take 1-3 minutes to cook through a half shell.
Mix the pasta through the sauce, serve on a plate with 4 half shells and some chopped up parsley. Bulgari jewels optional! ; )
Video shot by Aleksei Vanamois
Walking past opal digging equipment in a Zimmermann dress, Hermes hat, Aquazurra sandals, Jordan Askill heart and diamond pave ring, Ole Lynggaard pearl and diamond ring, Cartier Love bracelet worn throughout.
As the days get longer and warmer I start shedding layers like an overexcited snake after hibernation. Summer is my favourite time of the year because it's so easy; no need to think about umbrellas, overcoats or waterproof boots – all I need is a few dresses, hats, sunglasses and sandals and I'm ready for any occasion.
I travelled to Coober Pedy in outback Australia to shoot this story and escape the still chilly shores of Sydney. What a treat to shoot somewhere so remote and beautiful. I was struck by the vast horizons, Aboriginal sacred land and gorgeous sunsets whilst I donned some of the stand out trends of 2017.
Summer calls for colour
Above : Welcome summer in exuberant shades of yellows; my bet is on sunflower, ochre, buttercup and gold. A wide brimmed hat and pretty jewellery is a must.
A bumbag is a bag for any occasion
This season, the practical and long-maligned accessory is having its time in the sun after reaching ironic cool status. Wear with anything from jeans to gowns for that on trend je ne sais qui.
Exploring the mysterious Moon Plains in a Rachel Gilbert gown, Miu Miu bag, Prada earrings and necklace worn backward.
Invest in simple staples
My perfect summer day look is always a mixture of linen in neutrals and browns and amazing accessories.

Hanging out with emus by the Dog Fence in a Nice Martin playsuit, Hermès bag and Chaine d'Ancre punk bracelet, Dior sunglasses, Akubra hat from Strand Hatters and Seed slip ons.
Accessorise wisely
If you must do heels in summer, this season choose from a variety of kitten heels and low block-heeled mules. A structured white bag goes with a wide variety of summer looks, whilst shirting works day or night.
Bathing in the outback sunset while wearing a Prada bag, dress and heels.
This story originally appeared on vogue.com.au here!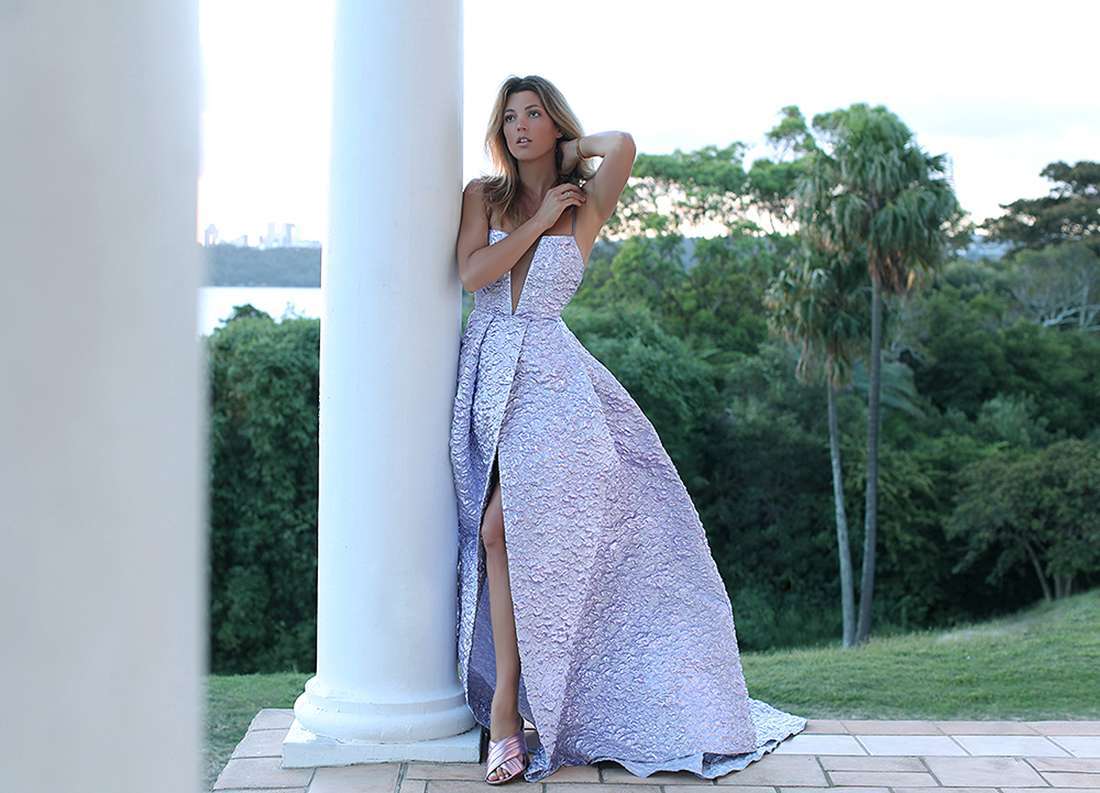 It's all about the impact
From Gucci to Valentino, the runways seem to be awash with a new message: minimalism is dead, long live maximalism! Sure, there are times when we need a little normcore in our lives, but forever? How boring. I'm a jeans and t-shirt kind of girl most days but the days I do get to go out and dress up, I relish with the enthusiasm of an overexcited toddler in a candy store.Sometimes, it is about making the effort and feeling like a star and there is no better way to do that but by adding a bit of drama.For this story I reviewed Max Factor's False Lash Epic Brush mascara and a few high impact dresses that are sure to turn up the glamour dial this autumn. This is not the first Max Factor mascara I have reviewed, but it certainly has the highest impact.

Above : Alex Perry dress, Maria Tash earring from Net-a-Porter
One layer was bold and voluminous; two coats made my eyes look like I was wearing false lashes, due to the brush's wide arched shape. With a mix of conical and flat pointing bristles and a zoom action tip that captures and magnifies every detail of every lash for an epic lash fan – no wonder it was the official mascara of the Victoria's Secret Fashion Show.
Global Max Factor Creative Director is none other than the legendary Pat McGrath who uses it for high impact on shoots and shows – this mascara is certainly noticeable on film, unlike many others. Here is my personal step-by-step on adding a little impact:
Use the zoom action tip to bring more va-va-voom to the edges of eyes by building extreme lift and volume in just 2 coats.

Rachel Gilbert dress, Rochas heels
Bell sleeves and pretty embroidered flowers add drama in the diffused afternoon glow.

Zimmermann dress, Maria Tash hoop earring from Net-a-Porter, Ole Lynggaard Copenhagen pearl and diamond ring and earrings
My rule tends to be to either accentuate eyes or lips, keeping the overall look lady like. Add gorgeous jewels as an added accent.
See the rest of the story on Vogue.com.au here!
photographed by Alice Wesley-Smith
"There is only one success in life - to be able to spend your life in your own way."
It's funny; this sentence perfectly encapsulates the fact that our lives are so much a direct part of our creative direction; thoughts, feelings, conditioning, expectations and the search of what we perceive as love, happiness and prosperity. To ask ourselves what we truly want out of our journey requires a readiness to strip all the onion layers and embrace a zen like bird's eye view over the whole, not just the momentarily needs and wants of today. Sometimes these snippets of clarity come to us easily and effortlessly, at other times, akin to diamonds, they come through crushing pressure and pain that forces us to re-evaluate the motives that drive us.
When I look back on my journey on this Earth, it becomes evident that it has been a steady stream of peaks and valleys that has perpetuated my personal growth. As in most people's lives, crushing defeat and sadnesses are superimposed with moments of pure joy and hope, both ultimately driving us to question ourselves and the world around us for clues to our personal happiness. It is not only the alchemy and transmutation of negatives or the allowance and acceptance of positives that are each of our most difficult quests but also our willingness to wrangle the reins and establish ourselves as the chosen architects of our reality by becoming aware of our thoughts and actions.
I always feel lucky to meet people who enjoy the same things as I do and have a similar aesthetic ( probably because I love talking to people about all the shades of our shared perceptions ) but I feel extra blessed to know humans with whom I click so much that even spending exorbitant amounts of time together goes by in a hilarious flash. Sometimes , an extra bonus is that these are individuals that I can create with and in doing so, weave a shared vision into the fabric of reality. My best friend, who also happens to be a photographer and videographer ( and serial M.E.L collaborator) Alice Wesley-Smith is one of those people. During fashion shoots at special locations we both felt that pictures can sometimes be too one dimensional, not allowing for the full ambiance of the experience before us and so the idea for this video was born; we wanted to conceive not only how amazing fashion is by showing the swoosh of a beautiful dress but also the magic mood of perfect light falling on us and beauty of nature before us. After all fashion and travel are complimentary bedfellows and producing this idea would selfishly allow us to invest into a shared need to travel and document the things we love.
For our first video, we chose the unforgettable Australiana of the One & Only Wolgan Valley resort; because where else can you feel dwarfed by orange cliffs and fragrant eucalyptus whilst watching kangaroos play fight in pure luxury? This place is one I hold a soft spot for because it feels like a world away from anywhere; the quiet and the simple opulence are incredibly relaxing while the eco credentials are impressive to say the least. This video encapsulates my perfect trip to Wolgan Valley, complete with horse riding, remote picnicking and swimming in the  private villa pool at dusk whilst wearing some gorgeous clothes tailored to all occasions. I hope you enjoy our labour of love! x

In order of appearance:
Picnic: Zimmermann top, Rachel Gilbert skirt, Akubra hat, Tiffany & Co smile necklace
Hotel room: Camilla & Marc leather tights, vintage jacket, Massimo Dutti shirt, Gucci slippers, Cartier Watch, Mania Mania rings
Horse riding : Levis jeans, Gucci belt, Ryder t-shirt, Coach coat, Akubra hat, Cartier watch, RM Williams boots
Sunset : Lover dress, RM Williams x Dion Lee boots, Akubra hat
Pool: Zimmermann full cover swimsuit