(Natalija silk top, Silk Slip eyemask and pillowcase )
Remember when you were a kid and people in their twenties looked so old? I laugh at this naivety now because the older I get the more I understand that aging is an inevitable bitch. It starts it's creeping early, in fact, studies prove that the skin around the eye shows the first signs of aging somewhere in our twenties ,14 years faster than the rest of the face.The saying goes that the eyes are windows to a person's soul, the feature we look to for first impressions, sadly, even to judge a person's age and attractiveness.
Most women rely on make up to make their eyes more appealing, all the while disregarding the care of the delicate skin underneath and the deep moisturising this area so desperately needs. For this story, I wanted to draw your attention to Olay's new range of products specifically formulated for the eyes only, along with sharing some of my own anti-aging tips of the trade. Let's face it, I have amassed a few in my twenty, ahem!- ok, ok thirty something years.
-   When it comes to sleep, the saying goes that we need at least 7-8 hours sleep per night for   optimum cell renewal and it is true that when I get this, I wake up looking like a 12 year old. Ok, that's not quite true, but I sure do feel like it! To help me gain optimum sleep time and prevent creasing and subsequent wrinkling of my face I use a pure silk eyemask and pillowcase- added bonus, no split ends
( Jac & Jack cashmere sweater, Christopher Esber linen pants )
Meditation, yoga, and long walks in nature work like a balm on my soul and now science has proven exactly why : people who've meditated daily for at least four years had longer telometres - the protective caps on the ends of chromosomes- than people that did not meditate. Since short telometres are believed to be markers of accelerated aging, this is an anti aging tip with multiple benefits. Just ask Richard Gere


read more on vogue.com!
photographed by Alice Wesley-Smith
Superfoods have gained a name for themselves in the last few years as being the ultimate health elixir, instrumental not only in giving us vibrant energy but providing us with a power house of nutrients we would struggle to accumulate in our daily western diet otherwise. Jumping on to the superfood bandwagon was something that came easily to me, after all, I love a shortcut as much as the next health cheat , my philosophy being that surely if I ate some goji berries and spirulina I could have a peperoni pizza for dinner guilt free. The real aha moment however came when a friend suggested that I should approach skincare with as much clean enthusiasm; after all, the skin is our largest breathing organ and you wouldn't want to inhale all those chemicals in now would you? This sentence alone was enough to send me on a quest to incorporate more natural skincare into my life. When Vogue asked me to review Body Shop's new Superfood Masks , I jumped at the opportunity to not only bask in beautiful ingredients but also pamper myself in the name of journalism. It's a tough gig but someone has to do it!  I sacrificed myself by taking a day off to luxuriate around in my personal spa, aka, my apartment, whilst wearing some delicious new season loungewear.
The ingredients in Body Shop's new masks are truly incredible. Inspired by traditional beauty remedies from around the world, each of these pots of goodness holds incredible natural ingredients that are either 100% vegetarian or vegan. Think Bamboo charcoal from the Himalayan foothills known to draw out impurities and excess oils from the skin, green tea leaves from Japan, rich in antioxidants and catechins to effectively exfoliate or Community Trade organic tea tree oil from Kenya known to keep skin looking clearer.
Applying the masks is half the fun but make sure you avoid the sensitive eye area ( wearing linen pyjama's by In Bed, Lonely Label bra )
The Himalayan face mask felt funny to apply with it's chunks of charcoal and muddy texture that dried quickly but it surely delivered- my skin felt noticeably more refined and unclogged afterward. ( Tiffany Smile necklace)
I loved how beautifully packaged and labelled these masks are- the boutique pots fitted right in with my bathroom decor
read the full story on vogue.com.au 
photographed by Ana Suntay Tanedo
Not only do women on occasion want to get dressed up and be fabulous, but the solidity of precious jewels in a shifting stock market represents true value in the face of uncertain, unproven investments. A diamond lasts forever and represents a true mark of eternity in an increasingly throw away world in which items are replaced with ever increasing speed. There is something to be said about quality, craftsmanship and lasting beauty, and this is why buying beautiful jewellery is such a wonderful expression of honouring a special moment in time. Marking an occasion with an item that will be cherished and passed down generations transforms the item into family heritage, a tradition, a memory that never dies.
"Once upon a time" may be a sentence once used to begin stories of princesses in gowns wearing precious jewels, yet women today still relish feeling like princesses, even if it is in a decidedly more modern rendition of an exciting break from every day jeans and knits.
For my second collaboration with Hardy Brothers, I wanted to utilize the gowns I am currently day dreaming about and accessorize them with exclusive, unique and utterly luxurious pieces that the company is so famous for a 21st century take on going to the ball.

Above: HARDY BROTHERS 18CT WHITE & YELLOW GOLD CUSHION CUT YELLOW DIAMOND HALO RING, HARDY BROTHERS PLATINUM & 18CT YELLOW GOLD PEAR CUT YELLOW DIAMOND EARRINGS, HARDY BROTHERS 18CT WHITE & YELLOW GOLD PEAR CUT YELLOW DIAMOND RING, CHRISTIAN LOUBOUTIN HEELS AND BAG, CUTLER AND GROSS SUNGLASSES.
Yellow is the stand out colour of the upcoming season, so go all out on the glamour with an asymetrical dress in vibrant lemon that comes replete with romantic flowing sleeves. Pair it back with tough accessories to add a modern edge, then up the shine with a smattering of gorgeous yellow diamonds

WEARING HARDY BROTHERS PLATINUM DIAMOND NECKLET AND HARDY BROTHERS PLATINUM EMERALD CUT DIAMOND HALO RING

Lounging by the pool is all the better when it's done in off the shoulder, sequined perfection. Exposing the decolletage is just asking for timeless pieces that won't ever go out of style ( Rachel Gilbert dress )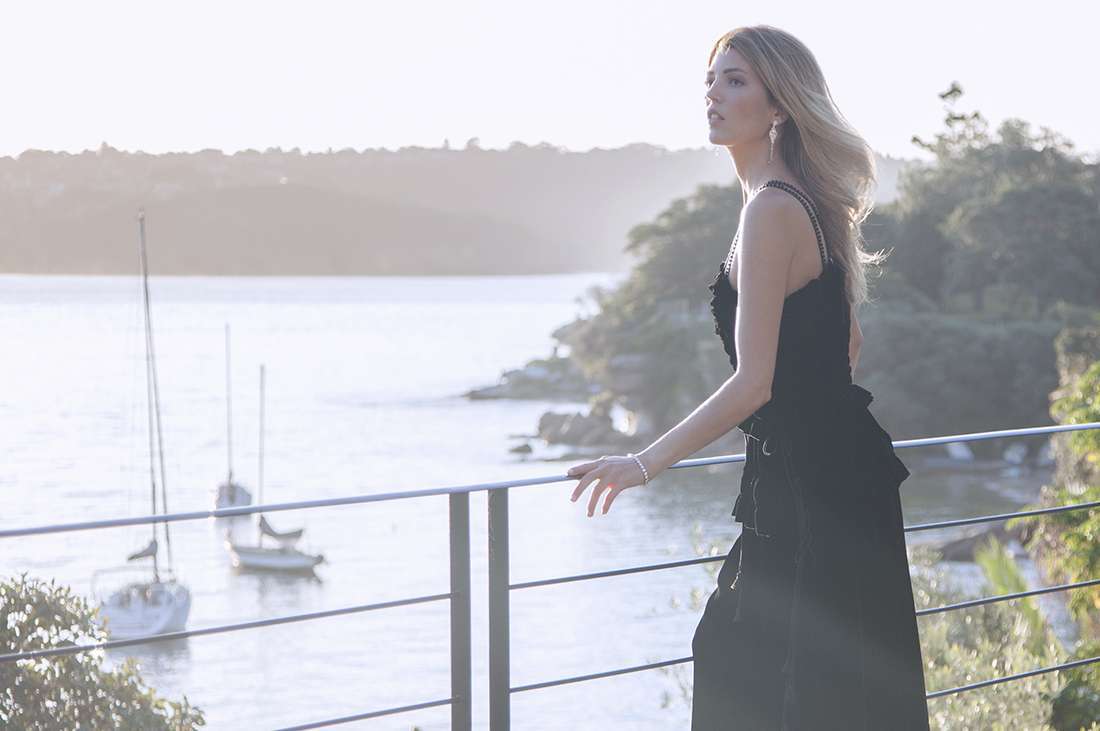 WEARING HARDY BROTHERS 18CT WHITE & ROSE GOLD PINK DIAMOND DROP EARRINGS, HARDY BROTHERS 18CT WHITE GOLD DIAMOND TENNIS BRACELET AND CHLOE DRESS FROM PARLOUR X.
Velvet is the fabric to buy now, cherish forever and a perfect juxtaposition to icy diamonds. Invest in stunning pieces that are not only delicate and unique but your children will fall in love with and fight over one day.
Photographed by Alice Wesley-Smith
With thanks to Justin Hemmes and Kate Fowler for the stunning location The Hermitage.
For nearly 200 years, Longines has been a company founded on the principles of elegance and tradition. Celebrated for it's pilot's watches, clean lines and immaculate Swiss precision, Longines is a company that has historically consistently innovated new and exciting watch making technologies, propelling the whole timepiece industry forward in turn . Worn by the likes of Amelia Earhart, the watches were simultaneously used by explorers and fashion forward individuals as well as the world's vagabonds and sporting stars. Naturally, when I got an invite to a special lunch at the Longine's Stakes Day I couldn't wait for the experience!
Above: Catching up withSpyStyle blogger Natalie Cantell and actress Isabelle Cornish to discuss our takes on race-day fashion
The luncheon was adorned with beautiful white roses & hydrangeas, the perfect backdrop to any photo
I had the pleasure of meeting the beautiful actress Aishwarya Rai (the Longines Global ambassador), before she rushed off to present the brand's prize for elegance on the field

let's get straight to the desert! And why not when it looks like a piece of art? (I accessorised my Christopher Esber outfit with the new Dolce Vita timepiece, Furla clutch and Hatmaker headpiece)
See the full diary of my day at the Vogue Australia site here!
The cool breath of blue has been stalking catwalks this season and it comes baring fun names such as blue hydrangea, serenity, limpet shell and snorkel, whilst flirting around on pretty lace, crepe and tech savvy mesh.
Who doesn't want to be wrapped in periwinkle while they dance away this Indian Summer or light up the night by draping themselves in moonstone blue? Homegrown designers have come up with some gorgeous options for day and night that will have you feeling fresh, crisp and modern in a flash. These babies can go turning my brown eyes blue any day.
Above: Take this gorgeous creation from day to night and it will be equally as happy. (silk top and skirt both by Lover, Coach bag and Christian Louboutin heels)

More pale lilac than blue, this baby just wants to party - and who can blame it? It's made for the dance floor (Toni Maticevski dress and Stuart Weitzman sandals)

How to feel relaxed and elegant at the same time? Choose serenity now in this beautiful pleated number (Tome dress, Karen Walker clutch and Stuart Weitzman sandals)

Take this baby blue mini and comfortable gladiators out on the weekend and watch them work their magic ( Jet Set Diaries dress and custom made K Jacques sandals)
View the full story and more looks on the vogue.com.au page here!
Photographed by Alice Wesley-Smith
Suits may have been invented for men but women have appropriated the codes since the beginning of the last century – Coco Chanel made her own version in 1914, Marlene Dietrich made the tuxedo famous, Pachucas women wore zoot suits as an expression of their strenght and feminism while Katherine Hepburn and Kim Novak pushed it to the forefront of the feminine psyche. Yves Saint Laurent made a formal tuxedo "Le Smoking" look more appealing than a dress, hit show "Dynasty" repeatedly conveyed women's power with skirt suits and Grace Jones and Madonna made a tuxedo look not only sexy but rock n'roll iconic.

These days a well cut suit is an essential in a women's wardrobe and represents an investment well spent: not only does it impart a sharp impact when worn together but presents multiple usages when worn as separates. This season, play with new codes and accessories for an updated take on the mainstay staple.
Above : Exaggerate proportions for maximum impact – oversized pants are all the rage this season, romantic ruffles add drama while silver detailing offsets grey tones ( Ellery suit, Swarovski necklace )
Choose an oversized jacket paired with ankle grazing pants for a look that's both 90s elegance and punk rock cool, then add accessories that offset the look while enhancing it's feminine and masculine qualities.A pair of beautiful loafers will not only match your suit but come in very handy for all those floral dresses in the upcoming season ( Toni Maticevski suit, Stella Mccartney lace bra from Net-a-Porter, Lack of Colours hat , Gucci loafers )
This season, eccentricities reign supreme but a floral strewn suit in the right designer's hands becomes a well cut forever piece. Bonus points on breathable fabric that cools the body in the sun and ankle zips that make it wearable in 2 ways. ( Max Mara suit, Giuseppe Zanotti pumps )
Pair it back with a beautiful silk tank top and simple jewelry ( Lover top, Cartier Love bracelet, Thomas Saboo Love bridge bracelet )
Photographed by Alice Wesley- Smith
See the full story up on vogue.com.au here !
When it comes to shine, nobody did it better than Ziggy Stardust, David Bowie's concocted 70s alter ego who pranced around the stage in his otherworldly glam rock outfits, dancing straight into the world's most cherished fashion memories. Blame it on David's untimely death but his legacy lives on this season because lurex is once again king of the OS catwalks with designers such as Balenciaga, Saint Laurent, Pucci, Jil Sander, Missoni and many others reviving the glittery fabric in all it's fabulous incarnations.
Closer to home, designers have been utilising high tech fabrics and intricate metallic weaving into eye popping incarnations of the trend; across footloose and fancy free maxis, trophy evening wear or classic tailoring, the innovative ways of incorporating gleaming concoctions are as beautiful as they are impressive. Here is the run down of my favourite looks to buy now and covet forever...
Above: Eternally classic combo of elegant skirt and long sleeve top gets an update with ultra fine light reflecting sequins that make one feel like the Moon incarnate (Ellery top & skirt)

Mesh grows up:  this top is in fact made of super fine shimmering beading which makes you feel more princess than punk ( Rachel Gilbert top, bustier and pants)
 Whilst loose and covering everything, this dress possesses high octane shimmer that is beguiling and unforgettable. Wear it with tough boots for 90s grunge or heels for a take on the 70s with a touch of Game of Thrones medivialness. ( Zimmermann dress, Gucci heels )

Metallic thread, lace and pretty flickering sequins coexist in a pretty shift that is high on mermaid magic ( Zimmermann dress)
Beauty note: Armani Luminous Silk foundation, Charlotte Tilbury Filmstar Bronze& Glow in Light to Medium, Charlotte Tilbury Beach Stick in Ibiza on top of cheekbones and lips, L'oreal False Lash superstar mascara, By Terry eyebrow liner in brown
Photographed by: Alice Wesley-Smith
Christmas time is always such a whirlwind in houses across Australia with present shopping, last minute deadlines, food preparation and school holidays colliding with long ques, traffic jams and sweltering temperatures. I have just moved into a new apartment and all of my worldly sartorial possesions sit in 48 boxes in my new office, completely filling the room. To say that I look at it and feel overwhelmed is an understatement of the century; so after closing the door and hoping it would go away , I have slowly edged back in and started sorting through this cardboard hill, coming swiftly to a realisation that all I needed now is a clowder of cats and then I could be labeled not only a hoarder but a crazy cat lady as well.
Melancholy is my vice and sentimental attachement to clothes as memories my ultimate downfall. Funnily enough, since I was travelling so much over the last 3 months after selling my house, I had no permanent home, and with all my possesions in storage, I made do with one suitcase of essentials. It was an eye opener into how many things I truly need in my life and it inspired me to really, truly cull through my material possesions. I forgot all about my things and felt free and easy with my simple life …until December came. It was then that I realized I needed clothes for all the ocassions that come with the holiday season and less was definitely not more anymore. On my new wishlist? Beautiful dresses and separates, luxe shoes and immaculate jewellery . Maybe Santa wants to trade me in for some mystery boxes?

White is always in in the summer, but romantic sleeves and cute flippy skirts are on my lust list this year ( Ellery top and skirt ) Above:Metallic mules are the right mix between summer ease and tongue-in-cheek Barbie doll.
(Gucci mules)

Who could be angry with a Santa that brings forever jewellery? (Tiffany&co bangle and necklace )

This little black dress in neoprene is my wish list go-to. Not only is it an interesting take on sport luxe but the oversized proportions will be a welcome detail when asking for second helpings.(Balenciaga dress from MyTheresa and Camilla and Marc shoes).



Who says getting nailed is a bad thing? These gorgeous accessories prove otherwise.
(Cartier bracelets and ring).

When meeting the in-laws,please observe the less skin is better rule. This nude toned lace dress with its unlined sleeves is the perfect mixture between maintaining chic and staying cool in summer.(Burberry dress and Valentino heels)

See more on vogue.com.au here!
Red is my mother's favourite colour so by proxy I've had a lot of experience wearing the hue head to toe like it's no thang. It wasn't until later on in my teens, when I learnt my horoscope sign was Aries; a fiery sign whose power colour is scarlet, that I consciously decided I needed to get back to my power hue roots.
Red became associated less with awkward crimson cord overalls and more with Jessica Rabbit's ruby slinkiness, the classic beauty of Valentino, power of a Ferrari, Louboutin soles and that dress Julia Roberts wore in Pretty Woman. Whether traffic light, cherry, scarlet or tomato this season's hue is coming in red hot across the runways of Dior, Hermes, Marni and Fendi among others. Make like a lady in red in 6 erubescent looks
Above: Taking on the waves while embodying Bond Girl chic is easy with this showstopping spring suit ( Duskii wetsuit, Dita sunglasses, Sarah and Sebastian necklace and ring, Cartier Love bracelet worn throughout)
2. Red leather isn't just for oversized 80s jackets - this perforated wrap dress is as modern as it is cool in summer ( Kacey Devlin dress, Lucy Folk bag, Christian Louboutin shoes )
3. Mix frills with structure for timeless elegance ( Gucci dress, Balmain jacket, Marcus Lupfer bag all from Net-a-Porter )
4. Catch the summer breeze by floating barefoot in a star spangled cerise dress ( Tommy Hillfigher dress )
Read the rest of the story now up on vogue.com.au here!
Photographed by Alice Wesley Smith