Fun ensued when FIB came to my house to raid my closet and talk fashion..Check out the two part interview and witness me ham it up for the cameras and catwalk with my cat ; ). Happy fashion week everyone & thanks to Paul Roberts and the team!



When I go on holidays I don't wear make up 95% of the time. I'd like to say it's because it's good to let the skin breathe ( it is ) but frankly, I just can't be bothered. Holidays should be all about being lazy so when I finally find myself on vacay being leisurely becomes my forte. I struggle to apply sunscreen that is next to me in a bag because stretching my arm out and reaching in for a rummage just seems SO HARD, so in extension putting on make up to make myself pretty just appears insurmountable like attempting to climb mount Everest in heels.
Still, here and there I DO make the effort, mostly because I'm going to a nice restaurant or meeting people so it's polite to hide the fact I turn into a salt encrusted wildebeest when I'm not working.
I have additionally now started condensing my packing because hopping through a lot of different countries with a lot of luggage is a major pain in the behind, one that my boyfriend no longer chooses to indulge me in carrying, so lacking a mule, I have given up on my hefty make up bag and now bring compact yet versatile essentials. All I need is just a few fantastically efficient things to accentuate the glow and bring back a semblance of polish. Who wants to look like they spent 2 hours getting ready post swimming anyway?
Clockwise From Top :
1.Mukti hydrating cleansing lotion and moisturiser: I'm a sucker for natural skincare and this one comes in small travel packages and smells delicious. Starting off clean and soft is always a good start,
2. Charlotte Tilbury lipstick in  Electric Poppy :I put some of this on my finger, than dab it onto my lips. It adds a nice pink bitten lip colour without going overboard but if I'm going out to a bar, I'll add a bit more for drama
3. Clinique Beyond Perfecting powder foundation + concealer : This foundation is easily transportable and provides great coverage. A little goes a long way so I use it around the eyes, nose and chin, like concealer and then leave the rest of the face bare. After all, tan makes my skin glow and I don't want to mask that
4. Clinique Chubby Stick Sculpting Contour Curvy Contour and Highlighter in Super Starlight  : What can I say? Whoever said contouring is dead obviously doesn't know what they're talking about. What should be clarified is that Kim Kardashian contouring is dead ( Why was it ever alive? Who wants to look like a wax doll IRL? ). Cheekbones will always be in fashion but they don't need some crazy amount of layered make up. Just make a light stripe with the contouring stick underneath the cheekbone and intermittedly tops of temples and the jawbone then quickly blend. Apply highlighter to the tops of cheekbones, nose, cupid's bow and chin. Blend. Follow with...
5. Estēe Lauder Genuine Glow: on cheekbones. Blend. The whole contouring and blush applying shouldn't take longer than 3 minutes. This is holiday make up, not TV make up guys. Let that skin shine through. FYI - This product is also great on lips for a natural , pink colour
6. Eyebrows are SO important. I always say; if you have to apply anything, it should be eyebrow pencil instead of mascara. I love Shu Uemura for it's slanted tip and nice brush tip
7. If I'm going out though, I do put mascara on. I layer it on according to how glam I want to look. I love the amazing Growth Booster Mascara Terribly by By Terry
8. Charlotte Tilbury does my favourite eyeshadows. The Legendary Muse compact is natural and sparkly; perfect for highlighting the inside of the eye and drawing attention to the face's glow. I don't like heavy eye make up on holidays so this is perfect
10. A spritz of Frederic Malle's Carlos Benaiim Eau de Magnolia makes me smell like a bloom of magnolias and like magic the wildebeest becomes a real girl! ( perfume from Mecca cosmetica )

Wearing Double Rainbuu T-shirt , From St Xavier bag
( Versace sunglasses from Sunglass Hut, Hermès scarf, Max Mara bra top, Tiffany & Co Smile necklace )
As the summer came to pass, unfairly amidst 6 weeks of rain, I was inclined to shout curses whilst waving a closed fist to the heavens. How dare the powers up there deny us of the best part of the season? All those late march barbeques and languid lazing on the beach gone up in a poof of neverending rain.Then, I started editing pictures for this story and realized the summer was plenty alright, even if it had prematurely ejected itself from my overzealous plans. In collaboration with Sunglass Hut, I spent the past few months wearing amazing sunglasses I had edited from their extensive collection and these babies made every one of my outfits incredible by extension. So without further ado, here is my summer diary…in sunglasses
Above: In December, my boyfriend and I took a trip to India. It had been my dream to visit Kerala since I saw a documentary on the region's food a few years back so he surprised me with the trip (more on India coming soon in a travel post!) We rented out a whole houseboat and sailed the backwaters , all the while eating delicious seafood curries. These Versace sunglasses are my favourite shape; somewhere between a cat eye and wayfarer and are uber versatile with their tortoishell tones
( Prada sunglasses from Sunglass Hut )
After the boat, we spent a few days on Kerala's serene beaches where the fisherman's boats were painted an obviously on trend shade of orange ; ). I'm absolutely in love with the Prada sunglasses I wore in this picture and still mix them up with everything from jeans to LBDs
( Ray Ban sunglasses from Sunglass Hut, Agent Provocateur bikini )
After India we jumped onto a plane to Sri Lanka, where we stayed at the beautiful Anantara hotel surrounded by hectares of coconut plantations. I loved how these Ray Ban sunglasses had reflective lenses...perfect for napping on day beds whilst pretending I'm reading a book
(Miu Miu sunglasses from Sunglass Hut, Rebecca Valance top, Sarina Suriano earrings )
Back to Sydney post holiday and off to a friend's birthday. Loved how these Miu Miu shades added elegance and metallic sheen to my pretty ruffled top
( Dolce and Gabbana sunglasses from Sunglass Hut, Max Mara top, Thomas Sabo necklace, Cartier bracelet )
Taking a break from shooting in possibly the best aviator sunglasses I have seen in a while. With their geometric and exaggerated shape, these honeys cover a multitude of sins whilst making every outfit cool AF.
( Prada sunglasses from Sunglass Hut, Binny dress, vintage earrings )
It's now autumn but the sun is out again so how about pretending the summer is still going? Certainly, looking through pink tinted lenses might help to see the glass as half full - that's why these Prada sunglasses are staking a firm hold in my wardrobe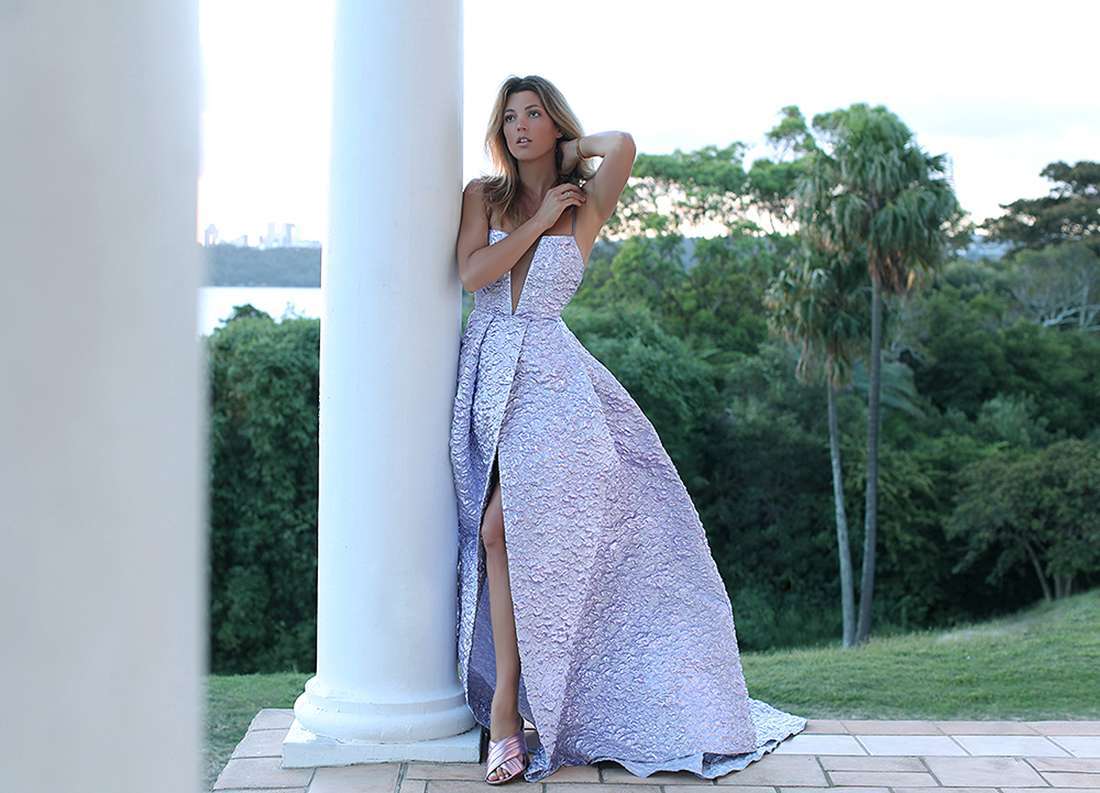 It's all about the impact
From Gucci to Valentino, the runways seem to be awash with a new message: minimalism is dead, long live maximalism! Sure, there are times when we need a little normcore in our lives, but forever? How boring. I'm a jeans and t-shirt kind of girl most days but the days I do get to go out and dress up, I relish with the enthusiasm of an overexcited toddler in a candy store.Sometimes, it is about making the effort and feeling like a star and there is no better way to do that but by adding a bit of drama.For this story I reviewed Max Factor's False Lash Epic Brush mascara and a few high impact dresses that are sure to turn up the glamour dial this autumn. This is not the first Max Factor mascara I have reviewed, but it certainly has the highest impact.

Above : Alex Perry dress, Maria Tash earring from Net-a-Porter
One layer was bold and voluminous; two coats made my eyes look like I was wearing false lashes, due to the brush's wide arched shape. With a mix of conical and flat pointing bristles and a zoom action tip that captures and magnifies every detail of every lash for an epic lash fan – no wonder it was the official mascara of the Victoria's Secret Fashion Show.
Global Max Factor Creative Director is none other than the legendary Pat McGrath who uses it for high impact on shoots and shows – this mascara is certainly noticeable on film, unlike many others. Here is my personal step-by-step on adding a little impact:
Use the zoom action tip to bring more va-va-voom to the edges of eyes by building extreme lift and volume in just 2 coats.

Rachel Gilbert dress, Rochas heels
Bell sleeves and pretty embroidered flowers add drama in the diffused afternoon glow.

Zimmermann dress, Maria Tash hoop earring from Net-a-Porter, Ole Lynggaard Copenhagen pearl and diamond ring and earrings
My rule tends to be to either accentuate eyes or lips, keeping the overall look lady like. Add gorgeous jewels as an added accent.
See the rest of the story on Vogue.com.au here!
photographed by Alice Wesley-Smith
I recently did an interview with Style Inc, an awesome blog that features many women I admire. Check out their blog for some good Friday brain fodder and below for my feature's transcript!
On personal style:
Some days I do not get out of t-shirts and slides and on others I like to satiate all my different personalities' preferences. It's a little bit United States Of Tara in my style department.
On the journey into modelling:
I was shopping for shoes in a New Zealand store when an agent approached me. It all happened quite quickly from there and by the time I was 16, I was travelling and supporting myself.
Advice she would give to her younger self:
Some people will love you and some people will hate you and that's ok. You will meet amazing people and see beautiful things and have experiences that you'll cherish forever. Relax and trust the Universe has got your back.
Taking care of herself:
I cannot lay still to get a massage or facial - it's a struggle to get me chained down to anything for too long. I like foot massages though (because I can still do stuff on my phone), pedicures, pilates, yoga, laps in the Icebergs pool, walks on Bondi Beach and cooking food I've just bought from the markets. These things feel like self care to me. I am pretty into organic food and superfood supplements. Going to bed early is awesome for me but rarely happens. I also do Silva Method, meditation and journaling when I get a chance.
On her current wardrobe:
Overflowing, schizophrenic, with lots of vintage and colour. My wishlist items at the moment are probably the Balmain gold tie up slides, the baby blue Gucci bag and the Alaia studded heeled sandals
On travelling:
I just love travelling, period. If there was a way for my daughter to get an education and not miss her friends, I'd travel the world non stop like some gypsy caravan. I like it everywhere. I just went to India and Sri Lanka and I loved it there. I love Europe and South America and any island paradise. I'm Croatian so I love the Croatian coast. I really want to do Maldives and Iceland and Africa.
Her perfect day:
Wake up slowly, having the chance to remember my dream, then a snuggle with my boyfriend and coffee in bed. My daughter waking up after me, then a coastal walk to Bronte and a swim in the rock pool. Cooking up some pecorino, zucchini, wild mushroom and truffle eggs with a side of crispy bacon..Going to the Art Gallery of NSW, followed by lunch at Rockpool or Fratelli Paradiso. An afternoon nap..then perhaps a bbq on my rooftop or Icebergs for dinner and cocktails with friends... Does my daughter ever wake up after me though? NO! hahaha.
Life lessons she's learnt along the way:
Do what inspires you, work hard and the Universe will conspire in your favour. Be truthful, for truth sets everyone free and allows for choice and growth. Don't be set about expecting a certain outcome- sometimes things are not for you and better things are coming your way. Don't give up easily, always persevere, but if something isn't working despite all your efforts, let it go humbly and lightly, it is not for you. Prepare for the worst but expect the best. Intention and mindfulness are tools that are worthwhile mastering. Be kind, always
.
Tanja's favourites
Flower: Gardenia or wild rose
Book: Anything by Henry Miller, Bukowski, Kurt Vonnegut or Tom Robbins
Coffee: French pressed with raw cream
Starsign: Aries
Place to drink after dark: 10 William Street
Favourite cafe/restaurant: Icebergs, Sean's Panaroma, Rockpool, Fred's
Songs currently on repeat: The new Kid Cudi album
Most treasured wardrobe item: My Chanel 2.55 bag. I've had it for 10 years and it's still great.
Go-to outfit: Bikini, wrap dress and slides. If I have to leave the beach, it's pretty much a free for all.
Designers: Gucci, Givenchy, Proenza, Balenciaga, Frame… And of course all my Ozzie favourites like Ellery, Dion Lee, Christopher Esber, Romance, Toni Maticevski etc
Eyewear: Prada
Perfume: Right now it's Tom Ford's Soleil Blanc because it smells like summer and Coppertone tanning oil.
Skincare: Any organic face wash, Nude skincare exfoliating bicarb foam, vit C serum, Lepaar face oil.
Game-changing beauty item: Charlotte Tilbury's Filmstar Bronze & Glow
Day-time beauty favourites: Charlotte Tilbury beach stick in Moonbeach
Evening beauty favourites: CT's eye shadow compact in The Golden Goddess
Travel must-haves: Silk Slip eye mask, natural hand sanitiser, SK- II face mask, LEPAAR face oil, The Beauty Chef coconut lip balm, Grown Alchemist hand cream, a good book, my Mac computer, a large bottle of Evian, some organic snacks, magnesium, vit C, Arma Force and last but not least a full Banjo & Mathilda cashmere tracksuit pants and sweater combo . I am basically a travel accessory hoarder and have crazy carry on!
Most happiest when: Everyone around me is happy and healthy, I have inspiring projects on the go , weather is good, I have beautiful produce in my fridge to cook and have paid all my bills way in advance. Good sex never hurts this equation either, let's face it.
Not only do women on occasion want to get dressed up and be fabulous, but the solidity of precious jewels in a shifting stock market represents true value in the face of uncertain, unproven investments. A diamond lasts forever and represents a true mark of eternity in an increasingly throw away world in which items are replaced with ever increasing speed. There is something to be said about quality, craftsmanship and lasting beauty, and this is why buying beautiful jewellery is such a wonderful expression of honouring a special moment in time. Marking an occasion with an item that will be cherished and passed down generations transforms the item into family heritage, a tradition, a memory that never dies.
"Once upon a time" may be a sentence once used to begin stories of princesses in gowns wearing precious jewels, yet women today still relish feeling like princesses, even if it is in a decidedly more modern rendition of an exciting break from every day jeans and knits.
For my second collaboration with Hardy Brothers, I wanted to utilize the gowns I am currently day dreaming about and accessorize them with exclusive, unique and utterly luxurious pieces that the company is so famous for a 21st century take on going to the ball.

Above: HARDY BROTHERS 18CT WHITE & YELLOW GOLD CUSHION CUT YELLOW DIAMOND HALO RING, HARDY BROTHERS PLATINUM & 18CT YELLOW GOLD PEAR CUT YELLOW DIAMOND EARRINGS, HARDY BROTHERS 18CT WHITE & YELLOW GOLD PEAR CUT YELLOW DIAMOND RING, CHRISTIAN LOUBOUTIN HEELS AND BAG, CUTLER AND GROSS SUNGLASSES.
Yellow is the stand out colour of the upcoming season, so go all out on the glamour with an asymetrical dress in vibrant lemon that comes replete with romantic flowing sleeves. Pair it back with tough accessories to add a modern edge, then up the shine with a smattering of gorgeous yellow diamonds

WEARING HARDY BROTHERS PLATINUM DIAMOND NECKLET AND HARDY BROTHERS PLATINUM EMERALD CUT DIAMOND HALO RING

Lounging by the pool is all the better when it's done in off the shoulder, sequined perfection. Exposing the decolletage is just asking for timeless pieces that won't ever go out of style ( Rachel Gilbert dress )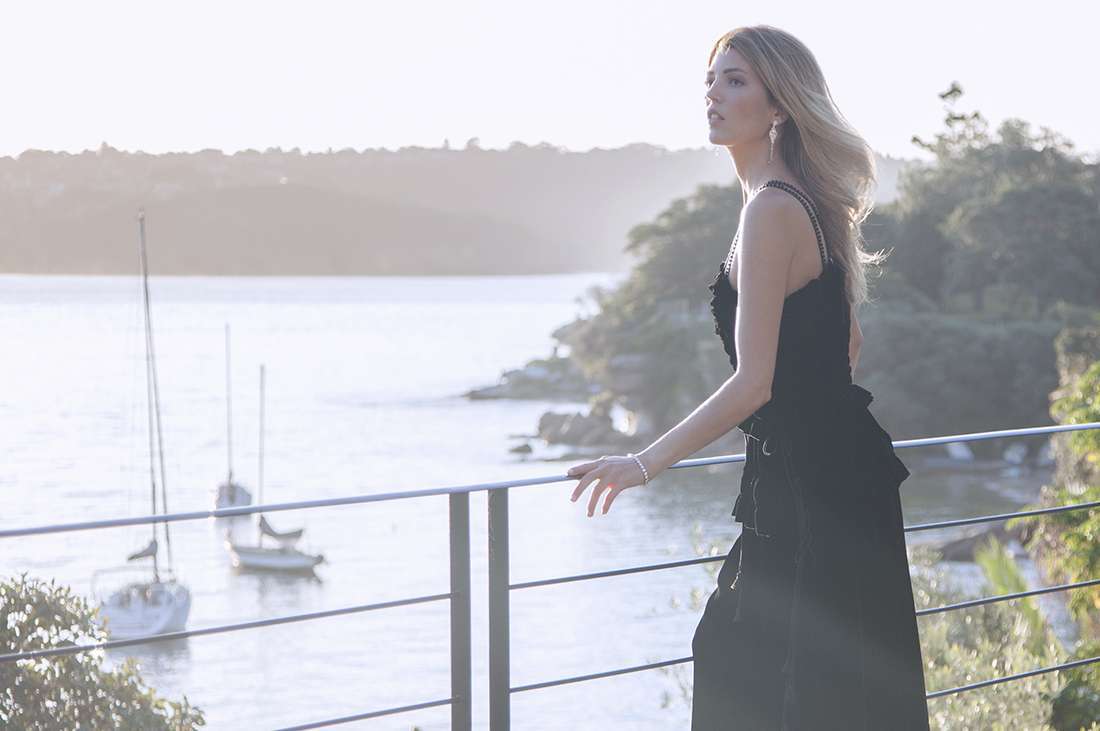 WEARING HARDY BROTHERS 18CT WHITE & ROSE GOLD PINK DIAMOND DROP EARRINGS, HARDY BROTHERS 18CT WHITE GOLD DIAMOND TENNIS BRACELET AND CHLOE DRESS FROM PARLOUR X.
Velvet is the fabric to buy now, cherish forever and a perfect juxtaposition to icy diamonds. Invest in stunning pieces that are not only delicate and unique but your children will fall in love with and fight over one day.
Photographed by Alice Wesley-Smith
With thanks to Justin Hemmes and Kate Fowler for the stunning location The Hermitage.
There is something magical about the way light changes during Australian winter. In the summer, it is so incredibly bright and hot , it bleaches the sky out and scares people into the shade, burning both skin and photographic nuances into oblivion. In winter, the intensity softens revealing dramatic colours and vivid shades so original and stunning that it always catches me aback with sheer impossibleness of it. Whilst shooting this wintery Seed story we were blessed with some of this amazing light which made me feel so #blessed to do what I do and get paid to create images that showcase the clothes and landscapes we love.
For me, black is an oxymoron, a shade that I rarely wear as I love colour but a tone that I love wearing because black is intimidating and mysterious; proven to make the wearer seem more sophisticated and powerful. Add lace to it and it evokes a childhood image; when I was 6 years old a beautiful young woman I knew on the island in Croatia became a widow when her fisherman husband drowned in a freak storm . She was so gorgeous that every man in the village we holidayed in was besotted with her, yet she mourned for years, wearing sexy yet demure black lace dresses with her heavy gold cross chain resting between her ample bust. Every morning she would walk across the square on her way to church holding the cross on her chain absentmindedly, the lightness of her skin peeking through the intricate lace, the scalloping edges framing her torso, her black hair trailing in the summer breeze. She was a goddess clad in darkness and every man worth his salt would drink his morning coffee in that square and watch her pass with a hope that once she was done mourning she would choose him, yet none of them dared to rush her through her process. Such was the power of the black she wore.
When Seed, a company I have been a fan of for years not just for adult apparel but awesome kid's clothes as well approached me to shoot this story, I wanted to convey this unassuming power of black; timeless, classic yet incredibly sexy. It really didn't hurt that the outfits are actually amazing and incredibly wearable...hope you like! x

When jumpsuits are a good thing - this baby will meet your mother in law, go to the ball and seduce your date..all whilst remaining stunningly 70s inspired

A classic Little Black Dress with peekaboo lace is a favourite in anyone's books and this demure yet alluring version is nothing short of amazing

Get on the 90s train in a sheer sleeved bodysuit with a plunging neckline and classic slim cigarette pants, then offset with burgundy pumps . Sharon Stone would approve

Bell sleeves and a full skirt add a vintage feel to an outfit so pretty , it belongs in a romance novel

A perfect black turtleneck is on every girl's ultimate dress list. This number covets pleated shoulder detailing whilst remaining decidedly fitted and modern
Clothes all by Seed
Beauty note: Armani Luminous Silk foundation and High Precision eyebrow pencil, L'oreal Superliner eyeliner, Tom Ford lipstick in First Time, Charlotte Tilbury Filmstar contouring & illuminating kit
photographed by Alice Wesley-Smith
For nearly 200 years, Longines has been a company founded on the principles of elegance and tradition. Celebrated for it's pilot's watches, clean lines and immaculate Swiss precision, Longines is a company that has historically consistently innovated new and exciting watch making technologies, propelling the whole timepiece industry forward in turn . Worn by the likes of Amelia Earhart, the watches were simultaneously used by explorers and fashion forward individuals as well as the world's vagabonds and sporting stars. Naturally, when I got an invite to a special lunch at the Longine's Stakes Day I couldn't wait for the experience!
Above: Catching up withSpyStyle blogger Natalie Cantell and actress Isabelle Cornish to discuss our takes on race-day fashion
The luncheon was adorned with beautiful white roses & hydrangeas, the perfect backdrop to any photo
I had the pleasure of meeting the beautiful actress Aishwarya Rai (the Longines Global ambassador), before she rushed off to present the brand's prize for elegance on the field

let's get straight to the desert! And why not when it looks like a piece of art? (I accessorised my Christopher Esber outfit with the new Dolce Vita timepiece, Furla clutch and Hatmaker headpiece)
See the full diary of my day at the Vogue Australia site here!
The cool breath of blue has been stalking catwalks this season and it comes baring fun names such as blue hydrangea, serenity, limpet shell and snorkel, whilst flirting around on pretty lace, crepe and tech savvy mesh.
Who doesn't want to be wrapped in periwinkle while they dance away this Indian Summer or light up the night by draping themselves in moonstone blue? Homegrown designers have come up with some gorgeous options for day and night that will have you feeling fresh, crisp and modern in a flash. These babies can go turning my brown eyes blue any day.
Above: Take this gorgeous creation from day to night and it will be equally as happy. (silk top and skirt both by Lover, Coach bag and Christian Louboutin heels)

More pale lilac than blue, this baby just wants to party - and who can blame it? It's made for the dance floor (Toni Maticevski dress and Stuart Weitzman sandals)

How to feel relaxed and elegant at the same time? Choose serenity now in this beautiful pleated number (Tome dress, Karen Walker clutch and Stuart Weitzman sandals)

Take this baby blue mini and comfortable gladiators out on the weekend and watch them work their magic ( Jet Set Diaries dress and custom made K Jacques sandals)
View the full story and more looks on the vogue.com.au page here!
Photographed by Alice Wesley-Smith