Fun ensued when FIB came to my house to raid my closet and talk fashion..Check out the two part interview and witness me ham it up for the cameras and catwalk with my cat ; ). Happy fashion week everyone & thanks to Paul Roberts and the team!



When I go on holidays I don't wear make up 95% of the time. I'd like to say it's because it's good to let the skin breathe ( it is ) but frankly, I just can't be bothered. Holidays should be all about being lazy so when I finally find myself on vacay being leisurely becomes my forte. I struggle to apply sunscreen that is next to me in a bag because stretching my arm out and reaching in for a rummage just seems SO HARD, so in extension putting on make up to make myself pretty just appears insurmountable like attempting to climb mount Everest in heels.
Still, here and there I DO make the effort, mostly because I'm going to a nice restaurant or meeting people so it's polite to hide the fact I turn into a salt encrusted wildebeest when I'm not working.
I have additionally now started condensing my packing because hopping through a lot of different countries with a lot of luggage is a major pain in the behind, one that my boyfriend no longer chooses to indulge me in carrying, so lacking a mule, I have given up on my hefty make up bag and now bring compact yet versatile essentials. All I need is just a few fantastically efficient things to accentuate the glow and bring back a semblance of polish. Who wants to look like they spent 2 hours getting ready post swimming anyway?
Clockwise From Top :
1.Mukti hydrating cleansing lotion and moisturiser: I'm a sucker for natural skincare and this one comes in small travel packages and smells delicious. Starting off clean and soft is always a good start,
2. Charlotte Tilbury lipstick in  Electric Poppy :I put some of this on my finger, than dab it onto my lips. It adds a nice pink bitten lip colour without going overboard but if I'm going out to a bar, I'll add a bit more for drama
3. Clinique Beyond Perfecting powder foundation + concealer : This foundation is easily transportable and provides great coverage. A little goes a long way so I use it around the eyes, nose and chin, like concealer and then leave the rest of the face bare. After all, tan makes my skin glow and I don't want to mask that
4. Clinique Chubby Stick Sculpting Contour Curvy Contour and Highlighter in Super Starlight  : What can I say? Whoever said contouring is dead obviously doesn't know what they're talking about. What should be clarified is that Kim Kardashian contouring is dead ( Why was it ever alive? Who wants to look like a wax doll IRL? ). Cheekbones will always be in fashion but they don't need some crazy amount of layered make up. Just make a light stripe with the contouring stick underneath the cheekbone and intermittedly tops of temples and the jawbone then quickly blend. Apply highlighter to the tops of cheekbones, nose, cupid's bow and chin. Blend. Follow with...
5. Estēe Lauder Genuine Glow: on cheekbones. Blend. The whole contouring and blush applying shouldn't take longer than 3 minutes. This is holiday make up, not TV make up guys. Let that skin shine through. FYI - This product is also great on lips for a natural , pink colour
6. Eyebrows are SO important. I always say; if you have to apply anything, it should be eyebrow pencil instead of mascara. I love Shu Uemura for it's slanted tip and nice brush tip
7. If I'm going out though, I do put mascara on. I layer it on according to how glam I want to look. I love the amazing Growth Booster Mascara Terribly by By Terry
8. Charlotte Tilbury does my favourite eyeshadows. The Legendary Muse compact is natural and sparkly; perfect for highlighting the inside of the eye and drawing attention to the face's glow. I don't like heavy eye make up on holidays so this is perfect
10. A spritz of Frederic Malle's Carlos Benaiim Eau de Magnolia makes me smell like a bloom of magnolias and like magic the wildebeest becomes a real girl! ( perfume from Mecca cosmetica )

Wearing Double Rainbuu T-shirt , From St Xavier bag
( Versace sunglasses from Sunglass Hut, Hermès scarf, Max Mara bra top, Tiffany & Co Smile necklace )
As the summer came to pass, unfairly amidst 6 weeks of rain, I was inclined to shout curses whilst waving a closed fist to the heavens. How dare the powers up there deny us of the best part of the season? All those late march barbeques and languid lazing on the beach gone up in a poof of neverending rain.Then, I started editing pictures for this story and realized the summer was plenty alright, even if it had prematurely ejected itself from my overzealous plans. In collaboration with Sunglass Hut, I spent the past few months wearing amazing sunglasses I had edited from their extensive collection and these babies made every one of my outfits incredible by extension. So without further ado, here is my summer diary…in sunglasses
Above: In December, my boyfriend and I took a trip to India. It had been my dream to visit Kerala since I saw a documentary on the region's food a few years back so he surprised me with the trip (more on India coming soon in a travel post!) We rented out a whole houseboat and sailed the backwaters , all the while eating delicious seafood curries. These Versace sunglasses are my favourite shape; somewhere between a cat eye and wayfarer and are uber versatile with their tortoishell tones
( Prada sunglasses from Sunglass Hut )
After the boat, we spent a few days on Kerala's serene beaches where the fisherman's boats were painted an obviously on trend shade of orange ; ). I'm absolutely in love with the Prada sunglasses I wore in this picture and still mix them up with everything from jeans to LBDs
( Ray Ban sunglasses from Sunglass Hut, Agent Provocateur bikini )
After India we jumped onto a plane to Sri Lanka, where we stayed at the beautiful Anantara hotel surrounded by hectares of coconut plantations. I loved how these Ray Ban sunglasses had reflective lenses...perfect for napping on day beds whilst pretending I'm reading a book
(Miu Miu sunglasses from Sunglass Hut, Rebecca Valance top, Sarina Suriano earrings )
Back to Sydney post holiday and off to a friend's birthday. Loved how these Miu Miu shades added elegance and metallic sheen to my pretty ruffled top
( Dolce and Gabbana sunglasses from Sunglass Hut, Max Mara top, Thomas Sabo necklace, Cartier bracelet )
Taking a break from shooting in possibly the best aviator sunglasses I have seen in a while. With their geometric and exaggerated shape, these honeys cover a multitude of sins whilst making every outfit cool AF.
( Prada sunglasses from Sunglass Hut, Binny dress, vintage earrings )
It's now autumn but the sun is out again so how about pretending the summer is still going? Certainly, looking through pink tinted lenses might help to see the glass as half full - that's why these Prada sunglasses are staking a firm hold in my wardrobe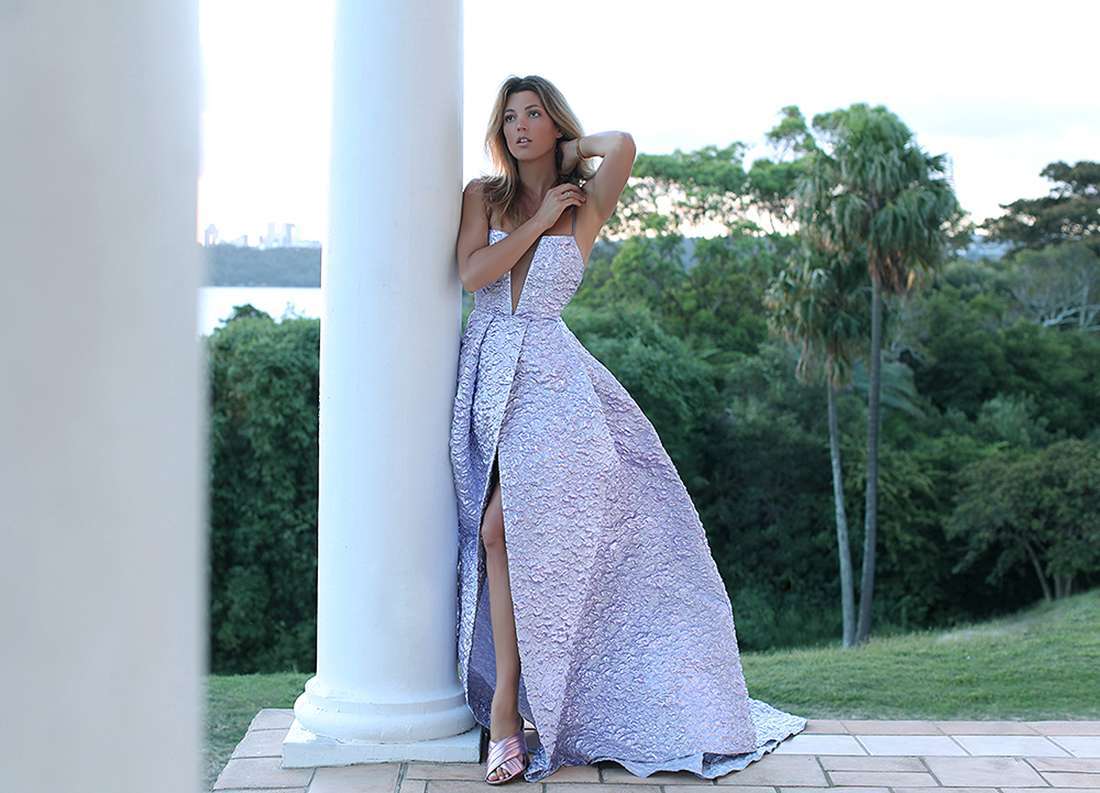 It's all about the impact
From Gucci to Valentino, the runways seem to be awash with a new message: minimalism is dead, long live maximalism! Sure, there are times when we need a little normcore in our lives, but forever? How boring. I'm a jeans and t-shirt kind of girl most days but the days I do get to go out and dress up, I relish with the enthusiasm of an overexcited toddler in a candy store.Sometimes, it is about making the effort and feeling like a star and there is no better way to do that but by adding a bit of drama.For this story I reviewed Max Factor's False Lash Epic Brush mascara and a few high impact dresses that are sure to turn up the glamour dial this autumn. This is not the first Max Factor mascara I have reviewed, but it certainly has the highest impact.

Above : Alex Perry dress, Maria Tash earring from Net-a-Porter
One layer was bold and voluminous; two coats made my eyes look like I was wearing false lashes, due to the brush's wide arched shape. With a mix of conical and flat pointing bristles and a zoom action tip that captures and magnifies every detail of every lash for an epic lash fan – no wonder it was the official mascara of the Victoria's Secret Fashion Show.
Global Max Factor Creative Director is none other than the legendary Pat McGrath who uses it for high impact on shoots and shows – this mascara is certainly noticeable on film, unlike many others. Here is my personal step-by-step on adding a little impact:
Use the zoom action tip to bring more va-va-voom to the edges of eyes by building extreme lift and volume in just 2 coats.

Rachel Gilbert dress, Rochas heels
Bell sleeves and pretty embroidered flowers add drama in the diffused afternoon glow.

Zimmermann dress, Maria Tash hoop earring from Net-a-Porter, Ole Lynggaard Copenhagen pearl and diamond ring and earrings
My rule tends to be to either accentuate eyes or lips, keeping the overall look lady like. Add gorgeous jewels as an added accent.
See the rest of the story on Vogue.com.au here!
photographed by Alice Wesley-Smith
I recently did an interview with Style Inc, an awesome blog that features many women I admire. Check out their blog for some good Friday brain fodder and below for my feature's transcript!
On personal style:
Some days I do not get out of t-shirts and slides and on others I like to satiate all my different personalities' preferences. It's a little bit United States Of Tara in my style department.
On the journey into modelling:
I was shopping for shoes in a New Zealand store when an agent approached me. It all happened quite quickly from there and by the time I was 16, I was travelling and supporting myself.
Advice she would give to her younger self:
Some people will love you and some people will hate you and that's ok. You will meet amazing people and see beautiful things and have experiences that you'll cherish forever. Relax and trust the Universe has got your back.
Taking care of herself:
I cannot lay still to get a massage or facial - it's a struggle to get me chained down to anything for too long. I like foot massages though (because I can still do stuff on my phone), pedicures, pilates, yoga, laps in the Icebergs pool, walks on Bondi Beach and cooking food I've just bought from the markets. These things feel like self care to me. I am pretty into organic food and superfood supplements. Going to bed early is awesome for me but rarely happens. I also do Silva Method, meditation and journaling when I get a chance.
On her current wardrobe:
Overflowing, schizophrenic, with lots of vintage and colour. My wishlist items at the moment are probably the Balmain gold tie up slides, the baby blue Gucci bag and the Alaia studded heeled sandals
On travelling:
I just love travelling, period. If there was a way for my daughter to get an education and not miss her friends, I'd travel the world non stop like some gypsy caravan. I like it everywhere. I just went to India and Sri Lanka and I loved it there. I love Europe and South America and any island paradise. I'm Croatian so I love the Croatian coast. I really want to do Maldives and Iceland and Africa.
Her perfect day:
Wake up slowly, having the chance to remember my dream, then a snuggle with my boyfriend and coffee in bed. My daughter waking up after me, then a coastal walk to Bronte and a swim in the rock pool. Cooking up some pecorino, zucchini, wild mushroom and truffle eggs with a side of crispy bacon..Going to the Art Gallery of NSW, followed by lunch at Rockpool or Fratelli Paradiso. An afternoon nap..then perhaps a bbq on my rooftop or Icebergs for dinner and cocktails with friends... Does my daughter ever wake up after me though? NO! hahaha.
Life lessons she's learnt along the way:
Do what inspires you, work hard and the Universe will conspire in your favour. Be truthful, for truth sets everyone free and allows for choice and growth. Don't be set about expecting a certain outcome- sometimes things are not for you and better things are coming your way. Don't give up easily, always persevere, but if something isn't working despite all your efforts, let it go humbly and lightly, it is not for you. Prepare for the worst but expect the best. Intention and mindfulness are tools that are worthwhile mastering. Be kind, always
.
Tanja's favourites
Flower: Gardenia or wild rose
Book: Anything by Henry Miller, Bukowski, Kurt Vonnegut or Tom Robbins
Coffee: French pressed with raw cream
Starsign: Aries
Place to drink after dark: 10 William Street
Favourite cafe/restaurant: Icebergs, Sean's Panaroma, Rockpool, Fred's
Songs currently on repeat: The new Kid Cudi album
Most treasured wardrobe item: My Chanel 2.55 bag. I've had it for 10 years and it's still great.
Go-to outfit: Bikini, wrap dress and slides. If I have to leave the beach, it's pretty much a free for all.
Designers: Gucci, Givenchy, Proenza, Balenciaga, Frame… And of course all my Ozzie favourites like Ellery, Dion Lee, Christopher Esber, Romance, Toni Maticevski etc
Eyewear: Prada
Perfume: Right now it's Tom Ford's Soleil Blanc because it smells like summer and Coppertone tanning oil.
Skincare: Any organic face wash, Nude skincare exfoliating bicarb foam, vit C serum, Lepaar face oil.
Game-changing beauty item: Charlotte Tilbury's Filmstar Bronze & Glow
Day-time beauty favourites: Charlotte Tilbury beach stick in Moonbeach
Evening beauty favourites: CT's eye shadow compact in The Golden Goddess
Travel must-haves: Silk Slip eye mask, natural hand sanitiser, SK- II face mask, LEPAAR face oil, The Beauty Chef coconut lip balm, Grown Alchemist hand cream, a good book, my Mac computer, a large bottle of Evian, some organic snacks, magnesium, vit C, Arma Force and last but not least a full Banjo & Mathilda cashmere tracksuit pants and sweater combo . I am basically a travel accessory hoarder and have crazy carry on!
Most happiest when: Everyone around me is happy and healthy, I have inspiring projects on the go , weather is good, I have beautiful produce in my fridge to cook and have paid all my bills way in advance. Good sex never hurts this equation either, let's face it.
Not only do women on occasion want to get dressed up and be fabulous, but the solidity of precious jewels in a shifting stock market represents true value in the face of uncertain, unproven investments. A diamond lasts forever and represents a true mark of eternity in an increasingly throw away world in which items are replaced with ever increasing speed. There is something to be said about quality, craftsmanship and lasting beauty, and this is why buying beautiful jewellery is such a wonderful expression of honouring a special moment in time. Marking an occasion with an item that will be cherished and passed down generations transforms the item into family heritage, a tradition, a memory that never dies.
"Once upon a time" may be a sentence once used to begin stories of princesses in gowns wearing precious jewels, yet women today still relish feeling like princesses, even if it is in a decidedly more modern rendition of an exciting break from every day jeans and knits.
For my second collaboration with Hardy Brothers, I wanted to utilize the gowns I am currently day dreaming about and accessorize them with exclusive, unique and utterly luxurious pieces that the company is so famous for a 21st century take on going to the ball.

Above: HARDY BROTHERS 18CT WHITE & YELLOW GOLD CUSHION CUT YELLOW DIAMOND HALO RING, HARDY BROTHERS PLATINUM & 18CT YELLOW GOLD PEAR CUT YELLOW DIAMOND EARRINGS, HARDY BROTHERS 18CT WHITE & YELLOW GOLD PEAR CUT YELLOW DIAMOND RING, CHRISTIAN LOUBOUTIN HEELS AND BAG, CUTLER AND GROSS SUNGLASSES.
Yellow is the stand out colour of the upcoming season, so go all out on the glamour with an asymetrical dress in vibrant lemon that comes replete with romantic flowing sleeves. Pair it back with tough accessories to add a modern edge, then up the shine with a smattering of gorgeous yellow diamonds

WEARING HARDY BROTHERS PLATINUM DIAMOND NECKLET AND HARDY BROTHERS PLATINUM EMERALD CUT DIAMOND HALO RING

Lounging by the pool is all the better when it's done in off the shoulder, sequined perfection. Exposing the decolletage is just asking for timeless pieces that won't ever go out of style ( Rachel Gilbert dress )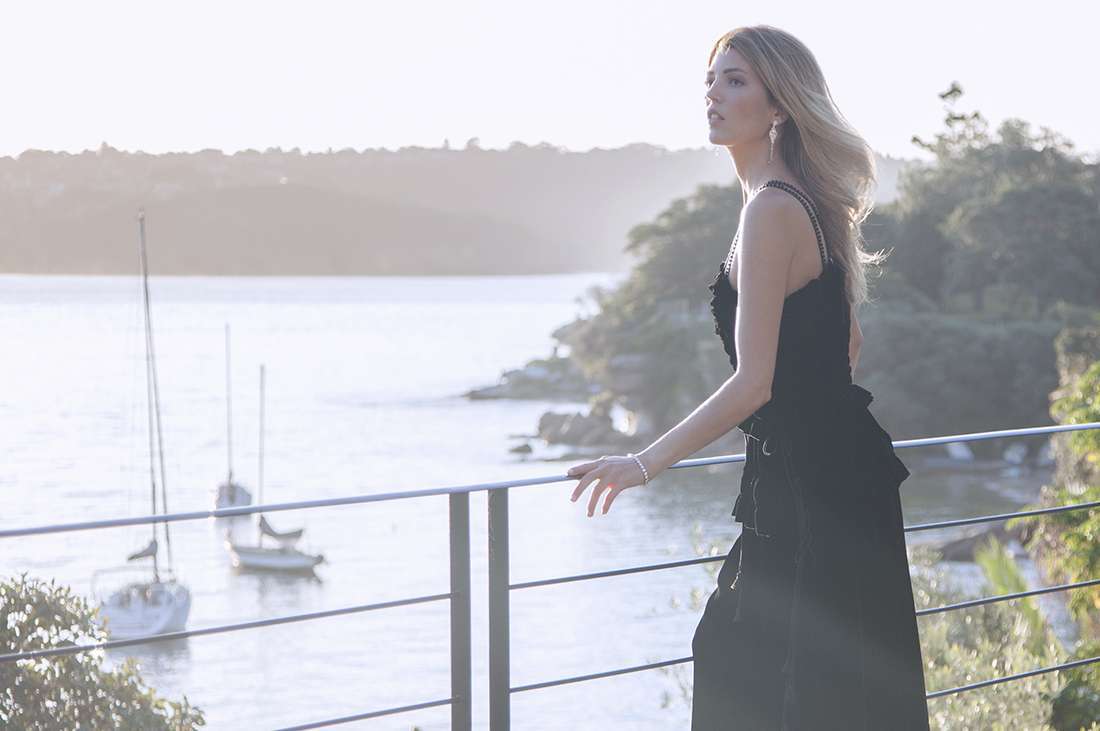 WEARING HARDY BROTHERS 18CT WHITE & ROSE GOLD PINK DIAMOND DROP EARRINGS, HARDY BROTHERS 18CT WHITE GOLD DIAMOND TENNIS BRACELET AND CHLOE DRESS FROM PARLOUR X.
Velvet is the fabric to buy now, cherish forever and a perfect juxtaposition to icy diamonds. Invest in stunning pieces that are not only delicate and unique but your children will fall in love with and fight over one day.
Photographed by Alice Wesley-Smith
With thanks to Justin Hemmes and Kate Fowler for the stunning location The Hermitage.
There is something magical about the way light changes during Australian winter. In the summer, it is so incredibly bright and hot , it bleaches the sky out and scares people into the shade, burning both skin and photographic nuances into oblivion. In winter, the intensity softens revealing dramatic colours and vivid shades so original and stunning that it always catches me aback with sheer impossibleness of it. Whilst shooting this wintery Seed story we were blessed with some of this amazing light which made me feel so #blessed to do what I do and get paid to create images that showcase the clothes and landscapes we love.
For me, black is an oxymoron, a shade that I rarely wear as I love colour but a tone that I love wearing because black is intimidating and mysterious; proven to make the wearer seem more sophisticated and powerful. Add lace to it and it evokes a childhood image; when I was 6 years old a beautiful young woman I knew on the island in Croatia became a widow when her fisherman husband drowned in a freak storm . She was so gorgeous that every man in the village we holidayed in was besotted with her, yet she mourned for years, wearing sexy yet demure black lace dresses with her heavy gold cross chain resting between her ample bust. Every morning she would walk across the square on her way to church holding the cross on her chain absentmindedly, the lightness of her skin peeking through the intricate lace, the scalloping edges framing her torso, her black hair trailing in the summer breeze. She was a goddess clad in darkness and every man worth his salt would drink his morning coffee in that square and watch her pass with a hope that once she was done mourning she would choose him, yet none of them dared to rush her through her process. Such was the power of the black she wore.
When Seed, a company I have been a fan of for years not just for adult apparel but awesome kid's clothes as well approached me to shoot this story, I wanted to convey this unassuming power of black; timeless, classic yet incredibly sexy. It really didn't hurt that the outfits are actually amazing and incredibly wearable...hope you like! x

When jumpsuits are a good thing - this baby will meet your mother in law, go to the ball and seduce your date..all whilst remaining stunningly 70s inspired

A classic Little Black Dress with peekaboo lace is a favourite in anyone's books and this demure yet alluring version is nothing short of amazing

Get on the 90s train in a sheer sleeved bodysuit with a plunging neckline and classic slim cigarette pants, then offset with burgundy pumps . Sharon Stone would approve

Bell sleeves and a full skirt add a vintage feel to an outfit so pretty , it belongs in a romance novel

A perfect black turtleneck is on every girl's ultimate dress list. This number covets pleated shoulder detailing whilst remaining decidedly fitted and modern
Clothes all by Seed
Beauty note: Armani Luminous Silk foundation and High Precision eyebrow pencil, L'oreal Superliner eyeliner, Tom Ford lipstick in First Time, Charlotte Tilbury Filmstar contouring & illuminating kit
photographed by Alice Wesley-Smith
For nearly 200 years, Longines has been a company founded on the principles of elegance and tradition. Celebrated for it's pilot's watches, clean lines and immaculate Swiss precision, Longines is a company that has historically consistently innovated new and exciting watch making technologies, propelling the whole timepiece industry forward in turn . Worn by the likes of Amelia Earhart, the watches were simultaneously used by explorers and fashion forward individuals as well as the world's vagabonds and sporting stars. Naturally, when I got an invite to a special lunch at the Longine's Stakes Day I couldn't wait for the experience!
Above: Catching up withSpyStyle blogger Natalie Cantell and actress Isabelle Cornish to discuss our takes on race-day fashion
The luncheon was adorned with beautiful white roses & hydrangeas, the perfect backdrop to any photo
I had the pleasure of meeting the beautiful actress Aishwarya Rai (the Longines Global ambassador), before she rushed off to present the brand's prize for elegance on the field

let's get straight to the desert! And why not when it looks like a piece of art? (I accessorised my Christopher Esber outfit with the new Dolce Vita timepiece, Furla clutch and Hatmaker headpiece)
See the full diary of my day at the Vogue Australia site here!
The cool breath of blue has been stalking catwalks this season and it comes baring fun names such as blue hydrangea, serenity, limpet shell and snorkel, whilst flirting around on pretty lace, crepe and tech savvy mesh.
Who doesn't want to be wrapped in periwinkle while they dance away this Indian Summer or light up the night by draping themselves in moonstone blue? Homegrown designers have come up with some gorgeous options for day and night that will have you feeling fresh, crisp and modern in a flash. These babies can go turning my brown eyes blue any day.
Above: Take this gorgeous creation from day to night and it will be equally as happy. (silk top and skirt both by Lover, Coach bag and Christian Louboutin heels)
More pale lilac than blue, this baby just wants to party - and who can blame it? It's made for the dance floor (Toni Maticevski dress and Stuart Weitzman sandals)
How to feel relaxed and elegant at the same time? Choose serenity now in this beautiful pleated number (Tome dress, Karen Walker clutch and Stuart Weitzman sandals)
Take this baby blue mini and comfortable gladiators out on the weekend and watch them work their magic ( Jet Set Diaries dress and custom made K Jacques sandals)
View the full story and more looks on the vogue.com.au page here!
Photographed by Alice Wesley-Smith
Suits may have been invented for men but women have appropriated the codes since the beginning of the last century – Coco Chanel made her own version in 1914, Marlene Dietrich made the tuxedo famous, Pachucas women wore zoot suits as an expression of their strenght and feminism while Katherine Hepburn and Kim Novak pushed it to the forefront of the feminine psyche. Yves Saint Laurent made a formal tuxedo "Le Smoking" look more appealing than a dress, hit show "Dynasty" repeatedly conveyed women's power with skirt suits and Grace Jones and Madonna made a tuxedo look not only sexy but rock n'roll iconic.
These days a well cut suit is an essential in a women's wardrobe and represents an investment well spent: not only does it impart a sharp impact when worn together but presents multiple usages when worn as separates. This season, play with new codes and accessories for an updated take on the mainstay staple.
Above : Exaggerate proportions for maximum impact – oversized pants are all the rage this season, romantic ruffles add drama while silver detailing offsets grey tones ( Ellery suit, Swarovski necklace )
Choose an oversized jacket paired with ankle grazing pants for a look that's both 90s elegance and punk rock cool, then add accessories that offset the look while enhancing it's feminine and masculine qualities.A pair of beautiful loafers will not only match your suit but come in very handy for all those floral dresses in the upcoming season ( Toni Maticevski suit, Stella Mccartney lace bra from Net-a-Porter, Lack of Colours hat , Gucci loafers )
This season, eccentricities reign supreme but a floral strewn suit in the right designer's hands becomes a well cut forever piece. Bonus points on breathable fabric that cools the body in the sun and ankle zips that make it wearable in 2 ways. ( Max Mara suit, Giuseppe Zanotti pumps )
Pair it back with a beautiful silk tank top and simple jewelry ( Lover top, Cartier Love bracelet, Thomas Saboo Love bridge bracelet )
Photographed by Alice Wesley- Smith
See the full story up on vogue.com.au here !

The morning I woke up and realized I was now in my third decade of life I remembered being 8 years old and asking my mother how old she was; when she replied she was 30, I exclaimed out loud: ' but mum, you're so old ! '. This number seemed like something ancient and fragile then and yet, here I was; in my 30s now, yet ironically feeling as if my life had truly just begun. My mind whirred with ideas and creativity while my age was a traitor that had inexplicably creeped up on me and now it stood behind me with a decayed knife, waiting to plunge it into my still youthful skin and laugh as it turned papery and lined. Or so it seemed in my panicked mind for all of a sudden I started thinking about anti aging potions, wrinkles and sun spots whilst shaking an embittered fist at my new invisible enemy.
The following summer I travelled to Croatia for my annual holiday. After unpacking I ran down old stone stairs to the little beach for an afternoon swim in golden sunshine and lay my towel next to all the old grandmas basking by the water in their high waisted swimsuits, shimmering gold chains and oversized sunglasses. They chatted about their daily routines so I looked at their animated faces, laughed with their amusing anecdotes and all the while felt a happiness radiating through my body while a realization slowly formed in the back of my mind : age is truly only a number and happiness is the number one reason people look youthful.
In the days that followed my obsession with age disappeared. It wasn't as important to me anymore to look young but for my face to reflect the glow of my inner health and positivity. My aim became more about cultivating a peaceful outlook and aiding my body in functioning well so that my skin glowed. When I would work late or my child was sick, I would no longer berate myself on my dark circles and deep crevices; I would know that it was but a reflection of my current lifestyle so I'd concentrate on holistic ways of making my whole being happy; exercise, vegetable juices, sleep, cutting out gluten and eating a mainly organic diet. That is not to say that I forgoed skincare all together, because I understand that care of the skin is important, just as it is important to service a car - it's just that I stopped obsessing about it and using a time consuming myriad of peels, acids and multi step procedures to reverse the passage of time. My skincare routine was simplified: a great cleanser, a beautiful skin oil and an exfoliant once per week. That was it.
When SK-II approached me to do a review of their star products, I was intrigued for I had heard about their incredible ingredient. As the story goes SK-II was developed by Japanese scientists who were looking into using more naturally derived ingredients for their products. While observing workers at a sake brewery, they noticed that elderly workers had lines on their faces yet their hands were smooth and younger looking by being submerged in the fermenting sake. After much research and development, the strain of naturally-occurring yeast was isolated for use. This magic ingredient was called Pitera and it is an intrinsic part of SK-II products, in particular the ever popular Facial Treatment Essence. My package contained this product and a new product to the range- the Facial Treatment Oil. Now, I am kind of obsessed with facial oils so I was dying to try this product: not only does it contain 6 types of exotic oils such as Latin American jojoba oil, South African avocado oil, Mediterranean olive oil, Japanese Riceterol Ester, rice bran oil and squalane but it also contains Pitera for an added anti aging boost.

After showering, I applied the Facial Treatment Essence which seemed to refresh and firm the skin and then applied the Facial Treatment oil to my face with fingertips, warming it slightly in the palm of my hands , then pressing it in - it felt soothing and comforting as it melted into my skin and carried a delicate scent of citrus and lavender to boot.

All in all the SK-II program took me less than 5 minutes to apply and my skin felt smooth and moisturized instantly; for me the simplicity of the routine and the way my skin glowed afterward was the real winner of this exercise. As for the unlined skin and anti aging benefits? Well, we will see. Since the routine is so simple to implement I will continue using the product for the way it makes my skin feel - the anti aging effects can only be a bonus.
Wearing: Calvin Klein robe, Karolina Couture lingerie set, Jordan Askill x George Jensen diamond necklace 
photographed by Ana Suntay- Tanedo

Sydney siders can grumble about this year's lack of a real summer yet nothing can stop time; here in the Southern Hemisphere the days are regardless getting shorter and the nights longer. We don't even have seasonal perks such as autumn turning our green streets into an explosion of yellows, ochres and browns, neither do we get mulled wine or street roasted chestnuts but we make do with warm ocean temperatures, pink sunsets and even tempered weather. Still, autumn remains one of the hardest times to dress for; it can be surprisingly cold in the morning and boiling hot in the afternoon so wearing pieces that work for both is a godsend. I partnered with the Australian label Backstage to bring you a transeasonal edit of their collection - perfect for the upcoming months. These are items that you can buy now, then when days get cooler, layer with additional pieces and still be on trend
Above: It's all in the details - emulate Brigitte Bardot in a simple black playsuit with beautiful split cut bell sleeves then pair with knee high boots and a fisherman's hat to complete the look . Perfect with a vintage fur bomber in winter ( Backstage playsuit, vintage Martin Margiela boots, greek fisherman's hat)

This season, dare to bare…shoulders that is! Showing a rounded back, sleek neck or tanned clavicle is one of the strongest fashion trends of this season. This dress is relaxed elegance with it's pretty stripes, tie front, loose sleeves and off the shoulder prettiness... throw a cashmere turtleneck over it when the sun goes down

Wine, burgundy, ochre - get a headstart on autumn by implementing muted reds into your palette then add a heavy coat over this look when mornings get frosty ( Backstage top, choker and skirt, Lack of colours hat and vintage Martin Margiela boots )
A pretty slip is a parennial wardrobe staple and an all time favorite - this baby sports a scooped out back and peek of a thigh to boot. In autumn I love to throw on a long grungy angora cardigan over for warm cred ( Backstage slip, Proenza Schouler mules)
Photographed by Alice Wesley-Smith
The best thing about doing my job is combining travel and fashion- two of my all time favorite passions folded into one synapse tingling experience : exciting locations, amazing clothes,new people to create with and at the end of it- beautiful pictures to take home. This is what my dreams are made from...but sometimes it can be nail biting suspense and flirting with chance, like shooting this season of Bec and Bridge Autumn '16 in Cuba.
After arriving into Havana, my bags were checked by beautiful yet stern border patrol girls ( all curiously wearing patterned fishnet tights, go figure ). They pulled me aside and dragged out some of my B&B clothes, spoke quietly in Spanish, then looked at me with narrowed eyes and asked all sorts of questions (as if they were pretty fashion police stopping a haul of contraband clothes) whilst I perspired imagining what a Castro jail looked like. Thankfully, they were satisfied with my answers, compliments on their cool 80s stockings and reassurances that I too grew up in a Communist country; after all I am an ex Yugo girl soooo...they let me go. Buoyed by this I made my way for the city and the closest mojito to calm my nerves.
My next problem came the next day; when I realized my phone didn't work at all and internet isn't really a thing yet in Cuba. I had made sporadic contact with a Cuban photographer named Viktor Rising in the weeks prior; I liked his style and punchy, contrasty photos so among faulty emails we made a loose plan but now, I had no way of contacting him.
It took me half a day to find out there were some hotels that have internet in front of them and vouchers I can buy somewhere else to get on so I sent an S.O.S to him and waited. It was the day before I left when I heard back and we made a hasty plan. I stayed up late sourcing a steamer for the clothes from a few different hotels, then got up early to get ready, straightening my hair and applying perfect make up...until I walked out into 42C, 90% humidity Havana sun and my hair bounced back into it's curls immediately while make up melted off faster than I could re-apply it. Ay!
Fortunately, Viktor was a cool and funny guy and the shoot itself was a dream ; we wondered the eclectic streets, men whistled and women asked where my dresses were from ( such is the power of Bec and Bridge's well honed sexy dresses ). I danced the salsa and ran over the squares but most importantly, our team had a ball and the dresses looked hawt juxtaposed against the colours of this beautiful city. I hope you like! x

Take lace into another dimension with a scooped out neck and choker detailing ( B&B dress, Chloe sandals )

Nothing like a skintight striped dress to take you from hot days into steamy nights (B&B dress, Gianvitto Rossi sandals, Clutch from Net-a-Porter )

All this baby wants to do is salsa! ( B&B dress, Chloe sandals )

Talk about a trifecta: wrap around, scooped out and leg baring in the most beautiful shade of cornflower blue ( B&B dress, Versace clutch, Valentino sandals )



This silk number is endlessly versatile- wear it loose in summer or over leather leggings in winter (B&B dress, Aquazurra sandals )

Let's talk sex in a dress because this dress is IT- seriously, I could've been married 5 times 🙂 ( B&B dress, Gianvitto Rossi sandals)
Photographed by Viktor Rising
When it comes to shine, nobody did it better than Ziggy Stardust, David Bowie's concocted 70s alter ego who pranced around the stage in his otherworldly glam rock outfits, dancing straight into the world's most cherished fashion memories. Blame it on David's untimely death but his legacy lives on this season because lurex is once again king of the OS catwalks with designers such as Balenciaga, Saint Laurent, Pucci, Jil Sander, Missoni and many others reviving the glittery fabric in all it's fabulous incarnations.
Closer to home, designers have been utilising high tech fabrics and intricate metallic weaving into eye popping incarnations of the trend; across footloose and fancy free maxis, trophy evening wear or classic tailoring, the innovative ways of incorporating gleaming concoctions are as beautiful as they are impressive. Here is the run down of my favourite looks to buy now and covet forever...
Above: Eternally classic combo of elegant skirt and long sleeve top gets an update with ultra fine light reflecting sequins that make one feel like the Moon incarnate (Ellery top & skirt)

Mesh grows up:  this top is in fact made of super fine shimmering beading which makes you feel more princess than punk ( Rachel Gilbert top, bustier and pants)
 Whilst loose and covering everything, this dress possesses high octane shimmer that is beguiling and unforgettable. Wear it with tough boots for 90s grunge or heels for a take on the 70s with a touch of Game of Thrones medivialness. ( Zimmermann dress, Gucci heels )

Metallic thread, lace and pretty flickering sequins coexist in a pretty shift that is high on mermaid magic ( Zimmermann dress)
Beauty note: Armani Luminous Silk foundation, Charlotte Tilbury Filmstar Bronze& Glow in Light to Medium, Charlotte Tilbury Beach Stick in Ibiza on top of cheekbones and lips, L'oreal False Lash superstar mascara, By Terry eyebrow liner in brown
Photographed by: Alice Wesley-Smith
Christmas time is always such a whirlwind in houses across Australia with present shopping, last minute deadlines, food preparation and school holidays colliding with long ques, traffic jams and sweltering temperatures. I have just moved into a new apartment and all of my worldly sartorial possesions sit in 48 boxes in my new office, completely filling the room. To say that I look at it and feel overwhelmed is an understatement of the century; so after closing the door and hoping it would go away , I have slowly edged back in and started sorting through this cardboard hill, coming swiftly to a realisation that all I needed now is a clowder of cats and then I could be labeled not only a hoarder but a crazy cat lady as well.
Melancholy is my vice and sentimental attachement to clothes as memories my ultimate downfall. Funnily enough, since I was travelling so much over the last 3 months after selling my house, I had no permanent home, and with all my possesions in storage, I made do with one suitcase of essentials. It was an eye opener into how many things I truly need in my life and it inspired me to really, truly cull through my material possesions. I forgot all about my things and felt free and easy with my simple life …until December came. It was then that I realized I needed clothes for all the ocassions that come with the holiday season and less was definitely not more anymore. On my new wishlist? Beautiful dresses and separates, luxe shoes and immaculate jewellery . Maybe Santa wants to trade me in for some mystery boxes?

White is always in in the summer, but romantic sleeves and cute flippy skirts are on my lust list this year ( Ellery top and skirt ) Above:Metallic mules are the right mix between summer ease and tongue-in-cheek Barbie doll.
(Gucci mules)

Who could be angry with a Santa that brings forever jewellery? (Tiffany&co bangle and necklace )

This little black dress in neoprene is my wish list go-to. Not only is it an interesting take on sport luxe but the oversized proportions will be a welcome detail when asking for second helpings.(Balenciaga dress from MyTheresa and Camilla and Marc shoes).



Who says getting nailed is a bad thing? These gorgeous accessories prove otherwise.
(Cartier bracelets and ring).

When meeting the in-laws,please observe the less skin is better rule. This nude toned lace dress with its unlined sleeves is the perfect mixture between maintaining chic and staying cool in summer.(Burberry dress and Valentino heels)

See more on vogue.com.au here!
Happiness is a confounding concept in today's quickpaced world ; elusive as a unicorn and slippery as a catfish it is increasingly difficult to notice or appreciate it , even when it's standing in front of us waving both hands in our faces. All the modern obstacles lie in it's path, fogging our view : a lack of time and perpetual busyness, quick fix solutions, fear of missing out and boring old tiredness can choke natural levity, yet, happiness is the feeling we all want to snag -and why wouldn't we?
After all, it feels like soft electricity and connectedness, flying with a flock of butterflies or floating over marshmallow fields while bathed in warm Caribbean sun. Happiness is stubbornly subjective, and this is where I believe we sometimes struggle as a society: we are told that there are paths and things and futures and people that make us happy, but sometimes, irrationaly and utterly annoyingly, they just don't ring true for us.
We can start second guessing ourselves and feeling like maybe, somehow, we ended up on an out with happiness; why otherwise would it avoid us in this incessant way? Yet life is beautiful , joyous and filled with synchrinocities and surprises at every turn so just when we think there is nothing else, another path opens, another knowledge is learned, a little bit more we grow… and just like that, our very own definition of happiness changes.
When Lancome approached me about doing this collaboration, they asked: What is happiness to you? I reflect on the things that bring me joy in life
Blogging: Someone once told me not to fret about what I am going to do with myself because perhaps my dream job hadn't been invented yet - I definitely feel this was the case with being a blogger. Which other job could give me freedom to travel and creative control whilst requiring that I write, take photographs and wear fabulous clothes on a daily basis? It gives me so much joy to create beautiful content and see projects through from the beginning to the end. This picture was taken by Adam Katz Sinding in my happy place of Paris. Because Paris, with it's beauty everywhere and wonderful people is always a good idea.
( Alex Perry dress and Louboutin shoes, Toni Maticevski skirt and top )
My daughter Coco was born 8 years ago and not a day goes by where I don't look at her and feel infinitely happy and blessed. She is a handful - a jokester and adventurer with a glint in her eye that is terribly contagious. I find complete happiness in the simple fact that she still enjoys to snuggle me, like in this picture taken on holidays in Croatia.
Time off : Dalai Lama once said: "Happiness is not something readymade; it comes from your own actions". When reflecting on this quote I realised that for me, happiness comes from the action of consciously prioritising inaction. Yoga, meditation and daydreaming give me time to reflect, be alone and get in tune with my inner world. Without being mindful, I cannot be connected to the wavelength of joy.
Flowers: are one of my earthly pleasures that I spend inordinate amounts of time and money on. There is nothing I love more than waking up to a bunch of fresh gardenias on my bedside table. It's absolute olfactory bliss - and to me, Lancôme's La Vie Est Belle evokes this same feeling of joy. It is a perfume of positivity and femininity - one that combines the elegance of iris as the main story, with a touch of patchouli and some oriental sweetness. A few spritzes in the morning and I'm ready to start the day with a positive attitude.
Travel : I love all the aspects of travelling – from planning my day-to-day schedule, meeting new people, my terrible attempts at speaking foreign languages, to capturing all the different cultures with my camera. I particularly enjoy buying one-of-a-kind, handmade crafts for my daughter from different parts of the world – these ones are from Mexico!
Cooking and and especially eating is something I look forward to constantly. My grandfather was an avid foodie who knew his way around the kitchen, taught me the importance of good ingredients and how to cook well. I'm now obsessed - it gives me great happiness to make feasts for my friends and family.
Gifts: Whoever says gifts couldn't make one happy has clearly not encountered the joy of receiving glamorous accessories and elegant perfumes.
Lancôme's La Vie Est Belle, Christian Louboutin shoes, vintage earrings, Karen Walker sunglasses.
Go to the Vogue website now to enter to win $2000 to spend on your loved ones at Christmas, thanks to Lancôme La Vie Est Belle. View the competition here and be sure to enter before December 18, 2015.