Did you know that the Great Barrier Reef is the largest living thing on Earth? Visible from space, it is home to over 600 types of soft and hard coral. Facts like these drive home the incredible value of the landmark and the blessing we have lying on our front porch, yet for me, the reef seemed like an abstract idea until I flew over to Heron Island to experience it for myself.
Home to countless nesting wild birds and two types of turtles, this coral cay has had a chequered past. Thankfully, the island has now been transformed into an eco-resort with a reef research facility and a thriving population of wildlife—when I say thriving, picture diving into the water straight from the shore and getting lost among many types of reef sharks, sting rays, fish and colourful coral.
My 11-year old-daughter tagged along for the ride and she quickly disappeared into the ocean, not returning until she was hungry. The incredible variety and richness of life on and around this island was spectacular, yet the news that north of here up to two thirds of the reef had gone through a massive bleaching event was dishearteningly sombre.
Global warming may be just a concept to many, but it is a growing reality for the reef whose sensitivity to temperature changes makes it an easy victim. The threat became painful as I imagined Heron Island barren of all the beauty that makes it so special, so I wanted to create a story that celebrates sustainable labels leading the way for a new paradigm in the way we approach the business of fashion.
Silver waves
Exclusive to Australia, this Tiffany & Co wave necklace is part of a limited edition collection that uses 100 per cent of profits to support the conservation of the Great Barrier Reef. A Grecian inspired Jacinta James dress and Maria Farro sandals complete this timeless holiday outfit.
It was all yellow
Vibrant and comfortable, this Nagnata look utilises upcycled and sustainable fabrics and would look equally good in the gym paired with fair-trade French label Veja's sneakers, or dressed up with heels. My KitX bag was created with organic cotton and natural dyes for longevity and practicality–I use it religiously.
Jumping in
Traditionally, swimwear was one of the worst offenders in fashion as its use of plastic and oil throughout the course of production made for a damaging business model—but times are changing. Labels are attempting to recycle materials or use recycled plastics instead, and this Tigerlily swimsuit is a part of said change. Tigerlily is on its way to making its brand 100 per cent sustainable and is taking great strides in not just transparency and ethical sourcing, but reducing toxic chemicals used in their production.

Cool it
While Kit X's organic linen keeps your body cool, the brand's environmental policies will keep your heart warm with the glow of one of the most stringent policies around renewable fabrics, eco-production and transparency. The company's designer Kit Willow is an inspiration who doesn't compromise on design, quality or eco-credentials.
Easy does it
Relaxing by the beach has never felt better than in Kow Tow's range of timeless, sustainable basics and swimwear. Pair with an Avenue the Label vegan leather, 100 per cent recyclable scrunchie.


White noise
I am obsessed with Maggie Marylin tailoring and the label's clean yet detailed lines. Nomadic State of Mind have been making their rope sandals from upcycled sail cloth and hemp, and Avenue the Label's silk scrunchie is just as eco as it is fancy.
Assisted by: Coco Pavlovic
With thanks to Heron Island resort and the Gladstone tourism board
"So they close together
Dressed in red and yellow
Innocent forever, sleeping children
In their blue soft rooms still dream"
Colours are fascinating. Ever since I had a fight with my best friend at 8 years of age over the colour of a t-shirt that we couldn't agree on despite the feverish discussion, I knew that people see colours a differently. Almost everyone has 3 cones in their retina which makes us see roughly the same colours, however, some superwomen have an extra cone, making them a tetrachomat able to perceive a wider range of shades than us ordinary folk. My obsession with how we perceive colours was further amplified by reading Jasper FForde's disturbing sci-fi novel Shades Of Gray, which presents a dystopia future in which people are set in a cast system based on the primary colour they perceive their world in.
In the world of fashion, colour is an expression of a feeling, an idea or a thought, however abstract. If it is sometimes hard to differentiate between prussian blue and navy blue or mauve and wisteria - in the emotional response or sight, it is never hard to tell apart red and yellow from blue , not to mention that the feelings they evoke in us are polar opposites to each other.
For my latest Coach post, I played with the exuberance of primary colours, the latest Turnlock Tie collection, some vibrant new threads and the breath taking Sydney harbour. All this vibrance is what street style photographers' hyperventilating dreams are made of ...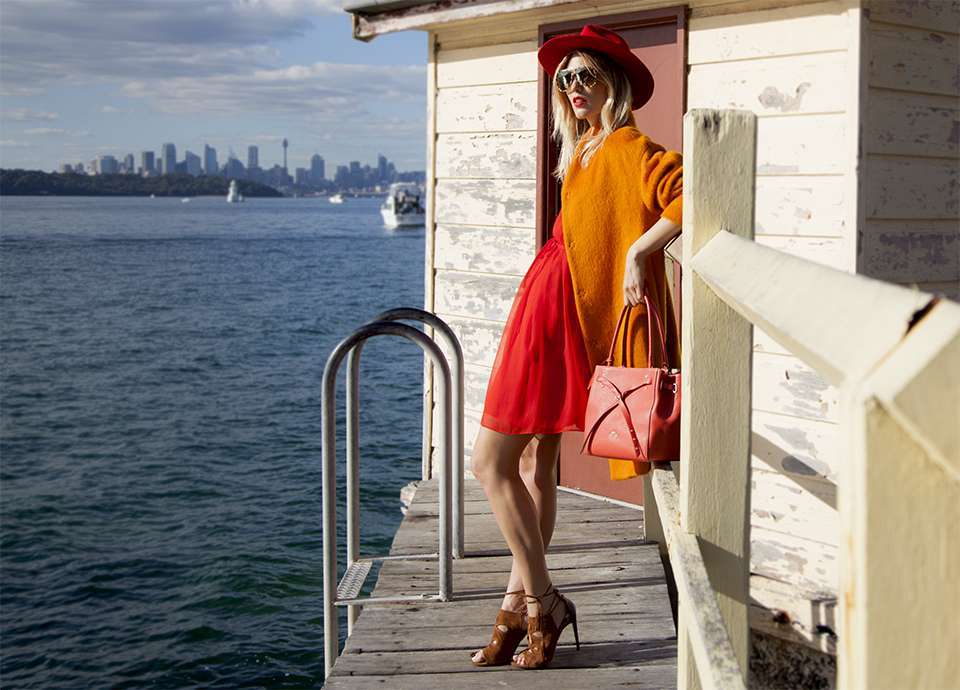 Set the day on fire in a scarlet red Camilla & Marc dress, Turnlock tie tote and Lack of Colors hat. I created contrast with an orange Marimekko coat, Dita aviator sunglasses and Aquazurra sandals. Tiffany & Co T bracelet and Cartier Love bracelet worn throughout )

Take one sleeveless red coat by Nicholas,add a blue tweed skirt by Bianca Spender, some Chloe tie up wedges and finish it off with a bright blue Coach backpack)
Use primary colours to excite neutrals - pop tan leather with bursts of colour for an updated take on an all leather ensemble  (Max Mara dress, Coach backpack ,Ellery shoes, Preen by Thornton Bregazzi sunglasses)
Beauty tip: Blend Nars' red shades in Dragon Girl and Red Square for the most vibrant pout in town
Photographed by Alice Wesley-Smith
Navy is one of my favourite colours. Not only is it chic, elegant and less severe than black, but it suits every skintone and hair colour. Best of all, navy comes into fashion so regularly, some would argue that like leopard print , it is a mainstay and therefore never out of fashion. In my eyes, this spells go forth and invest !
This season, in keeping with the 70s theme, there are ways to wear navy that will keep it current and on trend. Ofcourse, navy always looks great with white or black but have you tried it with tan, orange or camel ?
Above :Pop your navy with some 70s orange hued shearling, round sunglasses and gold for an instant seasonal update ( Zimmermann jumpsuit, Coach jacket, Sunday Somewhere sunglasses, Tiffany T bracelet, Cartier bracelet
Try navy in a bell sleaved jumpsuit with some tan accessories ( Zimmermann jumpsuit, A-esque bag, Topshop platforms)
Jump on the bell sleeved and fluted skirt bandwagon – it's all the rage this season ( Ellery top, Sportsmax skirt, Aquazurra sandals from Net-a-porter )
Keeping it simple : turtlenecks and maxi skirts are a match made in fashion heaven ( Zimermann turtleneck, Michael Lo Sordo skirt, Mode collective sandals
View the rest of the story on vogue.com.au here!
Photographed by Alice Wesley Smith