What does a girl do when given the chance to attend New York Fashion Week? Well, pack a suitcase full of spring trends and jump on the plane of course!
The weather was beautifully temperate, Australian designers rocked NYC catwalks, many Manhattan cocktails were drunk and beautiful dinners with friends accompamied by quite a bit of dancing took place — to give you an idea.
Here, I've pulled together three trends I loved wearing while in New York.
( Zimmermann playsuit, Chloe x Net-a-porter sunglasses, Gucci Bag, Alice McCall jacket and JYJewels earrings)
Playsuits
Playsuits are a favourite come warm weather for their cute yet practical versatility. Floral prints are always in, come spring, but throw on a big fluffy coat and a pair of oversized sunglasses and you have a 70s redux outfit that is somewhere between rockstar and disco diva. Lay on the glitz this season.
( Trelise Cooper coat, Double Rainbuu sweater, vintage skirt and Balenziaga mules)
Colour blocking
Colour blocking is back in a big way for spring, so choose primary colours for maximum impact. Big, feathery coats, oversized sweaters and pencil skirts are also a current trend. Try a kitten heel mule for ultimate comfort.
(Tanja wears vest by Tome, Elley flares, YSL bag and sunglasses)
Suiting
Suiting is one of those trends that will never age, but this season it's de rigueur, or required. Choose from oversized, slouchy to form fitting and feminine, long suits a lá dresses, or vests as tops.
Shot by: India Hartford in New York
read the original story up on the newly relaunched vogue.com.au here!
Layers may not be the sexiest clothing option in the world, yet winter is the most imaginative time in the style stakes because we finally get to play with investment coats, beautiful boots and cosy knits.
Each year I invest in a few pieces that will take me through the coldest months, yet I want to make sure that my purchases last me through another winter without looking dated whilst staying reasonable in the cost-per-wear equations. And oh boy, were there some trends across the autumn/winter '17/'18 runways! From silver to folklore and ostrich feather, individuality was celebrated, but here are the ones I think will stand the test of time — or until next year, at least.
Winter may be threatening with its icy fingers but it has nothing on blanketed padded jackets in high tech incarnations. Even if it did, the oversize knitwear trend would stop it dead in it's tracks. Still not enough? Matrix style patent leather brings out our inner dominatrix, whilst the stunning combination of blue and black will make winter surrender through sheer fashion domination.
(Ellery pants and jacket, Jac&Jack sweater and cardigan, Dion Lee sunglasses, Ole Lynegaard pearl earring sold individually)
Choose high-shine accessories with a lot of high power attitude.(Stillettos and bag both Saint Laurent from Farfetch)
(Tome dress, Sarah and Sebastian choker, Jimmy Choo sandals, vintage bracelet)
Gilded saffron spice, mustard, 70s sunflower and all shades of yellow are my colour crush. Mix them in any and all combinations including lime, earthy tones, reds, plums, even turquoise for a colour explosion – or just wear on their own.
Read more on vogue.com.au here!
photographed by Alice Wesley-Smith
Choosing eveningwear can be tricky – I never know if I should buy something basic that I will wear again and again or something that takes my breath away. In the end, it is always the heart stoppers that win my inner debate. Why? Because these pieces hold the power to make me feel something when I wear them; excited, beautiful, sexy, fun – something my basics will never do. In my mind evoking that feeling and attaching it to the outfit makes that garment something of a superhero suit – each time I put that particular dress on in the future (be it in five months or five years) I start feeling the same giddy excitement that gets me in the mood to shimmy.
Ochre is one of the standout colours of the season – this pleated silk dress is perfect with heels or flats, cinched in or loose. Tome dress and Aquazurra sandals.
A dress that has off the shoulder allure, sexy cut outs and shimmer going for it is certainly dance floor ready. Maticevski dress.
Let the enduring allure of camel dress up your dinner. This piece gets easy sensuality with its sweetheart neckline and demure pencil skirt length. Max Mara dress, Camilla and Marc jacket, Lack of Colours hat, Cartier bracelet and Tiffany & Co bracelet worn throughout.
View more looks and the rest of the story up on vogue.com.au here!
Photographed by Kasia Werstak
If I were to judge the upcoming MBFWA 2015 solely based on the samples pulled for this story , the keyword of the week would be volume. As in slightly impractical, wonderfully dramatic and so much fun to shoot! The all seeing wizard I am not, but I know I will be proven both correct and incorrect numerous times over the week -Australian fashion is always about providing a number of conflicting trends– from whimsical and dreamy to utalitarian, well cut , feminine, practical, beachy or vintage inspired ; we are blessed to have such a talented and varied bunch of designers in this country.
I have to admit, as soon as I had an idea for this story, I was seeing a remote location – somewhere idylic and breathtakingly beautiful where I could juxtapose all the volume with sweeping vistas and nonpulsed kangaroo locals. Not only is it incredibly exciting seeing previously unseen fashion and taking it for a spin, but also quite scary and nerve wrecking taking original samples out of Syndey a week before fashion week! Thankfully we were blessed with a gorgeous set – an original , renovated 1800s homestead with fields and kangaroos on the grounds of the stunning Emirates Wolgan Valley One & Only luxury resort. Mountain paradise – meet fashion heaven!
(above) AJE : Calling spring! Intricate beading and structured shape of this bustier is vying for attention with the homestead's white flowers (shhhh, Aje's new denim pieces also looked amazing)

MATICEVSKI Resident marsupials meet Maticevski's dreamy polka dot confection
TOME  They may be intended for a more urban environment with their cool detailing and oversized shilouette, but these Tome clothes are also high in chill cred

ALICE MCCALL Mesh pleating and feminine shapes take on country simplicity

ROMANCE WAS BORN  The road is long and there are mountains in our way, but flared overalls will make sure we climb a step every day –and not just because Joe Cocker says so.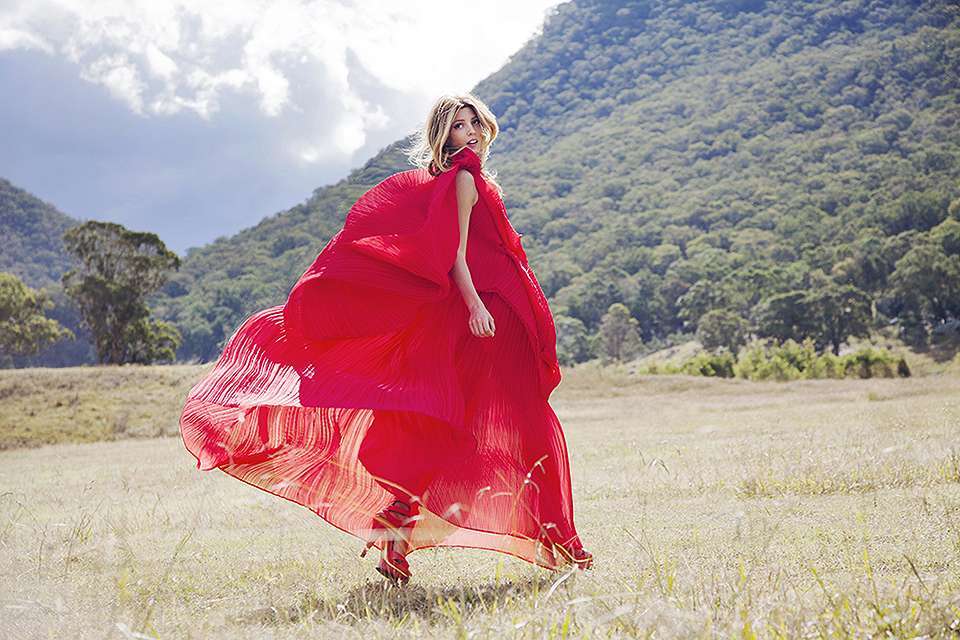 MICHAEL LO SORDO: Pleats please! This modular skirt and top combo had numerous ways of wearing it and they were all incredible.Red pleats & wind = heaven!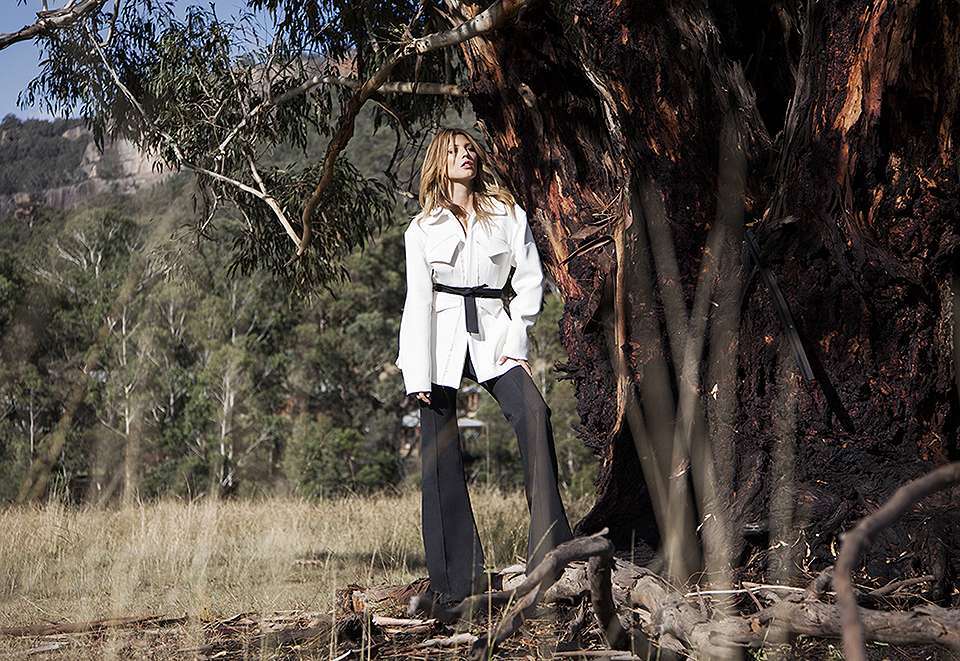 ELLERY: Ellery continues her fashion code legacy with sumptious fabrics and exaggerated lines
See the full story on Vogue.com.au here!
Photographed by Alice Wesley-Smith
With thanks to the Emirates One&Only Wolgan Valley resort
The warmer months are upon us and there is nothing as refreshing as an all white palette on a sunny day - no matter what the ocassion is. No longer just the domain of tennis players and doctors, white has been having a moment for a few seasons and it shows no sings of disappearing. The crispness of the cleansing palette and the way it pops against a tan is unbeatable. This Camilla and Marc jacket is elegant biker chic when paired with a cute pleated Lover skirt. I also added a crock print Rachel Ruddick clutch and a silver vintage Kramer ring as understated but punchy accessories.
There is nothing wrong with a little bit of flirt - especially when it is done in a demure way. I paired a kicky Lover skirt with this luxe silk Tome top , Scanlan & Theodore heels and U.n.i.f.o.r.m leather cap for a look that goes from day to night and feels like summer personified.
Check out the full story and another five all white looks on Vogue.com.au here !