My love for Australian Fashion Week runs deep. For 20 years now, I have participated in it in some way or another; first as a budding young model going on intimidating castings, later as a runway model with an incredibly OTT walk that I'm not even sure I could replicate now, and nowadays as a blogger who is passionate about the amazing fashion being created in our country. A lot of people think that to look stylish they need to look beyond our shores but I am finding that to be more and more untrue as time goes by. In fact, I would like to state that I believe Australian Fashion has never looked better, more well made or relevant on the world stage than it is today. The variety and ingenuity of our designers only gets deeper and wider each year, so that it is now possible to dress only in Australian fashion and look incredible each day. Fashion made in this country now covers all price points and all styles of dressing; the glamorous and the basic , not to mention sporty and swim. Without further ado, here is my review of 8 designer's shows this year.
(above) ROMANCE WAS BORN: Set in the beautiful Carthona house and it's magical gardens, RWB sent out otherworldly girls that belonged in the 1920s wearing romantic and whimsical yet strong and intricately detailed clothes that took my breath away. I feel RWB are really hitting their stride and capitalising on their codes; embellishments, tactility and craftsmanship mixed with sparkle, vintage aesthetic and off beat femininity. This collection is full of the sort of gowns and dresses that you will covet for life ; you know how there is always a moth eaten vintage dress that is so beautiful you just cannot part with it ,ever? These pieces are destined to become keepsakes that your children fight over. ( gown by RWB, shoes by Saint Laurent )
KITX : To start an ecologically conscious label is no small feat in today's world of fast fashion, yet Kit Willow has managed to mix impressive eco credentials with clothes that actually look amazing as well. This collection is full of gauzy cottons, the softest, naturally dyed leather and quirky artesian detailing,boasting perfect, breathable pieces for your next holiday along with every day staples that you'll cherish forever ( Kit X bustier dress and boots, Dior sunglasses )
PE NATION: Pip Edwards and her partner Claire Tregg have managed to create a sportswear label that is not only functional but also achingly cool and desirable. Think sexy,high tech, rave , 90s inspired pieces that will look just as cool at the gym as they will sipping the morning latte at your local. No wonder OS buyers have gone gaga over the brand (P.E top, skirt, bra tops and sunglasses, Tommy Hillfigher booties )
REBECCA VALANCE: The queen of the well cut dress sent out perfect examples of her tailoring across supple leathers, a smattering of yellow, stripe and off the shoulder gowns that made me swoon. These are not clothes that reinvent the wheel but are pieces that every woman needs in her wardrobe- elegant and sexy at the same time whilst remaining well made (Rebecca Valance dress, Stuart Weitzman heels)
TONI MATICEVSKI: The 80s trend has been building up for a while, yet no where did I feel it deconstructed in the right way as much as I did at Maticevski. Whilst bustles hail from 17th century, they made a reappearance at Maticevski in a variety of ways, building up on the designer's love of peplum, along with all of by now famous Maticevski codes; the punky yet sexy gowns, amazing pencil skirts that do miracles to a woman's booty and crop tops that are anything but their namesake. Maticevski does his thing and he does it well; these are clothes for grown up women who are not prepared to lose their sexuality or elegance any time soon. Blade runner vibes were punctuated by amazing crystal gags and cuffs by Ryan Storer. Because why wouldn't put together also be irresistibly naughty? ( Maticevski skirt, top and sleeves, Giuseppe Zanotti pumps)
Read the full story on vogue.com.au here
Photographed by Alice Wesley-Smith
Suits may have been invented for men but women have appropriated the codes since the beginning of the last century – Coco Chanel made her own version in 1914, Marlene Dietrich made the tuxedo famous, Pachucas women wore zoot suits as an expression of their strenght and feminism while Katherine Hepburn and Kim Novak pushed it to the forefront of the feminine psyche. Yves Saint Laurent made a formal tuxedo "Le Smoking" look more appealing than a dress, hit show "Dynasty" repeatedly conveyed women's power with skirt suits and Grace Jones and Madonna made a tuxedo look not only sexy but rock n'roll iconic.
These days a well cut suit is an essential in a women's wardrobe and represents an investment well spent: not only does it impart a sharp impact when worn together but presents multiple usages when worn as separates. This season, play with new codes and accessories for an updated take on the mainstay staple.
Above : Exaggerate proportions for maximum impact – oversized pants are all the rage this season, romantic ruffles add drama while silver detailing offsets grey tones ( Ellery suit, Swarovski necklace )
Choose an oversized jacket paired with ankle grazing pants for a look that's both 90s elegance and punk rock cool, then add accessories that offset the look while enhancing it's feminine and masculine qualities.A pair of beautiful loafers will not only match your suit but come in very handy for all those floral dresses in the upcoming season ( Toni Maticevski suit, Stella Mccartney lace bra from Net-a-Porter, Lack of Colours hat , Gucci loafers )
This season, eccentricities reign supreme but a floral strewn suit in the right designer's hands becomes a well cut forever piece. Bonus points on breathable fabric that cools the body in the sun and ankle zips that make it wearable in 2 ways. ( Max Mara suit, Giuseppe Zanotti pumps )
Pair it back with a beautiful silk tank top and simple jewelry ( Lover top, Cartier Love bracelet, Thomas Saboo Love bridge bracelet )
Photographed by Alice Wesley- Smith
See the full story up on vogue.com.au here !
If I were to judge the upcoming MBFWA 2015 solely based on the samples pulled for this story , the keyword of the week would be volume. As in slightly impractical, wonderfully dramatic and so much fun to shoot! The all seeing wizard I am not, but I know I will be proven both correct and incorrect numerous times over the week -Australian fashion is always about providing a number of conflicting trends– from whimsical and dreamy to utalitarian, well cut , feminine, practical, beachy or vintage inspired ; we are blessed to have such a talented and varied bunch of designers in this country.
I have to admit, as soon as I had an idea for this story, I was seeing a remote location – somewhere idylic and breathtakingly beautiful where I could juxtapose all the volume with sweeping vistas and nonpulsed kangaroo locals. Not only is it incredibly exciting seeing previously unseen fashion and taking it for a spin, but also quite scary and nerve wrecking taking original samples out of Syndey a week before fashion week! Thankfully we were blessed with a gorgeous set – an original , renovated 1800s homestead with fields and kangaroos on the grounds of the stunning Emirates Wolgan Valley One & Only luxury resort. Mountain paradise – meet fashion heaven!
(above) AJE : Calling spring! Intricate beading and structured shape of this bustier is vying for attention with the homestead's white flowers (shhhh, Aje's new denim pieces also looked amazing)

MATICEVSKI Resident marsupials meet Maticevski's dreamy polka dot confection
TOME  They may be intended for a more urban environment with their cool detailing and oversized shilouette, but these Tome clothes are also high in chill cred

ALICE MCCALL Mesh pleating and feminine shapes take on country simplicity

ROMANCE WAS BORN  The road is long and there are mountains in our way, but flared overalls will make sure we climb a step every day –and not just because Joe Cocker says so.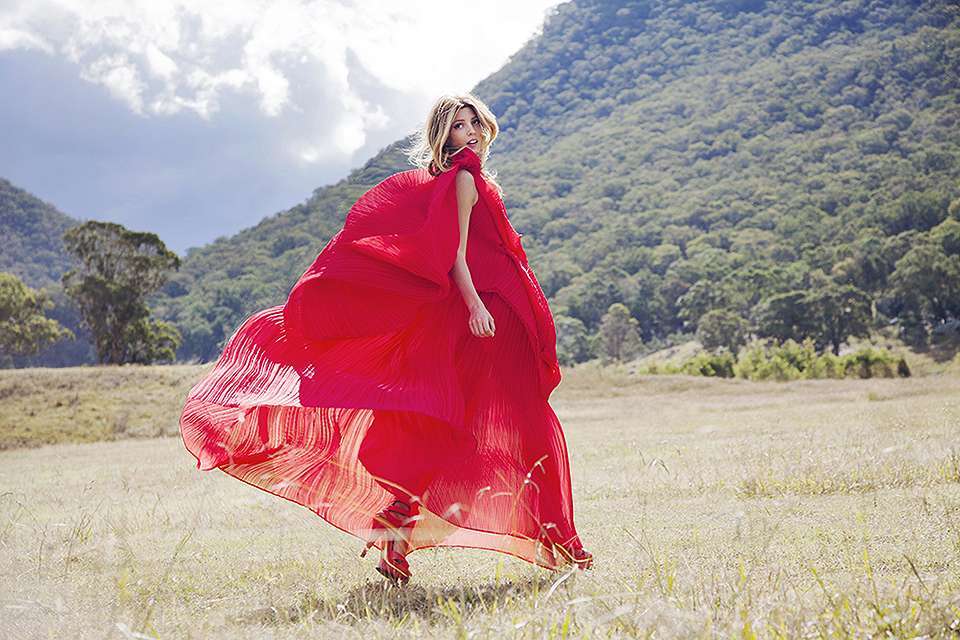 MICHAEL LO SORDO: Pleats please! This modular skirt and top combo had numerous ways of wearing it and they were all incredible.Red pleats & wind = heaven!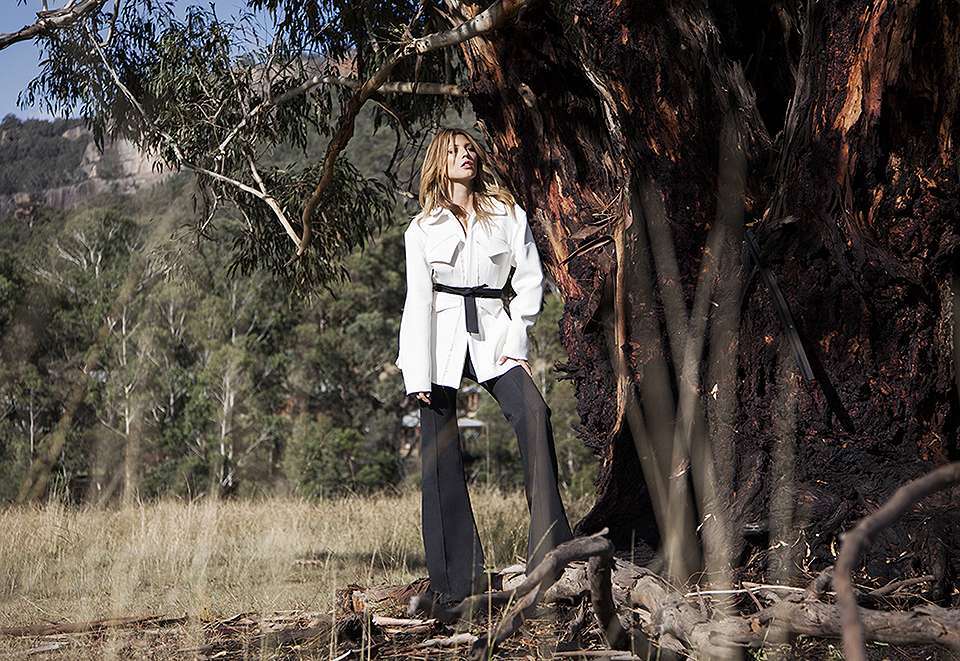 ELLERY: Ellery continues her fashion code legacy with sumptious fabrics and exaggerated lines
See the full story on Vogue.com.au here!
Photographed by Alice Wesley-Smith
With thanks to the Emirates One&Only Wolgan Valley resort
Our designers on their inspirations and favourite Paris haunts
During Fashion Week, Paris is a whirlwind of activity – not only is it an arguable epicentre of the world's most eagerly awaited fashion shows but numerous buyers flock to Paris for re-sees of collections that occurred elsewhere in the world. This year, I enlisted my dear friend Lindy Klim to help me find out what Australian designers love most about the city of love. We used the opportunity to visit their Parisian showrooms and choose our favourite pieces for a whirlwind shoot whilst picking their brains on their beautiful collections…
(above)Dion Lee
Tell me a little bit about the inspiration behind the collection, which fabrics did you use and why?
With this collection I wanted to explore evening wear silhouettes, that felt grounded and relatable.The silhouettes were created through slashing into the fabric at different points and alloying the fabric to collapse around the body.
We have worked with silk satin, triple viscose, leather and mohair; a mixture of contrasting, luxurious textures.
What do you love about Paris?
I love the sense of intimacy.You feel like you are in a small town, on a large scale.
Favourite spot in Paris?
Comptoir De L'Image on de Sevigne;An incredible archive of photography monoliths and rare design books.
Tell me a little bit about the inspiration behind the collection, which fabrics did you use and why?
Desert landscapes were a major notion in this seasons collection influencing the white chalky hues and burnt yellows through to the Raffia textures and finer pleat details. I wanted to take a skewed approach on the Classics- the essentials that every woman needs in her wardrobe.
What do you love about Paris?
All the doors and architecture
Favourite spot in Paris?
Brezih Cafe would have to be my favourite café
Tell me a little bit about the inspiration behind the collection, which fabrics di you use and why?
This season we chose two female artists: Belgian dancer Ann Terese Der Keersmaker and American Designer Donna Karan .They both rose to prominence in the early 80s and their aesthetic involved feminising and sensualising traditionally masculine elements . We took on their love of jersey and leotards -from Ann we took her geometry and from Donna the business banker cotton shirring stripes, bias cut satin dresses, and love for animal print. Then we took animal print in different directions by distorting it and elevating it in printed tissue silk lame, embroidered organza and wool blend jacquard
What do you love about Paris?
The food, the museums, the Bon marche!
Favourite spot in Paris?
It's not so secret but my favorite place is the Brancusi Atelier just outside the Centre Pompidou.
Tell me a little bit about the inspiration behind the collection, which fabrics did you use and why?
My inspiration for Spring Summer would have to be the creative gathering of models, photographers and fashion designers in early '70s Paris mixed with a hint of romance. One thing I've always loved on a woman is a sexy dress that makes her not only feel beautiful but also empowered. The collection has a hint of softness with movement of the sheer pleats – chiffons in black, white and red with an undertone of relaxed and effortless dressing.
What do you love about Paris?
There is a certain buzz that hits Paris during Fashion Week. You can feel the spark all around from the Eiffel Tower to the Sacré-Cœur. It's hard not be inspired on a daily basis - whether I'm in the car or walking the streets – you never know what might see and grab your attention.
Favourite spot in Paris?
Every time I go to Paris the first thing I do is attempt to make a reservation at Breizh Cáfe in the Marais which is impossible at times because they are booked out until like 2018 and even though you must make a reservation over the phone they never pick up. But without a doubt the best crepes you will EVER have.
Tell me a little bit about the inspiration behind the collection,which fabrics did you use and why?
It started out purely about the fabrics. I noticed they all have a papery feel- everything was a bit tone on tone and shade against shade. So then I worked on silhouettes and shapes to exaggerate that flinging of supple crispness. I wanted it to feel clean but the detail in the garment to be really structured. So the whole thing felt a little constrained and relaxed at the same time.
What do you love about Paris?
Whats not to love! The pastry, the language, the people, the city. It really feels like my second home. Since living there over ten years ago just being able to go down any street and still discover something amazing is exciting.
Favourite spot in Paris?
Hmmmm. I love the little gardens across the city.. its so nice to be able to sit for five minutes outdoors surrounded by beautiful buildings, watching kids play and perfectly manicured flowers blooming.
Tell me a little bit about the collection, which fabrics did you use and why?
Artist Egon Schiele's expressionistic painting kicked off inspiration for the collection, and is the muse you can thank for the voluminous, twisted, sharp, soft and asymmetrical shapes which were strong throughout the showcase. Think flared pants which are more office-chic than 70s flower child and frilled criss-cross draping on layered shirting, both exuding a certain sophisticated and clean-cut femininity. Fabrics: When designing I tend to choose my fabrics first.
I feel like they really set the mood for the collection. I love to source unique textiles from Switzerland, France and Italy and there is never any substitute for quality.
What do you love about Paris?
I love the culture and history that comes with Paris. The city has such a rich history with so many stories, I really feel that when I walk the streets there.

Favourite spot in Paris?
I love sitting on the grass in the garden at Place des Vosges. Watching the children play in the fountain's water is one of my favourite things to do on the weekend.The fountains are the closest things to being at the beach for Parisians so and as an Australian it is so fascinating to watch.
Ellery photographed by Jake Terrey
All others photographed by Claire Price
Never was I the sort of little girl that admitted to liking anything remotely girly, shiny or sparkly. My childhood hero was Sheena Queen of The Jungle, a fierce warrioress feared by men who could speak to animals. There was no time to waste on flounce and gloss when days were already kept busy by splitting my head pretending tree branches were lianas and chasing imaginary tigers. Let's just say, the scars are still there but I'm making up for lost time like a magpie let loose in a jewellery store. When done right, this trend can look simple, cool and beautiful.
Sequins, embellishments and interesting metallic detailing were big on the international autumn/winter '14/'15 catwalks. From concrete mesh and crystal innovations at Chanel, to silver beading at Lanvin and sequined minidresses at Tom Ford, designers created clothes to light up the night.Not to be beaten, Australian designers forged deliciously embellished creations too; so I thought I'd share some of these with you now. Just remember not to over accessorise and let the shine speak for itself!

(Toni Maticevski top and skirt)
I loved Toni Maticevski's collection at Fashion Week this year- it was so intricate but modern at the same time. This embellished "sweatshirt" is insanely beautiful and I loved the faux tie details across the pants and skirts.

(Dyspnea top, Zulu & Zephyr bralette)
Cloud, crystal and crop meet in this delicate creation– unicorns optional.

(Ellery bustier, Dion Lee skirt, Tiffany & Co bracelet, Louis Vuitton bag)
Subtle shimmering detailing adds a sculptural feel to a netted bustier...
Read the full story and more pictures on Vogue.com.au here!

Photographed by Alice Wesley Smith
One of the best aspects of being a blogger is playing dress ups with fabulous clothes - whereas I usually dress down in everyday staples, Fashion Week is always a great excuse to go a little wild and have some fun. My outfits this year were so intricate and beautiful, I felt that they needed a post of their own to show off the sheer amazingness of the details .
We shot this post in front of my house at Bondi Beach and boy, did we get a lot of looks and even a little audience from the nearby Muscle gym, but not for reasons you'd think! The boys were more enamoured with the lace and the crystal encrusted jacket then they were with the two girls shooting. I'm not surprised, I mean who wouldn't swoon over the way the near artpiece sparkles in the sun ?
The light kept playing peekaboo behind the clouds and the night came quickly with autumn daylight savings giving the looks from Burberry, Dion Lee, Toni Maticevski,Alex Perry and Dyspnea their own special glow.

When I saw this Burberry outfit, I fell in love..hard! It's crazy beautiful embellishments, plastic capelet detailing , mermaid-esque scaled clutch detailing and shimmering crystals are out of this world. The near exact match of Sarina Suriano jewellery added to the drama. ( top, jacket, skirt, clutch and sandals -all by Burberry, necklace and bracelet by Sarina Suriano )
One of the big trends this season is the exuberant shade of yellow. This gorgeous lace dress made me feel like a candy hued princess coupled with hundreds and thousands accessories (dress by Alex Perry, bag and shoes by Christian Louboutin )
For the last few seasons a momentum has been building for a flashback to fuller, ladylike skirts and cinched in waists. I wanted to juxtapose the elegance, softness and femininity of the silhouette with intricate hardware and toughness of a leather corset. It made for an interesting sartorial dynamic - I coined it the dominatrix princess ! ( Skirt and bustier both by Toni Maticevski, Christian Louboutin pumps, Louis Vuitton bag, vintage earrings )

Pale pinks are the new way to do neutrals this season and this beautiful, shimmering, python scaled leather dress is this trend personified. Combined with gorgeous silver jewellery, it made for a subtly glamorous, figure hugging look. ( Dress by Dion Lee, cuffs by Tiffany & Co, vintage earrings, A-esque clutch, Sheriff & Cherry sunglasses, Giuseppe Zanotti pumps)

Sheer layers, mesh fabrics, metallics and pastels are huge at the moment - I wanted to give this trend a spin in an elegant lilac coat and mirror encrusted dress that made me feel modern and feminine at the same time. ( Dyspnea dress, Toni Maticevski coat, Sarina Suriano jewellery, A-esque clutch , Giuseppe Zanotti pumps )

Photographed by Kasia Werstak
Among the fashion flurry of designers buyers, photographers, models , la mode folk and a liberal sprinkling of fabulousity, the jam packed 4 day Mercedes Benz Fashion Week schedule delivered surprises, creativity , newbies and awesomeness. (it wasn't all unicorns and rainbows but more on this later). During the course of the week, I kept getting asked the same questions by reporters, so I will share my answers to these with you here as they seem so pertinent, albeit probably answered here with a lot more measured fluidity!
Q: What do you think is unique, and what do you love about Australian Fashion ?
A: I believe Australia's unique geographical position as a country whose towns are urban environments situated near water lends us a laid back perspective in which our wardrobe needs to be multitasking and comfortable and yet, as any metropolis, also stylish and fashionable. I love the way Australians seem to be able to combine colour, beach lifestyle and high fashion into something that seems so effortless.
Q: What do you think about MBFWA and Australian designers in general?
A: I think , truly, that Australian fashion is better than it has ever been. I moved to Sydney and worked at the first ever Sydney Fashion Week as a wide eyed young model. Since then, I have witnessed Australian fashion become something that is distinctive, world class and exciting. Our designers are a versatile, talented and unique bunch and personally, I believe that the way forward for Australian fashion is for our designers to create transeasonal collections which will be an easier sell to opposing seasons overseas (some are doing this already).
As far as the future of MBFWA, we need to create a way to lure all our talent back from showing overseas so that our designer superstars can add gravitas and star power and make this an exclusive and exciting yearly event. The way things stand and unlike it is elsewhere, it is just a really expensive exercise for our designers and it need not be. Perhaps , if the media and sponsors could get involved in the right way, we can create an atmosphere of excitement such as exists overseas about fashion week, which will in turn create an opportunity for designers to show at low or no cost, and this may be able to stem the fashion brain drain and create an arena for fashion spectacles that Australia can be proud of. As it stands, and since it's move to Carriageworks, MBFWA has succeeded in making the week's activities more localised, organised and congruent which is a damn good way to start.
Q: How do you feel about the "skinny" debate?
A: I think coming from a background of a model, I can see this debate from both sides of a coin. Firstly, media does sensationalise this aspect of Fashion Week, ignoring everything else, because let's be real, what is a newspaper without big, polarising headlines , public outrage and cries for change? In reality, only a couple of girls I saw at Fashion Week were actually at a weight that made them look unwell, when most of the models, while extremely thin, were simply young girls who hadn't developed hips or breasts and probably ate plenty. I do however agree that in the last 10 years , the models have got thinner and I do not necessarily believe that this is the right way to go.
While the measurements have stayed in a similar vicinity, the girls have got taller. For a 6'2" girl, maintaining a 34" hip is much harder than for a 5'9" girl - and here is where the problem lays. While designers keep insisting that girls fit a certain measurement standard (no more than a 34" hip for overseas catwalks ) there will be eating disorders aplenty. A tall girl simply cannot maintain these standards and be healthy at the same time. Why not look at each model as an individual and tailor clothes to her? After all , a gorgeous 6'2" girl with 39" hips will still look very thin, but this adjustment will give her an opportunity to stay healthy and protect her future fertility. After all,for me, there is nothing worse than trying to focus on clothes and instead feeling sad/scared for a skeletal girl on the catwalk. I want my models to be aspirational, in a way that I'd think : If only I exercised more, I too could have that banging bod ! I think we all want to see models and think : Beautiful, amazing, sexy, cool… not : oh-oh, ouch ,OMG, is she ok? For the most part, however, girls in Australia do not have this problem.
Now that's out of the way let's focus on what is really important- the fashion!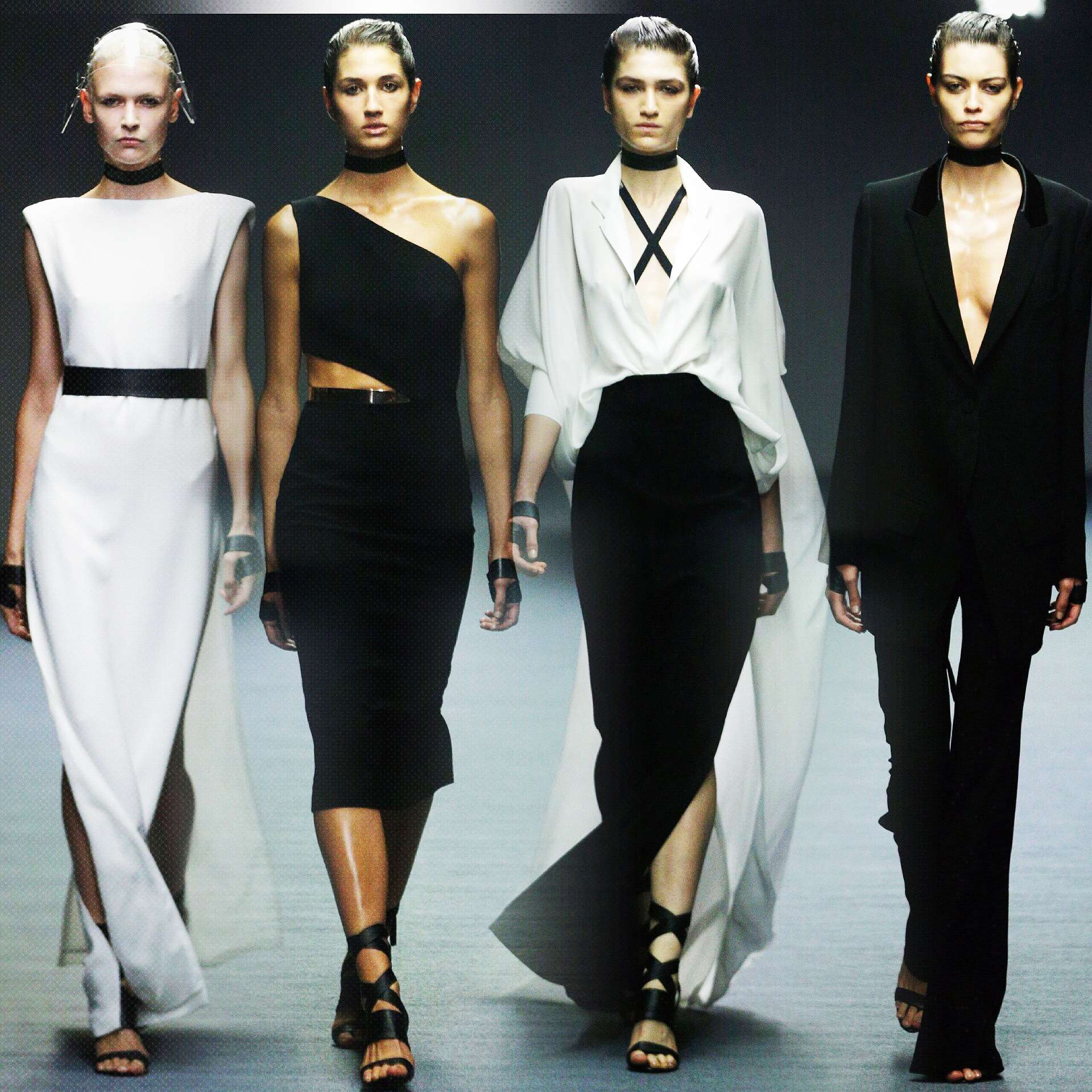 Carla Zampatti opened MBFWA, fittingly for an icon of Australian fashion who will be celebrating her 50th year in the business next year. Her designs were tailored, timeless and sexy. I especially loved the monochrome looks and sharp separates and Michelle Jank's cooler than thou styling
Ellery held a show at the sparkling Icebergs restaurant and bar in which details, craftsmanship and fabrics stood out. My favourites were the intricate bustiers,slim, slightly fluted pants , pleated details and clean blazers
Alex Perry added Angel dust via Alessandra Ambrosio but it was nothing compared to his encrusted, romantically asymmetric lace party dresses with snakeskin printed leather inserts. I really love the direction Alex has taken in the last 3 seasons and I have enjoyed shooting the clothes over that time. I am especially loving his oversized shimmering snakeskin printed t-shirts with squared off shoulders, which are totally my idea of a luxe basic.


I enjoyed Christopher Esber's show this year. His neat, boxy double breasted jackets, nautical inspired hues and shapes, the gold buttons and the asymmetric skirt all the girls I sat with at the show wanted signalled that he hit the proverbial staple nail on the head.
I love Emma Mulholland like I love the Opening Ceremony in L.A. It's young and whacky but also cool and fun.These are the pieces to mix with more tailored streamlined clothes for an instant injection of fresh. Pair her transparent sweatshirts with long leather pencil skirts or boyfriend jeans and pastel mules, or wear a printed miniskirt with an oversized cashmere sweater and stiletto sandals. Hi-Lo cool ya'll!
At Alice McCall it was all about shiny  satin, scalloped necklines, sheer fabrics , pretty dresses ,cool bombers and prints, prints , prints! I loved Mark Vassallo's styling colour and the sheen not to mention the gorgeous way the confetti fell on the catwalk at finale.
I loved the Bianca Spender show for it's mix of vintage and modern, kooky and classic, beautiful prints, sassy sequins and sexy leather dresses. Bianca asked me to walk in the show, so I had a great look at these clothes and the quality is amazing. Can't wait to use my voucher!
Dion Lee line II presented a new version of street with easy separates, cool leather pieces, androgynous shapes and flattering wrap dresses that every It girl will scramble for. I especially loved the backless tops...sexey!
Although the print clash didn't quite work for me,this newcomer still got points for it's cool shapes and marching to it's own beat. I love Macgraw's vintage/modern aesthetic ; wide pants, cute collared dresses and billowing fabrics..One to watch in the future.
My absolute favorite show of this year's MBFWA was definitely Toni Maticevki. Beautiful fabrics, elegant but cool , oh so beautiful embellishments and to die for evening wear. Want. Need!
I did an editorial spread on Dyspnea a few months ago because I love originality and imagination and these girls have it aplenty. In this show I loved their intricate sheers studded with pastel fur balls and gorgeous embellished tops. Not so much the Bollywood story, but hey - each to their own!
The biggest surprise this year was definitely Discount Universe, a new label heavy on punk, 'tood, spikes and embellishments. Katy Perry is a die hard fan, commissioning a whole tour's worth of clothes. But before you think : I ain't Katy Perry! , consider this: so beautifully finished and glossy, these clothes have the superpower of lifting anything drab to another level. My money is on the incredible studded python leather jackets. Swoon!

Working hard at MBFWA with my assistant and Lindy Klim's gorgeous back is never a chore. 'Till next year Fashion Week Australia!
photo via Vogue Australia
It has been a loooong hiatus between posts, partly because I was so busy shooting this story before Mercedes Benz Sydney Fashion Week and partly because my once loyal computer decided to crash...taking all my precious stuff with it into a techno grave (always back it up kids, don't be like me!). While the computer nerd fairies worked their magic on resurrecting my data onto a new computer, I shot this story with my photographer Alice Wesley-Smith. Let's say it wasn't without it's challenges. Some designers pulled out because their samples were as yet then non-existent, couriers went missing, weather kept getting bad ,samples were unfinished and without fastenings. It is a frantic and terribly stressful time for designers so we tried to work around them but the rain didn't want to play ball. Still we persisted , so this story was shot over a few days, with each ray of sunshine through the clouds signifying a sprint out to shoot .I love the way it has turned out ! I hope you do too...
I will be doing a full MBFWA review on this blog in the next few days , but for now, here is the Vogue.com.au story:
Another year, another MBFWA!
Averaging 12 shows per day, the jam packed schedule allowed for plenty of magic via new designers as well as established icons of the Australian fashion industry. I loved the trends and ideas designers presented, with plenty of wish list write ups compiled for next season.
Main trends were toward layering, soft tailoring, looser, more relaxed silhouettes, structural dresses, pastel tones, monochrome, innovative fabrics, beachwear inspired clothes, embellishment and cool prints.

Carla Zampatti, who celebrates 50 years in the industry next year, showed a glamorous, elegant collection fitting her own timeless style. (Carla Zampatti gown, silk fabric from Broadwick Silks)

Alex Perry presented a collection replete with sexy party dresses but I also loved the loose, embellished t-shirts and plenty of beautiful lace. (Alex Perry dress, Maison Michel hat, Tony Bianco for Alex Perry boots)

Toni Maticevski has been going from strength to strength, presenting a stunning, masterfully tailored collection of breath taking dresses and ladylike separates.(Toni Maticevski dress, Balenciaga wedges and Hermes cuff)

We are Handsome held their fun, always colourful show within the beautiful Paddington Reservoir gardens. This year the prints were focused on tigers, zebras and florals. I loved this chain and orchid print swimsuit with a flattering underwire cup.(We Are Handsome swimsuit, Preen boots, Celine necklace, vintage hat and bracelets)
Check out the full story and 3 more looks including Dion Lee II, Ellery and Romance Was Born now up on
vogue.com.au here!

My teen years were so heavily influenced by grunge for a while that I felt Dr Martins were synonyms for footwear, ripped fishnet stockings were normal and tartan shirts , well , I kinda lived in them - day or night. This season Saint Laurent made a return to grunge, but the fabrics Heidi Slimane used are much more luxurious and tactile than polyester or nylon , even though they look similar. While I am all for celebrating grunge, I feel too old for ripped stockings and bad materials, so I am embracing the new luxe grunge. It truly can be a tough, cool but utterly sexy and polished look if done right.
This picture is featuring an evening wear version of the trend that is all crock print glamour, spike metal heels, dark lipstick and gleaming silver jewellery
( dress Toni Maticevski, heels Casadei, clutch Proenza Schouler from Land's End, jewellery by Tiffany & Co , lipstick by Nars )

Take a spin on the old rock n' roll classic with classic army tones mixed with motorcycle inspired Camilla & Marc leggings and a  sheer tartan Zambesi shirt. ( vintage Versace jacket, Balmain boots, Agent Provocateur leather bra and Pushmataha for Manning Cartell jewellery..
Check out 3 more looks and all the details in my new vogue.com.au post here
Photographed by Ana Suntay -Toledo