This month I had a chance to travel to Andalusia, the southern part of Spain where citrus trees line city streets and parks, Muslim and Christian heritage coexist in the most marvelous ways, tapas is the name of the game and flamenco passion ignites long Mediterranean nights. With a few days spare before my work obligations, I landed with no idea what to expect.  I thought I'd see one or two places, shoot an autumn trends story, then laze by the pool and read some books but an upgrade to a sports car at the airport changed all that. Suddenly I was overwhelmed with wanderlust and ended up changing towns like knickers instead. Olé!
Florals in winter are all the rage. Don't forget your headband, hair clip or scrunchie (Rebecca Valance dress, Giuseppe Zanotti sandals, Avenue the label hairclip and scrunchie, Karen Walker earrings)
This autumn , beige it out. Any shade of neutral is a go and head to toe looks get bonus points. Layering is a huge trend, so get creative.( Max Mara overcoat, Nique coat, Rama Voyage shirt, Hansen and Gretel pants,Gucci bag, Jennifer Chamandi shoes from Net-a-Porter)
MALAGA: Land here and wonder where all the fancy shops and restaurants are – they're half an hour's drive down in Marbella, the beach resort playground. Still give Malaga a chance for the night and hit the Picasso museum (he was born there) then see the palatial fortification of Alcazaba for sunset- the beautiful gardens are something else.
I'm a big believer in leopard print being a neutral necessity and I'm glad designers agree. All animal print is good this season, especially zebra. Layer for impact, it's never enough (Carla Zampatti coat, Rebecca Valance dress, Maria Farro sandals)
NERJA: Even out of season this bustling beachside town is all tiny old streets,incredible sunrises and sunsets, cute beaches, fresh seafood and clean surf. Rent an apartment to live like a local and check out Maro's beach and the next two coves around it for the most beautiful swims – the trek by organic farms is worth it
Who says white is only for summer? Parisian designers just showed a plethora of winter whites for autumn 2020 ( Zimmermann dress, Sir The Label pants, Gianvitto Rossi Shoes )
GRANADA: Stay at the old glory of Hotel Alhambra Palace for the best views of the town and the short walk to the UNESCO listed Alhambra palace and fortress. It was one of the most beautiful places I had ever been to. Follow it up with a tajine at one of the many Moroccan restaurants
One shouldered tops and dresses are back, so are lace inserts, pants under dresses, checks, plaid and tartan (Max Mara coat, Christopher Esber dress, Ginger and Smart pants,Antonio Parriego boots)
CORDOBA: Possibly my favourite place of all with it's gorgeous town, walled mosque with a Christian cathedral inside, the biggest old hammam in Europe, a stunning palace and medina. Check out the flamenco at Arte y Sabores for an unforgettable experience.
It's all about print- psychadelic,tie dye,floral or all at once? Take your pick. Oversize shoulders are a must and you're not dressed without a hat (Romance was Born dress, Christian Louboutin boots, vintage hat)
SEVILLE: Oh how I loved this place. Stay at the grand old hotel Alfonzo XII and the majestic Alcazar palace and gardens are just two blocks away. The city hums with it's own beat and horse drawn carriages lining the streets add a romantic feel
Self shot using a Nikon camera
This story appeared on Vogue.com.au here!
 

Ola Espana!
Recently I made a trip to the other side of the world to attend an incredible weekend event hosted by Bentley Motors. I really didn't know what to expect but I knew that it involved driving their Continental GT convertible from Malaga to Seville and please tell me, who would not want to have this experience?
The Bentley journey may had began with a 30 hour trip in British airways business class where I was drinking much wine, flirting with the air steward for extra chocolate and otherwise living my best life, but let's leave that story for some other time.
The real excitement started when I checked into the Marbella club, a luxury hotel on the Costa del Sol only half an hour before the event was starting. I quickly changed into a flowing Max Mara dress accessorised with a Bulgari bag and ran down to the Beach house, just in time for sunset. As the colours changed hues over the sea, we learnt some amazing things about the car we were going to drive tomorrow. At first sight, it was love. Or lust? Seriously, this car is incredibly sexy with sleek lines and endless combinations of finishes: 17 exterior colours, 15 carpet choices, 12 wood veneer options, and 15 different leather versions made my head explode with decorating possibilities. The inside didn't disappoint either; it was like sitting in a leather cloud of plushness, huge entertainment screen, 10-speaker audio system and multi comfort settings including heated seat, steering wheel, armrests and neck warmer ( does it seem that warmth is very important to me cause it is), not to mention numerous massage settings. I was liking the idea of this trip more and more now there was kneading involved. We finished the night at Dani Garcia's 3 starred Michelin restaurant gorging on intricate, delicious delicacies. I dreamt of Salvador Dali 's paintings turning into food that night, whilst I walked through strange landscapes eating chunks out of objects. Thanks Mr Garcia!

A new day had arisen and dear reader I must say I was slightly apprehensive about getting behind the wheel of this sophisticated machine. Not only did the panel look like a motherboard with a thousand functions but I was driving this luxury vehicle on my own, on the other side of the road than in Australia; what if I drive it into a ditch? I was assured that the pre-set sat nav wouldn't allow for mistakes. Hesitantly, I popped the top down ( 19 seconds from start to finish!) , wanting to test out these magical warming settings in the sunny, yet chilly early morning mist.  The other guests; writers and bloggers weren't driving in a convoy either, we were all left on our own to transverse the Spanish countryside and instructed to meet up at a designated pit stop for brunch in an hour and a half.

As I turned out of the hotel grounds onto Marbella pavement, I cranked up the playlist, the massage and warming settings into overdrive ,popped on my sunnies and the dream began. Look, I had doubts about this car. Surely, it cannot be as comfortable and luxurious as I imagined; my inner doubter rallied. But it was, oh yes it was. Even though the top was down, I couldn't feel the cold at all, even in just my sleeveless Dion Lee dress. Citrus trees swayed as I climbed the mountain towering above the sea, relishing slow moving vehicles as a chance to test out the 626 horsepower , 0-60mph in 3.7 seconds engine ( I got a need for speed baby). The countryside unfolded in front of me, the car telling me if I was driving the correct speed 'cause it's so smart that it reads the signs. Kinda like a stylish, responsible backseat driver that I sorely needed - let's face it , I was too busy checking out the fresh blooms strewn across the fields. As a lover of beautiful design, I couldn't stop admiring the pretty dials, clever buttons and the old class way everything was made in a perfect, just so way . We stopped by a beautiful home, where I ate my body weight in Iberian jamon for brunch, because: Spain, and also it is simply the best prosciutto in the world from black pigs roaming huge acorn forests (sorry Italians).
It was time to get back on the road, and even all the jamon in the world couldn't stifle my sadness that the trip to Seville would only take another half an hour's drive .My mind was busy devising outlandish and ridiculously illegal plans of driving the car into a sunset of a protracted European adventure when the GPS announced we had reached the hotel. It was time to get out of the pillowy leathers and say goodbye to my Bentley GT Convertible . Luckily, we were checking into the beautiful Alfonso XIII where I could drown my sorrows in Andalusian luxury.
We ended the day with a private visit to the glorious Alcazar of Seville, an ancient palace built with Muslim and Christian influences, and a big sangria fuelled tapas dinner with the Bentley family and all my fellow journalists. What an unforgettable trip! And let me tell you: once you go Bentley, it feels soooo wrong to go back ; )
Build your own GT Convertible here! 
Last photo wearing Zimmermann, Kit X and Bulgari
Main photos by Richard Pardon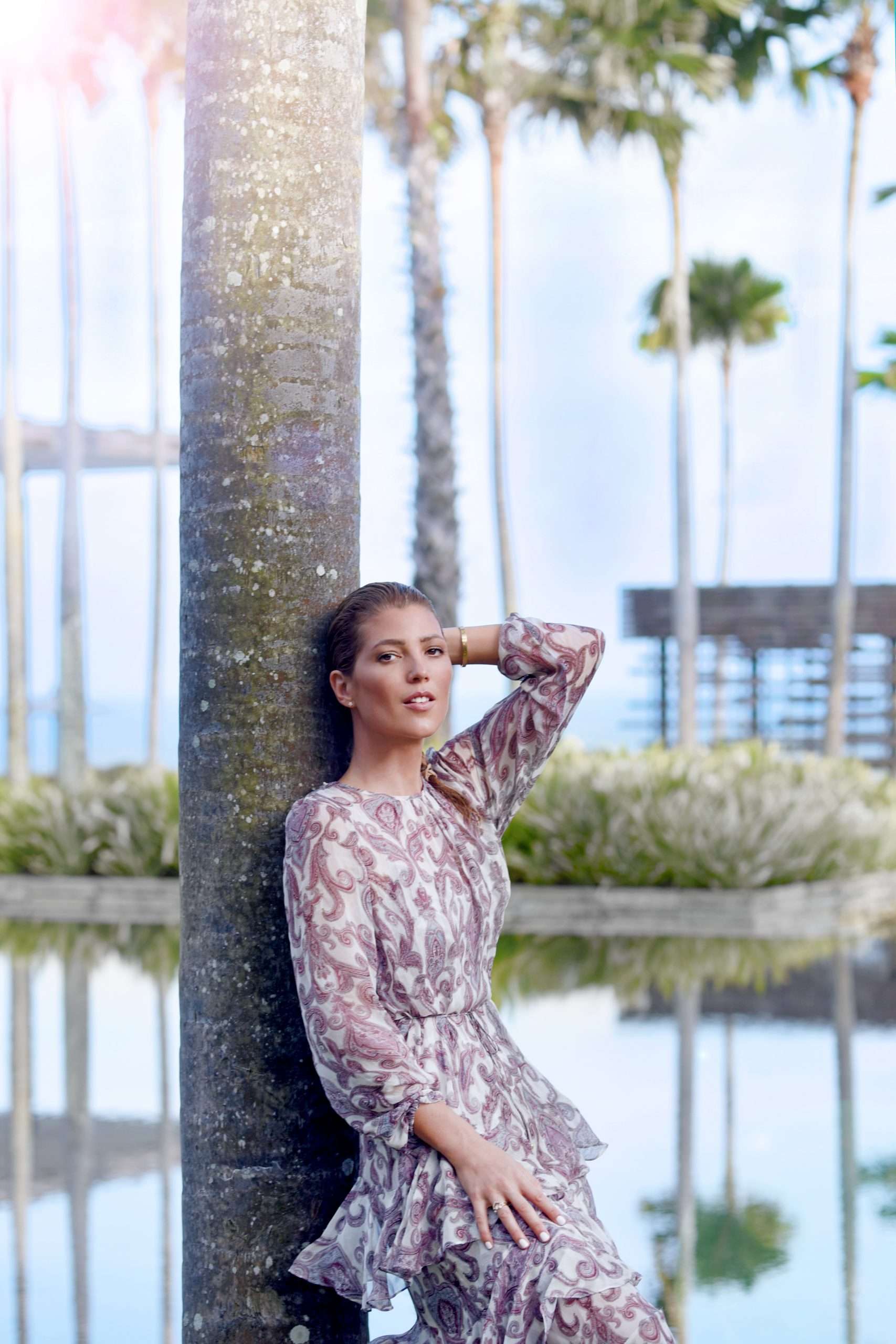 Bali was a complete mystery to me until a couple of months ago, when I travelled there for the first time out of the impending Sydney cold. Struck by the tropical humidity and incessant verve of Denpasar upon arrival, I ventured to find hidden pockets of paradise in three directions.
Canggu
Out of the madness of Kuta towards the greenery of rice paddies, my first stop in Bali felt like an exotic hybrid of Byron Bay and Bondi with its hipster cafes, chilled vibes, health conscious food, surf beaches, small boutiques and sunset beach hangs.
Stay: 
The Slow is a mid century modern tonal dream with a hip clean eating restaurant attached. With an array of innovative cold pressed juices sipped out of glass straws and ayurvedic-meets-paleo breakfasts, I felt glowy and light straight off the plane.
Eat
Fish Bone Local for fresh catch and wine, The Lawn for the sunset, prawn tacos and cocktails, Old Man's, Café Organic and Lacalita for good café eats.
Shop
from gelatos to local artisans and designer wares, the Canggu shopping strip has you covered.
Do
surf Echo and Canggu beach, rent a scooter and drive into rice paddy studded-villages or detox with numerous yoga and healthy eating options.
Ubud
A two hour drive took us past villages to the lush heart of the island where monkeys roam forests, Balinese artisans hone their craft, and a surprisingly happening town delights with cultural and social events.
Stay:
there really isn't anywhere like the Four Seasons Resort Sayan. A private patch of rainforest paradise engulfs you into an emerald embrace that seems so removed from the buzzing town. Featuring gorgeous pool villas among the hotel's own rice paddies and a large pool next to a meandering river, this hotel offers unsurpassed luxury that feels intimate yet wild
Eat:
head into town to sample the healthy and delicious food of the island. Try Clear Café, Locavore, Alchemy, Bambu Indah, Toro Sushi, Sambal, Spice or Uma Cucina.

Shop:
Balinese sculptures, jewellery, fabrics and art shops are dotted everywhere through the large shopping centre of town. Visit the local market for significant discounts.
Do:
start with yoga at the hotel's pavillion, then book a private rafting cruise from the concierge, that takes you down a river through the jungle. Visit the main square of Ubud to attend a traditional Balinese dance as the costumes and make-up are spectacular and if you're feeling adventurous, take a half a day trip for a hike up the nearby volcano then picnic by the pretty lake.
Uluwatu
A world away from the buzz of Ubud, the peninsula of Uluwatu felt serene and undeveloped compared to the rest of the island. High end resorts dot the high cliffs overlooking the endless ocean blue, while white coves hideaway behind surf misted cliffs.
Stay
Alila Villas Uluwatu offers beautiful pool villas and Instagram-ready grounds. With it's slick styling, clean lines, beautiful spa and mod con comforts, this is a hotel you'll want to stay at again and again.
Eat:
The Warung is the Balinese restaurant at Alila Uluwatu and it had the best Indonesian food I have ever had. Head to Sundays Beach Club for yummy strawberry daiquiris and beachside snacks during the afternoon, then try Sake No Hana for Japanese food and stay for a dance at the newly opened Omnia superclub.

Do:
rent a scooter from the hotel and explore the hidden coves of the peninsula. Try Balagan, Bingin and Labuan beaches than walk on either side to find a private cove. Visit the Uluwatu Temple at sunset and say hello to the resident monkeys. Head to the beautiful private beach at Sundays Beach Club for an epic (and protected) snorkel with colourful fish.
This post originally appeared on vogue.com.au here!
When I was ten, I had a bicycle I named Furious Fire that I'd ride beyond neighbourhood borders pretending it was my trusty steed leading me into adventures. You'd think now that I'm all grown up, my relationship to transport vehicles should change to something more subdued, yet when I bought my Prius seven years ago, I fell in love with adventuring all over again.
Everything about my new hybrid car was thrilling; the way it slinks silently running on an electric motor, watching the fascinating interplay of the petrol and electric engine on the screen, how it cruises smoothly on a highway or the economic way I only need to visit a petrol station every two and a half weeks - it just felt like the future. Unsurprisingly, when Toyota recently asked me to visit Japan to test drive their newly redesigned Camry Hybrid on a twin circuit whilst taking in the sights and tastes of the country, I was thrilled and said yes immediately.
Japan is an incredible country, one I've had experience with in the past when I used to model in Tokyo as a teenager and absolutely adore. People are kind and courteous and the food is, as we all know, amazing.  But unlike Tokyo, which is a hive of activity,  this time the itinerary also included Nagoya, the countryside and temples, giving me a bigger mouthful and appreciation of the rich Japanese culture.
Adding to the fun was having Adam Goodes,Tyson Mayr of Naked Traveler,Richie Strahan, Jennifer Nini from Eco Warrior Princess and  Travis Lunardi to gang up and eat way too much with.  From a day in Tokyo that started off with a raw fish breakfast at the iconic fish markets straight off the plane to the granddaddy Toyota experience of racing the sporty new Camry Hybrid on the Suzuka Twin Circuit track with ex Formula 1 drivers, this trip had everything.
I loved the sporty and stylish Camry for it's aerodynamic design and luxe features, but it was the pure excitement of driving it that had me hooked - the acceleration is seamless with 3 transmissions and the speed sensitive steering keeps it tight around corners - all the while using a fraction of petrol of a conventional car. How little? The Camry Hybrid uses just 4.2 litres per 100km - one could drive from Sydney to Melbourne on just one tank; making this car an incredibly ecological way of commuting. It's high performance, luxury and ecology blended seamlessly. I have partnered with Toyota for another post in which I learn additional specks and the science behind how these cars work -( something my inner nerd is quite excited about! )- but till then, here is a little montage of my trip...
"There is only one success in life - to be able to spend your life in your own way."
It's funny; this sentence perfectly encapsulates the fact that our lives are so much a direct part of our creative direction; thoughts, feelings, conditioning, expectations and the search of what we perceive as love, happiness and prosperity. To ask ourselves what we truly want out of our journey requires a readiness to strip all the onion layers and embrace a zen like bird's eye view over the whole, not just the momentarily needs and wants of today. Sometimes these snippets of clarity come to us easily and effortlessly, at other times, akin to diamonds, they come through crushing pressure and pain that forces us to re-evaluate the motives that drive us.
When I look back on my journey on this Earth, it becomes evident that it has been a steady stream of peaks and valleys that has perpetuated my personal growth. As in most people's lives, crushing defeat and sadnesses are superimposed with moments of pure joy and hope, both ultimately driving us to question ourselves and the world around us for clues to our personal happiness. It is not only the alchemy and transmutation of negatives or the allowance and acceptance of positives that are each of our most difficult quests but also our willingness to wrangle the reins and establish ourselves as the chosen architects of our reality by becoming aware of our thoughts and actions.
I always feel lucky to meet people who enjoy the same things as I do and have a similar aesthetic ( probably because I love talking to people about all the shades of our shared perceptions ) but I feel extra blessed to know humans with whom I click so much that even spending exorbitant amounts of time together goes by in a hilarious flash. Sometimes , an extra bonus is that these are individuals that I can create with and in doing so, weave a shared vision into the fabric of reality. My best friend, who also happens to be a photographer and videographer ( and serial M.E.L collaborator) Alice Wesley-Smith is one of those people. During fashion shoots at special locations we both felt that pictures can sometimes be too one dimensional, not allowing for the full ambiance of the experience before us and so the idea for this video was born; we wanted to conceive not only how amazing fashion is by showing the swoosh of a beautiful dress but also the magic mood of perfect light falling on us and beauty of nature before us. After all fashion and travel are complimentary bedfellows and producing this idea would selfishly allow us to invest into a shared need to travel and document the things we love.
For our first video, we chose the unforgettable Australiana of the One & Only Wolgan Valley resort; because where else can you feel dwarfed by orange cliffs and fragrant eucalyptus whilst watching kangaroos play fight in pure luxury? This place is one I hold a soft spot for because it feels like a world away from anywhere; the quiet and the simple opulence are incredibly relaxing while the eco credentials are impressive to say the least. This video encapsulates my perfect trip to Wolgan Valley, complete with horse riding, remote picnicking and swimming in the  private villa pool at dusk whilst wearing some gorgeous clothes tailored to all occasions. I hope you enjoy our labour of love! x

In order of appearance:
Picnic: Zimmermann top, Rachel Gilbert skirt, Akubra hat, Tiffany & Co smile necklace
Hotel room: Camilla & Marc leather tights, vintage jacket, Massimo Dutti shirt, Gucci slippers, Cartier Watch, Mania Mania rings
Horse riding : Levis jeans, Gucci belt, Ryder t-shirt, Coach coat, Akubra hat, Cartier watch, RM Williams boots
Sunset : Lover dress, RM Williams x Dion Lee boots, Akubra hat
Pool: Zimmermann full cover swimsuit