A suit is by definition a set of outer clothes made in the same fabric, designed to be worn together and yet, in the human psyche, it is synonymous with power, masculinity, business and competence.
Clothes do not make the man, yet our perceptions of a person are seized up within mere seconds- it's pretty hypocritical we preach that it's the inside that matters yet make lasting judgements on people based on their outerwear.
Whether it was 1920s libertines shaking off the shackles of society, actresses using tailoring to convey power and character throughout the 20thcentury or Madonna expressing herself in the 80s, a woman wearing a suit challenged societies' perceptions and expectations furthering feminism by asserting our strength and equality. Plus, a bit of good tailoring never hurt anyone, let's face it! The steadfast trend is back in numerous incarnations.
 Checked and herringboned suits have been on point for a couple of seasons now and the trend is holding fast. This quirky jacket and suit combo comes with unusual details such as ruffles and ruched sleeves ( Maggie Marilyn suit, Gucci tote, Givenchy sunglasses, Bulgari and Cartier bracelets)
Return to 70s power in burgundy cord ( Anna Quan suit, Bec& Bridge bodysuit, YSL bag from Net-a-Porter, Chaumet, necklace and ring worn throughout)

Double or even triple denim is all the rage right now so why not go all out like this suit and do it the 80s, acid wash way? ( Miu Miu denim suit and booties, Karen Walker sweater)

Pinstriped and double breasted navy is a classic choice. Pair it with some furry slip ons for a casual power move ( Camilla and Marc suit, Bally slippers)

Sometimes the simplicity of black is all you need. Choose cigarette pants for their elongating effect on legs – just ask Meghan Markle (Nice Martinsuit, Gucci shoes)
Why not get out of bed and skip the whole getting dressed routine? Pajama suits are stylish, classy and feel incredible to wear ( Bally suit, Givenchy sunglasses, Gucci slippers, Miu Miu bag)
This post originally appeared on vogue.com.au here!
Spring is awakening in the depths of the Antipodean countries like a shy deciduous leaf bud, magnetic fullness of the sun tingling it's roots outward with a promise of warmth . Just as the golden rays of summer dim in the North by a minute at first, then two are added to days here and just like that, the light changes and daylight after 5pm starts again. Oh sweet daylight life after 17 o'clock! I have missed you!
Ok, ok, I must disclose, and many of you would know if you follow my instagram, in fact I slightly cheated and spent 3 weeks in my birth country of Croatia in July enjoying a hiatus from blog life, each day filled with sun, swimming , cooking and watching my daughter pull out an array of various sea urchins out of the sea for inspection before throwing them back , wide eyed, each time, as if it were a miracle. Which, indeed it is, as is anything we really look at with unclouded, curious eyes. Everything around us is a wonder, a dream within a dream, and a dear friend of mine tells me each time he sees me : "Tanja, all you touch and all you see is all your life will ever be!", quoting of course Pink Floyd's Breathe. And he is right. If anything I'm realising more and more with each day of being alive, it would be how much more I can open my eyes,  how many more ways there are to see, to touch, to taste, to smell, to understand , breathe, love, embrace. It truly is all about perception of our experience, what we allow ourselves to compute once we peer past the programs we run in our heads as defaults.
Take next season's curious mix of burgundy, maroon, pink and mauve shades for example. Not just because they are your ticket to one of 2016/2017 's hottest fashion trends but also because they are a conundrum of simultaneously being sweet as spring berries, punchy and spicy as heavy Malbec wine and other non simile laden , simple adjectives such as understated, feminine, elegant and earthy. For my third collaboration with Thomas Sabo, I picked out my favourite jewellery pieces from the new collections for three different personalities, then mixed them in with lustful new season examples of marooney, pink camellia goodness . My Moon, after all is in Gemini, so personalities I know!Above: Unleash your inner punk but switch the Christian symbolism with ancient Egyptian. For example, did you know that some speculate an Ankh was a symbol for a primitive energy transformer? It may sound like a conspiracy theory but the mere whiff of magic excites me, as do winged goddesses on necklaces and the sheen of silver
  Wearing: Ring, bracelet, earrings and necklace by Thomas Sabo, bralette by Agent Provocateur, vintage leather pants, Dorateymur mules, Oroton bag, Dion Lee coat 
Fine jewellery looks best layered and the new triangle collection is no exception. Add a scarab for extra wondering tribal goddess vibes

Wearing: Thomas Sabo bracelets, necklaces and rings, dress by Dion Lee
As the sun sets any self respecting bohemian will reach for her plunging maxi dress - for what else could be more perfect for displaying rows of her protective amulets? Or maybe they are her swan caller charms?

Wearing : Thomas Sabo rings and pendant necklaces, Zimmermann dress
photographed by Alice Wesley- Smith
Not only do women on occasion want to get dressed up and be fabulous, but the solidity of precious jewels in a shifting stock market represents true value in the face of uncertain, unproven investments. A diamond lasts forever and represents a true mark of eternity in an increasingly throw away world in which items are replaced with ever increasing speed. There is something to be said about quality, craftsmanship and lasting beauty, and this is why buying beautiful jewellery is such a wonderful expression of honouring a special moment in time. Marking an occasion with an item that will be cherished and passed down generations transforms the item into family heritage, a tradition, a memory that never dies.
"Once upon a time" may be a sentence once used to begin stories of princesses in gowns wearing precious jewels, yet women today still relish feeling like princesses, even if it is in a decidedly more modern rendition of an exciting break from every day jeans and knits.
For my second collaboration with Hardy Brothers, I wanted to utilize the gowns I am currently day dreaming about and accessorize them with exclusive, unique and utterly luxurious pieces that the company is so famous for a 21st century take on going to the ball.

Above: HARDY BROTHERS 18CT WHITE & YELLOW GOLD CUSHION CUT YELLOW DIAMOND HALO RING, HARDY BROTHERS PLATINUM & 18CT YELLOW GOLD PEAR CUT YELLOW DIAMOND EARRINGS, HARDY BROTHERS 18CT WHITE & YELLOW GOLD PEAR CUT YELLOW DIAMOND RING, CHRISTIAN LOUBOUTIN HEELS AND BAG, CUTLER AND GROSS SUNGLASSES.
Yellow is the stand out colour of the upcoming season, so go all out on the glamour with an asymetrical dress in vibrant lemon that comes replete with romantic flowing sleeves. Pair it back with tough accessories to add a modern edge, then up the shine with a smattering of gorgeous yellow diamonds

WEARING HARDY BROTHERS PLATINUM DIAMOND NECKLET AND HARDY BROTHERS PLATINUM EMERALD CUT DIAMOND HALO RING

Lounging by the pool is all the better when it's done in off the shoulder, sequined perfection. Exposing the decolletage is just asking for timeless pieces that won't ever go out of style ( Rachel Gilbert dress )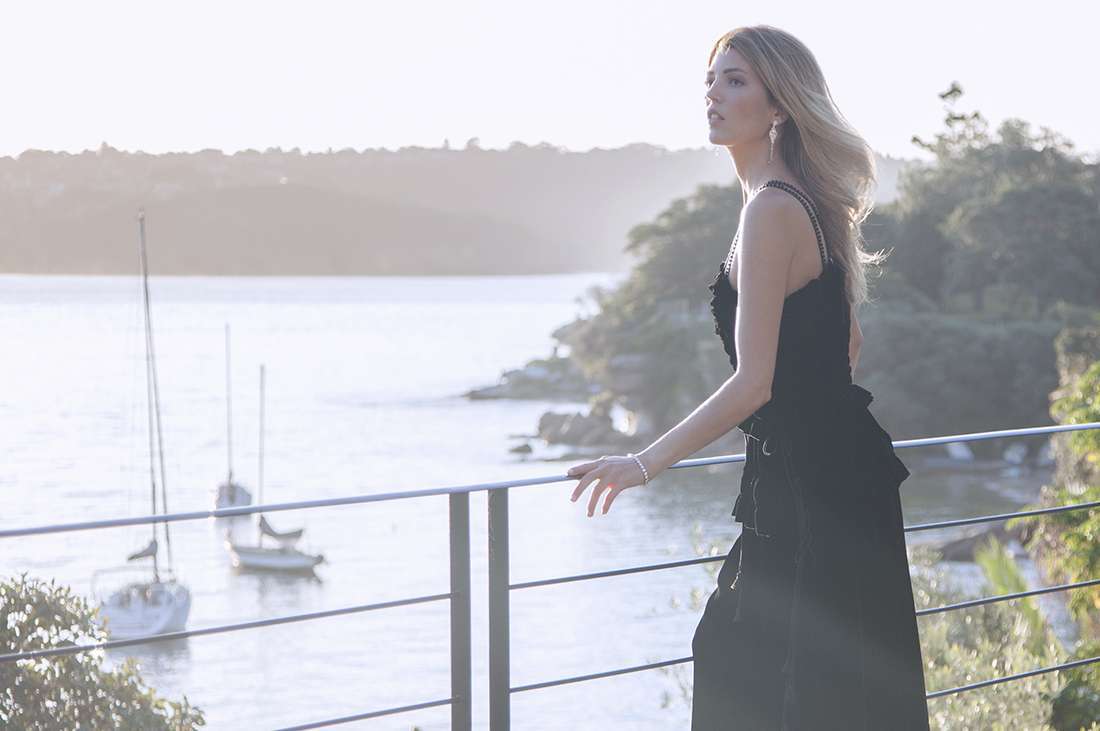 WEARING HARDY BROTHERS 18CT WHITE & ROSE GOLD PINK DIAMOND DROP EARRINGS, HARDY BROTHERS 18CT WHITE GOLD DIAMOND TENNIS BRACELET AND CHLOE DRESS FROM PARLOUR X.
Velvet is the fabric to buy now, cherish forever and a perfect juxtaposition to icy diamonds. Invest in stunning pieces that are not only delicate and unique but your children will fall in love with and fight over one day.
Photographed by Alice Wesley-Smith
With thanks to Justin Hemmes and Kate Fowler for the stunning location The Hermitage.
When it comes to shine, nobody did it better than Ziggy Stardust, David Bowie's concocted 70s alter ego who pranced around the stage in his otherworldly glam rock outfits, dancing straight into the world's most cherished fashion memories. Blame it on David's untimely death but his legacy lives on this season because lurex is once again king of the OS catwalks with designers such as Balenciaga, Saint Laurent, Pucci, Jil Sander, Missoni and many others reviving the glittery fabric in all it's fabulous incarnations.
Closer to home, designers have been utilising high tech fabrics and intricate metallic weaving into eye popping incarnations of the trend; across footloose and fancy free maxis, trophy evening wear or classic tailoring, the innovative ways of incorporating gleaming concoctions are as beautiful as they are impressive. Here is the run down of my favourite looks to buy now and covet forever...
Above: Eternally classic combo of elegant skirt and long sleeve top gets an update with ultra fine light reflecting sequins that make one feel like the Moon incarnate (Ellery top & skirt)

Mesh grows up:  this top is in fact made of super fine shimmering beading which makes you feel more princess than punk ( Rachel Gilbert top, bustier and pants)
 Whilst loose and covering everything, this dress possesses high octane shimmer that is beguiling and unforgettable. Wear it with tough boots for 90s grunge or heels for a take on the 70s with a touch of Game of Thrones medivialness. ( Zimmermann dress, Gucci heels )

Metallic thread, lace and pretty flickering sequins coexist in a pretty shift that is high on mermaid magic ( Zimmermann dress)
Beauty note: Armani Luminous Silk foundation, Charlotte Tilbury Filmstar Bronze& Glow in Light to Medium, Charlotte Tilbury Beach Stick in Ibiza on top of cheekbones and lips, L'oreal False Lash superstar mascara, By Terry eyebrow liner in brown
Photographed by: Alice Wesley-Smith
Red is my mother's favourite colour so by proxy I've had a lot of experience wearing the hue head to toe like it's no thang. It wasn't until later on in my teens, when I learnt my horoscope sign was Aries; a fiery sign whose power colour is scarlet, that I consciously decided I needed to get back to my power hue roots.
Red became associated less with awkward crimson cord overalls and more with Jessica Rabbit's ruby slinkiness, the classic beauty of Valentino, power of a Ferrari, Louboutin soles and that dress Julia Roberts wore in Pretty Woman. Whether traffic light, cherry, scarlet or tomato this season's hue is coming in red hot across the runways of Dior, Hermes, Marni and Fendi among others. Make like a lady in red in 6 erubescent looks
Above: Taking on the waves while embodying Bond Girl chic is easy with this showstopping spring suit ( Duskii wetsuit, Dita sunglasses, Sarah and Sebastian necklace and ring, Cartier Love bracelet worn throughout)
2. Red leather isn't just for oversized 80s jackets - this perforated wrap dress is as modern as it is cool in summer ( Kacey Devlin dress, Lucy Folk bag, Christian Louboutin shoes )
3. Mix frills with structure for timeless elegance ( Gucci dress, Balmain jacket, Marcus Lupfer bag all from Net-a-Porter )
4. Catch the summer breeze by floating barefoot in a star spangled cerise dress ( Tommy Hillfigher dress )
Read the rest of the story now up on vogue.com.au here!
Photographed by Alice Wesley Smith
Hey hey - it's finally spring! Trading in cold overcast days and upturned umbrellas for spring blooms and cold ciders on the beach is hardly a fair exchange but let's face it, there is so much to miss about winter sartorially. Case in point; beautiful coats that let us get away with anything, thick cashmere sweaters that feel like a slice of home no matter the weather outside and cool over the knee boots that add Stevie Nicks's irresistible allure to 70s maxis and split thigh skirts. Cold weather is so easy! But what about the encroaching warmth of Spring? Well!
This month, I've partnered with L'Oreal Paris in creating a weekly Spring Trend report ,dissecting not only lust fashion pieces but also the new (and frankly awesome) bronde trend currently sweeping the world. Beauty + fashion here we come!
Clockwise from top
1) Bronde : So what exactly is bronde? Bronde is neither a brunette nor a blonde. It's not balayage or bright, stripey highlights ; it is an altogether different way of applying colour that is perfect for women who think that sitting on the fence serves the best of both worlds and whose natural shade of hair fits somewhere in the middle of these two tonal extremes. For me, it's basically an excuse to be lazy with colouring - the bronde look is more forgiving while growing out and it's subtle highlighting won't change your hair dramatically. From mocha to café latte and honey blonde, bronde offers a range of shades used simultaneously that evokes a nuanced, sunkissed, multi dimensional colour - perfect for the 70s vibe still rocking on into Spring ( shade shown: L'Oreal Paris Preference Glam Lights No:3 Light Brown to Dark Blonde Hair )
2) Red baby, red! : This Spring it's all about scarlett, fire-engine,poppy flower, geranium red. But in this season trend's haste, let us not forget that red is also a forever colour. Especially when it's in a YSL bag edition. This baby will look good with this season's bohemian look or the looming 80s trend coming our way. Win, win
3) Aviator love : Aviators are the perfect accessory addition to maxi dresses, flares and stacked heel boots. These sunglasses sport a beautifully graded lense – what better way to see the world? ( Isabel Marant X Olivier Peoples sunglasses )
4) Gucci babyyyyy Gucci : No other label has captured the hearts of fashion editors worldwide as Gucci has with it's recent 180º style U turn. With Alessandro Michele as it's new Creative Director, Gucci has taken a new subversive turn - gone is the brash, overt sexuality of Gucci's past and in it's place is a label whose strengths lie in an unassuming, relaxed, romantic, 21st century baroque grunge look. I will be wearing my loafers with floral silk skirts, suits, jeans… basically - everything!
5.Vintage : The prevailing mood is still vintage – from the 70s, into early 80s, fashion is still tapping into decades past. And what is the best way to get the look? Easy! Go vintage! Scour your thrift shops, Ebay and upmarket vintage stores for gems whose new incarnations are all the vogue right now. Let's face it, designers pay their assistants to do this for them – vintage clothes are an endless treasure trove of inspiration and pattern ideas. Bonus point: it's unlikely that anyone is going to own your look! ( vintage Lanvin dress from Ebay )
6. Pearl me up : These are not your grandmother's pearls – these days marine jewels have taken on an altogether more modern incarnation with designers such as Delfina Delettrez, Chanel, Givenchy and Balenciaga playing with them across fresh, fun and wholly contemporary accessories ( pictured: Sarina Sariano palm cuff and earrings )
7. Paris 4eva : Paris is many obvious superlative adjectives but what is with the world's unending obsession with Parisian women? From their fashion style to their diets, we want to know how they do it with that je ne sais quoi ease and perfection. How to be Parisian Wherever you Are is a book that goes beyond clichés into tongue in cheek vaudeville . The amusing Anne Berest, Audrey Diwan, Caroline de Maigret and Sophie Mas dissect everything from fashion rules, recipes and obsessions to a candid look at adultery, friendships, love and sex. It is witty and fun and reads like an outrageous gossip session with a bestie – I read it cover to cover in one amused sitting.