Pip Edwards and I have been friends for 20 years, way back when we had terrible hairstyles, wore questionable clothes and did a lot of dancing on the weekends.
We both had kids before any of our friends and then navigated heartbreak, single motherhood and career life in parallel timing, so these days when life gives both of us a snippet of free time at the same time, we like to live it all the way up.
Pip is a powerhouse at the amazing sportswear brand P.E nation, so catching her is near impossible. But, it just happened to be that we were both in Los Angeles at the same time so we drove into the desert, Thelma & Louise-style, to one of my favourite hotels in the world: the Parker Palm Springs.
This iconic accommodation is an oasis in the desert teeming with hummingbirds in beautiful lush grounds, with mid-century styling, hip restaurants and cool art. I managed to persuade Pip to take part in this trend-based story. And, oh boy did we have some fun along the way!
Scroll on to see five summer trends showcased in the iconic desert surrounds of Palm Springs.
Above: Tanja wears Double Rainbouu dress, Reliquia scrunchie and star earrings, Le Specs sunglasses; Pip wears Balenciaga sunglasses and Versace swimsuit.
Excess all areas
This summer is all about bringing the excess of the '80s and early '90s back. Think: bright colours, over-the-top styling and gold baby, gold!
Above: Pip wears Double Rainbouu shirt, Versace swimsuit, Nomadic State of Mind sandals, Jordan Askill necklace, Sarah & Sebastian necklace, Balenciaga sunglasses.
Strolling through Joshua Tree National Park like…

'90s minimalism is also having a revival. The normcore polar opposite to excess, this trend highlights clean lines and simple styling, think:
Carolyn Bessette-Kennedy
. Bermuda shorts are a must.
Above: Pip wears Balenciaga sunglasses and thongs, Dion Lee top and shorts; Tanja wears Dion Lee top and skirt, Dior sunglasses, vintage shoes.
Jungle fever
You can't put a foot wrong if you wear animal print this season, so why not make it a full look.
Above: Pip wears a vintage hat, Zimmermann bikini, SWF skirt, Chanel sandals; Tanja wears Reliquia headband, Jimmy Choo sunglasses, Zimmermann playsuit, vintage heels.
Bird of paradise
Don't hold back on wild feathers and vintage styling à la the '60s and '70s, this season is all about fun.
Above: Tanja wears Alice McCall playsuit, vintage heels.
Dancing queens
Bring the swish of the '80s and the nightclub scene back with sequins.
Above: Pip wears Dior sunglasses, Alice McCall dress, Chanel sandals; Tanja wears Moschino sunglasses, Rachel Gilbert dress, YSL heels.
This story originally appeared on vogue.com.au
here 
With thanks to The Parker Palm Springs xx
When Alessandro Michele was appointed at the helm of Gucci at the beginning of last year, there were many that were completely shocked and quite miffed at the arrival of this relative newcomer at the helm of the mega popular designer brand. Within a month,  the multifaceted young designer created a womenswear collection for Gucci that was a huge departure from his predecessor Frida Giannini yet felt more whole, extensive, exciting and diverse than anything that was happening a season before.
My love affair with the brand started when I moved to New York in the 90s and Tom Ford was doing amazing things at the helm of an extremely desirable and overtly sexy Gucci . Still, when Alessandro's first collection came down the Gucci runway, my face may as well had turned into a heart shaped eyes emoji, since the instinct wasn't so much:  "I want this" , but an overwhelming: "OMG! This is amazing! I need this! When is it dropping? Can I call the store and reserve NOW?" It made no sense. Here were clothes and accessories that were as eclectic as they were beautiful, as Wes Anderson kooky as they were flowing and cinematic, as gorgeously nerdy as they were iconic. Here was a style that didn't scream practicality yet produced an immediate emotion of excitement and desireability.
The way I explain it ( and have justified to myself the numerous purchases from Gucci since )  was that I witnessed a significant moment, a turnaround in the way women respond to fashion. Whereas I think so many of us are so wrapped up in building matching wardrobes by acquiring simple basics and quality staples; this was an abrupt intrusion into that frame of mind. It showed that no matter how much lamè, floral, sequin, embroidery or animal motifs there are layered on top of each other ; it can work and it can look really good - it is possible to build a wardrobe around gorgeous ott pieces in a way more original and fresh than practicality could ever muster. On second glance something else became apparent: Alessandro created his own practicality by meshing amazing pieces together and creating his own staples of comfort ( enter the slippers, mules and beautiful loafers ). It became easy to be a bohemian bird of paradise with the new Gucci classics - all it took was some iconic pieces and the right attitude. Some of his items became a legitimate craze for women; I personally hunted the fur lined slippers around the world like some sort of crazed fashion stalker.
When Gucci approached me to do a story on the launch of the new gucci.com website and it's lust worthy accessories , I couldn't think of a more exciting project. Not only am I obsessed with the brand but the sensibility of the new aesthetic made me decide to style this project entirely out of my vintage collection. The accessories are so intricate and breath taking,  the detailing impeccably gorgeous. To herald the launch of the new, fully shoppable Gucci website all the product links you see in this post lead you directly to the new online store. We shot this as an ode to the new Gucci girl - a wild thing with beauty, brains and enough pizazz to keep a room captive. Hope you enjoy! x

The new Gucci Dionysus GG supreme bag comes in many incarnations - I love this style for it's rock and roll attitude mixed with pretty detailing 

When a snake as pretty as this one slithers atop GG Supreme canvas (made using an earth conscious process) plus snakeskin and tiger head detailing ; who wouldn't bite the apple?  (Dionysus GG Supreme embroidered bag , vintage jewellery and dress )

All aboard the mule train! Not only do these babies go with everything and are extremely comfortable but look! How pretty!

Platforms make their return this season as a perfect pairing to flares, suits and anything 70s inspired. Gucci's vertiginous offering comes replete with spiky studs and the signature tiger head. Don't forget to cinch everything in with the iconic CC logo belt
More is more this season, so make like a Gucci girl by gathering all your sequin, velvet, rhinestone and print , then mix and match with wild abandon - life is too short not to! 
photography and video by Alice Wesley-Smith
Styling and direction by Tanja Gacic
Hey hey - it's finally spring! Trading in cold overcast days and upturned umbrellas for spring blooms and cold ciders on the beach is hardly a fair exchange but let's face it, there is so much to miss about winter sartorially. Case in point; beautiful coats that let us get away with anything, thick cashmere sweaters that feel like a slice of home no matter the weather outside and cool over the knee boots that add Stevie Nicks's irresistible allure to 70s maxis and split thigh skirts. Cold weather is so easy! But what about the encroaching warmth of Spring? Well!
This month, I've partnered with L'Oreal Paris in creating a weekly Spring Trend report ,dissecting not only lust fashion pieces but also the new (and frankly awesome) bronde trend currently sweeping the world. Beauty + fashion here we come!
Clockwise from top
1) Bronde : So what exactly is bronde? Bronde is neither a brunette nor a blonde. It's not balayage or bright, stripey highlights ; it is an altogether different way of applying colour that is perfect for women who think that sitting on the fence serves the best of both worlds and whose natural shade of hair fits somewhere in the middle of these two tonal extremes. For me, it's basically an excuse to be lazy with colouring - the bronde look is more forgiving while growing out and it's subtle highlighting won't change your hair dramatically. From mocha to café latte and honey blonde, bronde offers a range of shades used simultaneously that evokes a nuanced, sunkissed, multi dimensional colour - perfect for the 70s vibe still rocking on into Spring ( shade shown: L'Oreal Paris Preference Glam Lights No:3 Light Brown to Dark Blonde Hair )
2) Red baby, red! : This Spring it's all about scarlett, fire-engine,poppy flower, geranium red. But in this season trend's haste, let us not forget that red is also a forever colour. Especially when it's in a YSL bag edition. This baby will look good with this season's bohemian look or the looming 80s trend coming our way. Win, win
3) Aviator love : Aviators are the perfect accessory addition to maxi dresses, flares and stacked heel boots. These sunglasses sport a beautifully graded lense – what better way to see the world? ( Isabel Marant X Olivier Peoples sunglasses )
4) Gucci babyyyyy Gucci : No other label has captured the hearts of fashion editors worldwide as Gucci has with it's recent 180º style U turn. With Alessandro Michele as it's new Creative Director, Gucci has taken a new subversive turn - gone is the brash, overt sexuality of Gucci's past and in it's place is a label whose strengths lie in an unassuming, relaxed, romantic, 21st century baroque grunge look. I will be wearing my loafers with floral silk skirts, suits, jeans… basically - everything!
5.Vintage : The prevailing mood is still vintage – from the 70s, into early 80s, fashion is still tapping into decades past. And what is the best way to get the look? Easy! Go vintage! Scour your thrift shops, Ebay and upmarket vintage stores for gems whose new incarnations are all the vogue right now. Let's face it, designers pay their assistants to do this for them – vintage clothes are an endless treasure trove of inspiration and pattern ideas. Bonus point: it's unlikely that anyone is going to own your look! ( vintage Lanvin dress from Ebay )
6. Pearl me up : These are not your grandmother's pearls – these days marine jewels have taken on an altogether more modern incarnation with designers such as Delfina Delettrez, Chanel, Givenchy and Balenciaga playing with them across fresh, fun and wholly contemporary accessories ( pictured: Sarina Sariano palm cuff and earrings )
7. Paris 4eva : Paris is many obvious superlative adjectives but what is with the world's unending obsession with Parisian women? From their fashion style to their diets, we want to know how they do it with that je ne sais quoi ease and perfection. How to be Parisian Wherever you Are is a book that goes beyond clichés into tongue in cheek vaudeville . The amusing Anne Berest, Audrey Diwan, Caroline de Maigret and Sophie Mas dissect everything from fashion rules, recipes and obsessions to a candid look at adultery, friendships, love and sex. It is witty and fun and reads like an outrageous gossip session with a bestie – I read it cover to cover in one amused sitting.
When Nicolas Ghesquiere became the new creative director of Louis Vuitton, the fashion fan inside of me did some serious cheerleading. His previous work for Balenciaga was always ahead of its time – relevant, modern and supplemented with incredible accessories. I was hoping this was going to be the case at LV and with this season's '60s, early '70s collection, there is so much to covet. Who would've thought that looking like an awesome version of Florence Henderson (The Brady Bunch's matriarch) could be so cool? Wide collars, babydoll dresses, high-waisted trousers and A-line minis are totally in and Gucci has joined the retro trip by producing some incredible clothes and shoes this season in wild shades of mustard, blush pink, muted cornflower blue and a whole bunch of leopard print to boot.
I played around with these beautiful clothes inside of Tomek Archer's fittingly colourific moveable pods on display at the Sherman Contemporary Art Foundation in Sydney.

Take a leaf out of Louis Vuitton's book and rock your miniskirt with ankle boots and a smattering of leather.

Shiny patent leather boots and cool pearl accessories adds another dimension (Gucci dress and boots, Sarina Suriano jewellery).

Sometimes a dress is born that just does amazing things to a woman's curves. This Louis Vuitton baby is it.

Don't forget the new vintage cool in accessories (Louis Vuitton bag and boots).
Check out the full story & more pictures now up on Vogue.com.au here
photographed by Jeremiah Wolf
With my love of vintage clothes and furniture, there also comes a determination in scouring every backwater charity shop with a lingering smell of moth balls for items that might fit my obsession with unusual colour combinations. I get giddy when I spot just the right shade of mustard. I go absolutely wild when I spot just the right shade of avocado green. Some may feel that these palette choices are, in fact, somewhat unusual (cough, cough; ugly), but put some of these babies together and the real magic happens. Whether it's pale blue and burgundy, ochre and khaki green, pale yellow and brown or pale pink and orange – there is something so right in these mid century duos that appeals to my love of all things '60s and '70s.
Thankfully, it looks like my clothes need not all smell of mothballs anymore, since Phoebe Philo and Nicolas Ghesquiere are producing some amazing clothes in vintage inspired colours for autumn/winter '14/'15 and resort 2015. I wanted to play around with this palette by adding a touch of another trend rocking my world at the moment - the folk inspired addition of naïve motifs, handicraft touches and intarsia knits.

Nanushka sweater, Dion Lee skirt, Birkenstock sandals, Thomas Sabo earrings, E-esque clutch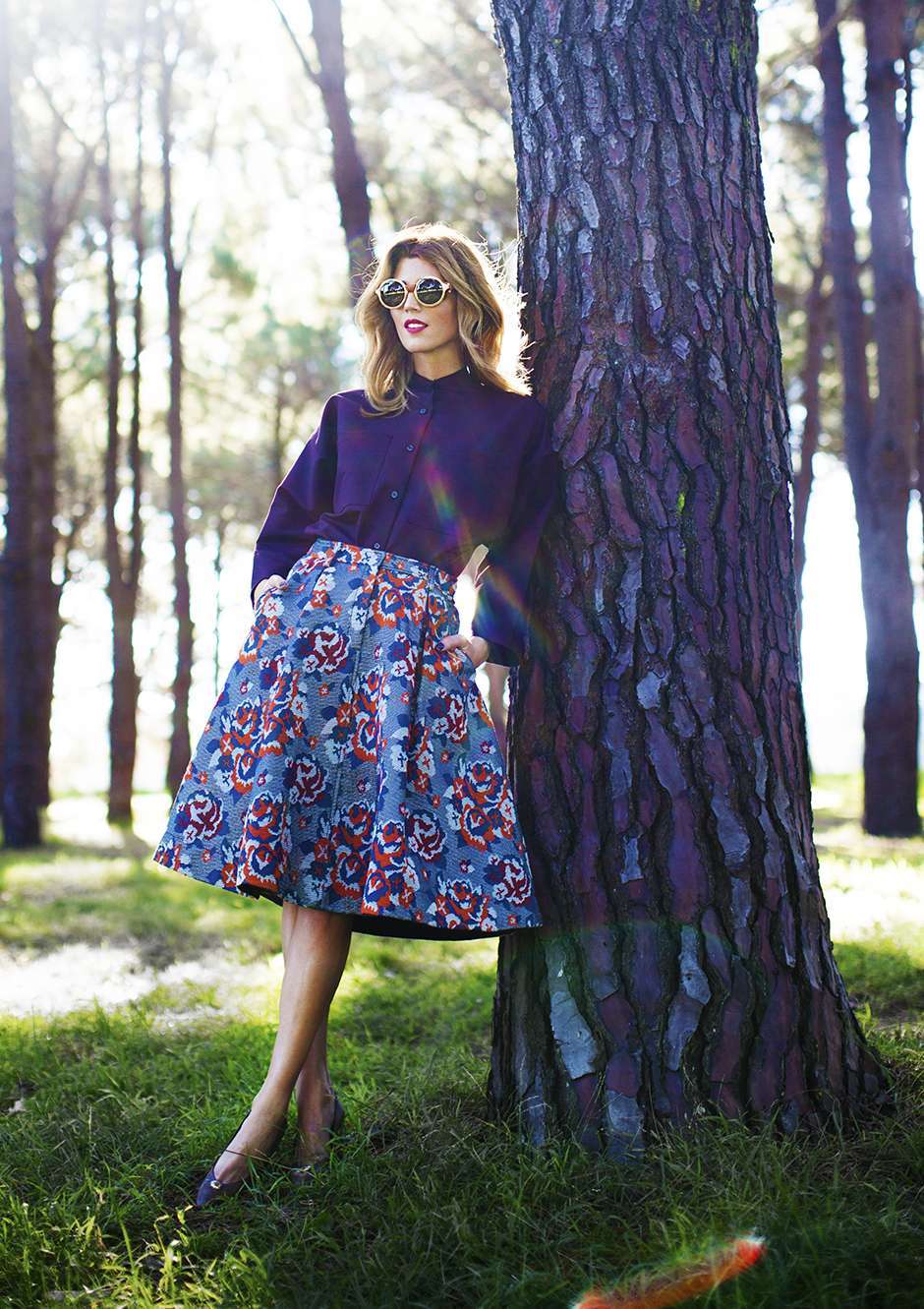 Tome shirt, Karen Walker skirt, vintage Gucci shoes, Thom Browne sunglasses
Read the full story now up on Vogue.com.au here!
Photographed by Alice Wesley Smith