Wearing Gucci dress, Nars Schiap lipstick
I don't often get over-excited and enthusiastic about small appliances but when I took home a Dyson Supersonic™ hair dryer, it was as if I was a kid on Christmas morning cradling a brand new toy I had long wished for. I have incredibly high expectations of a product's performance but I never in a million years expected this one to deliver on all of them and more. I mean it's a hairdryer for goodness sakes and hairdryers are everyday necessities that you need to have but nothing particularly amazing to get enthused about.
Well, this baby is different. Not only does the design look beautifully streamlined, it feels a complete joy to use. Dyson invested $85 million in the development of the Dyson Supersonic™ hair dryer so of course, there are going to be some great features. Here are a few reasons why I absolutely love it.

Wearing Willa and Mae pajama kimono, Maria Tash and Anita Ko fine jewellery earrings from Net-a-Porter throughout.
When you have a million things to do in your day, drying hair for an hour seems like another exasperating time sucking chore. Well, I timed drying my hair with a Dyson and it took 6 minutes flat. I have thick, long hair but the powerful Dyson digital motor V9 and patented Air Multiplier technology amplifies air drawn into the motor by three for a high-pressure, high-velocity jet of air. What's best is its intelligent heat control - a glass bead thermistor measures temperatures 20 times per second, helping protect the hair from extreme heat damage to protect natural shine. My daughter loves this feature too as apparently, I used to inadvertently burn her scalp with our old hairdryer. Oops!
My hair has felt incredibly healthy since I've started using the Dyson Supersonic, so much so that I have cut out expensive hair mask treatments at the salon. When my hair needs to be in top shape for work purposes, it pays to have a secret weapon on my side
read the rest of this story on vogue.com.au here!
or buy the Dyson Supersonic here!
One of the greatest things about fashion is that it isn't about simply fulfilling a functional purpose, even though some people (cough, cough; my boyfriend) seem to not understand this at all.
After all, to some, fashion is just that, a utility that serves us as we go about the world. It isn't about adornment, it has nothing to do with being afflicted with an unfortunate case of sparkle obsession or an inability to solely exist in monochrome.
Sure, I like a well cut pair of black pants as much as the next girl, but how beautiful is the world with a little whimsy in glorious colour? And to be frank, when I look at the things I have kept in boxes that I take down from tops of cupboards and plunder once in a while to mix in with my new purchases, I can see something surprising: it is all the extraordinary clothes that I keep — the items adorned with beautiful detailing and interesting cuts in gorgeous fabrics.
These have become the prized items I'm keeping for my daughter, not that amazing pair of black pants. I suppose that is because I know she will always be able to find a perfect pair of black pants but will she be able to find a pale pink silk satin wiggle dress? Will she equally squeal with delight upon discovering a white shirt or a sequin bomber jacket?
Time will tell but I'm betting on the latter. Fashion has seemingly rejected austerity measures and it has paid off in a big way. Gucci, whose collections have gone from restrainedly sexy under Frida Giannini to eccentric and deliciously bonkers under Alessandro Michele, has been hitting record sales. I've compiled some of the lust worthy pieces worth buying now and keeping for posterity.
Yellow is back in a big way and I love it re-imagined in a delicate slip. Co-ordinate with orange and shades of brown for a modern version of outerwear as innerwear '70s nostalgic.

Wearing: Gucci bag, Marysia slip, Prada jacket and sandals

Of course a feathered pyjama suit is practical – the silk feels heavenly on and you don't need to get dressed again in the morning

Wearing: Prada pajama set, Kate Sylvester faux fur coat, Dior slides
A floral dress has become a staple item – not only worn with sandals in summer, you can now wear it over leather tights, thigh high boots, or with slippers for a casual weekend look.
Wearing: Dress by Alice McCall, jacket by Christopher Esber, slippers by Alexander Wang, bag by Bvlgari, sunglasses by Miu Miu

Mix your prints and animal skins for a deliciously eccentric blend.
Wearing: Bracelets by Hermes, Bag by Bvlgari, Slippers by Alexander Wang from Farfetch, dress by Alice McCall
Photography by Alice Wesley-Smith
Styling by Tanja Gacic
Hair and make-up by Claire Thomson for Oribe
Model: Eilika from Chic Model Management
This story originally appeared on vogue.com.au here!
Not only do women on occasion want to get dressed up and be fabulous, but the solidity of precious jewels in a shifting stock market represents true value in the face of uncertain, unproven investments. A diamond lasts forever and represents a true mark of eternity in an increasingly throw away world in which items are replaced with ever increasing speed. There is something to be said about quality, craftsmanship and lasting beauty, and this is why buying beautiful jewellery is such a wonderful expression of honouring a special moment in time. Marking an occasion with an item that will be cherished and passed down generations transforms the item into family heritage, a tradition, a memory that never dies.
"Once upon a time" may be a sentence once used to begin stories of princesses in gowns wearing precious jewels, yet women today still relish feeling like princesses, even if it is in a decidedly more modern rendition of an exciting break from every day jeans and knits.
For my second collaboration with Hardy Brothers, I wanted to utilize the gowns I am currently day dreaming about and accessorize them with exclusive, unique and utterly luxurious pieces that the company is so famous for a 21st century take on going to the ball.

Above: HARDY BROTHERS 18CT WHITE & YELLOW GOLD CUSHION CUT YELLOW DIAMOND HALO RING, HARDY BROTHERS PLATINUM & 18CT YELLOW GOLD PEAR CUT YELLOW DIAMOND EARRINGS, HARDY BROTHERS 18CT WHITE & YELLOW GOLD PEAR CUT YELLOW DIAMOND RING, CHRISTIAN LOUBOUTIN HEELS AND BAG, CUTLER AND GROSS SUNGLASSES.
Yellow is the stand out colour of the upcoming season, so go all out on the glamour with an asymetrical dress in vibrant lemon that comes replete with romantic flowing sleeves. Pair it back with tough accessories to add a modern edge, then up the shine with a smattering of gorgeous yellow diamonds

WEARING HARDY BROTHERS PLATINUM DIAMOND NECKLET AND HARDY BROTHERS PLATINUM EMERALD CUT DIAMOND HALO RING

Lounging by the pool is all the better when it's done in off the shoulder, sequined perfection. Exposing the decolletage is just asking for timeless pieces that won't ever go out of style ( Rachel Gilbert dress )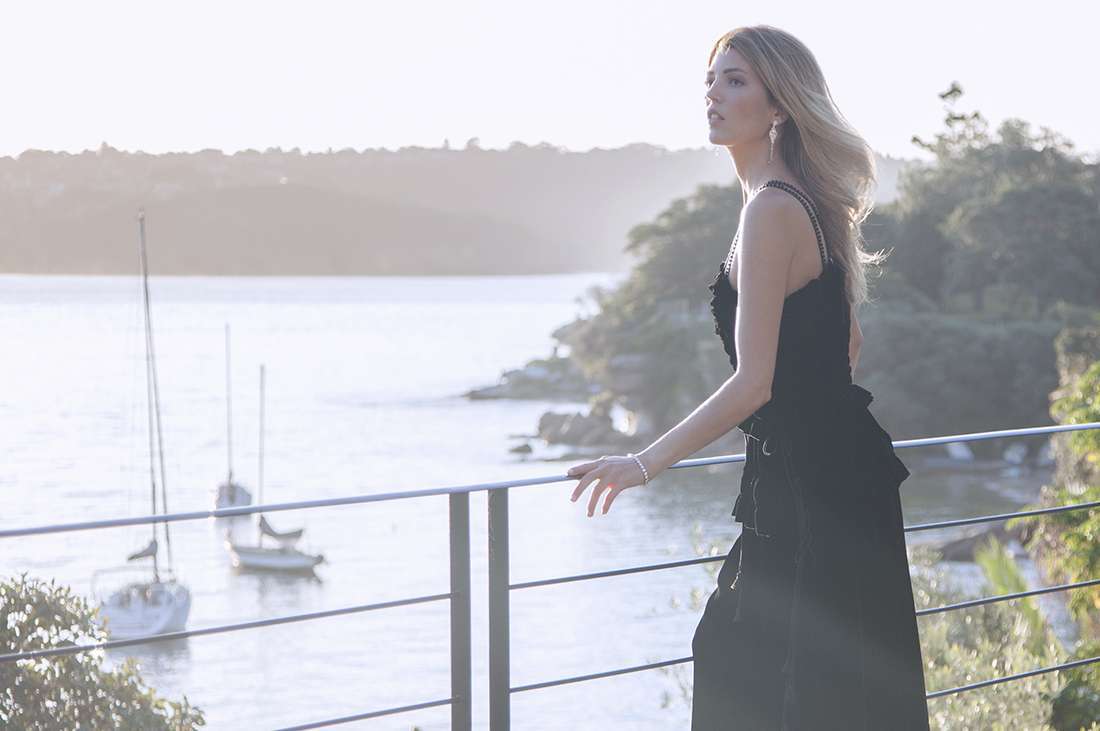 WEARING HARDY BROTHERS 18CT WHITE & ROSE GOLD PINK DIAMOND DROP EARRINGS, HARDY BROTHERS 18CT WHITE GOLD DIAMOND TENNIS BRACELET AND CHLOE DRESS FROM PARLOUR X.
Velvet is the fabric to buy now, cherish forever and a perfect juxtaposition to icy diamonds. Invest in stunning pieces that are not only delicate and unique but your children will fall in love with and fight over one day.
Photographed by Alice Wesley-Smith
With thanks to Justin Hemmes and Kate Fowler for the stunning location The Hermitage.
A breton striped t-shirt is always on trend; either as a low key basic, rock 'n' roll staple or sailor-esque addition. Whereas a pinstriped shirt always works tucked into a suit for the workday or loose and oversize on the weekend. This spring/summer, stripes were all over the catwalks in a myriad of variations, but to me stripes always represent being on a vacation– whether at a resort or holiday house, stripes add a cheeky yet elegant touch to any look.
Above:A pinstripe shirt is always a good idea – keep it unbuttoned on holidays, a nod to riviera chic. Or keep your cool in a wide legged pant, the perfect getaway cover up. (Massimo Dutti shirt,Zimmermann lace shorts, Thomas Saboo anklet )

There is nothing like a backless maxi for warm spring afternoons – this one pairs stripes and florals, yet looks suprisingly minimalistic. (Ruby Sees All dress)

Forget all you knew about playsuits – the new crop features soft upscale tailoring and clean lines. (Zimmermann playsuit, Nomadic State of Mind rope sandals & Ray Ban sunglasses)
Raffia is always a good choice for holidays – this stripey combo works well with straw and navy (Shona Joy skirt and bralette, Kate Sylvester jacket, Lack of Colors hat & Chloe wedges)
It has been a month since my last post - a long time to be engrossed in my daughter's school holiday activities,perpetual playdates, long afternoons on the beach and thick adventure books like the Northern Lights which I read to her in crazy voices and hushed tones so she sits at the edge of her seat and cannot go to sleep for racking her brain on what will happen next.
Anticipation is an amazing thing. I remember a study being done once on the fact that people who go on holidays actually get more joy anticipating the holiday that going on in. That may be the case, but I still get giddy waiting for next season's clothes and upon arrival, the endless combinations they provide.
This season, I'm coveting 70s fashions , now back in full force. They have always been one of my favourite style decades - a period compressed such a wide variety of ideas style-wise, that it seemed fashion took a radical turn every couple of years; from brightly coloured polyester, playful knits, paisley and the ever-present bellbottoms in the early years, to the mid-70s when denim reigned supreme and khaki and drill cotton were de rigour, down to the latter part of the decade where everything got looser and more folky.
From Chanel, Saint Laurent and Tom Ford, to Gucci, Sonia Rykel and Dries Van Noten everyone seems to have taken the retro route for the European spring/summer '15 season - it's time once again to get out those flares, dust off your suede and prep that lamé.
For this story, I played with some groovy, transeasonal items coming our way for autumn that will work dressed up or down.
This multi-tiered dress evokes languid Indian summers with its pretty pastel tones and lace cutouts. Pair with tan everything.(Zimmermann dress, Jerome Dreyfuss bag & Panama Hat co. hat.)
Now is the time to swap your skinnies for flares - the new cuts and stretchier fabrics are suprisingly slimming and flattering.
(Frame denim jeans, Miu Miu sunglasses & Romance Was Born shirt)
This khaki skirt in drill cotton works dressed up for work or dressed down with slides for weekends. Accessorise with a smattering of gold, aviator sunnies and did I mention this season there is never enough tan?
( Lover skirt, Jets bikni worn as top, Monica Vinader bracelet, Pink Lou Lou shell bracelet and Cartier love bracelet , Versace sunglasses & Karen Walker bag.)
The new 70s suit sports a wider leg with a slim fitting jacket (Asos suit, vintage Chloe platforms, Karen Walker sunglasses & Elke Kramer earrings)
Photographed by Alice Wesley-Smith
Blue is a huge trend for autumn 2013 and is slated to be a hit colour next season as well. Get the heads up on the trend and a lowdown on Alexander McQueen's gorgeous Heroine bag , this season re-imagined in a gorgeous sapphire blue. I play with some gorgeous new season clothes and shoes , including beautiful Ryan Storer jewellery.

Nothing looks more classic with blue than a white silk shirt , a slick of red lipstick and some serious bling. ( Celine top from Land's End store, Nars lipstick in Dragon Girl, Ryan Storer jewellery)
More looks and the full story, including how to win a McQueen bag now up on vogue.com.au here!
photography : Ana Suntay Tanedo