Among the fashion flurry of designers buyers, photographers, models , la mode folk and a liberal sprinkling of fabulousity, the jam packed 4 day Mercedes Benz Fashion Week schedule delivered surprises, creativity , newbies and awesomeness. (it wasn't all unicorns and rainbows but more on this later). During the course of the week, I kept getting asked the same questions by reporters, so I will share my answers to these with you here as they seem so pertinent, albeit probably answered here with a lot more measured fluidity!
Q: What do you think is unique, and what do you love about Australian Fashion ?
A: I believe Australia's unique geographical position as a country whose towns are urban environments situated near water lends us a laid back perspective in which our wardrobe needs to be multitasking and comfortable and yet, as any metropolis, also stylish and fashionable. I love the way Australians seem to be able to combine colour, beach lifestyle and high fashion into something that seems so effortless.
Q: What do you think about MBFWA and Australian designers in general?
A: I think , truly, that Australian fashion is better than it has ever been. I moved to Sydney and worked at the first ever Sydney Fashion Week as a wide eyed young model. Since then, I have witnessed Australian fashion become something that is distinctive, world class and exciting. Our designers are a versatile, talented and unique bunch and personally, I believe that the way forward for Australian fashion is for our designers to create transeasonal collections which will be an easier sell to opposing seasons overseas (some are doing this already).
As far as the future of MBFWA, we need to create a way to lure all our talent back from showing overseas so that our designer superstars can add gravitas and star power and make this an exclusive and exciting yearly event. The way things stand and unlike it is elsewhere, it is just a really expensive exercise for our designers and it need not be. Perhaps , if the media and sponsors could get involved in the right way, we can create an atmosphere of excitement such as exists overseas about fashion week, which will in turn create an opportunity for designers to show at low or no cost, and this may be able to stem the fashion brain drain and create an arena for fashion spectacles that Australia can be proud of. As it stands, and since it's move to Carriageworks, MBFWA has succeeded in making the week's activities more localised, organised and congruent which is a damn good way to start.
Q: How do you feel about the "skinny" debate?
A: I think coming from a background of a model, I can see this debate from both sides of a coin. Firstly, media does sensationalise this aspect of Fashion Week, ignoring everything else, because let's be real, what is a newspaper without big, polarising headlines , public outrage and cries for change? In reality, only a couple of girls I saw at Fashion Week were actually at a weight that made them look unwell, when most of the models, while extremely thin, were simply young girls who hadn't developed hips or breasts and probably ate plenty. I do however agree that in the last 10 years , the models have got thinner and I do not necessarily believe that this is the right way to go.
While the measurements have stayed in a similar vicinity, the girls have got taller. For a 6'2" girl, maintaining a 34" hip is much harder than for a 5'9" girl - and here is where the problem lays. While designers keep insisting that girls fit a certain measurement standard (no more than a 34" hip for overseas catwalks ) there will be eating disorders aplenty. A tall girl simply cannot maintain these standards and be healthy at the same time. Why not look at each model as an individual and tailor clothes to her? After all , a gorgeous 6'2" girl with 39" hips will still look very thin, but this adjustment will give her an opportunity to stay healthy and protect her future fertility. After all,for me, there is nothing worse than trying to focus on clothes and instead feeling sad/scared for a skeletal girl on the catwalk. I want my models to be aspirational, in a way that I'd think : If only I exercised more, I too could have that banging bod ! I think we all want to see models and think : Beautiful, amazing, sexy, cool… not : oh-oh, ouch ,OMG, is she ok? For the most part, however, girls in Australia do not have this problem.
Now that's out of the way let's focus on what is really important- the fashion!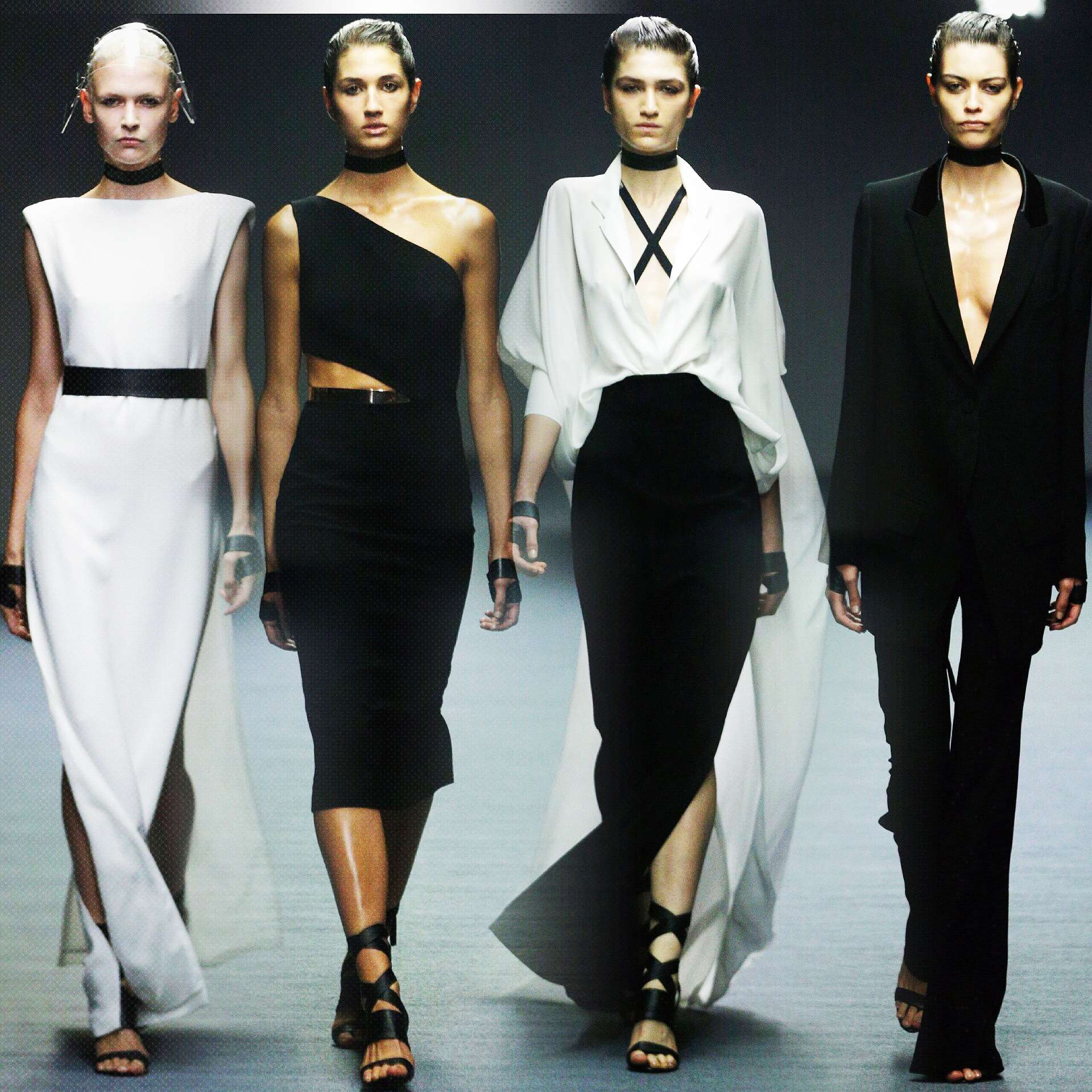 Carla Zampatti opened MBFWA, fittingly for an icon of Australian fashion who will be celebrating her 50th year in the business next year. Her designs were tailored, timeless and sexy. I especially loved the monochrome looks and sharp separates and Michelle Jank's cooler than thou styling
Ellery held a show at the sparkling Icebergs restaurant and bar in which details, craftsmanship and fabrics stood out. My favourites were the intricate bustiers,slim, slightly fluted pants , pleated details and clean blazers
Alex Perry added Angel dust via Alessandra Ambrosio but it was nothing compared to his encrusted, romantically asymmetric lace party dresses with snakeskin printed leather inserts. I really love the direction Alex has taken in the last 3 seasons and I have enjoyed shooting the clothes over that time. I am especially loving his oversized shimmering snakeskin printed t-shirts with squared off shoulders, which are totally my idea of a luxe basic.


I enjoyed Christopher Esber's show this year. His neat, boxy double breasted jackets, nautical inspired hues and shapes, the gold buttons and the asymmetric skirt all the girls I sat with at the show wanted signalled that he hit the proverbial staple nail on the head.
I love Emma Mulholland like I love the Opening Ceremony in L.A. It's young and whacky but also cool and fun.These are the pieces to mix with more tailored streamlined clothes for an instant injection of fresh. Pair her transparent sweatshirts with long leather pencil skirts or boyfriend jeans and pastel mules, or wear a printed miniskirt with an oversized cashmere sweater and stiletto sandals. Hi-Lo cool ya'll!
At Alice McCall it was all about shiny  satin, scalloped necklines, sheer fabrics , pretty dresses ,cool bombers and prints, prints , prints! I loved Mark Vassallo's styling colour and the sheen not to mention the gorgeous way the confetti fell on the catwalk at finale.
I loved the Bianca Spender show for it's mix of vintage and modern, kooky and classic, beautiful prints, sassy sequins and sexy leather dresses. Bianca asked me to walk in the show, so I had a great look at these clothes and the quality is amazing. Can't wait to use my voucher!
Dion Lee line II presented a new version of street with easy separates, cool leather pieces, androgynous shapes and flattering wrap dresses that every It girl will scramble for. I especially loved the backless tops...sexey!
Although the print clash didn't quite work for me,this newcomer still got points for it's cool shapes and marching to it's own beat. I love Macgraw's vintage/modern aesthetic ; wide pants, cute collared dresses and billowing fabrics..One to watch in the future.
My absolute favorite show of this year's MBFWA was definitely Toni Maticevki. Beautiful fabrics, elegant but cool , oh so beautiful embellishments and to die for evening wear. Want. Need!
I did an editorial spread on Dyspnea a few months ago because I love originality and imagination and these girls have it aplenty. In this show I loved their intricate sheers studded with pastel fur balls and gorgeous embellished tops. Not so much the Bollywood story, but hey - each to their own!
The biggest surprise this year was definitely Discount Universe, a new label heavy on punk, 'tood, spikes and embellishments. Katy Perry is a die hard fan, commissioning a whole tour's worth of clothes. But before you think : I ain't Katy Perry! , consider this: so beautifully finished and glossy, these clothes have the superpower of lifting anything drab to another level. My money is on the incredible studded python leather jackets. Swoon!

Working hard at MBFWA with my assistant and Lindy Klim's gorgeous back is never a chore. 'Till next year Fashion Week Australia!
photo via Vogue Australia